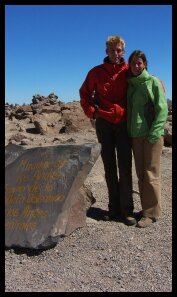 MagicPhotoWorld.com is the website of hobby-photographers and travel enthousiats Peter and Yvonne from Groningen, The Netherlands. We love to combine our two favorite hobbies: Travel and Photography. We've already been to many places in Europe, but since 2005 we've also traveled to some of the other continents. The first experience outside Europe was our Trans Mongolian Express adventure and back home we figured that we were ready for more! In 2006 we've done a roundtrip through the southern part of Peru, a great varying and colorful country. Many of the photos on our website have been taken with a Minolta Z1 digital camera, or with the Samsung Pro815 we bought by the end of 2005. We traded this last one in for a Canon Digital Rebel XTi, which we will take along during our long trip to Asia from November 2007. In Barcelona and Rhodos we had the chance to try this new camera out.

For contact information see our contact page.

MagicPhotoWorld.com is de website van Peter en Yvonne uit Groningen. Zoals je ziet combineren we het liefst onze leukste hobby's: Reizen en Fotograferen. We zijn tot 2005 veel in Europa op reis geweest, maar in de jaren daarna zijn we ook al een aantal keer daarbuiten gaan kijken. De eerste reis buiten Europa was ons Trans Mongolie Express avontuur en na die fantastische reis hadden we de smaak te pakken! In 2006 hebben we een rondreis gemaakt door het zuiden van Peru, een prachtig afwisselend en kleurrijk land. Veel foto's op onze site zijn gemaakt met een Minolta Z1 digitale camera, of de Samsung Pro 815 die we eind 2005 hebben aangeschaft. Deze laatste hebben we echter ingeruild voor een Canon 400D, die ons zal gaan vergezellen tijdens onze lange reis naar AziŽ vanaf november 2007. In Barcelona en Rhodos hebben we deze camera alvast uitgeprobeerd.
Wil je contact met ons opnemen? Kijk dan op onze contact pagina.