> National flag of Greece | Nationale vlag van Griekenland

> Map of Greece | Kaart van Griekenland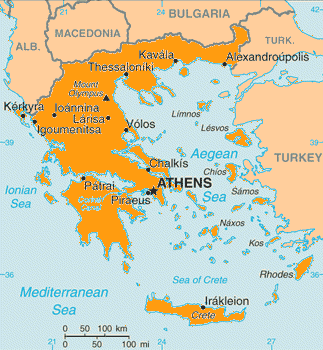 > Area | Oppervlakte

131.940 km²
> Capital | Hoofdstad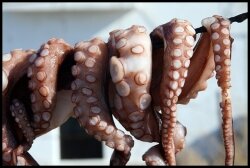 Athens | Athene
> Population | Aantal Inwoners

11 Million
> Currency | Munteenheid

Euro (€)
> Language | Taal

Greek

Grieks
> Climate | Klimaat

Greece has a temperate climate. The winters are mild and wet. The summers are hot and dry.

Griekenland heeft een gematigd klimaat. De winters zijn mild en nat. De zomers zijn heet en droog.
> Roads | Wegen

The diversity in roads is significant on Rhodes. We found there some nice, brand new roads, but we also saw extremely slippery, older roads and frequently even unpaved sandy- or gravel-roads which you have to cross with your car. Sometimes the road just disappears, when the Greek find it necessary to work on it. From a reasonable, paved road you suddenly end up in the middle of nowhere. The length of this inconvenience is uncertain, as this is not signposted.

Op Rhodos is de diversiteit aan wegen groot. Zo troffen we er mooie, gloednieuwe wegen aan, maar ook zagen we spiegelgladde, oudere wegen en zelfs regelmatig onverharde zand- of grind-paden waar je met je auto overheen moet. Soms is de weg ineens weg, als de Grieken vinden dat er aan gewerkt moet worden. Vanaf een redelijke, geasfalteerde weg beland je dan ineens in the middle of nowhere. Over hoeveel kilometer het ongemak dan verder gaat is even afwachten, dit wordt niet aangegeven.
> Accommodation | Verblijf

On Rhodes you can find apartments and hotels in every price-range. Some hotels and apartments in Rhodes City are very popular among young party-animals during the summer months. If you like some rest and peace in your holidays you'd better avoid those accommodations. There are no campsites on Rhodes at all.

Op Rhodos is voor elke portemonnee wel een appartement of hotel te vinden. Sommige hotels en appartementencomplexen in Rhodos-stad zijn in de zomermaanden erg in trek bij feestende jongeren. Als je van rust houdt tijdens je vakantie kun je die accommodaties beter mijden. Campings vind je op Rhodos helemaal niet.
> Particularities | Bijzonderheden

Some travel agencies advertise Greece as a wintersun-destination, but the chance that you can actually wear shorts from November-March is really small. We were on Rhodes in September and we had lovely temperatures around 30 degrees Celcius. Even untill halfway October the weather is mostly fine, with temperatures up to 25 degrees. But from then it will get much colder and there are more cloudy days, sometimes even with rain.
In the entire country of Greece you can eat in restaurants for little money. The Greek kitchen is very diverse and healthy too!

Ondanks het feit dat Griekenland vaak als winterzon-bestemming wordt genoemd door reisorganisaties, is de kans op korte-broeken-weer tussen november en maart zeer gering. Wij waren in september op Rhodos en hadden toen nog heerlijke temperaturen van rond de 30 graden. Ook tot half oktober is het vaak nog mooi, met temperaturen tot 25 graden. Daarna gaat het kwik echter snel naar beneden en zijn er ook regelmatig bewolkte dagen met zelfs regen.
In heel Griekenland kun je heerlijk uit eten voor weinig geld. De Griekse keuken is zeer gevarieerd en ook nog eens gezond!
> Worth to Visit | Bezienswaardigheden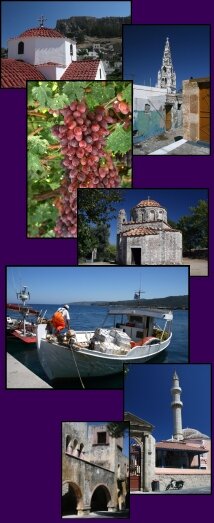 Rhodes | Rhodos
Lindos
Rhodes City | Rhodos-stad
Kamiros
Valley of the Butterflies | Vlindervallei
Kalithea
Agios Nikólaos Fountouklí Church
Thari Monastery | Thari Klooster
Siana
Monolithos

> Useful Links | Handige Links


Greek National Tourism Organisation
AncientGreece.com Greek History
Rhodosinfo.com All kind of info on Rhodes
Discover Rhodes Travel Guide


Griekenland.nl Toeristische Info en Links
Griekenland.nu Info en links over Griekenland
Griekenland.Startpagina.nl Linkverzameling
Griekenland.Startpagina.be Meer Links
Rhodos-Vakantie.Startpagina.nl Rhodos Links
Griekse-Eilanden.2link.be/ Links over alle Griekse eilanden




> weather | Het Weer
> Meer Info/ More Info

Want to know more? Check out our travelogue about Rhodes.

Nieuwsgierig geworden? Lees ook ons reisverhaal over Rhodos.