Peter & Yvonne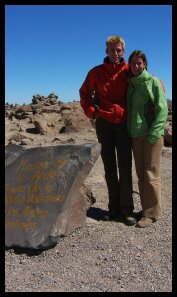 MagicPhotoWorld.com is the website of hobby-photographers and travel enthousiats Peter and Yvonne from
Groningen
Arnhem, The Netherlands. We love to combine our two favorite hobbies: Travel and Photography. We've already been to many places in Europe, but since 2005 we've also traveled to some of the other continents. The first experience outside Europe was our
Trans Mongolian Express
adventure and in 2006 we've done a roundtrip through the southern part of
Peru
, a great diverse and colorful country.
All of this tasted like more! On November 27th 2007 we flew to
Bangkok
for the start of our exploration of Asia. We've been on the road for about eightteen months. We had our
Canon Digital Rebel XTi
with us and a compact camera, the Canon Ixus 850IS. Many of the photos we took are currently on this site and right now we're working on the translation of the travel journals into English.
Since we're back home we made some shorter and longer trips both in and outside Europe, like
India
, the
Ardèche
and the Philippines.
For contact information see our contact page.

MagicPhotoWorld.com is de website van Peter en Yvonne uit Groningen Arnhem. Zoals je ziet combineren we het liefst onze leukste hobby's: Reizen en Fotograferen. We zijn tot 2005 veel in Europa op reis geweest, maar in de jaren daarna zijn we ook al een aantal keer daarbuiten gaan kijken. De eerste reis buiten Europa was ons Trans Mongolië Express avontuur en in 2006 hebben we een rondreis gemaakt door het zuiden van Peru, een prachtig afwisselend en kleurrijk land.
Daarna hadden we de smaak van het reizen te pakken! Op 27 november 2007 vlogen we naar Bangkok om van daaruit Azië te verkennen. In totaal zijn we zo'n anderhalf jaar weggeweest. We hadden onze Canon 400D bij ons én een compactere camera, de Canon Ixus 850IS. Veel van de gemaakte foto's staan inmiddels op de site en op dit moment wordt er hard gewerkt aan de vertaling van de reisverhalen in het Engels.
Sinds onze thuiskomst hebben we inmiddels alweer kortere en langere reizen binnen en buiten Europa gemaakt, onder andere naar India, de Ardèche en de Filippijnen.
Wil je contact met ons opnemen? Kijk op onze contact pagina.