India Travel Journal: Karnataka
This Travel Journal is one in a series of three journals, all of them made during a trip through the South of India late 2009, early 2010.
> Journey to Karnataka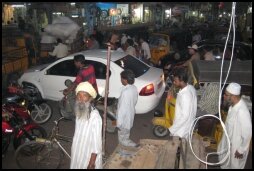 03-12-2009 We say goodbye to Pushkar, at least for now, and take a bus to Jaipur, from where we fly south for two hours. When we arrive at the hotel, for which we have a reservation, it's already dark, but that doesn't mean there is less chaos in the surrounding alleys. It really is big trouble for our taxi driver to get through, with so many hooting and roaring engines around us. Once inside the hotel our memories get a quick and nasty reminder: our room is not yet ready, has a mattress harder then a rock and a squat toilet. Best of all do we have to share our room with some co-occupants with many legs and feelers. We have the intention not to make any other pre-bookings during this trip.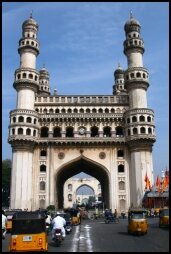 04-12-2009 Hyderabad is not a pleasant city, but in the lively area of Charminar, which means as much as Four Minarets, we enjoy ourselves for quite some time watching the many colorful marketstalls and the Indians.
We inform at the busstation about the timetable for Bijapur buses, but departure times vary and we are sent from one counter to the next to find the right place to buy presale tickets. Eventually those tickets turn out non-existent, but we are told to take a six a.m. bus from platform forty tomorrow.
05-12-2009 As early as four fourtyfive our alarmclock rings, yep... we are back on the road. Stumbling across piles of sleaping human beings we walk through the busstation, to platform forty. On the platform a bus is already waiting, but it has a different destination. We are sent to platform 32 to 35, that's about the place where our bus should come. A couple of minutes later we ask again and now we are sent to number 45, where a bus to yet another town is waiting. Even at five fortyfive there is stil no sign of a bus to Bijapur, but there is one leaving to Gulbarga, which is on the way to Bijapur. Quickly we get on board and we're surprised to find out there are still seats left.
After six hours we're at Gulbarga busstation, a place where people seem surprised to see tourists and everybody is asking where we come from. Immediately we are directed to a connecting bus and a little later we're back on the road. Three hours later, when we are in Bijapur, once again people thoroughly check us out and ask from which country we are. Most of them have never heard of Holland. That's new for us, especially in India. Just like the fact that we are not being yelled at whether we need a taxi or wanna buy some water, or if, perhaps, we are looking for a hotel. Completely hassle-free we get into a tuktuk and the driver doesn't even ask us a ridiculous price. He just brings us to the requested hotel without trying to rip us off. Amazing!
> Bijapur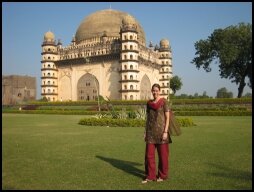 06-12-2009 Bijapur is an interesting town. We stroll through it on our way to the first and biggest attraction we would like to visit here: the
Gol Gumbaz
, a tomb we find at least as impressive as the
Taj Mahal
and which is situated in a well maintained park. We climb up one of the four towers to the huge dome, with a diameter of 38 meters. The acoustics up here would ensure that you can hear each other whisper even when you're on two opposite sides of the dome. Surprisingly half of the Indian subcontinent tries it's best to shout and clap as loud as possible here and Pavarotti's reincarnation is also present to make some noise, so any whisper diappears among the sensitive Indian voices.
Back down we check out the adjacent museum, before we're on our way to the Jama Masjid.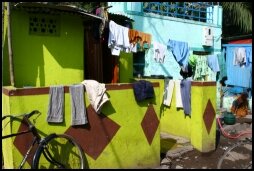 The area we now walk through is a real lowclass neigbourhood, full of colored houses, pigs, shrines and kids. In no time we have some fifty of them surrounding us, curious about the new visitors.
The mosque itself is a bit of a disappointment, especially because of the unfriendly way people speak to us here. The kids hanging around here also are particularly annoying. We walk back to our hotel and try a late Indian breakfast of dosas. That turns out to be a perfect choice.
In the afternoon we walk through the old city center of Bijapur and to the Ibrahim Rouza mausoleum, but we don't feel like watching this monument up close.
> Moving on to Badami
07-12-2009 Yesterday we've seen a timeschedule at the busstation telling visitors that there's an eight o'clock bus to Badami. Seems like a perfect time for us, so around seven thirty we take a look at "enquiry". The eight o'clock bus appears to be canceled. The next one doesn't leave untill ten thirty. We ask if there's another bus we can take to change buses somewhere halfway the route, but according to all five (!) the men in the tiny counter this is not an option. It's best we just take the ten thirty bus at platform fifty.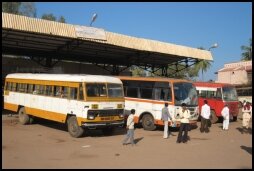 We give the station a closer look anyway and soon we find out that there is no such thing as a platform fifty. There is a bus leaving to Bagalkot at platform three, and this town is quite near Badami. We decide to hop on that one and two hours later we're at Bagalkot busstand, surrounded by some hundreds of Indians staring at us.
An additional advantage is that we are immediately asked where we're going and so there are now people watching with us which bus we are supposed to take. Very handy, especially since the letters on the buses are no longer in English or Hindi. People speak anmd write Kannada here and no, that's not some sort of Nord-Canadian, but something unintelligible with many curly, round shapes. Fourty five minutes later we are told that the bus over there is ours, that one with at least a hundred people pushing at the door. We squeeze ourselves in and two tiny villages later we have found us a seat. It's a real village bus, coming through the most colorful little hamlets, where people regardlessly stare at us. And we at them.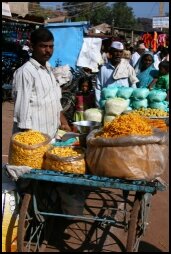 An hour later we get off in dusty Badami, where a lively market is in full swing. As soon as we found ourselves a room we start exploring the village. The market is really crowded in some places, the entire area seems to be present and we mavel at all the goods that are being sold here.
Next we stroll through the old village, with its tiny homes and woodcarved doors, but we don't really like the experience: the closer we get to the touristy caves of the village, the more annoying the village children get.Who is it that all the time gives them tehir "schoolpen, sweets, chocolaaaaaate?" That person definately deserves the Nobel-price for brainless actions. If you like to support those kids, please bring the goods to the school to make sure the teacher can divide everything and don't make beggars from these children!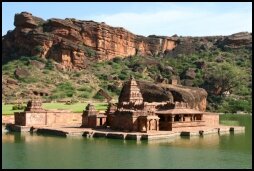 The temples situated on the water, on the other hand, are looking gorgeous in the sinking sun and another beautiful day gets a great finale.
08-12-2009 Again we pass huge amounts of schoolkids to visit the famous caves of Badami. At the ticketcounter we find ourselves an unpleasant surprise: not less then three schoolbuses full of screaming students are ready to get released.
Nontheless are the caves definately worth exploring and the view across the artificial lake below is also amazing.
On our way back we also bring a visit at the village school, to see where all the schoolpen-askers are being educated. Unfortunately the headmaster doesn't speak English, nor does any of the other teachers, but one of the ladies is so enthusiastic about our visit that she takes us back to her classroom. The children are told to stand up and sing us an English song, of which we can't understand a single word.
> Pattadakal
09-12-2009 Just before nine we're at the busstation, where we try to find out what time the next bus to Pattadakal leaves. We're glad to finally see an English timetable again, but the happiness lasts only untill the moment the only English speaking staffmember tells us that those times are old and that the next bus will be at nine fourtyfive.
At nine fortyfive we're still waiting, and even though Indian buses are usually leaving sharp on time, now there's no bus coming yet. At ten we ask again, just to make sure we didn't misunderstand the information, but the stationmaster tells us "sure, the bus will leave at nine fourtyfive". Uhm...but it's already ten o'clock. Yes, that's right: the bus is late. Ah, right.
At ten thirty there's still no bus and we give up. We read a bit in our room to give it another try in the afternoon. We are told that the bus will leave in an hour. Yeah right. We have a look if there's another bus in the village, a private bus perhaps, heading in that direction.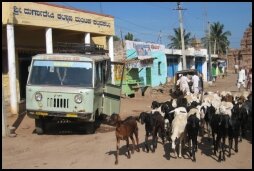 It's surprisingly easy to find the Tempu to Pattadakal: some sort of tiny village bus with seating for twelve plus the driver according to the sign on the backside. Why is it that we precautionary laugh about that?
As soon as about thirty people got on board after us, the driver thinks it's full enough and bumping and bouncing the bus crawls over the trackway to Pattadakal. An hour later we get off, surprised to see another tourist just leaving a big bus. It appears to be the noon bus, which left Badami at one p.m. Or something like that.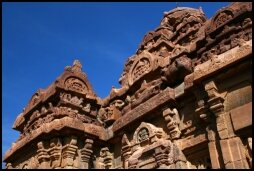 The Pattadakal temples are beautiful and decorated with marvelous statues, but maybe a little bit overpriced and not really worth all the effort it took us to get here.
> Hampi
10-12-2009 We travel to Hampi by bus, following a road that worsens every kilometer. The village is situated on the riverbanks in a bizar landscape of huge, dark rocks and is a real backpacker oasis. The modern hippie, carrying an i-pod and digital SLR-camera, is well represented, so there's a huge amount of affordable restaurants and accommodation. Soon we find a nice place to stay and we go for a walk in the wonderful environments covered with ancient temples.
11-12-2009 We get up early to take another long walk. At the village outskirts we climb a series of old, stone stairs and we take a look in some of the temples, when we suddenly see an incredibly beautiful temple, situated in the valley, surrounded by green vegetation. We feel like real explorers when we descend to take a closer look at this temple. That feeling lasts right untill we discover three other tourists walking around amidst the antiquities, but the temple remains amazing.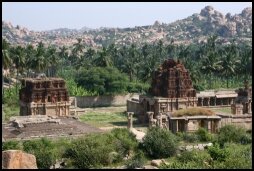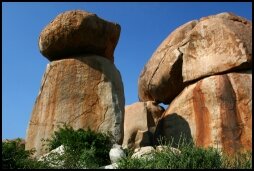 Thirty minutes later we continue our tour to the Vittala Tempel, the one must-see temple in Hampi. It really is impressive, but this makes it harder to appreciate the other temles we visit in the afternoon.
12-12-2009 Time for a temple-less day, to relax and just visit a giant, stone version of our favorite Indian God: Ganesha.
13-12-2009 During our last day in Hampi we finally get to the most important, still working, temple of the village: the Virupaksha Tempel. In the past few days we've already seen the madness of flower- and banana sales near the entrance, so we aren't much impressed by that.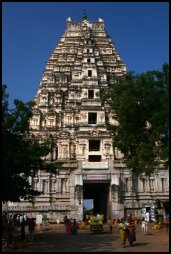 In the dark entrance gate to the first square we find a mother with a severely handicapped, young kid and some skinny, old ladies begging. A man with deformed limbs crawls to us. We are glad we didn't buy any bananas for the holy elephant, while these people with empty stomachs have to watch all that fruit pass.
Right behind the entrance we find the painted elephant and for some change you can get blessed by it. In India most people have the idea that "some change" for tourists is at least ten times as much as the normal amount of baksheesh, so immediately the caretaker approaches us. Yvonne quickly waves the silver Buddha around her neck: don't worry people, we are Buddhists, haha.
A bit further, at the statues of various Hindu Gods, coconuts are being offered, snatched away and eaten by macaques. The temple is not much different from others we've seen in India, but the richly decorated tower at the entrance is very impressive.
In the afternoon we check out the riverside, where people wash themselves and their clothes, but they're also fishing, swimming and worshipping some more holy statues, while others are just having a nice chat.
> Trip to Mysore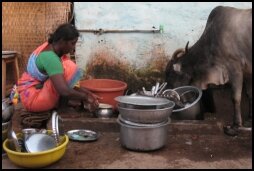 14-12-2009 We have a quick Indian breakfast of warm rice dough at the busstand, after which we get a bus to Hospet, where we change for
Mysore
, a ride of almost twelve hours. That we don't know yet, but that's one of those typical things in India you find out during the experience itself: you're in the bus and just wait untill you arrive. Arrival time can be any time from now.
Somewhere halfway we suddenly stop, in a line of traffic. We already sensed something is happening here today and without real hope for an understandable answer we ask the ticket vendor what the problem is. With some effort he stumbles the word "strike". A fellow traveler tells us the farmers are on strike, but that's all he can tell us. Everyone gets out of the bus and we get the idea this might take a while. Thirty minutes later everyone is rushing back into the bus and it seems we can continue our trip. There is some serious shouting when we cross a certain junction, but that's all. Untill the next stop, fifteen minutes later. This time it doesn't take long at all and suddenly many smiling men, wearing green scarves, are driving tractors along: probably the farmers. Apparently they got what they wanted in whatever issue they were involved in, and their faces are showing new hope to reach their goals as soon as you organise a strike. We wil never understand this Indian way of logic.
We are pretty much washed out when we arrive in Mysore and feel sorry for the driver and the ticket vendor, who have to return to Hospet tomorrow morning.
When we dive onto the matresses in our hotel room we quickly forget about our long day in the bus: they are so soft we are not sure whether we're still in India here.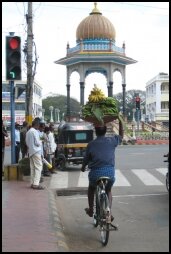 How is it possible that this stuff is clearly available in this country, while we always get fobbed with some piece of hardboard to sleep on. Maybe we travelers should strike for that!
15-12-2009 Mysore appears to be a pleasant and clean city, with numerous beautiful buildings from the English era. We stroll through the streets and enjoy this little piece of India, again completely different from all we've seen so far. We also visit the Railway Museum, where we even take a look at the luxurious Royal coaches.
16-12-2009 Unfortunately the sun fails to show today, so it's not a good day for taking pictures.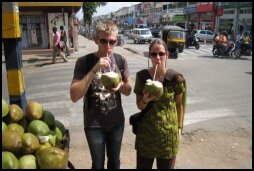 We quickly visit the market, where we find the special Mysore incense and oil, besides the ususal products, and for the rest we use this day for working.
17-12-2009 Today is another grey day. In the morning we visit the famous Mysore palace, a real jewel of a building, both on the outside and the inside. The decorated floors, walls and ceilings are amazing.
In the afternoon we hop on an extremely fast train to Chennai, at least according to Indian standards. We just spend one night in Chennai, to quickly start our exploration of the rest of Tamil Nadu.
> More Info
Also check our
India info page
, where you can find a lot of information about India and come see our
Karnataka Photo Gallery 1
and
Karnataka Photo Gallery 2
.