Bangkok: City of Angels
This travel journal is part of a series of journals, which are all written during a long trip between november 2007 and may 2009.
> Start of Our Trip: Flight to Bangkok
27-11-2007 After a long period of waiting the day of our departure is finally there, but it seems like we're still not allowed to leave. LTU surprises us with a three hour delay and when our bags have gone through the scan people ask us whether that blue bag is ours. Uhm... well... yeah. The security man urges us to follow him to some kind of fittingroom, where we're asked to open the bag. An odd piece of cloth is pats all our belongings and then disappears in a strange sort of machine. Two more checks later everything seems fine and we're through. The first scan showed explosives in our luggage, but the second one proved it was false alarm. A bit later we're finally in the plane, while Europe becomes smaller by the second. How long will it be before we see this part of the world again? We have no idea.
> First Days in Bangkok
28-11-2007 Ten hours later we reach Bangkok completely broken. We haven't been able to sleep during the entire journey: our chairs were right in front of the toilets. That made our area the busiest in all of the airplane (and the most drunken fellows in the seats across the hallway also contribute to that), while furthermore the seats are only able to stand 90 degrees straight up.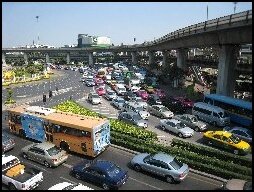 Fortunately the inconvenience is not lasting forever and after a fine landing the ride in the aircon-bus provides a first view on Bangkok. The next 15 hours we don't get to see much more from the city: we sleep, eat, sleap and eat a bit more. Whenever we visit a church in the future we will ask God: why did he bring all the good food here and do we have to deal with stuff like mashed potatoes and mash pot?
29-11-2007 According to our Rough Guide a beloved game of many tuktuk-drivers and some other Thai is to tell that the one sight you are planning to visit is closed today, as there is a National Holiday, to take you someplace else. Always somewhere where they get commission themselves.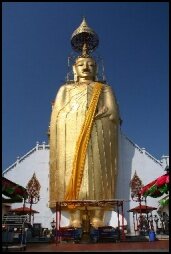 So when a nice man tells us, after an extensive explanation of all kind of things, the Grand Palace is closed today we're more than a little bit suspicious. He claims there is a festival today. When a second friendly passer-by also says the Grand Palace remains closed today we decide to do as he suggests and visit the 45 meter tall Standing Buddha and the most ancient Temple in Bangkok first.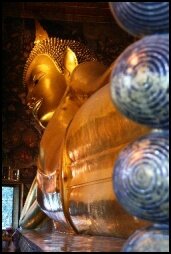 In the afternoon, after a visit to Wat Pho we're back at the Grand Palace and we find out that today everyone told the truth for once. There is a big party going on and escorted by police even King Bhumibol is visiting. Today the start of a new season is celebrated and the King changed the costume of the Emerald Buddha. We take a closer look at the Golden Mount and then have to admit one must not underestimate the terrible feeling of a jetlag.
> Grand Palace and Wat Phra Kaeo
30-11-2007 When we approach the walled Grand Palace again early in the morning we are told this major Bangkok attraction will not open untill 1 p.m. Hmm... we check out the entrance gate anyway and find everything open as it should be. Buddha requires that people act good, be helpful and more, but apparently he doesn't bother about lying.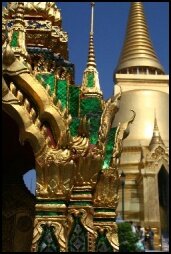 We start with the
Wat Phra Kaeo
, where we are overwhelmed by all the blingbling. We are not yet seasoned Temple-visitors, but we get the impression it will be hard for the many temples still to come to outreach this one in beauty. Truely amazing! We spend several hours wandering around both this temple and the Royal Palace.
The various buildings of the Wat Ratcha Naddaram, where the peace is quite a relief after the tourist highlight of the morning, can't compete with Wat Phra Kaeo. Still we think these temples are also really special and from the top of one of them you have a splendid view over the city and the Golden Mount.
In the market we finally find a new watch for Peter. His waving Mao-watch from China is getting more and more behind, but the watch salesman has no idea about that. He's so keen on getting that interesting watch from us he offers to exchange watches with the one he has for sale. Both him and Peter think they did good business by this trade.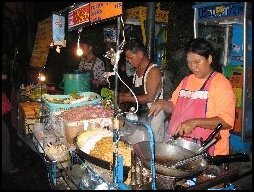 Yesterday we were a bit worried to eat from the street stalls right away, but now we warily try some of the food, just to totally enjoy all of it in the evening.

Luckily without any further consequences, so our date with Bo (penpal from Yvonne since years) can keep on.
> Chatuchak and Vimanek
01-12-2007 Yesterday we were very proud to have managed getting a 15 minute tuktuk-ride for as little as 50 Baht (1 euro), instead of the 100 of the day before, today we're traveling by bus for only 25! We cross half of the city on our way to Chatuchak Week-end Market. Tourist and Thai do their shopping and eating together here for little money. Sociable, but not really our thing.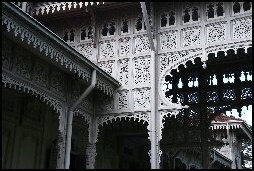 The buildings at Vimanmek Mansion (like the Royal Elephant museum) and the former (temporary) Royal Palace keep us occupied for the rest of the afternoon. We are truely impressed by all the very detailed crafts with woodcarving and braided bamboo.
From Thewet Pier we take the water bus for the very first time to Thonburi, to inquire for train tickets to Kanchanaburi, before we settle in a restaurant. Here we find out that when Thai type "hot and spicy" in their menu, they truely mean hot and spicy.

> Birthday of King Bhumibol
02-12-2007 There's nothing wrong with a lazy tourist day, so we found someone to sail us around in a longtail boat. From that boat we were able to have a look into the real life of Bangkok's inhabitants long time ago: canals with wooden homes on poles.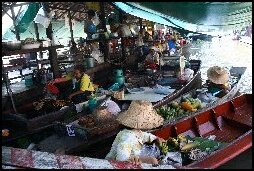 Salesmen paddle from one house to the next trying to sell their merchandise and some thirty minutes later we get to the Floating Market, where even at ten thirty a.m. lots of Thai enjoy themselves eating and drinking. Many of them wear yellow shirts today, as their
King's 80th birthday
is celebrated and the Royal color is yellow. The King is of great importance to all the Thai and he is truely revered by all of them. That's why yellow shirts are favorite to wear, even on other days.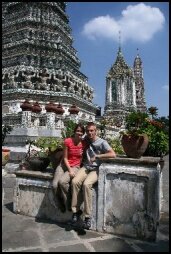 The "skipper" of our boat drops us at
Wat Arun
, a gorgeous Temple; once again completely different from what we've seen so far. After a visit to the crocodile Temple Wat Chakrawat we move on to the biggest green square in Bangkok: the one in front of the Grand Palace. The festivities there have already started: cute little kids, dressed in costumes, dancing like they are adults. Next thing that happens is some highly ranked officials arriving at the place, taking part in all kind of ceremonies, after which some 100 men dressed in yellow are cut completely bold by important people wearing yellow in a giant yellow tent: they are going to be monks. A famous Thai tv-star is one of them. According to a Thai guy we couldn't be here on a better day: "You very lucky to be here".
By the end of the afternoon there are sports matches, preceded by collective yells from hundreds of youthful on giant podiums with pompons, colored gloves and a group of dancers.
They must have practised hours for this, it all happens neatly equal and they sing and shout like their lives depend on this: impressive. And at all of these activities: barely tourists to be seen. We skip the night program, as we had enough fun for one day and return to our room.
> Thonburi and Siriraj
03-12-2007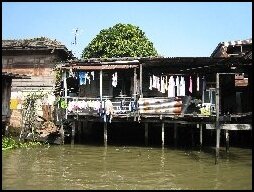 It's already late when we go out, first we head in the direction of the giant popular neighborhood of Thonburi, which we now explore on foot. We really get a view of the people's lives, as many of the doors are open. Narrow alleyways and houses on poles are mixed with schools and temples. Wat Kanlayanamit is being reconstructed, in a way that would give Dutch unions a reason for many strikes against working conditions. We're impressed by the giant sitting Buddha, a statue of about 15 meters in height and being re-painted as well.
By the end of the afternoon we end up in Siriraj hospital, not because we're sick or injured, but to visit the bizarre museum they have here. They display the ways people can die in a way that leaves nothing to the imagination.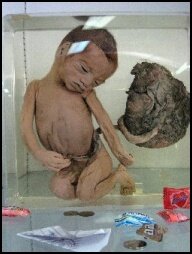 (Parts of) victims are being displayed right next to their cause of death, like a bullet, knive, disease or animal. There's also an anatomical museum where certain parts of the human body are on show and where Siamese twins and various developmental stages of fetuses in spirits are exposed. To reach the last part of the museum we have to cross the morgue.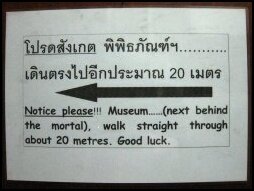 Both of us reach the exit with our stomachs still in the right place and later that night we try another dish from the delicious and inexhaustible Thai cuisine.
> To Bangkwang Prison
04-12-2007 On request of Jenny we head to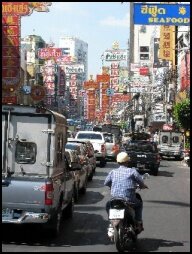 Bangkwang Prison today (at the outskirts of the city) to visit Dutchmen Adriaan van Ommering, who has been imprisoned here for 6 years. Like he tells us during this visit the Thai government have completely different ideas about drugs than the Dutch and he was sentenced to life imprisonment for XTC-trafficking. In reality he needs to spend at least the first 8 years in appaling conditions in prison here, before he might have a chance to being transferred to the Netherlands.We speak with Adriaan for some 45 minutes.
Back in town we marvel at all the merchandise in China Town. Incredible what they all sell here. But also very tiring, all the impressions we got today, so soon we return to our hostel to relax a bit and to publish the journal and photos from last week.
Bangkok Grand Palace Thailand video

The Bangkok Grand Palace Thailand video will show here


Bangkok Traffic and birthday King Bhumibol Thailand video

The Bangkok Traffic and birthday King Bhumibol Thailand video will show here

Click on the films up here to look around in Bangkok, almost live.
> More Info
Also check our
Thailand info page
, where you can find a lot of information about Thailand and come see our
Bangkok photos
.