Hungary > Hongarije
> National flag of Hungary | Nationale vlag van Hongarije

> Map of Hungary | Kaart van Hongarije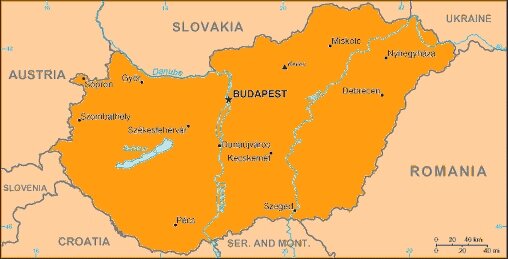 > Area | Oppervlakte
93.030 km²
> Capital | Hoofdstad
Budapest | Boedapest
> Population | Aantal Inwoners
10 Million
> Currency | Munteenheid
Forint
233,33 HUF = 1 EUR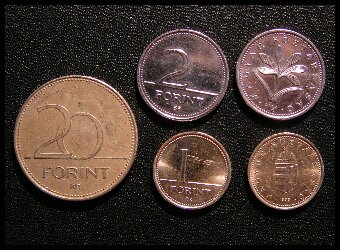 > Language | Taal

Hungarian

Hongaars
> Climate | Klimaat

Hungary has a temperate climate. The winters are cold, cloudy and humid. The summers are warm.

Hongarije heeft een gematigd klimaat. De winters zijn koud, bewolkt en vochtig. De zomers zijn warm.
> Roads | Wegen

In general the roads in Budapest were pretty good in 2005 and the major roads are broad and not too busy. The rest of the Hungarian roads aren´t very busy as well, as we´ve heard. For some of the highways you need a toll-vignet. By the way: we think most of the Hungarian who own a car or taxi watched Michael Schumacher a little bit too much, but that's our experience. At least it gives you the advantage of a quick arrival at your destination when you take a cab.

De wegen in Boedapest waren in 2005 over het algemeen in redelijke staat en de doorgaande wegen zijn breed en niet al te druk. Ook in de rest van Hongarije is het naar we gehoord hebben niet erg druk op de wegen. Op sommige (snel-)wegen heb je een vignet nodig. De meeste Hongaren in het bezit van een eigen auto of taxi hebben trouwens iets te veel naar Michael Schumacher gekeken, tenminste dat is onze ervaring. Bijkomend voordeel is wel dat je zeer snel op de plaats van bestemming bent als je een taxi neemt.
> Accommodation | Verblijf

In Budapest there are plenty hotels, in all price ranges. A very good alternative is to rent an apartment. Our apartment was in the center of Budapest with a 24-hour shop and some restaurants just around the corner. And Amadeus Apartments rents even a few other apartments in the heart of Budapest.

In Boedapest zijn er hotels in elke prijsklasse. Een leuk en zeker aan te raden alternatief is het huren van een appartement. Ons appartement zat midden in het centrum, met een 24-uurs winkel en diverse eetgelegenheden om de hoek, en Amadeus Apartments verhuurt ook nog diverse andere appartementen in de binnenstad.
> Particularities | Bijzonderheden

We booked a round-trip for the flight to Budapest with Sky-Europe. Soon we discovered that we'd better booked it somewhere else. The flight from Amsterdam Schiphol was already delayed 30 minutes when we arrived at check-in. By gradually postponing take-off with a couple of minutes, we finally took off almost four hours too late. At 02.30 we finally arrived in Budapest. On our flight back, the same thing happened, so we were facinf another delay of more than 90 minutes. Thanks to Sky-Europe we now know every single corner of Ferihegy Airport! As the crew happily said during the flight: "We thank you for flying Sky-Europe and hope to see you again". Thanks, but no thanks!

Wij hebben bij het boeken van het vliegticket de fout gemaakt om goedkoop een retour te boeken bij Sky-Europe. Helaas bleek ook hier weer: goedkoop is vaak duurkoop. De vlucht op de heenreis zou een half uur vertraging hebben, uiteindelijk werd dit door steeds een half uurtje verder op te schuiven drie en een half uur en kwamen wij midden in de nacht in Boedapest aan. De terugvlucht ging iets beter: dit keer hadden we slechts anderhalf uur vertraging en hebben we nogmaals heel wat tijd voor niks op een luchthaven doorgebracht. Dit was dus de eerste en laatste keer dat wij met Sky-Europe vlogen: "We thank you for flying Sky-Europe and hope to see you again", nou dank je de koekkoek.
> Worth to Visit | Bezienswaardigheden
Budapest | Boedapest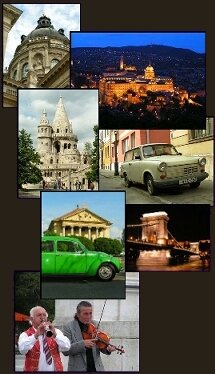 St. Stephen's Basilica | Stefan's Basiliek
Fishermans Bastion | Vissers Bastion
Dohány Synagogue | Dohány Synagoge
Buda Castle | Kasteel van Buda
Danube | Donau
Obuda District | De wijk Obuda
Bridges at night | Verlichte bruggen
> Useful Links | Handige Links

Uttikonyv.hu Tourist Information
Hungary Tourism More Tourist Info
Orszagimazs.Lap.hu
Hungary Link Collection
Budapest Info Official Site
Budapest-Kepgaleria.Lap.hu
Budapest Link Collection
Budapest hotels Hotel Accommodation


Hongarije.Startpagina.nl Links Hongarije
Hongarije.Start.be Hongarije Links
Reisbijbel.nl Reisverhalen, foto's en informatie
Reisadvies Hongarije Ministerie van buitenlandse zaken




> weather | Het Weer
> Meer Info/ More Info

Want to know more? Check our
Travel Journal
and
Photos
from Budapest.

Nieuwsgierig geworden? Lees ook ons Reisverhaal over Boedapest en bekijk de Foto's.