Kyrgyzstan > Kirgizstan, Kirgizië
> National flag of Kyrgyzstan | Nationale vlag van Kirgizstan

> Map of Kyrgyzstan | Kaart van Kirgizstan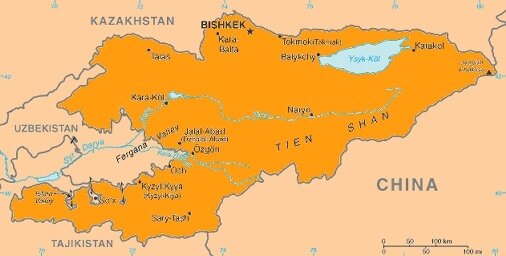 > Area | Oppervlakte
198.500 km²
> Capital | Hoofdstad
Bishkek
> Population | Aantal Inwoners
5,3 Million
> Currency | Munteenheid
Som
50 KGS = 1 EUR
> Language | Taal

Kyrgyz (official), Uzbek, Russian (official) and few others.

Kirgizs (officieel), Oezbeeks, Russisch (officieel) en enkele andere.
> Climate | Klimaat

There is a dry continental to polar climate in the high Tien Shan mountain range; subtropical in the southwest (Fergana Valley); temperate in the northern foothill zone.

Er heerst een droog continentaal tot pool-klimaat in het hoge deel van het Tien Shan gebergte; subtropisch in het zuidwesten (Fergana Vallei); gematigd in het noordelijke, lage heuvelland.
> Visa | Visum

Info is from 2012!
Visa for Kyrgyzstan are easy to get, as long as you know where to apply for one. In China you can only get them in Beijing or Urümqi, but you can also apply for a visa in the capitals of Uzbekistan or kazakstan. The costs for an advance visa are about €50,- for a single entry, but nowadays many Nationalities are able to purchase a visa on arrival after landing at Manas airport. Check at the embassy whether you're one of these Nationalities.
Want to do like us and apply for a Kyrgyz visa in Beijing? To save you a big search... the complete address of the "best hidden embassy ever" is:
Embassy Kyrgyzstan in Beijing
2-7-1 Ta Yuan Diplomatic Office Building
14 Liangmahe Nan Lu in the Embassy Quarter
Embassador Sultanov Kamil likes to see a handwritten letter in which you explain why you want to visit his country, added to your visa-application form; plus a copy of your passport and Chinese visa.

Info is van 2012! Visa voor Kirgizië zijn niet moeilijk te krijgen, als je op de juiste plek bent. In China zijn de visa alleen in Beijing en Urümqi verkrijgbaar, maar ook in de hoofdsteden van Oezbekistan en Kazachstan kun je er één aanvragen. Een op voorhand geregeld visum kost ongeveer €50,- voor 1 inreis, maar tegenwoordig kunnen reizigers met verschillende nationaliteiten een visa on arrival krijgen, na hun landing op Manas airport. Ook Nederlanders zijn één van die nationaliteiten.
Om iedereen, die net als wij het visum aanvraagt in Beijing, een enorme zoektocht te besparen... het (altijd onvolledig weergegeven) adres van de haast onvindbare ambassade is:
Ambassade Kyrgyzstan in Beijing
2-7-1 Ta Yuan Diplomatic Office Building
14 Liangmahe Nan Lu in de ambassadewijk
Ambassadeur Sultanov Kamil heeft graag een handgeschreven brief waarom je zijn land graag wil bezoeken bij het visum-aanvraagformulier, plus een kopie van je paspoort en Chinese visum.
> Travel | Reizen
Dutch Embassy | Nederlandse Ambassade:
62 Kosmonavtovstr., 8th Floor, office 801, Chubarymcrd 010000 Astana, Kazakstan
(007)-(0)317 297 4481/82
Open: mon-fri 9.00-13.00 & 13.30-17.30 uur
Internet: www.netherlands-embassy.kz
> Particularities | Bijzonderheden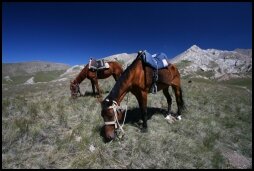 Kyrguzstan is an extremely mountainous country, which makes traveling a time consuming passtime. To get somewhere you often have to cross a (high) mountain pass, following a narrow road with many bends.
In many places there's hardly any public transport. Sometimes there are minivans, leaving from the center of a town, but more often you'll have to find yourself a seat in a shared taxi. Hitchhiking is also a great option. People are used to picking up other travelers and for a small amount you're dropped at your destination, many times even right on the doorstep.

Kyrgyzstan is een bijzonder bergachtig land en dat maakt het reizen een tijdrovende bezigheid. Om ergens te komen moet je vaak een (hoge) bergpas over, via een smalle, slingerende weg.
Openbaar vervoer is er nauwelijks. Soms zijn er minibusjes, die vanaf het centrum van een plaats vertrekken, maar vaker zul je een plekje in een shared taxi moeten nemen. Ook liftend kom je een heel eind. De mensen zijn gewend andere mensen mee te nemen en voor een klein bedrag wordt je, vaak keurig voor de deur, op je plaats van bestemming gebracht.
> Highlights

The entire country of Kyrgyzstan is a highlight on its own! It is an elevated country, having mountains, lakes and rivers to offer, along with a truely friendly and hospitable population. We loved it there.
Not to be missed when in Kyrgyzstan are the markets of
Osh
and
Karakol
, the latter is only held on Sundays.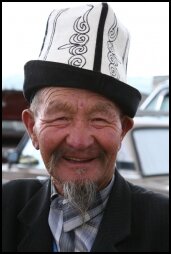 The valleys around Karakol are excellent for daytrips or multiple day trekkings. Especially
Jeti-Ogüz
and
Ak-Suu
are very much worth to check out. For real nature lovers a trip on horseback or on foot to
Kol Ükök
is a must and also
Song Kol
is really beautiful and offers lots of possibilities for horseriding or hiking. The journey to remote
Caravanserai Tash rabat
is crossing vast highlands, with snowpeaks in every direction you might possibly be looking.

Kyrgyzstan, ofwel Kirgizië, is een highlight op zich! Het land is hooggelegen en heeft behalve bergen, meren en rivieren een ontzettend vriendelijke en gastvrije bevolking. Wij vonden het er geweldig.
Wat zeker niet mag ontbreken bij een bezoek aan Kyrgyzstan zijn de markten van Osh en Karakol, de laatste is er alleen op zondag. De valleien rondom Karakol lenen zich uitstekend voor dagtrips of meerdaagse trekkings. Met name Jeti-Ogüz en Ak-Suu zijn zeer de moeite waard. Voor de echte natuurliefhebber is een tocht te paard of lopend naar Kol Ükök een aanrader en ook Song Kol is erg mooi en biedt volop mogelijkheden tot paardrijden of wandelen. De tocht naar de afgelegen Caravanserai Tash rabat gaat over uitgestrekt hoogland met besneeuwde toppen, overal waar je kijken kunt.
> Useful Links | Handige Links

CBT Kyrgyzstan Great way to book homestays and tours
Osh to Karakol Travel Journal
Kochkor Travel Journal


Kirgizie Startpagina Linkverzameling over dit prachtige land
Kirgizie Startkabel Meer Links
Osh naar Karakol Reisverslag
Kochkor Reisverslag
> Weather | Het Weer
> Meer Info/ More Info

Want to know more? Check our
Travel Journal
and
Photos
from Kyrgyzstan.

Nieuwsgierig geworden? Lees ook ons Reisverhaal over Kirgizië en bekijk de Foto's.