Nepal
> National flag of Nepal | Nationale vlag van Nepal

> Map of Nepal | Kaart van Nepal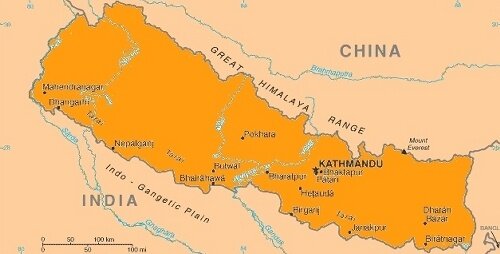 > Area | Oppervlakte
147,181 km²
> Capital | Hoofdstad
Kathmandu
> Population | Aantal Inwoners
28 Million
> Currency | Munteenheid
Rupee
92 NPR = 1 EUR
> Language | Taal

In Nepal there are many languages, like Nepali, Maithali, Bhojpuri, Tharu (Dagaura/Rana), Tamang, Newar, Magar, Awadhi and some other.

In Nepal worden vele talen gesproken, zoals Nepalees, Maithali, Bhojpuri, Tharu (Dagaura/Rana), Tamang, Newar, Magar, Awadhi en enkele andere.
> Climate | Klimaat

The Nepalese climate varies from cool summers and severe winters in the north to subtropical summers and mild winters in the south .

Het Nepalese klimaat varieert van koele zomers en strenge winters in het noorden tot subtropische zomers en gematigde winters in het zuiden.
> Visa | Visum

Info is from 2012!
The Nepalese visa is valid for 6 months. The duration of stay is 60-days. You may enter at anytime during the visas validity. The duration of stay begins the day you enter Nepal. The costs of your visa will depend on how fast you wish to receive your passport with the new visa back (2 to 5 days) and on the need of a single or multiple entry.
Nowadays a visa on arrival is also an option when arriving at the Kathmandu airport or at some overland crossings, for: 15 days=$25, 30 days=$40, 90 days=$100
Your passport needs to be valid for another 6 months from the day that you leave Nepal.

Info is van 2012! Toeristenvisum aangevraagd in Nederland: €55- (één inreis). Geldigheid: 30 dagen. Na afgifte van het visum moet het binnen 6 maanden gebruikt worden. Binnen 1 dag is het visum al klaar.
Tegenwoordig is het op de luchthaven van Kathmadu en bij een aantal landsgrenzen ook mogelijk een visa on arrival te krijgen. Kosten hiervoor: 15 dagen=$25, 30 dagen=$40, 90 dagen=$100
Bij vertrek uit Nepal dient het paspoort nog minimaal 6 maanden geldig te zijn.
> Travel | Reizen
Dutch Embassy | Nederlandse Ambassade:
6/50F Shanti Path, Chanakyapuri, New Delhi 110021, India
(0091)-(011)2419 7600
Open: mon-thu 08.30-12.30 & 13.00-17.00 / fri 8.30-14.30
Internet:
www.hollandinindia.org
> Particularities | Bijzonderheden

For our trekking near Pokhara we used a guide. Dhan is a reliable and experienced guide, who knows all trekkings in the Pokhara area by heart. You can reach Dhan by sending an email to his daughter Rekha: rekha_np2006yahoocom.
When you're in Pokhara you could also visit the family. They own a small shop in the street right next to Concerto cafe in the main street of Lakeside. The cafe is mentioned in every travel guide. You enter the street on its left side for about 20 metres and on the right side you'll find a couple of tiny shops. One of them is Rekha Coldstore. This is where Dhan and his family are living. All of them speak pretty good English.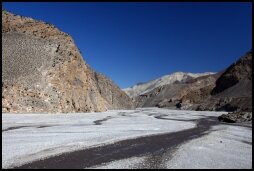 Onze trekking nabij Pokhara hebben wij gedaan met een gids. Dhan is een betrouwbare en ervaren gids, die alle trekkings in de omgeving van Pokhara op z'n duimpje kent. Je kunt met Dhan in contact komen door een mail te sturen naar zijn dochter Rekha: rekha_np2006yahoocom.
Als je al in Pokhara bent kun je de familie ook opzoeken. Ze hebben een klein winkeltje in het straatje pal naast café Concerto in de hoofdstraat van Lakeside. Het café staat in elke reisgids. Je loopt het straatje links ervan zo'n 20 meter in en vindt aan de rechterkant een aantal kleine winkeltjes. Eén ervan is Rekha Coldstore. Hier wonen Dhan en zijn familie. Ze spreken allemaal goed Engels.
> Highlights

Our first acquaintance with Nepal started at the chaotic capital
Kathmandu
, where especially the Buddhist Temples
Bodhnath
and
Swayambhunath
and the
Hindutemple Pashupatinath
impressed. The nearby historic city of
Bhaktapur
, with its beautiful temples and wonderful Durbar Square, is definately worth a visit.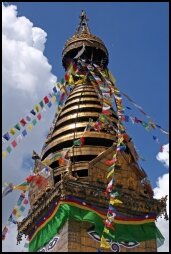 In the Pokhara area there's lots to discover. Like walking to the
World Peace Pagoda
, from where you can enjoy a breathtaking view on the Himalayas. When you truely like to explore the mountains Pokhara is thé starting point. We flew to
Jomsom
, from where we made a stunning hike to
Muktinath
and back down.
Chitwan National Park
is a fine place to see rhinos and other wildlife. In the vicinity of the park you can enjoy the
Tharu culture
in small villages.

Onze kennismaking met Nepal begon in de chaotische hoofdstad Kathmandu, waar vooral de Buddhistische Tempels Bodhnath en Swayambhunath en de Hindutempel Pashupatinath indruk maakten. De nabijgelegen historische stad Bhaktapur is met zijn mooie tempels en prachtige Durbar Square een bezoekje ook meer dan waard.
In de omgeving van Pokhara is vanalles te beleven. Zo kun je wandelen naar de World Peace Pagoda, vanwaar je een adembenemend zicht hebt op de Himalaya. Als je echt de bergen in wil is Pokhara hét vertrekpunt. Wij vlogen naar Jomsom, vanwaar we een schitterende tocht naar Muktinath en terug naar beneden maakten.
Chitwan National Park is een prima plek om neushoorns te zien en ander wild. In de omgeving van het park kun je de Tharu cultuur opsnuiven in kleine dorpjes.

> Useful Links | Handige Links

Nepal Tourism
Welcome Nepal Tourist Info
Kathmandu Travel Journal
Pokhara and Chitwan Travel Journal
Jomsom Trek Travel Journal


nepal.startkabel.nl Uitgebreide verzamelink links over Nepal
nepal.startpagina.be Linkpagina
vliegtickets Nepal Kathmandu Reisverslag
Pokhara en Chitwan Reisverslag
Jomsom Trek Reisverslag



Trekking Urlaub in Nepal Sehenswürdigkeiten, Fakten und Trekkingtouren

> Weather | Het Weer
> Meer Info/ More Info

Want to know more? Check our
Travel Journal
and
Photos
from Nepal.

Nieuwsgierig geworden? Lees ook ons Reisverhaal over Nepal en bekijk de Foto's.