Russia > Rusland
> National flag of Russia | Nationale vlag van Rusland

> Map of Russia | Kaart van Rusland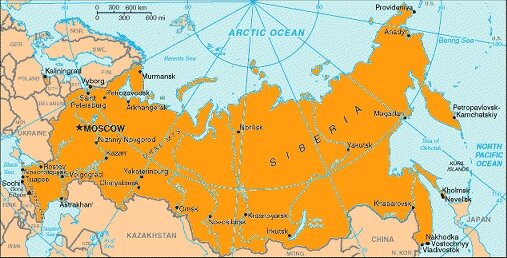 > Area | Oppervlakte
1.7075.200 km≤
> Capital | Hoofdstad
Moscow
> Population | Aantal Inwoners
141 Million
> Currency | Munteenheid
Russian Ruble | Russische Roebel
35,21 RUR = 1 EUR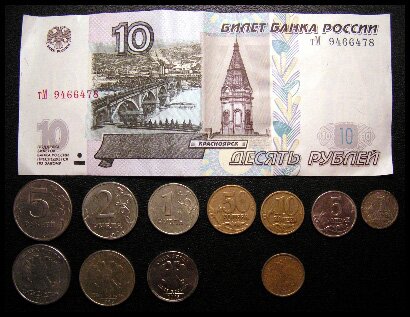 > Language | Taal

Russian

Russisch
> Climate | Klimaat

The southern part has steppes climate, but the European part of Russia has a humid continental climate. In Siberia it's subarctic and in the polar north tundra climate. Winters are cool along Black Sea coast and freezing cold in Siberia. Summers are warm in the steppes, but cool in the upper north.

Het zuiden heeft een steppe-klimaat, maar het Europeese deel van Rusland heeft een vochtig landklimaat. In SiberiŽ heerst een sub-arctischklimaat en het uiterste noorden kent een toendra klimaat. De winters zijn koel aan de kust van de Zwarte Zee en ijskoud in SiberiŽ. De zomers op de steppen zijn warm, maar in het uiterste noorden zeer koel.
> Roads | Wegen

The quality of the Russian roads varies. In and around Moscow most roads are in good condition, but in the countryside this is a whole lot different. Bumpy tarmac full of gaps and holes are no exception. Still, all the motorways we saw out of the train seemed in good condition.

De wegen in Rusland zijn van wisselende kwaliteit. In en om Moskou zijn de meeste wegen in goede staat, maar zodra je op het platteland bent is dit heel anders. Hobbelig asfalt vol met kuilen en gaten zijn geen uitzondering. Toch zagen de meeste snelwegen die we vanuit de trein zagen er wel goed uit.
> Accommodation | Verblijf

It's not easy to find a decent hotel for a reasonable price in Moscow. We slept in hotel Izmailovo, a block built for the athletes of the olympics in 1980, and which consists of the Alpha, Beta, Gamma and Delta towers. The 4 separate buildings are, opposite of the edited photos that the hotel uses itself, very ugly and old-fashioned to western standards. There is a subway station around the corner, but somehow it still took us about 45 minutes every day to reach the city center, so it's not very close to the main attractions. Breakfast was very extensive and of great quality. But still the hotel in Suzdal was more pleasing. The new and luxurius site is situated in a rural environment and was lovely decorated. Most of the people here don't speak English, what can be difficult if you don't speak Russian yourself. For all people visiting the website of the hotel: good luck!

Het is lastig om in Moskou een goed hotel voor een redelijke prijs te vinden. Zelf sliepen we in het Izmailovo hotel, een complex dat in 1980 voor de deelnemers aan de olympische spelen gebouwd is, en bestaat uit een Alfa, Gamma, Beta en Delta toren. De 4 aparte gebouwen zijn in tegenstelling tot de gephotoshopte foto's die het hotel zelf gebruikt spuuglelijk en naar westerse begrippen erg ouderwets. Ondanks de metro halte bijna voor de deur kostte het ons toch dagelijks ruim drie kwartier om in het centrum te komen, erg centraal gelegen zijn ze dus niet. Het ontbijt was er echt heel uitgebreid en erg goed. Toch beviel ons het hotel in Soezdal stukken beter. Het nieuwe en zeer luxueuze complex lag erg landelijk en was erg sfeervol ingericht. Dat ze er bijna geen Engels spreken is soms erg lastig als je zelf geen Russisch spreekt. Voor al deze mensen: succes met de website!
> Particularities | Bijzonderheden

For everyone that wants to visit the real Russia there's only one tip: don't stay too long in Moscow or St. Petersburg. Instead of the sad and gruff faces, you'll more often see a friendly smile here. In Suzdal we discovered how helpful the Russians really are. Despite the language difficulties we were aproached much friendlier and a lot of people were interested in us. Lots of them came to us for a chat, but this wasn't always easy. When our English an German didn't work out, the postcards and candy from home were always a succes.

Voor wie het echte Rusland wil zien hebben wij eigenlijk maar 1 tip: blijf niet in Moskou of Sint Petersburg hangen, maar ga het platteland op. In tegenstelling tot de norse, maar vaak ook droevige gezichten zul je hier veel vaker een vriendelijke lach tegenkomen. Wij ontdekten pas in Soezdal hoe behulpzaam de Russen eigenlijk zijn. Door de taalbarriere kwam dit niet altijd zo over, maar ondanks dit werden we hier veel vriendelijker benaderd en toonden veel mensen belangstelling. Velen wilden ook graag een praatje maken, maar dit bleef lastig. Als het zowel in het Engels als het Duits niet lukte waren onze kaartjes en snoep van thuis toch altijd een succes.
> Worth to Visit | Bezienswaardigheden
Moscow | Moskou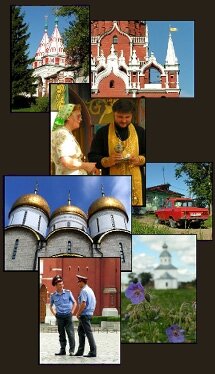 Kremlin
Victory Park | Overwinnings Park
Gorky Park
St. Basil's Cathedral | St. Basilius Kathedraal
Novodevichy Nunnery | Novodevitsji klooster
Suzdal | Soezdal
The cathedral of the Nativity of the Virgin
Holy Gate
Market Place
Spaso Yevfimiyev Monastery
> Useful Links | Handige Links

Visit Russia All kinds of info about Russia
Russian Tourist Info
Oroszorszag-Kepgaleria.Lap.hu
Russia Link Collection
TravelLibrary.com Guides, Reviews and More...
Accommodation in Russia
Moscow Today Many photos of Moscow
Moszkva-Kepgaleria.Lap.hu
Moscow Link Collection from Hungary
Moscowcity.com Travel information Moscow


Reisadvies Rusland Ministerie van buitenlandse zaken
Rusland.Startpagina.nl Diverse Rusland links
Rusland.UwPagina.nl
Rusland.nl Veel informatie over Rusland
Rusland.Startkabel.nl Allerlei Nederlands- en Engelstalige Rusland-links
Rusland.Startpagina.be Belgische linkverzameling
Moskou.Startkabel.nl Moskou-links
Moskou.Beginthier.nl Links over Moskou
Reisbijbel.nl Reisverhalen, foto's en informatie




> weather | Het Weer
> Meer Info/ More Info

Want to know more? Check our
Travel Journal
and
Photos
from Russia.

Nieuwsgierig geworden? Lees ook ons Reisverhaal over Rusland en bekijk de Foto's.