Spain > Spanje
> National flag of Spain | Nationale vlag van Spanje

> Map of Spain | Kaart van Spanje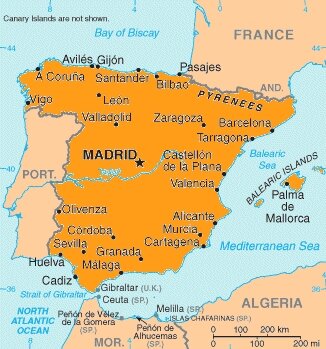 > Area | Oppervlakte
504.782 km²
> Capital | Hoofdstad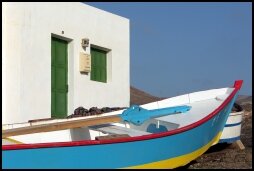 Madrid
> Population | Aantal Inwoners
40 Million
> Currency | Munteenheid
Euro (€)
> Language | Taal

Spanish and in some parts of the country Catalan and Eusquera.

Spaans en in sommige delen van het land Catelaans en Eusquera.
> Climate | Klimaat

Temperate climate. Clear, hot summers in central Spain, more moderate and cloudy along the coast. Cloudy, cold winters in central Spain, partly cloudy and cool along the coast. At Canary Islands there is eternal springtime. Temperatures between the seasons vary only some 6º C, the monthly average temperatures are from 18º to 24º C. Ideal bathing conditions through all the year.

Gematigd klimaat. Zonnige, hete zomers in centraal Spanje, meer gematigd en bewolkt aan de kust. Bewolkte, koude winters in centraal Spanje, gedeeltelijk bewolkt en koel aan de kust. Op de Canarische eilanden is het eeuwig lente. De temperaturen verschillen slechts 6º C, het maandelijks gemiddelde ligt tussen de 18º en 24º C. Ideale omstandigheden voor een strandvakantie, het hele jaar door.
> Roads | Wegen

Maximum speed is 90 kilometers an hour on almost every road at Lanzarote, on some roads even 100. In Arrecife and the villages 40 kilometers an hour is allowed. The quality of the roads is pretty good, we found many new roads, but also a few that really needed some extra care. The roads at the hilly northside of the island have a lot of curves. According to us they could use some more signs at some places, but you never really get lost on an island of this size.
At La Palma the roads are pretty good as well, but there are numerous bends. That's why it takes a long time to get to the other side of the island, even though La Palma isn't that big. Gas is, like anywhere else in Spain, chesp compared to other European countries.
In Barcelona are taxi's still affordable. They are a good choice if you have problems with walking, like Yvonne during our stay, but also when you feel a bit lazy.

Op vrijwel alle wegen op Lanzarote mag 90 kilometer per uur gereden worden, op een enkele weg zelfs 100. Binnen de bebouwde kom is de snelheid meest 40 kilometer per uur. De wegen zijn van vrij goede kwaliteit, we troffen veel nieuwe wegen aan, maar ook enkele die dringend onderhoud nodig hadden. De wegen in het heuvelachtige gebied aan de noordkant van het eiland zijn erg bochtig. Naar ons idee mag er op sommige plekken wat meer bewegwijzering staan, maar verdwalen doe je op een eiland van dit formaat toch niet echt.
Ook op La Palma zijn de wegen over het algemeen vrij goed, maar wel erg bochtig. Daardoor duurt het lang om naar de andere kant van het eiland te rijden, ook al is La Palma niet erg groot. Benzine is, net als in de rest van Spanje, erg goedkoop in vergelijking met andere Europese landen.
In Barcelona zijn taxi's nog altijd goed betaalbaar. Handig als je, zoals Yvonne tijdens ons verblijf, even niet zo goed ter been bent, of gewoon lekker lui.
> Accommodation | Verblijf

There are plenty of hotels and apartments on the Canary Islands. At La Palma we found a nice, affordable apartment in Los Concajos, near the capital Santa Cruz: Lago Azul. At Lanzarote we even saw a few caravans. We had a pleasant stay at apartcub Don Paco Castilla in Puerto del Carmen. The village of Puerto del Carmen is situated on a central place on the island and the apartment was clean and had a beautiful swimming pool in front of it.
In Barcelona we found a clean hostel for a good price which was close to the main attractions: Omni House.

Aan hotels en appartementen op de Canarische eilanden geen gebrek. Op La Palma vonden we een prima, betaalbaar appartement in Los Concajos, op korte afstand van de hoofdstad Santa Cruz: Lago Azul. Op Lanzarote zagen we zelfs een enkele caravan. Ons is het verblijf in appartementencomplex Don Paco Castilla in Puerto del Carmen erg goed bevallen. Puerto del Carmen ligt centraal op het eiland en het appartement werd regelmatig schoongemaakt en had een prachtig zwembad voor de deur.
In Barcelona vonden we een schoon hostel voor een goeie prijs, dat ook nog eens dichtbij de belangrijke attracties van de stad ligt: Omni House.
> Particularities | Bijzonderheden

During the cold wintermonths it's lovely at the Canary Islands: fine temperatures and enough sunny days. Still it can be a bit chilly some days. So don't forget to bring a pair of trousers and a fleece sweater. Some days are excellent for a swim, but not all days, unless you're never cold or you just want to show off on one of the photos for your friends at home


Op de Canarische eilanden is het in de wintermaanden heerlijk: prima temperatuur en een lekker zonnetje. Toch kan het er af en toe redelijk fris zijn. Vergeet dus ook je lange broek en fleecetrui niet mee te nemen. Zwemmen kan op sommige dagen prima, maar niet op elke dag, tenzij je een enorme bikkel bent of gewoon stoer wil doen voor de foto voor het thuisfront

> Worth to Visit | Bezienswaardigheden

Andalusia
Almería area | omgeving van Almería
GranadaGranada
Córdoba
Barcelona
Las Ramblas
Gaudí Works | Gaudí's Bouwwerken
Magic Fountain | Magische Fontein
Mercat de la Boquería
Park Güell
Barri Gòtic
Lanzarote
Teguise sundaymarket | zondagsmarkt Teguise
walking through La Geria | wandeling La Geria
El Golfo vulcano | vulkaan El Golfo
Los Hervideros
Mirador del Rio
Jardin de cactus
Playa Quemada
Cueva de los Verdes
Timanfaya nationa(a)l park
La Palma
La Cumbrecita
San Antonio
La Tosca
Observatorio Astrofísico
Barranco de las Angustias
> Useful Links | Handige Links

TourSpain Official tourism website Spain
OK Spain Your trip to Spain
Spanyolorszag-Kepgaleria.Lap.hu
Spain Link Collection
TravelLibrary.com Guides, Reviews and More...
All about Spain: Canary Islands
Turisme de Barcelona
Barcelona Spain Travel Guide Practical and informative tourist guide about Barcelona City


Spanje.Startpagina.nl Spanje links
Lanzarote.Startpagina.nl Lanzarote Links
Lanzarote.Reisstart.nl Meer links
Barcelona.Startpagina.nl Linkverzameling
Barcelona.GoedBegin.nl Meer Links
Barcelona.Start.be De beste Barcelona sites
Reisbijbel.nl Reisverhalen, foto's en informatie
Gaudi.Startpagina.nl Verzameling Links over Gaudi
> weather | Het Weer
> Meer Info/ More Info

Want to know more? Check our
Travel Journal
and
Photos
from Barcelona or the
Travel Journal
and
Photos
from Lanzarote.

Nieuwsgierig geworden? Lees ook ons Reisverhaal over Barcelona en bekijk de Foto's of lees het Reisverhaal Lanzarote en bekijk de Foto's.