Israel > IsraŽl
> National flag of Israel | Nationale vlag van IsraŽl

> Map of Israel | Kaart van IsraŽl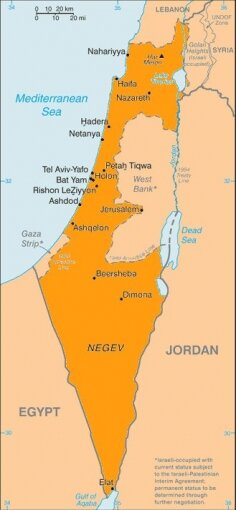 > Area | Oppervlakte
20.770 km≤
> Capital | Hoofdstad
Tel Aviv
> Population | Aantal Inwoners
7,2 Million
> Currency | Munteenheid
Israeli New Sheqel (Shekel)
5,50 NIS = 1 EUR
> Language | Taal

Hebrew (official), Arabic (official) for the Arabic minorities and English as the most commonly used foreign language.

Hebreeuws (officiŽel), Arabisch (officiŽel) voor de Arabische minderheden en Engels als de meest gebruikte vreemde taal.
> Climate | Klimaat

Temperate, but hot and dry in southern and eastern desert areas.

Gematigd, maar heet en droog in de zuidelijke en oostelijke woestijngebieden.
> Visa | Visum

Info is from 2012!
Most nationalities don't need a visa in advance, just your passport valid for at least six more months from the date of departure will do. Countries that DO need a pre-issued visa are the Central American countries, African countries (not South-Africa), India, Singapore and some of the former Soviet republics.
As soon as you leave the country you will be charged a departure tax (amount varies per border-crossing).

Info is van 2012! De meeste nationaliteiten hoeven niet vooraf een visum te regelen, een paspoort dat nog minimaal zes maanden geldig is op het moment dat je het land verlaat is voldoende. Landen die WEL een visum nodig hebben zijn de landen in Centraal Amerika, Afrikaanse landen (niet Zuid-Afrika), India, Singapore en sommige van de voormalige Sovjet republieken.
Zodra je het land verlaat via een landsgrens moet je vertrekbelasting betalen (bedrag verschilt per grenspost).
> Travel | Reizen
Dutch Embassy | Nederlandse Ambassade:
Beit Oz, 13th floor, 14 Abba Hillel Street, Ramat Gan 52506 (Tel Aviv)
(00972) - 3 75 40 777
Open: mon-thu 09.00-12.30, fri 09.00-12.00 Internet: www.netherlands-embassy.co.il
> Particularities | Bijzonderheden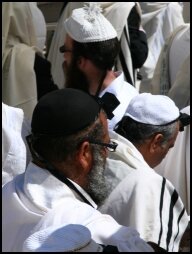 Many people think that traveling to Israel is not safe or even dangerous for life. That's not true! Traveling to Gaza and some of the Palestinian Territories is dangerous, but as a tourist you're not even allowed to enter these territories. Seaside resort Eilat, the capital Jerusalem and all the places in the North of the country are perfectly safe to visit.
What we did have to get used to was seeing militaries out in the streets, everywhere you come, both wearing uniforms or their casual outfit, carrying huge rifles on their shoulders. However, we've never been in any situation making us feel threatened or unsafe. Just go, it's a beautiful country!

Veel mensen denken dat reizen naar IsraŽl onveilig en zelfs levensgevaarlijk is. Dat is niet waar! Reizen naar de Gazastrook en sommige Palestijnse gebieden is gevaarlijk, maar in die gebieden mag je als toerist niet eens komen. Badplaats Eilat, hoofdstad Jeruzalem en alle plaatsen in het noorden van het land zijn gewoon veilig te bezoeken.
Waar we wel aan moesten wennen is dat je overal op straat militairen ziet, in uniform of in hun gewone kloffie, met enorme geweren over de schouder. Er is echter nooit ťťn situatie geweest waarin wij ons bedreigd of onveilig hebben gevoeld. Gewoon gaan dus, het is een prachtig land!
> Highlights

Since we had limited time for our visit to Israel we've only seen Jerusalem. The city was beautiful and very interesting, so we stayed there for an entire week.
Definately not to be missed is a visit to the
Western wailing wall
. The numerous rituals of the people are interesting to see, even for the non-believers. The
Basilica of the Holy Sepulchre
is a must-see as well.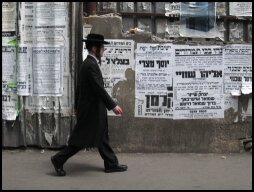 A fun experience is a walk on top of the
City wall
, or through the Orthodox neigbourhood Mea Shaerim, where the Jewish community is living almost exactly like they were a couple of centuries ago. Taking pictures and staring are not appreciated here! (but who would apprectiate this anyway?). In Jerusalem you can also find many interesting museums and you're able to visit the
Grave of Oscar Schindler
.

Zelf zijn we alleen in Jeruzalem geweest, omdat we beperkt de tijd hadden tijdens ons bezoek aan IsraŽl. De stad was prachtig en bijzonder interessant en daarom zijn we er een volledige week gebleven.
Een bezoek aan de klaagmuur mag zeker niet ontbreken. De vele rituelen van de mensen zijn ook voor de niet-gelovigen boeiend om te zien. Ook de Heilig Graf Kerk is een must-see.
Voor wie wil kan er ook een wandeling worden gemaakt over de stadsmuur, of door de orthodoxe wijk Mea Shaerim, waar de Joodse gemeenschap nog net zo leeft als enkele eeuwen geleden. Het nemen van foto's en het aapjes kijken in groepen wordt hier niet gewaardeerd! (door wie zou het wel gewaardeerd worden?). Verder zijn er in Jeruzalem vele museums die een kijkje waard zijn en kun je naar het Graf van Oscar Schindler.
> Useful Links | Handige Links

Izrael-Kepgaleria.Lap.hu Israel Link Collection from Hungary
Jerusalem Travel Journal


Israel.UwPagina.nl Linkverzameling over Israel
Travel Dodo Israel Travel Tips
Jeruzalem reisverslag
> Weather | Het Weer
> Meer Info/ More Info

Want to know more? Check our
Travel Journal
and
Photos
from Jerusalem.

Nieuwsgierig geworden? Lees ook ons Reisverhaal over Jerusalem en bekijk de Foto's.