Thailand
> National flag of Thailand | Nationale vlag van Thailand

> Map of Thailand | Kaart van Thailand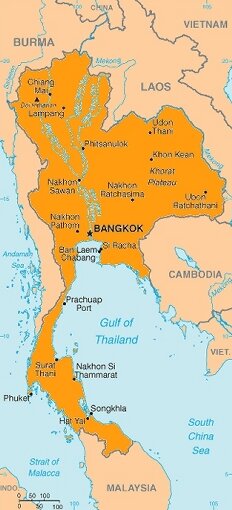 > Area | Oppervlakte
514.000 km²
> Capital | Hoofdstad
Bangkok
> Population | Aantal Inwoners
65 Million
> Currency | Munteenheid
Baht
45 THB = 1 EUR
> Language | Taal

Thai, English (secondary language in the cities), ethnic and regional dialects.

Thais, Engels (tweede taal in de steden), etnische en regionale dialecten.
> Climate | Klimaat

Tropical; rainy, warm, southwest monsoon from mid-May to September and dry, cool northeast monsoon from November to mid-March; the southern isthmus is always hot and humid.

Tropisch; regenachtige, warme zuid-west moeson van half mei tot september en droge, koele noord-oost moeson van november tot half maart. Het smalle zuidelijke deel is altijd heet en vochtig.
> Visa | Visum

Info is from 2012!
For a stay in Thailand of less than 30 days a visa is not necessary for some nationalities (check beforehand) if you own a return ticket or proof of onward travel. If you're planning to stay longer, you can apply for a tourist visa, which costs $25,- (single entry, 60 days), or $50,- (double entry, 2x60 days).
Your passport needs to be valid for another 6 months from the day you apply for the visa Thailand.

Info is van 2012! Voor een verblijf van minder dan 30 dagen is in Thailand geen visum nodig, mits je een retourticket hebt of een bewijs van uitreis. Wil je toch langer blijven, dan kan dit voor €30,-. Je kunt dan maximaal 60 dagen blijven. Het visum kan 2 keer verlengd worden met opnieuw 60 dagen. Binnen 2 dagen is het visum klaar en na afgifte moet het binnen 3 maanden gebruikt worden.
Bij aanvraag van het visum dient het paspoort nog minimaal 6 maanden geldig te zijn.
> Travel | Reizen
Dutch Embassy | Nederlandse Ambassade:
15 Soi Tonson, Ploenchit Road, Lumpini, Pathumwan, Bangkok
(0066)-(0)23095200
Emergency: (0066)(0)819201329
Open: mon-fri 09.00-12.00 (on appointment | op afspraak)
Internet: www.mfa.nl/ban
> Particularities | Bijzonderheden

When you're not carrying a wallet of several inches thick, the
Had Lek - Chan Yaem border crossing
from Thailand to Cambodia is not the way to go!
Also mind the many scam-tours, which are supposed to take you from Bangkok to Siem Reap in a day. Most of them have just one goals, which is to empty your wallet, by all kinds of extra costs and exchange tricks, or they stop more and longer than you'd prefer, to make up this time the next moment, by driving like a lunatic.

Als je portemonnee niet centimeters dik is heb je aan de grensovergang van Thailand naar Cambodja bij Had Lek en Cham Yaem een lastige!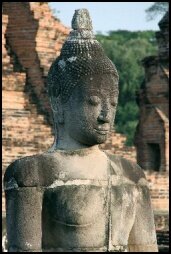 Let ook op de vele scam-tours, die je in een minibus in een dag van Bangkok naar Siem Reap zouden brengen. Ze zijn er meestal slechts op gericht je portemonnee tijdens de rit steeds leger te maken, door allerlei extra kosten en wisseltrucs, of stoppen veel vaker en langer dan je zou willen, om op andere momenten als gekken over de weg te scheuren.
> Highlights

We think Thailand is an amazing country, with lots to see and do. That's why the highlights are so diverse. In
Bangkok
we found the temples truely beautiful, especially the
Wat Phra Kaeo
and the
Wat Arun
. In the center of the country, once more, the temples were most impressive. In
Ayutthaya
and
Sukothai
we were surprised by their beauty. In
Lampang
we were riding an elephant and in Isan the
Sang Khom
area was great to explore on a motorbike. In the North we saw many villages inhabited by minorities, like the
Akha
, the
Lisu
, the
black Lahu
and the
Karen
.
Then there are the islands in the South, with their gorgeous bounty beaches. Several times we had an entire beach for ourselves at
Ko Yao Yai
and we enjoyed the beauty of
Ko Phi Phi
with our own eyes. For families with kids
Ko Lanta
is very convenient, with its gradually sloping sandy beaches.So Thailand is the place to go for everyone who loves some variegation!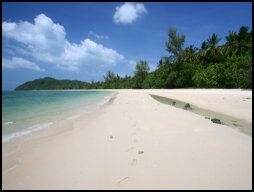 We vinden Thailand een fantastisch land, met ontzettend veel te zien en te doen. De highlights zijn dan ook zeer uiteenlopend. In Bangkok vonden we vooral de tempels erg mooi, met name de Wat Phra Kaeo en de Wat Arun. In het midden van het land sprongen wederom de tempels eruit. In Ayutthaya en Sukothai keken we onze ogen uit. In Lampang reden we op een olifant en in Isaan was de omgeving van Sang Khom prachtig om met een motortje te verkennen. In het noorden zagen we veel dorpjes van minderheden, zoals de Akha, de Lisu, de zwarte Lahu en de Karen.
Dan zijn er in het zuiden nog de eilanden, met hun prachtige bounty-stranden. Wij hadden regelmatig een heel strand voor ons zelf op Ko Yao Yai en vonden het de moeite waard om ook Ko Phi Phi met eigen ogen te zien. Voor mensen met kinderen is Ko Lanta zeer geschikt, met zijn geleidelijk aflopende zandstranden. Voor iedereen die afwisseling wil is Thailand dus een uitermate geschikte bestemming!
> Useful Links | Handige Links

Thaifold-Kepgaleria.Lap.hu Thailand Link Collection from Hungary
Bangkok Travel Journal
Chiang Rai Travel Journal
Thai Islands Travel Journal


Thailand Startkabel Vele links naar andere sites over Thailand
Thailand JouwPagina Linkpagina Thailand
Travel Thailand JouwPagina Nog meer Links
Thailand Startpagina
Reisbijbel Reisverhalen, foto's en informatie
Thailand Overzicht
Bangkok Startpagina Bangkok Links
Bangkok Startkabel Meer links
Bangkok 2 Link
Isan Startpagina
Bangkok Reisverslag
Chiang Rai Reisverslag
Thaise Eilanden Reisverslag
vdWeerd.net Reisverslag met foto's over een autorondreis door Thailand



Urlaub und Strände in Thailand Sehenswürdigkeiten, Fakten und Reisetipps

> Weather | Het Weer
> Meer Info/ More Info

Want to know more? Check our
Travel Journal
and
Photos
from Thailand.

Nieuwsgierig geworden? Lees ook ons Reisverhaal over Thailand en bekijk de Foto's.