China
> National flag of China | Nationale vlag van China

> Map of China | Kaart van China
> Area | Oppervlakte
9.596.960 km²
> Capital | Hoofdstad
Beijing
> Population | Aantal Inwoners
1,3 Billion
> Currency | Munteenheid
Yuan
9 CNY = 1 EUR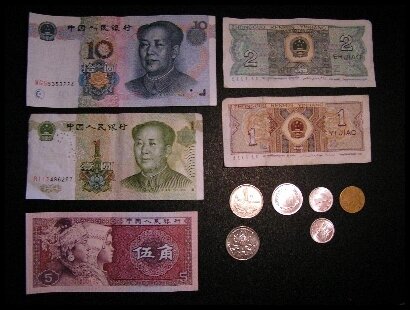 > Language | Taal

Mandarin-Chinese (originally the Beijing dialect), but also many dialects, such as Cantonese and Hakka.

Mandarijn Chinees (oorspronkelijk was dit de taal die in Peking en omstreken gesproken werd), maar ook vele dialecten, waaronder Kantonees en Hakka.
> Climate | Klimaat

As China is such an enormous country there is a huge range of climates. The southern region is tropical, but in the northern part you'll also find a sub-arctic climate.

Gezien de enorme afmetingen van China heeft het land een grote diversiteit aan klimaten. In het zuiden is het tropisch, maar in het noorden komt een sub-arctisch klimaat voor.
> Visa | Visum

Info is from 2012!
Visa regulations vary per nationality, but have been tightened once more since June 2012. The duration of stay is typically 30-days per entry and to obtain a visa the following documents are required: Round Trip Ticket, Hotel reservations, the latest 3 months bank-statements with adequate money. The costs of your visa will depend on how fast you wish to receive your passport with the new visa back (1 to 5 days) and on the need of a single or double entry.
Your passport needs to be valid for another 6 months from the day that you leave China.

Info is van 2012! In juni 2012 zijn de visumregels voor China opnieuw aangescherpt. U dient onder andere uw tickets, hotelboekingen en bewijs van beschikking over voldoende liquide middelen aan te leveren. Toeristenvisum aangevraagd in Nederland: €70,70 (één inreis) of €87,70 (twee inreizen). Geldigheid: standaard is 30 dagen, maar op aanvraag is ook 60 dagen mogelijk. Binnen 4 dagen is het visum klaar, maar tegen betaling kan dit sneller, zelfs binnen een dag.
Bij vertrek uit China dient het paspoort nog minimaal 6 maanden geldig te zijn.
> Travel | Reizen
Dutch Embassy | Nederlandse Ambassade:
Liangmahe Nanlu 4, 100600 Beijing
(0086)-(10) 8532 0200
Open: mon-fri 09.00-12.30
Internet: www.hollandinchina.org
> Particularities | Bijzonderheden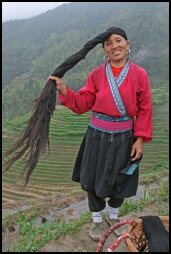 Trying all sorts of food is so much fun in a country like China. In Beijing you'll find diverse food of very good quality. Pay attention where you eat, especially meat, chicken and fruit can cause severe stomach aches when sold in places with bad hygene.
Beijing's subway is getting more and more extended. Taxi's are, compared to European standards, very affordable. We naver had to pay more than two euros and rikshaws also take you to your destination for a small amount. We can recommend renting a bicycle: the distances between the main attractions are short and cycle paths are wide and widespread.
You won't be surprised, but in China there are a loooot of Chinese people. All of them are very curious, want to have a little chat, take a picture or love to have your attention in every other way. After three months of traveling through China we were less pleased by all this behavior then when we were in Beijing for just a week.
Last but no least: make sure you have an empty suitcase and a couple of spare days at the end of your stay! Clothing, CD's and souvenirs are very cheap, especially when bargaining. Most of the time, we paid only one third of the original price.

Het is leuk om in een land als China allerlei dingen uit te proberen wat eten betreft. In Peking kun je zeer gevarieerd en erg goed eten. Pas wel op in welk restaurant of bij welk kraampje je iets eet, met name vlees, kip en fruit kunnen voor zeer vervelende buikklachten zorgen als ze onder slechte hygiënische omstandigheden verkocht worden.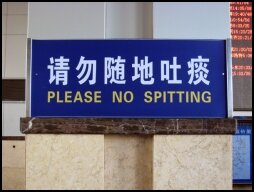 De metro in Peking wordt steeds uitgebreider. Een taxi is naar Europese maatstaven echter zeer betaalbaar. Zo hebben wij nooit meer dan 2 Euro hoeven betalen en ook riksja's brengen je voor een klein bedrag waar je wezen moet. Het is een aanrader om een fiets te huren, de afstanden tussen verschillende bezienswaardigheden zijn makkelijk te overbruggen en de fietspaden zijn breed en overal aanwezig.
Het zal je waarschijnlijk niet verbazen, maar er zijn in China heeeel veeeel Chinezen, die allemaal erg nieuwsgierig naar je zijn en vaak proberen met je te praten, met je op de foto te gaan of anderszins je aandacht proberen te krijgen. Wij vonden dit na drie maanden rondreizen in China toch aanzienlijk minder leuk dan toen we slechts een weekje in Peking waren.
En last but not least: zorg voor een lege koffer en een paar vrije dagen aan het eind van je verblijf! De kleding, cd's en souvenirs zijn erg goedkoop, zeker als je afdingt. In veel gevallen betaalden we maar één derde van de originele prijs.
> Highlights

The unfriendly nature of the population in large parts of the country and the troubles the Chinese system causes to accomplish simple actions, like sending a package, were the absolute worst experiences of our trip to this country. Still we've had our nice moments, but those were mostly in the originally NON-Chinese areas.
For example the markets in towns like
Xizhou
and
Wase
in Yunnan, which are great for a stroll. The Tibetan people in the North of Yunnan are very friendly and helpful, so we had an amazing time in
Zhongdian
and
Deqin
. The nature of the
Tiger Leaping Gorge
is overwhelming and the holy mountain of
Meili Xue Shan
is an absolute treat for the mountain lover.
Further East the rice terraces of Ping An are marvellous. The land a bit further North is home to the Dong people, who live in villages like Zhaoxing.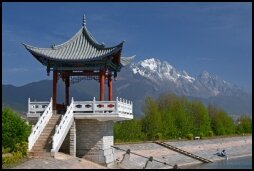 For the rest we only found the Yungang grotten and the Terracotta Warriors of Xian worth a visit in the Eastern part. Further West there's more options for exploring interesting sites and Jiayuguan, Xining and Hami are great stops for those who travel to the far West. Turpan has a lot to offer when it comes to culture from the past and the sunday market of Kashgar is definately not to be missed!
Many interesting places are only appreciated by the Chinese when they're transformed into completely shiny tourist villages. Cultural heritages are rebuilt entirely with new materials, looking a bit "fake" for Western visitors. The charm of the "old China" has disappeared and has been replaced by parking lots for touringcars. In, once so athmospheric, Beijing you'll now find expensive shoppingmalls and skyscrapers.

De onvriendelijkheid van de bevolking in grote delen van het land en de grote problemen die het Chinese systeem te weeg brengen bij iets simpels als een pakketje versturen waren zeker dieptepunten in onze reis naar dit land. Toch hebben we het ook leuk gehad, maar dat was vooral in de gebieden die van oorsprong NIET Chinees zijn.
Zo zijn de markten in plaatsjes als Xizhou en Wase in Yunnan geweldig om rond te struinen.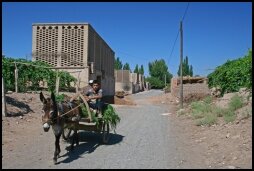 De Tibettaanse bevolking in het Noorden van Yunnan is erg vriendelijk en behulpzaam en we hebben ons dan ook uitstekend vermaakt in Zhongdian en Deqin. De natuur van de Tiger Leaping Gorge is overweldigend en ook de heilige berg Meili Xue Shan is een absolute must voor de bergliefhebber.
Verder naar het Oosten zijn de rijstterrassen van Ping An prachtig. Iets naar het Noorden begint het gebied van de Dong, die in dorpjes als Zhaoxing wonen. Verder vonden wij in het oosten alleen de Yungang grotten en het Terracotta Leger van Xian de moeite van een bezoekje waard. Naar het Westen is er weer meer te zien en Jiayuguan, Xining en Hami zijn goede stops voor wie naar het verre Westen doorreist. Turpan heeft veel te bieden op het gebied van oude cultuur en de zondagsmarkt van Kashgar mag zeker niet gemist worden!
Veel interessante plekken worden door Chinezen pas gewaardeerd als ze omgetoverd worden in complete glimmende toeristendorpen. Oude cultuur wordt met nieuwe materialen volledig herbouwd, waardoor voor westerse bezoekers het veelal "nep" aandoet. De charme van het "oude China" is verdwenen en heeft plaats gemaakt voor touringcar-parkeerplaatsen. In het eens zo sfeervolle Beijing staan nu dure shoppingmalls en hoge torenflats.
> Useful Links | Handige Links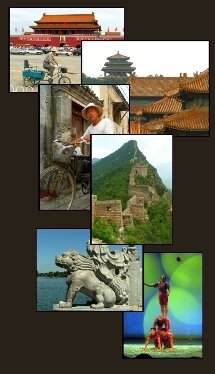 China.org.cn All kinds of information
China English language links about China
Kina-Kepgaleria.Lap.hu
China Link Collection from Hungary
TravelLibrary.com Guides, Reviews and More...
BeijingPage.com Links about Beijing
Lonely Planet Tourist information


GeleDraak.nl Heel veel nuttige info
Vliegtickets China Goedkope tickets
Beijing.Pagina.nl Links over Beijing
Beijing.Startpagina.nl Belgische linkverzameling over Beijing
China.Startpagina.nl Linkverzameling over China
China.UwPagina.nl Nog meer China-links
Reisbijbel.nl Reisverhalen, foto's en informatie
Reisverslag Beijing
Reisverslag Centraal Yunnan
Reisverslag Noord-Yunnan
Reisverslag Guanxi en Guizhou
Reisverslag Gele Rivier
Reisverslag West China
Reisverslag het Verre Westen




> Weather | Het Weer
> Meer Info/ More Info

Want to know more? Check our
Travel Journal
and
Photos
from Cina.

Nieuwsgierig geworden? Lees ook ons Reisverhaal over China en bekijk de Foto's.