Morocco
> National flag of Morocco | Nationale vlag van Marokko

> Map of Morocco | Kaart van Marokko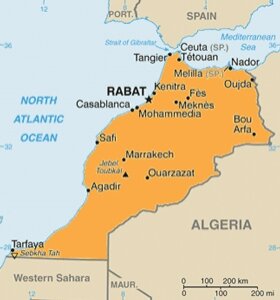 > Area | Oppervlakte
446.550 kmē
> Capital | Hoofdstad
Rabat
> Population | Aantal Inwoners
32,3 Million
> Currency | Munteenheid
Moroccan Dirham
11 MAD = 1 EUR
> Language | Taal

Arabic, Amazigh and French

Arabisch, Amazigh en Frans
> Climate | Klimaat

Morocco has a Mediterranean climate, becoming more extreme in the interior.

Marokko heeft een Midellands Zeeklimaat klimaat, dat landinwaarts meer extremen kent.
> Visa | Visum

Info is from 2012!
For travelers from most countries a Moroccoan visa is not required. You'll receive a visa on arrival, valid for 90 days. Please check the up to date list of countries needing a visa at the embassy.

Info is van 2012! Nederlandse paspoorthouders hebben geen visum nodig voor Marokko. Bij aankomst krijg je een visa on arrival, met een geldigheid van 3 maanden.
> Travel | Reizen
Dutch Embassy | Nederlandse Ambassade:
40 Rue de Tunis, PO Box 329, Rabat, Morocco
00212-37-219600
Open: sun-thu 8:00 tot 15:30 uur
Internet: http://Marokko.nlambassade.org/
> Particularities | Bijzonderheden

The road from Ouarzazate to Zagora is not known as one of the safest in the country. There have been regular reports of robberies and gangs, who force motorists to stop. At a few desolate stretches we also encountered some men, suddenly blocking the road to make us stop. For us it seemed to work to keep one foot on the accelerator and to show them we were determined not to come to a halt, but it certainly scares the hell out of you!

De weg van Ouarzazate naar Zagora staat erom bekend niet de meest veilige van het land te zijn. Geregeld wordt er melding gemaakt van berovingen en bendes, die automobilisten tot stoppen dwingen. Ook wij troffen op enkele afgelegen stukken mannen, die plotseling op de weg sprongen om te zorgen dat we halt hielden. Geen gas minderen en duidelijk laten merken dat je niet van plan bent te stoppen lijkt de beste manier, maar schrikken is het wel!
> Highlights

The
Marrakesh medina
, where we first met Morocco, is a highlight on itself, with its narrow alleys filled with craft shops, acivity and wonderful, ancient structures.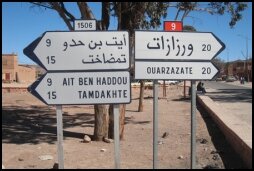 One could stroll around for days, without feeling bored just once.
A ride in a (rental) car across the
Tizi 'n Tichka pass
is an unforgettable experience, especially on a sunny day, on which all the snow peaks and deep valleys are clearly visible. And just South from the Atlas range is the ancient, mud town of
Ait Benhaddou
, an absolute must-see. There are even more of those beautiful kasbahs in the area, like the ones at
Tamdakht
and
Tamnougalt
.
A visit to a weekmarket, like those in
Agdz
or
Asni
, is an interesting experience. People are coming from everywhere to sell their merchandise, or to buy stuff.
In
Taroudant
, also called little Marrakech, you can buy the best souvenirs for a good price and the old walled city is definately worth a visit. And on your way bach to Marrakesh, don't forget to check out the
Tin Mal mosque
, when taking the breathtaking route across the
Tizi 'n Test pass
. (Always check the weather forecasts beforehand and don't go in dense fog and / or snow)

De medina van Marrakech, waar wij landden is meteen al een hoogtepunt op zich, met zijn nauwe straatjes vol ambachtswinkeltjes, bedrijvigheid en prachtige, oude bouwwerken. Dagen kun je hier rondslenteren, zonder je te vervelen.
Een rit in een (huur-)auto over de Tizi 'n Tichka pas is een onvergetelijke ervaring, zeker op een heldere dag, waarbij alle besneeuwde toppen en diepe valleien goed zichtbaar zijn. En even ten zuiden van de Atlas is het oude, lemen stadje Ait Benhaddou een absolute must-see. In de omgeving zijn nog meer van deze prachtige kasba's, zoals die van Tamdakht en Tamnougalt.
Een bezoekje aan een lokale weekmarkt, zoals die in Agdz of Asni, is een bijzondere gebeurtenis. Mensen komen van heide en ver om hun koopwaar te slijten, of juist spullen te kopen.
In Taroudant, ook wel klein Marrakech genoemd, koop je de mooiste souveniers voor een goeie prijs en de oude ommuurde stad is zeker een bezichtiging waard. En vergeet op de terugweg naar Marrakech zeker niet de Tin Mal moskee te bezoeken, als je de adembenemende route over de Tizi 'n Test pas neemt. (Check wel altijd voor vertrek het weerbericht i.v.m. laaghangende mist en / of sneeuw)
> Useful Links | Handige Links


Lonely Planet Morocco travel info
Central Morocco Travel Journal


Marokkaans Verkeersburo
Reisadvies Marokko Minbuza
Centraal Marokko Reisverslag
> Weather | Het Weer
> Meer Info/ More Info