Thailand
> National flag of Thailand | Nationale vlag van Thailand

> Map of Thailand | Kaart van Thailand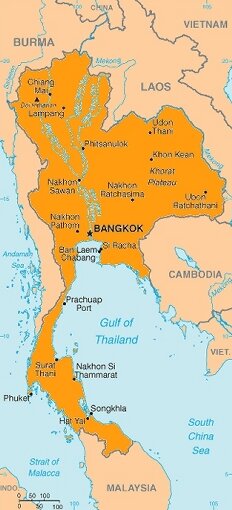 > Area | Oppervlakte
514.000 km²
> Capital | Hoofdstad
Bangkok
> Population | Aantal Inwoners
65 Million
> Currency | Munteenheid
Baht
45 THB = 1 EUR
> Language | Taal

Thai, English (secondary language in the cities), ethnic and regional dialects.

Thais, Engels (tweede taal in de steden), etnische en regionale dialecten.
> Climate | Klimaat

Tropical; rainy, warm, southwest monsoon from mid-May to September and dry, cool northeast monsoon from November to mid-March; the southern isthmus is always hot and humid.

Tropisch; regenachtige, warme zuid-west moeson van half mei tot september en droge, koele noord-oost moeson van november tot half maart. Het smalle zuidelijke deel is altijd heet en vochtig.
> Visa | Visum

Info is from 2007!
For a stay in Thailand of less than 30 days a visa is not necessary for some nationalities (check beforehand) if you own a return ticket or proof of onward travel. If you're planning to stay longer, you can apply for a tourist visa, which costs $25,- (single entry, 60 days), or $50,- (double entry, 2x60 days).
Your passport needs to be valid for another 6 months from the day that you leave Thailand.

Info is van 2007! Voor een verblijf van minder dan 30 dagen is in Thailand geen visum nodig, mits je een retourticket hebt of een bewijs van uitreis. Wil je toch langer blijven, dan kan dit voor €30,-. Je kunt dan maximaal 60 dagen blijven. Het visum kan 2 keer verlengd worden met opnieuw 60 dagen. Binnen 2 dagen is het visum klaar en na afgifte moet het binnen 3 maanden gebruikt worden.
Bij vertrek uit Thailand dient het paspoort nog minimaal 6 maanden geldig te zijn.
> Travel | Reizen
Dutch Embassy | Nederlandse Ambassade:
15 Soi Tonson, Ploenchit Road, Lumpini, Pathumwan, Bangkok
(0066)-(0)23095200
Emergency: (0066)(0)819201329
Open: mon-fri 09.00-12.00 (on appointment | op afspraak)
Internet: www.mfa.nl/ban
> Particularities | Bijzonderheden

Als je portemonnee niet centimeters dik is heb je aan de
grensovergang
van Thailand naar Cambodja bij Had Lek en Cham Yaem een lastige!
> Highlights

We vinden Thailand een fantastisch land, met ontzettend veel te zien en te doen. De highlights zijn dan ook zeer uiteenlopend. In
Bangkok
vonden we vooral de tempels erg mooi, met name de
Wat Phra Kaeo
en de
Wat Arun
. In het midden van het land sprongen wederom de tempels eruit.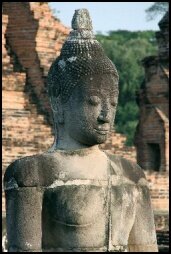 In
Ayutthaya
en
Sukothai
keken we onze ogen uit. In
Lampang
reden we op een olifant en in Isaan was de omgeving van
Sang Khom
prachtig om met een motortje te verkennen. In het noorden zagen we veel dorpjes van minderheden, zoals de
Akha
, de
Lisu
, de
zwarte Lahu
en de
Karen
. Voor wie afwisseling wil is Thailand dus een uitermate geschikte bestemming!
> Useful Links | Handige Links

Hotels in Thailand Book today. Pay when you check out!
Thaifold-Kepgaleria.Lap.hu Thailand Link Collection from Hungary


Thailand Startkabel Vele links naar andere sites over Thailand
Thailand JouwPagina Linkpagina Thailand
Travel Thailand JouwPagina Nog meer Links
Thailand Startpagina
Reisbijbel Reisverhalen, foto's en informatie
Thailand Overzicht
Bangkok Startpagina Bangkok Links
Bangkok Startkabel Meer links
Bangkok 2 Link
Isan Startpagina
Bangkok Reisverslag
Chiang Rai Reisverslag
Thaise Eilanden Reisverslag
vdWeerd.net Reisverslag met foto's over een autorondreis door Thailand



Urlaub und Strände in Thailand Sehenswürdigkeiten, Fakten und Reisetipps

> Weather | Het Weer