Israel Travel Journal: Jerusalem
This travel journal is part of a series of journals, which are all written during a long trip between november 2007 and may 2009.
> Crossing from Jordan into Israel
27-04-2009 One of the three border crossings between Jordan and Israel is not even an hour by car from Amman. It's dramatic to cross this King Hussein bridge, since it's crowded, the checks are extensive and that makes the waiting time long, up to five hours. You're extensively interrogated about the reasons of your visit and all kinds of other matters. Furthermore you're asked to drop off your luggage and all of your bags are searched and kept elsewhere. In the past eighteen months we were never parted from our luggage and we aren't feeling like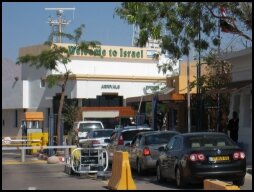 parting from our only belongings now either. So we decide to return to Aqaba, to take the much easrier border crossing to Eilat. This route is longer, but also stress-free. According to us: the only way to go!
Four hours later we're indeed at the Aqaba bus terminal, hassle free and ready to take a taxi to the border. In no time we've left Jordan and we're walking across the stretch of no man's land to Israel. Exactly like last week, there's not a single person here. Our bags are scanned and approved without a second look. Before we receive the new stamps in our passports we're quickly questioned about the reason of our visit and that's it: crossed both borders in fifteen minutes. Friendly, efficient women in fashionable clothes man the Israeli side, which is a real relief after the past period of just men and shapeless rags with peepholes.
The first hotel we enter in Eilat has one vacant room for us and we're pleasantly surprised to see how clean everything is here. As soon as we checked in we first try and find our resident cockroach. In our bathroom in Amman we saw the biggest cockroach ever and the man who was (supposed to be) cleaning the place, assured us that each hotel has at least one of those. We turn the whole place upside down, but really can't find a single Zaza here. Perhaps those animals don't like the hygenic toilet block which is hung in the toilet bowl. What a douches, those Israeli cleaners.


Yvonne is the first to try the shower and she quickly forgets about the absence of a pet: instant hot water and as hard and as much as you'd like, wow. After some five minutes of pure joy we both get scared like hell, Yvonne in the shower and Peter in the room itself. While Peter has already jumped into the hall Yvonne is in doubt whether she should leave the bathroom or not. Finally a mounting point for the shower and even a real shower curtain, you obviously don't just let someone take that away from you. Fortunately the air raid siren stops about a minute later and we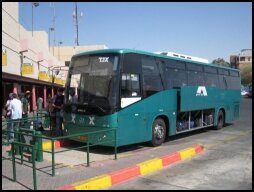 breathe a sigh of relief. Peter because he still gets the chance to return to Nederland and Yvonne... well, because she can stay in the shower of course.

.
> The Bus to Jeruzalem
28-04-2009 We drive to Jerusalem in about four hours, along the Dead Sea, now on the Israeli side, and the West Bank. It's a calm ride and it's also easy to find the apartment we booked last week. Everyone we meet keeps telling us to quickly get some groceries, now that the shops will be closed the next two days for Remembrance Day and Independence Day. We also find out that the air raid from last night was to announce the start of Remembrance Day and tonight we don't have to scare up from the innumerable pops from fireworks for the sixty first Independence Day.
We rush to the supermarket for some necessary shopping, quite a challenge in a store full of products with only Hebrew labeling. Fortunately some people speak English and not much later we're leaving the place with the right products. While everybody is preparing for a night of partying we firmly lock the door: we're tired and get to bed early.
> City Wall and Temple Mountain
29-04-2009 When we go out everything's quiet in the streets. No cars or buses in sight and through a deserted city we walk to the ancient, walled center. We first stroll over the city walls, from where we have a great view over large areas of the city and the buildings right next to the wall. Gradually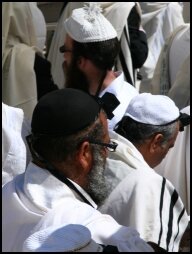 it's becoming busier in the streets and we see a lot of traditional Jewish costumes, including long skirts and coifs for the women and ringlets and hig, black hats for the men. We had no idea that so many people here are still dressed like this.
When we get down from the wall we see the Temple Mount with its famous golden dome and we're almost opposite the Wailing Wall. A few hundred people are praying at the wall, something that's going on for twenty four hours a day. There's not much more to see here and we enter the archeological park, where we're once again able to get ourselves a discount with our student cards. Thank you Bangkok!
Inside the archeological park we see the byzantine houses and foundations of an ancient city gate and other structures. Right behind this place is the Temple Mount and the multimedia-museum on the premises shows how all of this area once must have looked like.
When we're back at the Jaffa Gate and the staircase to the city wall, looking for lunch, we see a large group of young people passing by. The carry Israeli flags and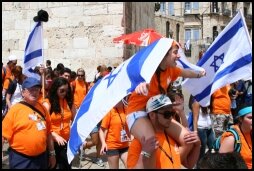 sing and yell. We first think about a demonstration and are ready to run, but it turns out to be a special walking tour from Auschwitz to Jerusalem, with the walk ending at the Wailing Wall. Three thousand youngsters are left from the five thousand who originally started in Auschwitz and under guidance they march through the city. We first eat a sandwich an then continue our own march through Jerusalem. We get to a quiet and deserted cemetery, where we visit the grave of Oskar Schindler, who saved twelve hundred Jews from death in World War II. Next we take a peek inside the Armenian church, where we're able to see the start of the service. Time to call it a day and return to our little house.
> The Western (Wailing) Wall and Basilica of the Holy Sepulchre
30-04-2009 This mornign we'd like to visit the Temple Mount, the holy place where the most important Jewish temple once stood. Nowadays there's a mosque with a golden dome on top of the hill and we'd love to see it out from up close. Yesterday and earlier today, we passed the strict checks to the wailing wall with the laptop in our bag, but at this check it suddenly is a problem and we're not welcome to enter.
We make a new plan for the day and try to cross the square at the wailing wall, back to the other side, when we see the wall has changed into a real beehive. Both on the female and the male side dozens of believers are praying. Some rituals are going on as well, all of them very interesting, making us stop to watch. All of this seems to be part of the Bar Mitswas of the boys who are surrounded by male relatives at various spots. The mothers and other women are not allowed to enter the male area and are watching from behind a fence. We mingle with these moms and with great interest we're watching all that's happening. A black strap, and attached box with a text from Torah, are tied to the arm of the boy. There's another strap for the head. All the boys may read a part of the Torah and then candy is tossed and people start singing. In the end every boy takes the Torah back to a place at the wailing wall and from now on he's considered a man.
When we finally manage to leave all the interesting events on the square behind, we stroll a bit through the old city. We also walk to the church of the Holy Sepulchre, where Jesus was crusified and buried. A great diversity of Christian believers comes to this place and we see nuns from India, priests in long, black robes, Ethiopian people in purple clothes with hats, but also Russians in way too tight shirts and mini-skirts. We extensively look around inside the church, but skip the alleged birth place of Jesus. We can not muster the patience to line up in a long line of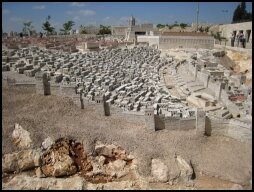 seemingly depressed believers. We prefer the cows and the funny dances and colours of the Hindu temples in
India
and
Nepal
, making life a lot more fun.
From the old city we walk to the Israel museum, where we check out a scale model of ancient Jerusalem from a few thousand years ago. We also venture into the dark chambers, where the Dead Sea Scrolls are on display, the oldest Bible texts ever found. The main building is closed for restoration works, so there's only some modern art left to see and with that we end this day of sighseeing.
> Mea Shearim
01-04-2009 Since it's Sabbath tomorrow, the holy day, we first go for some shopping for the next two days. Mahane Yehuda market is just around the corner, so that's an easy task.
Now we head for Mea Shearim, the neigbourhood where most of the orthodox Jews from the city are living. We're really surprised by what we find here. Men and boys have ringlets and are wearing high hats. Women are wearing wigs and scarves, while the girls are wandering about in dresses looking like they are from before the turn of the century. The eighteenth century that is. We feel like we've traveled back in time to a place a few centuries ago and we find it a rather bizarre experience.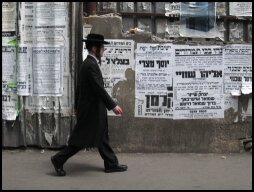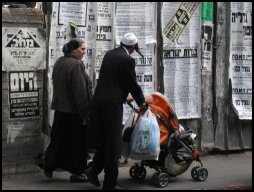 After peaceful Mea Shearim the Muslim quarter where we end up next is a crazy bustle with yelling market vendors and men running around the streets on their way to the mosque for Friday prayers. We'd like to visit a museum in this neighbourhood, but when we get there it turns out it's closed on friday. We make a detour through the city center where we're almost crushed in the buzz of faithful Muslims on their way to the Temple Mountain. Then we take a look at the garden-tomb, the place where the less smart believers once thought Jesus was buried. That specific place wasn't even there yet in the year zero and there's hardly anything to see now either. Somewhat disappointed we return to our apartment.
02-04-2009 On Saturdays there's nothing to do or to see in Jerusalem. The weather is also heavily cloudy and a bit depressive today, so we just stay inside.
03-04-2009 The original plan to "quickly" visit the Israel-museum changes when we're there and we wander around for half of the day. Not a bad idea after all, since the weather's not all that nice today either.
In the afternoon we try to do some shopping, but we find it hard to find the trendy shops.
04-04-2009 Unfortunately the sky is overcast again and it even starts to rain. Something we're going to have to get used to again. We skip our plan for a new visit to the Temple Mount for this morning and buy two bus tickets to Eilat for tomorrow morning instead. Our trip really almost comes to an end. Via Eilat and Taba we travel to Caïro by bus, and from there we fly to Amsterdam on saturday. We're glad we've added these days in Jerusalem at the last moment. The city has many interesting sights and we're sure to come back once, to see the rest of Israel!
Faiths in Jerusalem Israel video
The Faiths in Jerusalem Israel video will show here

Click on the film up here to look around in Jerusalem, almost live.
> More Info
Also check our
Israel info page
, where you can find a lot of information about Israel and come see our
Jerusalem 1 photos
and
Jerusalem 2 photos
.