Nepal Travel Journal: Jomsom Trek
This travel journal is part of a series of journals, which are all written during a long trip between november 2007 and may 2009.
> Flying through the Himalayas
25-10-2008 A little bit nervous we both are, when waiting at Pokhara Airport for our delayed flight to Jomsom. Our airplane is a tiny machine, capable to seat 20 passengers maximum, which means there is the big advantage of a guaranteed window seat. The lucky two of us manage to claim two front seats on the right side, allowing us to watch to the front through the cockpit and the Himalayas through the right window next to us.
As soon as we turn onto the runway and speed up, there's no more time for being nervous. We're too busy checking out how the pilot pushes the right buttons, which lever is pulled and how the airplane does exactly what it's meant to do: speeding up and taking off.
Below us Pokhara is getting smaller and smaller and we see a riverbed surrounded by green hills. Soon the snowy peaks of the Himalayas appear next to us too and we stare in awe.
Then a giant wall of snow and ice shows up in front of us and we're surrounded by white mountains, an unforgettable sight. We descend a bit and almost touching the treetops we fly into the next valley. We descend some more and see waterfalls, long suspension bridges and villages scattered across the landscape. Now we're approaching a runway and all of a sudden we're in Jomsom, at an altitude of 2700 meters. Is it over already...? Bummer.
> Jomsom
The one thing we notice right away after landing are the fresh mountain air and the autumn colours of the trees and bushes. However, there's not much vegetation here, it's a barren landscape with snowy peaks hovering over it.
After registering at the airport and drinking a cup of tea we'd like to start walking. It's not that simple though, because we first need to register at the Tourist Office, where all the data are copied by hand. It takes quite a while, since the guide in front of us needs to register about a dozen of people. Fifteen minutes later we can finally start... after we've also been registered by hand at the normal police. In case we'd temporarily forgotten that we're in Asia, we now recall all about it.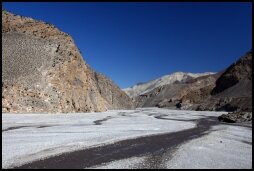 Then we're really on our way and we follow a
wide riverbed
full of rocks. Everywhere we see colourful, rocky mountains, all with remarkable patterns. Besides the dozens of other hikers and a single horseman the landscape is deserted. The sky is clear and exceptionally blue. In a tiny settlement a goat is slaughtered for the upcoming Tihar festival and there are colourful prayer flags everywhere.
About two hours later we're in
Kagbeni
and even though we're quite sudden at a high altitude, we find hiking not all that hard at all. After lunch we wander through the old village, with lots of cattle, Tibetan temples and narrow alleys. As the sun gets lower in the sky it's pretty cold at this altitude and we read a book in the restaurant. By the end of the afternoon we pay a visit to the village doctor with Petra, who's caughing all afternoon. Out of the many medications he prescribes she picks one or two who seem useful and when we're back at our guesthouse hot coales have been placed under the tables. How lovely.
> Kagbeni to Muktinath
26-10-2008 It's a steep ascend in the bright morning sun out of Kagbeni. The landscape is dry and arid, but very colourful because of the many different kinds of rock and some autumn trees down there near the river. Higher and higher we climb and we're surrounded by snow mountains on all sides. When we get to a village after a few hours of climbing we find the puddles still frozen. The air is getting thinner and the final stretch of climbing to
Muktinath
is very tough.
Petra, who is still coughing, is lying down for a while and our guide also falls asleep in the afternoon sunshine and the shelter of the guesthouse. We stroll a bit through the village and visit a Tibetan temple, see the ritual of slaughtering a buffalo and enjoy the famous Muktinath Temple. This temple is a pilgrimage for both Buddhists and Hindus, something like "Buddha meets Shiva". When the sky suddenly becomes more grey we return to our guesthouse and we're hardly inside when it starts snowing, not unusual for this time of the year and at an altitude of 3800 meters.
In the evening we're all feeling rather unwell, but since Muktinath is situated 1000 meters higher than Kagbeni that's not all that surprising. Petra is feeling worst, she has considerable problems with altitude sickness. Luckily we're just feeling dizzy and our heads are aching. We'd already decided to get back to Jomsom by jeep tomorrow morning, to follow the path to Pokhara from there, which sure is a good thing now.
> Back to Jomsom and on to Marpha
27-10-2008 During the night our headaches got better, but Petra almost didn't sleep at all and is also still coughing. She decides to fly back to Pokhara from Jomsom, while we'd like to walk back down through the mountain landscape. With 14 passengers and a driver we squeeze ourselves into a jeep and exactly like we came up here in the past few days, we're now driving back down in just over an hour.
Arranging a flight for Petra is not easy. Due to the dangerous wind there are no more flights today and for tomorrow tickets are also scarce. About an hour later our guide Dhan probably succeeded to arrange something, we found a room for Petra to lie down and we decide to continue to the next village. Dhan will stay in Jomsom until everything has been arranged and confirmed, but there's just one road down, so we can't get lost.
Through the barren riverbed we walk to Marpha, with ever changing vistas of Nilgiri-snow mountain. There are no other hikers here and we feel like we're the only living creatures in the world. Only after an hour we encounter a horseman and then we're already approaching Marpha.
When we've installed ourselves in a guesthouse that Dhan recommended, we go for a walk through the village. There we meet Dhan, who tells us everything is now arranged: tomorrow Petra will fly to Pokhara. Together we check out the village and we visit the
Buddhist temple
that is hovering high above everything. When we enter the place we're surprised by the festive athmosphere we encounter. Today it's the day of the annual Lama-dance festival, pronounced "pestibal" by the Nepalis. Masked monks are dancing in the courtyard, while the population from the entire area are sitting around them to watch. Probably this is why it was so quiet on our way over here. Both Buddhists and Hindus have gathered here to celebrate and until the sun almost sets and it's getting really cold we stay here to watch the various dances.
Back in the guesthouse we treat ourselves and Dhan with apple pie and chocolate milk.
> Marpha to Ghasa
28-10-2008 The next morning the wind is even stronger than every other day so far and immediately we realize that Petras flight will be canceled. We try to call her, but the line is dead. So we first start walking for quite a distance and we pass some nice mountain villages, where we buy yak cheese and apples. In a next attempt Dhan manages to reach Petra and fortunately she's feeling much better than yesterday. We arrange for her to take the flight ticket back and swap it for a ticket for the jeep to Ghasa. Together with Dhan we will walk that distance to meet each other there and figure out on how we to continue.
The landscape is wonderful again. We follow the wide, barren river with snow peaks on both sides and even a glacier. We also see more and more green pine trees appear on the slopes and fruit trees along the path. Innumerable queues of donkeys are walking down with bags full of apples on their backs and back up carrying gas cylinders and other useful stuff.
It turns out that it's quite a distance to Ghasa, as we've been marching at a fast pace for five hours now. After our lunch in a small village, that seems to be situated in an Alpine landscape, we descend a fair bit more. We cross a long suspension bridge, hovering over a deep abyss and then follow a slippery path covered with green stones. Houses and suspension bridges have been decorated with flowers for the Tihar-pestibal, a lovely sight.
After more than seven hours of walking we arrive in Ghasa, but unfortunately Dhan advised Petra to go to the last guesthouse and Ghasa is an elongated village. The final meters are terrible, but then we're finally at our destination for the night and we're having a candle-lit diner with Petra. Up here in the mountains power is even more scarce than down in Pokhara, so it seems.
29-10-2008 With the four of us we continue our walk today. The mountains are getting lower and we're now surrounded by green hills with sometimes a glimpse of a white snow peak behind them.
We're climbing mule paths and cross long suspension bridges. Vegetation is getting more subtropical. We see bananas, eggplants, oranges and tropical flowers. Families are making music and dancing in the streets for Tihar.
Our motivation to walk is strongly reducing today. The long trip yesterday has kind of broken us. Our feet are killing us and Yvonne has painful abrasions from carrying the bag. We decide to take a jeep to Beni tomorrow and from there the bus back to Pokhara.
> Back to Pokhara
30-10-2008 Bumping and sloshing in the back of a jeep we plough through muddy paths. Sometimes we're passing steep cliffs along way too narrow paths, but about three hours later we're in Beni. We hardly have to wait for a bus to leave, but even this one has to plow through dirt and rocks. Only by the end of the afternoon we're back in Pokhara, where we find a room in our regular guesthouse.
Jomsom trek Nepal video

The Jomsom trek Nepal video will show here


Lama Dance Marpha Nepal

The Lama Dance Marpha Nepal video will show here

Click on the films up here to look around in the Himalayas, almost live.
> More Info
Also check our
Nepal info page
, where you can find a lot of information about Nepal and come see our
Jomsom Trek 1
and
Jomsom Trek 2
photos.