Nepal Travel Journal: Kathmandu
This travel journal is part of a series of journals, which are all written during a long trip between november 2007 and may 2009.
> Flying from Istanbul to Kathmandu
20-09-2008 Our day starts at 2 am, when driving to the airport through the empty city of Istanbul. At four thirty we're leaving
Turkey
by Gulf Air, as we conclude that Muslim countries are not really our thing. The close-tongued and one-way culture of Turkey, dominated by men, has been annoying us more and more lately and we're looking forward to visiting a new country where we expect Buddhism and Hinduism to dominate the street view.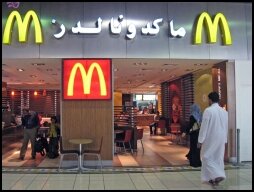 A stopover in sweltering Bahrein strenghtens our feeling of leaving the Muslim world behind. Completely veiled women, some of them even wearing a face covering mask like they're caged animals, are walking half a step behind their bearded men, who's, in turn, provided with a checkered tea towel on his head and a white dress. Cranky stares are surrounding us and making contact, in whatever possible way, seems tough. The airport staff is also not exactly trying to be friendly and we're glad when boarding starts for our onward flight.
This flight, like it should be with typically Asian transport, has a delay of thirty-five minutes and boarding is a lovely chaos. We're leaving the dusty, hot Middle East behind and totally love the sight of the first peaks of the Himalayas on the horizon. The panorama of the rows of snow peaks in the late afternoon light is spectacular and the heavy turbulence just before landing is at least as spectacular. Fortunately it soon is much calmer and we can enjoy a wonderful nosedive among green mountains in every size. In the final rays of golden sunlight our wheels tought the airstrip.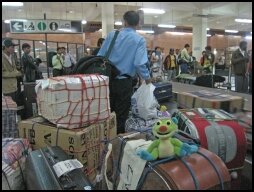 Treelo
is working overtime in front of the camera this week. Due to the assignment to pose on every airport his budget has gone up quite a bit these days. When he's also photographed at the Tribhuvan airport of Kathmandu we can pass customs and in the madness of calling hotel- and taxi- owners we quickly find a sign with our name on it. For once we've been smart enough to reserve a room in advance and we're rewarded with a free transfer.
> Back in Asia
When we're in the car we smell Asia through the open windows, for the first time since very long: the lovely mix of wood fires, "spicey" food and exhaust gasses. However, traffic seems a bit more chaotic compared to what we've seen before in South East Asia, the buses are a bit older than there and even in the dark Kathmandu looks more colourful than Phnom Penh or even
Bangkok
.
In our guesthouse we enjoy the divine cooking of the family under a sky full of stars, when Yvonne has visions of the calls for prayer from the Turkish minarets. We resign ourselves with the idea it's probably someone who loves singing and by chance sounds like a muezzin, until... not much later we see no less than three(!) floors of men kneeling down to honour Allah in the house opposite ours. It's just óúr guesthouse that's situated right opposite the only mosque in Kathmandu. How on earth is this possible?! Almost an hour of loud and sectarian prayers follow, something we've never seen before, not even in Turkey.
> Thamel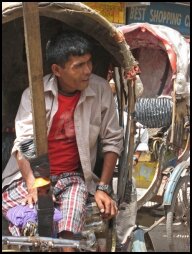 21-09-2008 It's already late when we wake up and after breakfast we explore the area. We have some shopping to do, so we're staying in Thamel, the backpackers district of the city. We're really surprised about what we see. Cycle rikshaws, motorbikes and Suzuki cars all slalom their way through the streetsm using their bells and horns as much as possible. There are more signs than one could possibly process in a first glance and truely everything you'd ever want or need as a traveler (and more!) is for sale in the streets and in tiny shops.
Along with the usual chaos there are also burning car tires and other fires in the streets, caused by protesters who disagree with a new rule from the government. Armed police are waiting on a doorstep for disturbances and also the shopkeepers are alert and are closing their shutters with loud bangs, afraid for their shop windows. Thamel stays peaceful however and nothing's destroyed today.
When shopping we hardly had any idea there was a powercut, but the second round of 3 hours without electricity is a bit harder, especially since it's dark after 6. Once or twice daily there's, in turn, no power in each district. Since a large dam has broken there's a huge lack of electricity and like this the government tries to temporarily solve the problem. Our hosts and hostesses in the guesthouse are all used to it and once more they prepare a delicious meal, which we now enjoy at candle light.
> Temples and Stupas in Kathmandu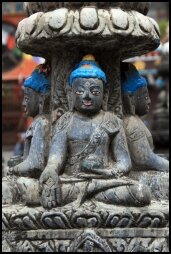 22-09-2008 We stroll through the old city of Kathmandu, where numerous tiny shops are settled and really on every streetcorner there's a little temple. In the narrow streets Tibetan prayer flags and women clad in cloths add lots of colour. Bags of fleas resembling dogs are lazing around on small doorsteps or sniff around, looking for food. Kids wearing just a dirty shirt full of holes play in the dirt, while men with skinny arms and legs carry loads that seem way too big and way too heavy for them.
The Tibetan Kathesimbhu Stupa is exceptionally beautiful and the woodcarving of the smaller temples and many of the houses is richly decorated. From time to time we try a local snack, for which we pay just 5 or 10 Rupees, while the honking, clanging and rattling around us seems to continue forever. A couple of times we end up on a surprisingly quiet inner court, where old ladies curiously look out of their windows.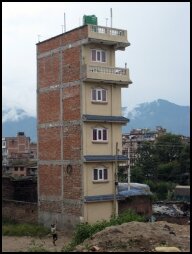 23-09-2008 By the end of the morning the rain clouds blow apart and we walk out of the city on the Western side. We're not able to find the right route to the Tibetan Swayambhunath temple right away, so we ask around a bit. How convenient that so many people speak English here and are also willing to help. In Turkey we could hardly finish our sentence or the eternal "where-you-from-look-how-well-I-speak-English-question" popped up. Seldom we knew more than before, after a converstaion like that. Here in Nepal they don't seem to care about self-interest, so people just show you which way to go when you're asking for directions. Through a narrow path that's probably not on our map we're sent in the right direction and we follow a very dirty stream through the peoples' backyards.
Thirty minutes later we're at the foot of a hill with a temple on top, a remarkable place, where we find a large collection of salesmen, praying Tibetans and extremely poor beggars. After climbing the first stairway, the moneys who live here come to meet us. In the meantime we've armed ourselves with a stick, since we haven't forgotten about the cheeky and sometimes even aggressive monkeys in Lopburi.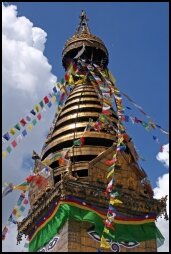 When we've also managed to climb the second and steepest stairway we can, still out of breath, enjoy a grandiose panorama over Kathmandu. A large number of souvenir stalls is set up under the big stupa with Buddha-eyes on four sides. We almost get all kinds of spontaneous allergic reactions, but once more we're positively surprised. No nagging or jumping-in-front-of-you and angry faces when we don't buy anything, resulting in the purchase of both postcards ánd some nice necklaces.
It's nice to just sit here and watch the rituals people are performing. An old Lama, who lives in this temple, comes for a chat and in the old Swayambhunath temple we meet a younger monk. He's heard about the Netherlands, but he has no idea of where exactly this country is. We show him on a map and give him a postcard from our country.
Once we're back in Kathmandu we're having delicious Flamish fries with Treelo (Thanks Maya!). Then we'd like to use the internet for a while, but apparently the scheduled powercut has been advanced by an hour today.
24-08-2008 Our plan to check out the other two big temples of this city is literally rain on our parade. We've never seen it rain like this before, ever, and we get an impression of what the raining season must be like. It goes on and on. We decide to use the internet first and when it's still raining when we're done we'll go for some more shopping and try to send our postcards. But, as the guy at the internetcafé says, "this is Nepal".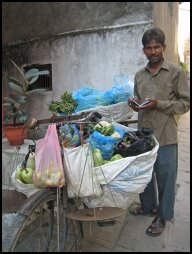 That's why the 11 o'clock powercut is an hour early and the internet is only available in the afternoon now. That's also why there are more riots, this time organised by the local Working Class, who are also demanding more money from the government. The shops and the post office keep their doors shut, as there are, again, fires everywhere. Many riot policemen are patroling the streets and we decide to get back to our room, where we read a bit and, when the power is back on, enjoy ourselves with our computer.
> Pashupati Nath and Bodh Nath
25-08-2008 At 10 am we don't have much hope it will ever be dry today. It's pooring with rain and the sky is a dark kind of grey as far as we can see. However, about an hour later we suddenly see some sunrays and in a few minutes the sky opens up even more. For the first time we try our luck in one of Kathmandus taxis, one of those sixth reincarnations of a Suzuki-Maruti. The driver has no idea of both the size and the condition of his car, he thinks he's driving a giant SUV and ploughs right through all the big potholes in the asphalt. And the small ones.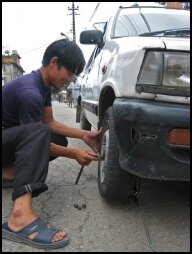 We've hardly covered a single kilometer or our cracker box is steered to the shoulder. "One minute" our guy yells, but he already disappeared with a wrench, somewhere at the front. We also get out of the car and conclude we've got a flat tire. Indeed it takes just a short while before the spare tire, without any profile at all, has been fixed and we're back on the road, honking between all the other idiots, while slaloming on and off the road.
Safe and well we reach Pashupati Nath, the largest and most important Hindu temple of the city. For us it's the first time to visit a Hindu temple and as soon as we get there we're impressed by all the rituals. First we watch three outdoor incremations from a modest distance. Meanwhile various other rituals take place right next to us, all of them involving lots of food and flowers on banana leaves, being launched as little boats in the holy Bagmati river at the end. We spend at least an hour sitting and watching by the waterside.
Some Sadhus, holy men in brightly colored costumes with painted faces, are trying to find customers who'd like a blessed polka dot on their forhead. Others don't bother and are just lazing around and smoking. They probably earn enough baksheesh posing for photos, taken by the busloads of tourists who come here every day. In the main temple, unfortunately only open for Hindus, there's apparently a big party going on. We catch a glimpse of the people playing music and dancing on top of the temple.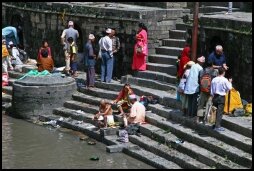 By the river more rituals take place, apparently involving lots of fire and water, but all of this is fairly incomprehensible for us. Still we find this an interesting place, where all of our senses are strongly tested.
Through a relatively peaceful area we walk to Bodh Nath, a few Buddist temples surrounding a giant stupa. The past few months we got familiar with the Buddist customs and, together with dozens of Tibetans, we circle the stupa trice, while extensively eying everything. We also pay a visit to the temples in the side streets and in the last one, back at the giant stupa, we're invited to sit down with a monk. We goody-goody sit down and one by one we're blessed, all very good for our karma. When we're back on the street we're wondering for how long this karma will last and whether this blessing will be related to the amount of money we donated after the blessing. We hope it's not, since the note from the one before us was way bigger than ours.

> Bakhtapur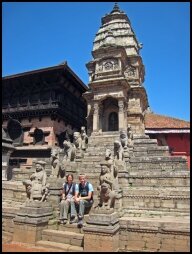 26-09-2008 Our second Maruti-experience is like a dust storm. The roads from Kathmandu to Bakhtapur have more potholes than asphalt and the sand is gushing in every direction. And every minute we're driving is followed by at least ten minutes where we almost come to a complete halt, due to the giant traffic jams caused by the confined spaces and intersections without traffic lights. It's only fifteen kilometers to Bakhtapur, but in the first hour we hardly cover ten and so we're still not there yet. And now, with every halt, our little car also starts to strongly smell like exhaust gases.
When we've stopped again Yvonne opens her window a little more, for some "fresh air"; the gas smell is unbearable. Right on that moment an old bus next to us starts its engine and a big, black smoke comes in through the window. Fortunately our line is starting to move again and then we're out of the city.
Bakhtapur has a wonderful center, with a Durbar Square at least as impressive as the one in Kathmandu and nice, little streets with more temples and shops. We go for a walk and when we get back to the square we see that our taxi-driver still didn't find any new customers. We ask him to take us to Patan, besides Kathmandu and Bakhtapur the third city in the valley. Since we've seen so much the past few days we quickly give up sightseeing, but we'd love to try the local foods sold on the main square. There's a festival today and there are many nice local foods on offer.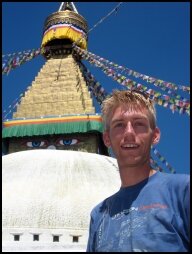 27-09-2008 Even though we had lots of healthy and really nice foods this week we've caught a bad cold anyway and before anything else we have a good sleep. However, as soon as we woke up we'd quickly like to go out, as we haven't seen such a clear and sunny weather here before. We return to Bodhnath temple, which looks even better without threatening, dark clouds and we sit down on a bench from where we're able to carefully watch the Tibetans. It's a lovely, lazy afternoon, sometimes we chat a bit or we play pictionary with a Tibetan monk or another passerby.
Meanwhile we know exactly what the current fare for a taxi ride back to Thamel is and as soon as we've convinced our driver from that fact too we hop in. One of the Tigerbalm-salesmen, who are offering everybody who's silly enough to walk into their sight a jar of this stuff ("tigerbalm, sir?"), is sitting in the taxi. Our driver shoos him out of there, but soon we find out the guy also needs to be in Thamel and we have him hop back in. Of course only after we made him promise not to use the word Tigerbalm during the ride.
When we're there he walks with us for a while. Then he says goodbye and he thanks us for taking him in the taxi. As a final question he quickly asks: "tigerbalm, sir?" He broadly smiles at us, with his mouth full of yellow and brown teeth.
We take a quick look at the Thamel-festival, which takes place today. Nice, but we're a bit too tired today. The next few days are filled with relaxing, applying for the India visa for next month or so, visiting our new friend here and his family and, presumably, Treelos first expenses in this country.
Nepal Monsoon video

The Nepal Monsoon video will show here


Bodhnath Stupa Katmandu Nepal

The Bodhnath Stupa Katmandu Nepal video will show here

Click on the films up here to look around in Kathmandu, almost live.
> More Info
Also check our
Nepal info page
, where you can find a lot of information about Nepal and come see our
Kathmandu 1 photos
and
Kathmandu 2 photos