Morocco Travel Journal: Central Morocco
> Departure to Morocco from Eindhoven Airport
19-02-2012 After our initial disappointment that there were no more tickets available for departure on Saturday, we now find it truely relaxing to be able to have a good sleep first, before leaving to Morocco.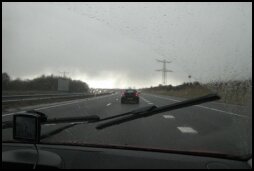 Our mood just gets better when we end up in a heavy snow- and hailstorm on the highway to Eindhoven: how lucky we are to be leaving to the sun!
We're never very fond of local airports, but in no time we're high up in the sky to see Holland getting smaller and smaller down there. Just after sunset we arrive at
Marrakesh
airport, where we pass the confused taxi drivers, to hop on the bus which is just arriving, like it had been waiting for us. The ride to the city takes just a few minutes and we get off right at the hectic
Djemaa El-Fna square
. Immediately we're being harrassed by a number of men who can take us to a hotel, but failry relaxed we cross the old medina. Could it be a certain resistance we've build up in
India
, or have the ones who try to take advantage of you become less persistent in the past few years? We always hear about those terribly pushy salesmen and hucksters of Marrakesh, but somehow we're a little disappointed now.
> Exploring Marrakesh
20-02-2012 When exploring the medina the next day, once more we find out we're being pretty much left alone and that's the main reason Yvonne finally scores that great leather jacket she'd been looking for a long time.

The El-Badi Palace is quite a disappointment, the many clattering storks in giant nests on the roof are by far the most interesting thing to see, so soon we're out on the streets again. The Bahia Palace, however, really makes up for this. The wooden ceilings and the paint and stucco are amazing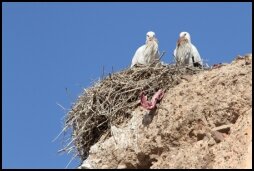 and for quite some time we're staring at all this beauty. On our way to the Souq Sebbaghine, where wool is being dyed in natural colours, we get lost in the maze of alleys in the medina a couple of times, but that sure is no punishment, since we pass so many interesting workshops and beautiful products. The
Medressa Ben Youssef
isn't easy to find as well, but after eating many delicious dates, sitting under a palm tree, our energy is renewed. So we walk another block or so and suddenly we're right at the entrance. This structure is particularly beautiful as well, just like the nearby, restored museum. For lunch we climb the roof terrace of Café France at Djemaa El-Fna, where we don't just eat some delicious couscous and tagine, but are also able to see the bustle of the square below. We hear the minaret of the Koutoubia mosque once more, just like early this morning we're surprised about the difference between the calls for prayer in the various Arab countries. Here in Morocco it seems like a trend to play a different musical indulgent for every prayer of the day.This morning we were treated to some sort of everlasting rap, with an "Allah ou Akhbar" repeating in the middle and now the far more musical piece doesn't last too long.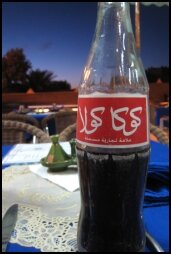 Meanwhile our feet are killing us, but still we go for a quick tour through the Mellah, the ancient Jewish neighbourhood, where we get the feeling to be send back in time among the packed shops with goods we've never even heard about, let alone seen with our own eyes. We catch the last sunrays of the day on the roof terrace of our hotel, where we finally give our feet a rest as well.
> Tizi n'Tichka and Aït Benhaddou
21-02-2012 An alarmclock set at 7 a.m. is really too early for holidays, but it's for our own good and an hour later we're in a taxi on our way to the car rental. Unlike what we've read in our guidebook it doesn't cost us any effort to convince our driver to turn on the meter, but we suspect the guy from another smart plan, when he claims he can't find the rental company after driving all the way to the end of a very long road and then driving that same distance back. However, he really seems to have a hard time finding the place and after repeatedly asking locals out on the streets we end up in front of a shabby office. Perhaps we just have to go for Budget or Avis next time instead of the cheapest one on the internet.

We pay for the 60 Dirham, now on the meter, with a 100 note, but to our surprise we get 70 back, and an apology for not finding the place right away and no, he sure doesn't want any more money from us. Still in shock we find our way up to the odd office, where, of course, is nobody present. When we ring the bell at the neighbours' door we get an angry growl, probably because they're getting silly people like us all the time, but when we're walking down the stairs we're called upon by someone who says to send someone over. Indeed the Air Car representative arrives barely 5 minutes later and after the usual formalities, we're ready to leave about an hour late.
We're not really impressed by the traffic in Marrakesh and thanks to our friend Tom it only takes a short while before we're on the right road to the mountains. The villages in the foothills of the Atlas are amazing and remind us of Nepal. From time to time we share the road with donkeys and their owners, on their way to the market and we see the snow peaks coming closer. The last part to the
Tizi n'Tichka pass
is phenomenal, a ridge with a steep slope on both sides and fantastic views.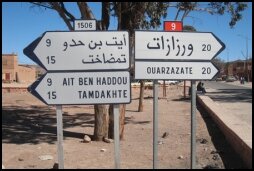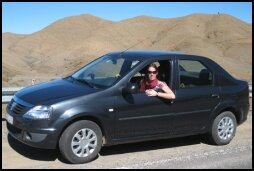 As soon as we crossed the highest point we pass some cowboy-towns, to take the exit to Aït Benhaddou, an ancient caravanserai, regularly used as a filmset, for example for some scenes in the Gladiator and Prince of Persia. Again we're struck by the kindness of the people here, even the salesmen are nice and leave us alone when we tell them we're not interested. We can make a peaceful walk and completely enjoy the old mud castle. How quiet it is here and how different we'd expected it to be.
The kasbah of Tamdaght, a couple of kilometres down the road and the one in Tiffoultoute, near our destination of today, are worth a visit as well and there really isn't a single tourist to be seen in both places. In the low light the old castles look amazing, but we're also quite tired of all the impressions and find it time to get to our hotel in Ouarzazate.
> Moroccos desert villages
22-02-2012 Over another pass, the Tizi n'Tinififft, again with splendid views we reach the ancient village of
Tamnougelt
. With a local guide we tour the old Jewish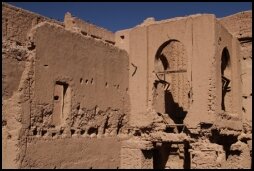 and Muslim quarters and the filmset of, among others, Babel, for which there have been some recordings in the surrounding landscape as well.
We'd been discussing the movie Babel when crossing the desolate landscape a bit earlier, when at three different points a man suddenly blocked the road to make us stop. With a feint, we could avoid them, but this kind of actions are certainly not very nice. Nevertheless everything else seems very relaxing here: people come for a chat every now and then, which we're able to understand and even allowing us to say something back, since everyone seems to be speaking French here. Sometimes someone's walking along with us for a while, not to sell something, but just to socialize and almost everyone we meet at least greets us with a "bonjour" or "Salam Aleikum".
Further south we take the turnoff to N'Kob, an extremely interesting village, according to Lonely Planet, but not for us. The kasbahs which we see on our way to Zagora are far more beautiful. When we're almost in Zagora we see more and more date palms in the Drâa valley. Our hotel for tonight is in the outskirts of town and from the balcony of our suite, which we've been assigned, we look out over the desert landscape of the Sahara.
The nearby village of Amezrou with its colourful people is very picturesque, but unfortunately they don't like to be photographed, so our camera stays in the bag this afternoon. We do go for a nice walk through the village and we're the main focus of interest, but without the annoying character this kind of village usually has in the rest of the middle East.The people stay calm and friendly and the words "skoolpen, bonbon and biskit" haven't been taught to the local schoolkids yet. Kids are all fairly quiet and shy here.
> The weekly market in Agdz and on to Taroudant
23-02-2012 We start our day in Tamegroute, a horrible village about fifteen minutes south of Zagora. The village itself is very beautiful or picturesque, however, the inhabitants don't want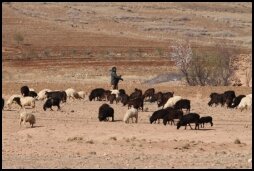 you to wander around in large parts of the village and, like anywhere in Morocco, they hate to be photographed. Add to this a large number of pushy men who all like to sell you their merchandise, or try to earn some cash by imposing themselves as guides, without even asking you first. Now you'll probably understand that, as soon as we've seen thé sight of the village, a thirteenth century Quran, we get the hell out of here.
In about 2 hours we drive back to
Agdz
, where we enjoy the local weekmarket, for which the entire area seems to have come down. We stroll around for quite some time, chatting with the salesmen every now and then.
Then we quickly move on, as we have many kilometres to cover today, all the way to Taroudant. En route we're treated on a variety of landscapes, but a large part of it exists of extremely boring desertlike hills.
24-02-2012 The major part of the morning we spend in souk of Taroudant, to get out around noon, carrying a bronze lamp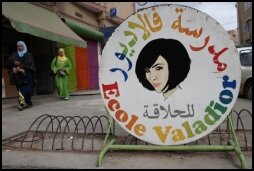 with Iraqi glass. The rest of the day we spend relaxing with a book, on the rooftop of our guesthouse Dar Fatima, where we're spoilt by the owner with fruit and tea.
> Tizi n'Test back to Marrakesh
25-02-2012 Early in the morning we say goodbye to our superfriendly host, to drive back to Marrakesh. Today it's exceptionally clear again, even above the snow peaks of the Atlas and that we can use, as the road over the
Tizi n' Test pas
seems to be narrow, of poor quality and scary as hell, especially in rainy or foggy weather.
The first part of our journey runs through the
Argan plantations
in the foothills of the Atlas. The Argan nut is used to make Argan oil, a procedure done at home and by hand, by the local women. Then the road does get more narrow and of less quality, but it's still not really scary, so we're able to enjoy the impressive views. Little villages, made of stone and clay, are in deep valleys, while the snow peaks are hovering high above them. At the pass, at an altitude of over 21oo metres, we drink a cup of mint tea and eat some of "mama's" selfmade cookies.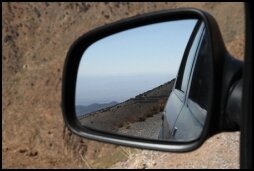 The descend is, when possible, even more beautiful and we now pass villages surrounded by almond blossoms. In the entire region the almond trees are blooming in late February, early March. Schoolkids are yelling at us and follow us running along the car when they're walking home from school.
At the thirteenth century
Tin Mal mosque
we stop to check out the interior of this structure. The entrance fee? WWhatever we'd like to spend, is what the friendly man at the entrance tells us. From now on we constantly see the snowcovered giant Toubkal on the right, with over 4000 metres the highest mountain of the Atlas. Especially from Asni it's an impressive sight. We walk around a bit, at the
weekly Berber market of Asni
. People from the entire area have come down to the market, to sell their homegrown produce, to have their donkey fixed some new horseshoes or to buy a nice little chicken. From here it isn't far to Marrakesh, where we find a place to park our rental car and spend our last night in the hotel where we've started this holiday.
> Meer Info
Also check our
Morocco info page
, where you can find a lot of information about Morocco and come see our
Central Morocco photos
.