Kyrgyzstan Travel Journal: Osh to Karakol
This travel journal is part of a series of journals, which are all written during a long trip between november 2007 and may 2009.
> Crossing the Irkeshtam Pass
03-07-2008 We're lucky with our choice to continue living in Beijing-time, even though we went further and further West, which meant it now gets dark well after eleven pm. Checking out at 5.30 am. Xinjiang-time is now not too hard, as it feels like 7.30 am to us.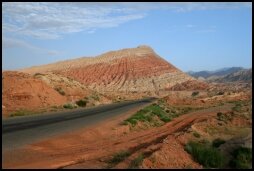 Soon Mohammed, the friendly Uigur who will take us to the border 240 kilometers away, arrives. We're driving through very diverse mountain landscapes and are surprised by the bizarre shapes and colours, which are changing by the minute. When we see the first Kyrgyz villages, about 30 kilometers from the border, our passports are checked by Han Chinese militaries, who seem totally out of place here. Their high caps and chinky eyes oddly contrast with the round Uigur eyes and the tall Kyrgyz Al Kalpak hats, which seem to fit so much better into a rocky mountain landscape like this.
Because of Mohammeds excellent driving- and flying skills we're already at the border at 8.30 am, even though it only opens at 9. There's no one here yet, but especially for us the scanning machine is switched on and a bit later our luggage rolls through. We're just a litle bit nervous now. What will they say about our painted Uigur-gourd a.k.a. Barbapapa, whom they refused to send at the post office in Kashgar? But it's not Barbapapa causing problems. Even before all the bags are through the scanner we're requested, in a pretty commanding way, to show them our books and maps. Ah, they'd like to see our China travel guide. With our silliest face we grab a novel from our bag. Then the Lonely Planet from Kyrgyzstan. Finally we hand over the Rough Guide from China, bought in Laos and traveled through the entire Chinese country with us in the past few months.
The official extensively checks the book. The map on the first pages seems to worry him a lot and he disappears with our book into an office, where more chinks under large caps are entrenching. A few minutes later two of them return. The English speaking colleague tells us we've caused them big troubles with this book, since the map in front doesn't show Taiwan in the right colour. Taiwan is China, as we're told, and so it had to be equally coloured as the rest of their country. Now there's a big problem. Yvonne swallows her proposal to let them colour the damn island by themselves and choose a sticker from her collection when they've done it right and she shows remorse for this great crime. We suggest the men send an angry mail to Rough Guide's author, to sort it out with him. Still we're not allowed to take the book across the border. They intend to keep the book here. Yvonne finds this a little over-reacted and she quickly solves the problem: rip...gone is Taiwan. There we are, one problem less in the world. Shocked the non-English-speaking officer takes the torn piece of map from her hands and he quickly puts it back to the rest of the map, while lovingly smoothing it. After some quarreling, while the men are obviously upset about the torn map of their homeland, they agree to our proposal to just take out the remaining part of the map from the book. So 2 pages are torn from our book, after which it quickly vanishes into our bag.
The censorship-official also likes to see the photos on our cameras and we clearly see the surprise on his fase about the fact that there are just a few pictures on the cards. The rest, including the photo of the Chinese militaries intimidating an Uigur man, are on our computer, which is safely in our bag, but no one asks us about it. We're allowed to pass, wíth Barbapapa, which is not considered a great danger here, contrary to the post office. From the next guy we get our stamps and just when we think we've escaped and walk out the door, there's another guy demanding to take a look at our new stamps for which he demands 10 Yuan. Per passport. Well, okay then, but only tobe really out of here.
The next couple of kilometers we're driven by the Chinese immigration-car, all the way to the final checkpoint on Chinese soil. After our passports are checked here as well we start walking, with a breathtaking view on the rows of snow peaks belonging to the Pamir mountains. So we're walking, on an altitude of 3 kilometers, across the border and at the Kyrgyz checkpoint we're offered a place in a truck, a machina, for the final kilometers to customs. Here we get our stamps in no time and we walk into the country. "Welcome!" we're greeted. And welcome we are, one can tell that much. Everyone's smiling at us and soon we meet a couple of truckers who are tinkering and who offer us a ride to Sary Tash, about 70 kilometers further on.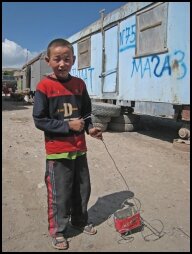 While we're waiting to leave a few kids come to accompany us and Peter gets a bottle of beer pushed into his hands and they offer him wodka as well.
The tinkering activities are taking a bit longer than we think is right when we'd like to get to Sary Tash before the end of the day. When another truck stops we decide to take that ride. For 3 packages of cigarettes with a total value of 75 eurocent, especially bought for this occasion in Kahgar, we're on board. Our truck is an aged, Russian scrag from 1983 and with our luggage and a driver and co-driver in the cab there's not much space left for us. Fortunately the landscape is so breathtakingly beautiful that we soon not notice this anymore. With a speed of barely 15 kilometers an hour we're snailing forward and soon there's another stop too. Turns out we're traveling together with another truck, a newer one, but almost broken and barely visible in
the real mirror. Painfully slowly it's moving closer and together we move on, after another stop at a checkpost, following an unpaved road. Big holes and huge rocks are making it hard to drive. Soon we're way ahead again, we stop and... the motor from the other truck turns out to be overheated. Fortunately we've got our photos from back home and a phrase book for killing time.
An hour later we're moving again, but shortly we stop for the umptieth time. We walk a bit through the beautiful surroundings and at a yurt we're invited to join for tea. However, we'd like to move on and when another truck stops to ask us whether we'd like to come with them we choose for this faster option, since it's already almost 4.
We quickly grab our belongings. A bit too quickly we realize later, as Peters nice and warm fleece is still in the other truck. We're too far ahead by then and besides, there's no other traffic. This driver and co-driver like to see our photos as well and they extensively question us about our homecountry, using the few English words they know. We respond with the few Russian words we know and now the co-driver soon learns that Vilnius is not the capital of Gallandia (Netherlands). Around diner time our new trucker family stops at a couple of yurts, where we're served nan-bread with blackberry marmelade and fermented horse milk.
Back on the road...well road... Yvonne has a terrible allergic reaction to the animal skins in the tent, the horse milk that we really had to finish to the last drop, or the sheep outside. Anyway, her eyes and troat become twice the normal size in just a few minutes time. So we're glad to be able to get off in Sary Tash an hour later, although we're asked multiple times to come along to Osh. Well, we think 3 hours of speeding through China, an hour of border crossing and 7 hours and thirty minutes for the final 70 kilometers are enough for 1 day.
The "hotel" from our travel guide turns out to be a little room in a mud house, where we find a few beds with mesh bases from the USSR-era with mats on top. The blankets haven't been washed in years, so for the very first time in this trip, our own sleeping bags come out of our bags. The shower is a bottle filled with hot water and a bowl and after washing ourselves we eat the noodles we brought and try to sleep. We succeed surprisingly quick.
> Sary Tash to Osh
04-07-2008 From the moment we're awake we're, against all odds, watching for the truck in which we left Peter's fleece. It must still be somewhere behind us for sure. We have breakfast, pack our stuff and soon a van with some space available for us comes by. Our bags are fixed on the roof and once again our fellow passengers enthusiastically look at the photos from back home. We've hardly hit the road as we stop again for a couple of passengers come running down from the yurts in the distance. In full gallop the luggage is taken down by horse, ridden by a boy without using a sadle or stirrups. Something we'll probably see a dozen of times here, but right now it still surprises us. As we have to wait anyway, our driver quickly changes a tire. Less than an hour later we're back on the road and we're glad we didn't continue to
Osh
yesterday. The road has once been paved, the major part of it at least, but that's been a while ago and we bounce all over the place.
When we cross the first pass we're quickly approaching a blue truck, which really looks a lot like... hey "STOHOP! STOP, please!"...
A bit later Peter sits, with his own well-known fleece, back in the bus. We're bumping and bouncing some more, again through green mountain landscapes, dotted with yurts and herds of catle for entertainment. Only by the end of the afternoon we descend to the valley in which Osh is situated and we find a driver who it takes some effort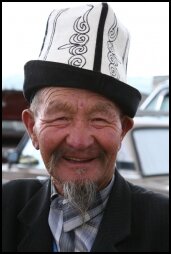 to find it ("Do I need to turn right here?", "Well... you're the driver, aren't you?"), but a moment later we see the sign on a building. Lovely to being able to read some things again, even though it takes some puzzling. The Russian language is SO easy. After Chinese that is.

05-07-2008 We mess around in our room, update the website and for the rest we don't do all that much. The peace and the relaxing athmosphere here are really changing our mood and Yvonnes face has almost transformed back to her original shape yet.
06-07-2008 After a visit to the bazar in the early morning we make this another relaxing day, with a lot of çai (tea) and delicious kebab. On the terrace of one of the many teahouses we can easily look what's walking and driving by. We see many old German and Dutch cars and Mercedes-vans passing by, the latter with the stickers still on them. Taxi "van Meurs", "UVO Uithuizermeeden" and "Die Spastisch Erlähmten und Behinderten Verein" are some of the represented. Many people contact us here. They are truely friendly and interested, without eventually asking us for money in one way or the other.
07-07-2008 We do some sightseeing through Osh, eat some more skewers and arrange our transportation to Bishkek. Eventually we're gonna cover the 700 mountainous kilometers in 10 to 15 hours, depending on what we'll meet on the way. We've had serious doubts to split the journey into 2 days. Unfortunately that's financially very unattractive, so now we hope for the best for this option.
> Beautiful ride to Bishkek
08-07-2008 Despite a night of very little sleep, thanks to another little foodpoisoning for Yvonne, we're ready for departure at 7. Our ride is, in the oldfashioned Asian way, over an hour late and after some squabbling about the amount of advance payment and where to deliver us, we're ready to go at 8 thirty. We're coming with a father with his two kids and a guy working in Bishkek, but except for the son aged around 7 none of them is very talkative.
The first part of the journey takes us through a hilly countryside and the road is, compared to what we've seen from Kyrgyzstan so far, surprisingly well. Every now and then melons are sold by the side of the road and we see a lot of sunflower fields. In little villages we see churns on the doorsteps and at the animal market a man on horseback is struggling with his purchase: 3 cows.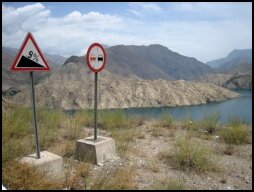 About 4 hours later the landscape gets more whimsical and a river meanders among bare mountains. Then we drive around the Toktogul-reservoir, where the landscape suddenly becomes more green and we see honey for sale everywhere. After a late lunch, skipped by Yvonne, we continue climbing and on our way to the first pass of over 3 kilometer it starts raining. Now we regularly see groups of yurts and large herds of catle are walking in the pooring rain. Once we've crossed the pass we drive on a plateau for kilometers, with churns by the roadside indicating that kümüs (fermented mares milk) is sold at the yurts behind. We keep on driving and we climb another 600 meters on a steep road. The views across the plateau where we just were and the snowy peaks behind are breathtaking. It looks like we've reached the end of the world.
After the second pass we just have to descend and around 8 pm we arrive in Bishkek. So we made it in less than 12 hours... not bad. Our guesthouse is an old mansion, built by the grandfather of the owner, still present in the many paintings and black and white photographs all over the dining room. The dining room is our residence, the sofa is our bed and the piano comes free with it. We share the bathroom with 15 other travelers, which is a new experience for us. Fortunately it's all nice and clean and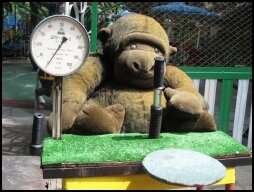 the cold water from the tap is heated by an old Russian heater of at least 5000 Watt, in a giant tub.
> Bishkek
09-07-2008 We have a good sleep and then wander through Bishkek. The city is very green, with long, straight avenues full of trees, but it also has a giant square with monsterlike buildings from the Soviet era. In a park we find a fair, with rusty Russian and handmade rides, like a propeller-driven carousel and swings made of old rocking horses and go-karts.
Well into the afternoon we also visit the the historical museum, which contains an entire storey full of Soviet propaganda, including a few large statues of Marx and Lenin ánd wonderful ceiling paintings representing the Russian version of the world's history.
> Burana and Cholpon-Ata
10-07-2008 We travel to Tokmak by bus, changing into a taxi to
Burana
. Here we find the remains of the 11th century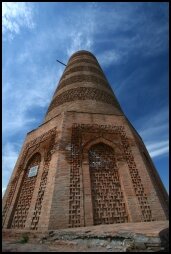 tower, which was probably once used as a minaret. There's also some remains of an old castle and an impressive collection of balbals (Turkish totem poles, once functioning as tombstones).
Back in Tokmak we catch the bus to
Cholpon-Ata
, where we're surprised about the naivity of some fellow travelers. Two French pay without the slightest hesitation 30 Dollar for half the distance we're paying 12 Dollars for. We notice we have to pay closer attention here, especially in transport, for the "rich-Westerners-happily-pay-more-attitude". Still these people are truely adorable. Like in Cholpon-Ata there's another sweet, old crone, sitting in a chair outside the restaurant of her grandchildren. When we ask one of our peers what kind of meat it is between the sandwiches, the old crone makes us understand what it is in broken German. Then granny opens up and we have an extensive conversation with her, to the great amazement of her grandchildren, who obviously didn't know about grannies linguistic knowledge and who are unable to communicate with us at all.
We're staying in another homestay: a wonderful garden full of fruit trees and flowers, a room where the son's playstation and the hosts piano are still stored and defecating hovering over a hole in the garden.
11-07-2008 Under an extremely clear sky, whith all colours almost unnaturally contrasting to the blue sky, we walk out of the village in the direction of a huge field of moraines from the ice age. The road slightly slopes upward and the view on the crystal Issyk-Kul lake gets better by the step. The roundly worn boulders are on the edge of the Alatau plateau and on a large number of them petroglyphs are made in earlier times. Deer, goats, the sun and men on horseback are often depicted. Between the boulders are also some tombs and balbals.
After a good lunch we walk to the beach. What a hoot, in the mountainous land of yurts, sheep and shepherds a true Côte d'Azur has been arisen, only the fat bellies here are of Russian origin instead of German.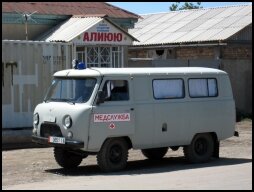 The small Issyk-Kul museum is also very worthwhile. Everything is neatly arranged and even without English texts it's easily understood that there are petroglyphs, balbals and utensils on display. Very interesting, definately because we've never seen many of these things ever before, like a jug of cow leather and a water bottle of a pair of udders.
> To Karakol
12-07-2008 In about 2 hours and thirty minutes we get to Karakol by bus. The huesthouse we've picked turns out to be full, but our taxi driver knows another place to stay. Don't they always? Well, it won't hurt to take a look. The room happens to be a very nice one at a family of grandfather, grandmother, kids and grandchild. We stay and are totally pampered by grandma.
> Animal Market in Karakol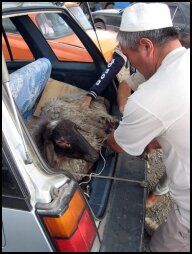 13-07-2008 As early as 7 we're in grandpas car. He gives us a ride to the weekly
Sunday market of Karakol
, where everyone from the surrounding area comes to sell and buy sheep, goats, cows and horses. When we get out of the car it's like we enter a museum. That begins at the "parking lot". What we see here are Ladas, Moskvas, Wolgas, UAZ-jeeps and other pre-historical brands, which almost seem like they come from a different world. One man has an extremely old bus transformed into a cattle truck and unloads about 5 cows. Most of the people can also play in a '50s movie and are a sight on their own.
For a while we stroll around this lively market, which we personally enjoy more than the one in Kashgar. Later we take a look at the wonderful Russian Orthodox church in Karakol, where people are coming and going all the time on a Sunday. When we've subsequently squeezed a few e-mails through the thin phone line we find we've done enough for the day and we're reading and lazing around a bit, while enjoying grandmas tea, raspberries and sandwiches.
> Jeti-Ogüz
14-07-2008 Today we'd like to make a daytrip to
Jeti Ogüz
, a valley about 25 kilometers from Karakol. After unsuccesfully being send from a small bus station to the bazar and back for the minibus in that direction an old man with his wife and daughter stop their car.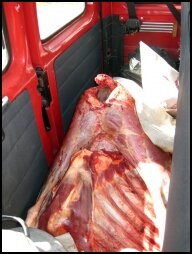 In Kyrgyzstan every car is a potential taxi and since there's still no sign of the right minibus we accept the offer of being brought in a thirdhand VW-Golf from this family for the amount of 300 Soms. The old lady in the back babbles some English and before we even notice we're driving between beautiful, red mountains. We pay and thank them for the ride and start walking along a clear stream, slightly uphill between mountains and pine trees. A boy on horseback catches up on us and we follow him further uphill, to a yurt camp. This village seems to be a holiday spot and daytrip for Kyrgyz people, who pay to ride a horse, drink kümüs and stay overnight in a yurt. The surroundings and the views are exceptionally beautiful, so we enjoy them for a while, before we start the 2 hour journey back. When we've been walking for quite a while a car with free spaces left catches up on us and we grab this chance to reach the thoroughfare without walking. Soon a minibus stops here, in which more than an average number of flies are swirling around. When Peter peeks behind the back seats we see the reason for all these flies: the driver took his mother-in-law. Or perhaps it was a dead cow after all, the difference is hard to tell, since "it" has already been skinned.
Back home Peter helps granny to make Laghman, spaghetti-noodles eaten in Central Asia. Samina, the 4-year old granddaughter who stays here during summer, proves to be able not just to eat large quantities of cookies and sweets, but also a large portion of Laghman.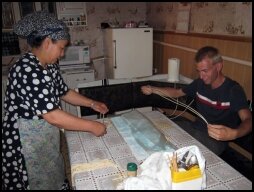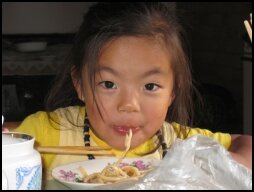 > Ak-Suu
15-07-2008 During a walk in the Ak-Suu valley, another beautiful piece of nature, we pass a white building where disabled kids walk in and out, or some are pushed in wheelchairs. We take a look in the hall, where a lady who works here tells us this is a children's hospital. Children from all over Kyrgyzstan come to this place to be treated for 2 weeks. All of them have motor deficits by problems in the brains. They are treated with paraffinecures and massages here. There's also a pool where they can be treated in water. All of it, like so much in Kyrgyzstan, looks pretty poor, even though a sign in the hall shows the place has been smartened up by Japan in 2004. Still a conversation clarifies there's a lack of everything here and a doctor, who finds some time to speak with us, tells us there's enough capacity for only 50 kids, even though there are at least 100 present now. There's a lack of beds and blankets, but also toys and balls for treatment would be very welcome. We get the point:
Treelo
needs to offer a helping hand here.
The next two days we're on the move with Sofia, daughter of our hostess, and granny herself, to buy things at the bazar and deliver them at the clinic. Then we move on to Song Köl lake, where we'd like to ride horses and stay with the families who spend their summers around the lake, with their cattle.
Kyrgyzstan transport video

Kyrgyzstan transport video will show here


Bishkek amusementpark video

The Bishkek amusementpark video will show here

Click on the films up here to look around in Southern Kyrgyzstan and Bishkek, almost live.
> More Info
Also check our
Kyrgyzstan info page
, where you can find a lot of information about Kyrgyzstan and come see our
Osh to Karakol 1 photos
and
Osh to Karakol 2 photos
.