Kyrgyzstan Travel Journal: Around Kochkor
This travel journal is part of a series of journals, which are all written during a long trip between november 2007 and may 2009.
> Goodbye to Karakol
19-07-2008 After a couple of lovely days in Karakol, with Borscht and Blinis from grandma and a farewell diner with Greek Moussaka from us, we say goodbye to our host family and we head for Kochkor. Here we find accommodation with another nice family, but since we want to go horse riding tomorrow we just stay for one night.
> Horse riding in Kyrgyzstan
20-07-2008 When we've finished our breakfast of pancakes we stock up food at one of the many stalls (read: old-Russian prams) of Kochkor's women. At exactly 9 we leave the village in a Lada-taxi to Kara-Suu, a rural village where people hardly have any cars yet and where a sign indicates where the village phone can be found. By the many wells we can tell most houses still don't have running water.
While we go for a short walk through the village our horses are saddled and when our luggage has also been strapped Yvonne is the first who can lift herself on one of the animals. Then comes the shortest instruction ever (chu or a whip means "move forward or move faster", pulling the rein means "stop" and pulling on one side means "this way"), after which she just rides off. After lengthening the stirrups Peter also finds it surprisingly easy and soon we ride on a coutry road out of the village, in the direction of the mountains in front of us. Sometimes we even let the horses trot a little, but soon the path goed up and we cross streams and rocky plains, where we're just moving slowly. The views get better by the minute and after a while the grass becomes greener and more numerous. Do we see a single little house in the depth at first, later there's only nature and the
only living creatures we see are the many marmots who run from one hole to the next.
About 3 hours later we get to an enourmous, inclined slope full of rocks, where one can hardly tell where the path is. The final part of the hillside is extremely steep and laboriously the horses fulfill the climb. Meanwhile it has become very cold and dark clouds are gathering above the peaks surrounding us. When we're almost at the top the wind is rising and the first large drops fall on us. Then we cross the pass and beneath us we see a blue mountain lake, making an unforgettable impression on us, even under these harsh circumstances. The rain increases and unfortunately all the yurts (ger tents) are on the other side of the lake, so we have to push through.
About an hour later and soaking wet we approach a small yurt, accompanied by a normal tent. To reach them we have to cross 3 fairly deep rivers, ensuring that even our feet aren't dry anymore, but well... we're wet anyway. Once we're in the kitchen-tent we can warm ourselves by the fire of the heater and we lay our soggy stuff to dry. That really is necessary, since everything is wet. We meet the family members of our guide, who let their 300 sheep, 20 cows, 20 goats and 10 horses pasture here during summer. As soon as it gets dry outside a sheep is caught on horseback and as the animal is put down under loud bleating we already know what's next. These people are Muslim and so they slaughter halal: the troat is cut and then they wait for the animal to bleed out. Next the skin is stripped and everything is neatly removed. Tonight we're having sheep for diner.
After another long rain shower we can enjoy a beautiful sunset over the lake and when we've finished our soup with sheep parts there's no other option but sleeping in our yurt. There's no power up here and when the sun is gone everything is dark. We share our yurt with 4 French people who arrived a day earlier, while the family of 7 share the kitchen-tent. It's not very spacious, but it's alright. A pile of rugs is our mattrass and fortunately there are plenty of blankets to cover our sleeping bags, as it's not warm up here at night.
One of the 6 family dogs finds it too cold outside as well and secretly he crawls into our yurt, something the French can not appreciate. Actually we can't either, but the entertaining scenes of irritated French who try to win a battle against a dog outweighs the inconvenience.
> Back to Kochkor
21-07-2008 We wake up from the loud mooing of a cow that apparently is itchy, since she's extensively scraping her skin against our yurt. The sun is shining this morning and we have a wonderful view of the glacier under which we bivouac. The lake looks even better than yesterday, but after a walk through the jailoo (grassy plateau) we decide to return to the valley. We have a 5 hour journey on horseback ahead and above the higher peaks yet again some dark clouds appear. The weather up here seems to be very unstable.
We say goodbye to the mother who's just making butter and to the other family members, while one of the sons accompanies us downwards. When we just crossed the pass it starts raining again and soon everything is wet once more. Still we enjoy the horse-riding, which, against our expectations, turns out to be very easy, and the fabulous mountain landscapes. When we come down it gets warmer and some moments the sun even breaks through. Quickly our clothes are dry, which is rather pleasant when you feel as stiff as we do.
We spend the night with the same family and we're happy with our decision to join them for diner. The hostess happens to be an excellent cook and we enjoy the meal. The real beds in a warm house feel like a luxury and we have a long sleep.
22-07-2008 We wake up feeling some muscles aching and we've got a sore butt as well, so we make this a quiet day in Kochkor.
> To Naryn
23-07-2008 In the bazar we quickly find a shared taxi who wants to take us to
Naryn
for an acceptable price. The rickety vehicle is, like almost every single car here, a bit older and besides having a cracked windshield, one of the dampers no longer wants to carry us after one of the high passes. Fortunately every Kyrgyz man is a handyman and in no time the car is jacked and after a short emergency repair we can continue. The mountain landscapes are exceptionally beautiful and diverse and when we're approaching Naryn after about 2 hours we're impressed by the wonderful location of this 15 kilometer long town on the river with the same name.
Our host family tells us that two months ago the waterworks of the entire town broke down and at most houses there's not a single drop coming from the tap anymore. Well, we're getting used to pouring cups of water over our heads, so we take the room and go out for a brisk walk. As far as we can see we're surrounded by mountains and it seems like there's one of every kind been added to the collection here: green with grass, rocky steep ones, red with slashes and for the lover even some barren desertlike ones.
> Tash Rabat
24-07-2008
Tash Rabat
is a caravanserai from the era of the silk road and the surroundings of the fortress, near the famous Torugart Pas to China, seems to be remarkably beautiful. There's no public transport in that direction and shared taxis are also not available, so we have to arrange something ourselves. We choose a driver at the taxi- and bus station who seems reliable and not too drunk, as alcohol is a big problem, especially in this part of Kyrgyzstan, as we already found out. After some negotiating we get in, to follow a steep road out of town. As soon as we crossed the Kyzyl-Bel pass we get to a giant plateau, bordered by the snow peaks of the At-Bashy part of the Tien Shan. Gradually we drive further upwards and about 2 hours later we reach a gate where both of us need to pay 50 Som to enter. We drive between many unusual rock formations and finally we stop at Tash Rabat, basically a brick bunker in the form of an old monastery, mixed with a mosque. A group of Dutch people are camping in tiny tents at this altitude, for us a hike where we have to cross an icecold river is adventurous enough.
On our way back we check out the ruins of Koshoy Korgon, not much more than a giant square wall of sand. The brand new, adjacent museum is closed, but the museum shop is open. We suspect the "caretaker" to be selling museum pieces in the shop, so we move on without even taking a look.
Meanwhile the thunder storms, which hung in the air for a while, have now gathered and became one huge downpour, a remarkable sight, since one can see so far. We return to our room, where, to our surprise, we have excellent working taps with running water. Would it have to do something with the fact that suddenly 2 busloads of guests have arrived!?
25-07-2008 Actually we'd like to go for a mountain hike in the vicinity of Naryn this morning, but last night there was so much rain that there's too much mud for that. We decide to return to Kochkor right away and since we're a bit outside the center we ask our hostess to call a taxi. When we're waiting at the gate a friend of the hostess wants to come as well and they tell us the taxi will cost 80 Som, more than double the price to get here. This would be because it's a socalled Super Taxi. Well, Super Taxi or no Super Taxi, we're not even considering of paying that much and the taxi isn't all that super as well, since we're waiting for 15 minutes now and it's still not here.
Then finally a car shows up, slipping on the muddy road. It ends up backwards and almost right in front of us, when he steers into a ditch with one wheel. A good argument for us to bargain a bit: "You're a very bad driver, so be glad that we come with you anyway!" It helps, he takes us for 40.
Once we're in a minibus to Kochkor we can leave immediately, even though we've got a few free spaces left. However, the driver takes the wrong turn and we're wondering what's wrong. Our fellow passengers look into every oncoming car and some of the drivers are asked something. Do we have to make a detour due to the heavy rain and the condition of the road? At least it's extremely muddy. When we're almost at a village the driver suddenly hits the breaks and he and his co-driver try to get the attention of the next oncoming car. This doesn't work and we turn around for a pursuit. We drive back the entire road, just like we came and find out what's the point: in the car that approached us there are 2 more passengers for our van and that car is properly waiting for us at the junction where we took the wrong turn. Let's call it Asian efficiency.
> In Kochkor again
Now we can finally start our journey and slightly over 2 hours later we arrive in Kochkor, where we conclude making a reservation doesn't have much of a meaning here. Our room has been given to other tourists and we have to find something else. Soon we find a place and the rest of the day we mess around a bit and do our laundry in a real washing machine! We almost forgot how such a thing looked like.
> Horse Festival
26-07-2008 Today the weather is incredibly clear and that's good, as we're going to
Sarala Saz Jailoo
, where CBT organises the annual horse games. After bumping around on an unpaved road for an hour we reach a stream, to our great surprise simply crossed by our van. Next we drive the final stretch steep upwards through the green summer pastures and we're welcomed with music from a Kyrgyz "band" of 4. Unfortunately the horse games itself are a bit disappointing, we'd expected a bit more of it, but the environments are beautiful.
When the final game of polo with a headless sheep is also done we head back down, now in a larger bus, that surprisingly descends the mountain and crosses the stream without any damage. Unfortunately later that night it starts pouring with rain, so that's not very promising for tomorrow, when we'd actually planned to go to Song Köl lake.
27-07-2008 Song Köl is not an option for today, it's really oldschool Dutch summer weather here in Kyrgyzstan. A dark sky and lots of rain are not the ideal circumstances to visit the elevated mountain lake. We decide to try again tomorrow and stay inside today.
> To Song Köl after all
28-07-2008 For the first time we're really pleased with the Kyrgyz way of window coverings, or the total lack of curtains. Now we can immediately see that today is a shiny day and after a communal breakfast with Daniël and, our fellow Song Köl goers, we're off to arrange a taxi. First we buy some necessities in the market and an hour later we leave Kochkor again.
The first 50 kilometer are no big deal, but as we take a turn to an unpaved road it all slows down considerably. The landscape is exceptionally beautiful, with colourful mountains and streams surrounding us. Finally we climb on a narrow road to the pass before the lake. After a final glance over the valley that we crossed in the past few hours we first see the blue Song Köl lake below us. Regularly we pass a yurt surrounded by a herd of cattle. Thirty minutes later we approach a group of yurts, that are obviously meant for tourist purpose, given the large quantity of facilities inside and around the tents. We even have an improvised sink with running water at the door and in a handmade toilet there's even three-ply toiletpaper in a real toilet paper holder. Completely different from the tent where we spend the night at
Kol Ukök
. Perhaps a bit less "real nomad life", but we don't mind, a bit of luxury is not bad after all.
Tourism stays small-scale, as the tents are in groups of 4 only, with 1 host family per group. We're very lucky with our "mama", since she's a very good cook who knows how to create wonderful meals with minimal resources. Besides she also takes very good care of all of us.
Because we only got here by the end of the afternoon all the horses of our family are already on the move. One of the main reasons for us to visit this place is the opportunities for horse riding, so we inform with the neighbours whether they still have any horses available. At the fourth tent we end up at a small party, where kümüs (fermented mares milk) and wodka apparently have richly flowed yet and there they have 2 horses left.
Soon the horses are saddled and we're ready to go. Do they really allow us to leave by ourselves, without any guidance of the owner? Yes they do. Don't these horses bolt then, when their owner is not there? Well, apparently not, as we find out a few minutes later when we're riding off. Whether these horses are at all able to bolt is a question that rises only fifteen minutes later, when it's obvious why these animals were the last two left. These two are undoubtedly getting older, as they're as slow as molasses. We do all kinds of attempts to move the grannies to more activity, even try a compromise of first drinking water from the lake followed by some action, but the only result is a lot of fun and laughter. When Peters horse refuses to do any step at all it gets a bit too much for him and we change horses. That's slightly better, but it only gets really well when we turn around to go back to the tents. Then both our grannies even like to trot a little and it all becomes real fun. Yvonne is even able to let her animal carefully gallop, who would have thought this?!
Once the sun has set it gets very chilly at this altitude and soon after diner we get to bed. However, sleeping is hard, as one of the dogs gives a concert and perseveres singing half of the night. Fortunately the view from the natural toilet behind our yurt (you don't want to walk 200 metres through the cold first) makes up for that. The stars have never bene this bright and the Milky Way is shining like we've never before, incredibly beautiful.
29-07-2008 Nevertheless we're not very awake the next morning, but mamas blinis and apricot jam make our day, yummie. Today the horses have not been rented yet and we're given two racy ones, which is a huge difference compared to yesterday. Yvonnes brown with black one likes to trot right away and responds to the least touch or movement. According to Peter he always gets the shitty horse and so his is brown again, but with a little exercise it gets better. Alternately we ride at a slow pace and at trotting pace to the mountains in the distance and we climb the lower and less steep part of them. From up close it turns out to be a rather steep ascend, but the views over the lake, the other mountains and the grazing herds of cattle are magnificent.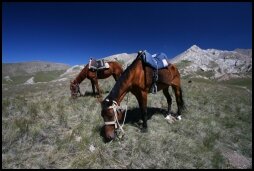 On the top our horses can graze a while, so we can take pictures, before we head back down. Once we're back at the plateau we try speeding up a bit and soon trotting turns into galloping. Peter doesn't really like it and slows down, while Yvonne storms all the way through on her racing horse, untill she's back at the yurt. When the dust has settled again and Peter can also recognize our yurt we return our horses to their owner to have lunch at the lake. Then it's time to get back to Kochkor, a 3 hour ride.
30-07-2008 In an old Russian bus of the fabulous brand RAF, with unmatched fuel air when ascending, we return to Bishkek. The closer we get, the warmer the air becomes, until we almost melt at a temperature of 40 degrees when getting off after 3 hours. In the same guesthouse where we had the giant dining room as a base at our last visit, there's now only a bookcase with a foam mat available, but we have to get out at 2 thirty to catch our plane, so we're happy to take it.
And so our advanture in Kyrgyzstan ends, a country where we had the time of our life during the past 4 weeks and where we'll definately return. But for now... ón to Turkey.
Kyrgyzstan horseriding video
Kyrgyzstan horseriding video will show here

Click on the film up here to look around in the Kochkor area, almost live.
> More Info
Also check our
Kyrgyzstan info page
, where you can find a lot of information about Kyrgyzstan and come see our
Around Kochkor 1 photos
and
Around Kochkor 2 photos
.