Thailand Travel Journal: Andaman Coast
This travel journal is part of a series of journals, which are all written during a long trip between november 2007 and may 2009.
> To the Thai Islands
23-01-2009 We are ready: tomorrow we're leaving to the South of Thailand, to the islands. For the first couple of days we booked a fairly luxurious room on Koh Yao Yai, a less touristy, but as it seems truely beautiful island. We would like to visit the smaller neighbour Koh Yao Noi as well and after that we'd love to check out Koh Phi Phi and Railay.
The past few days we've been shopping for new clothes and wedding rings, something we didn't really need for a
traditional Indian wedding
, but we do like to wear them ourselves. We've also arranged our visa for Myanmar and we booked two return tickets Bangkok-Yangon for a few weeks from now. Yesterday we went for another visit to Adrian, whom we met for the first time in Bangkwang prison about a year ago. For the rest we spent time getting used to our habitat. No constant horning and clanging; crossing the street without being almost run down; no one getting in your way, trying to sell something; no staring gazes and "where you from"-questions; no rubbish and cow pies in the streets; no sudden headmovements from cows in narrow alleys, causing giant bruises on arms and legs. Bangkok feels like a peaceful oasis. Sometimes it's SO quiet we turn on the mp-3 player in our room, something we haven't done in months, since we couldn't hear the music, not even with volume on max. We realize India
India
has been quite demanding for all of our senses, even though we enjoyed most of it. Sun, sea, beach and peace: here we come!
24-01-2009 We're leaving the excellent street stalls of Bangkok, with their fruit shakes, pad thai and fly lice, behind, to rail southward. Vegetation is getting more tropical, but unfortunately the weather is getting more grey. When we arrive in Surat Thani in the early evening, it started raining. We find ourselves a place to spend the night and even have an internet connection in our room. Ah well, luxurious Thailand!
> Koh Yao Yai
25-01-2009 An early sawngtaew takes us to the bus station, where we find out the first bus only leaves at 9.20... almost two hours from now. There is a minibus in thirty minutes, however, and even though we've never really liked those we do go for this one, to be early enough to catch one of the boats to Koh Yao Yai.
Causing intense indignation for both Thai and tourists, our van stops near Krabi for some scams from tourist offices, who try to get one or even all of the whities out of the van, for their swindle to ship them to Phi Phi island. We didn't think so! Thanks to our India experience the journey continues after cutting them out in no uncertain terms, so we can catch a sawngthaew to Ao Nang in Krabi. From this pier there would be a speedboot to Koh Yao. Would. Be. Unfortunately this boat left as early as ten thirty and that was the only one for today. At one o'clock there will be another boat from another pier, about fifteen kilometers further on. There's no public transport in that direction however. Walking is a bit far in this heat, so we negotiate with a taxi driver, who wants to take us there for a fair price.
It turns out to be quite a distance and the roads are getting more bumpy and narrow, while there's hardly any traffic coming from the other side. Quite near, along the coast, we see some beautiful Karst-mountain-islands in the green-blue water.
Yangshuo in China
is nothing compared to these.
Finally we get to the last stretch of sandy raod and we see the small pier. Sure enough we find some people waiting for the boat already and Thailand wouldn't be Thailand if there wasn't a stall with the most delicious food at even this remote place. We're the only tourists and together with the islanders we embark for a bumpy and sloshing crossing of an hour. We sail between several small karst islands, all of them beautifully overgrown, and soon we have a wonderful panorama of the both Koh Yaos.
We're glad someone's waiting for us at the pier, as there's not a single person to be seen, let alone any form of transportation. For almost thirty minutes we're speeding along green vegetation, dotted with wooden houses. It's nice and peaceful here and our guesthouse has only five rooms, all of them fairly luxurious. We explore the beach and see hundreds of beached jellyfish. There's also coral and colourful shells in the sand, but unfortunately the sun doesn't come back this afternoon. Only at nightfall we see a reddish sunset above Phuket, across the water.
26-01-2009 Today our beach is sunlit again and we have it all to ourselves. A kilometer of white sand at a blue bay, without a single living creature on it. The sun is strong so far southwards, so at night we're as red as lobsters.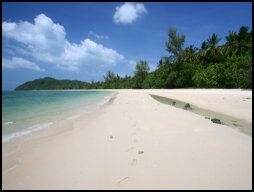 27-01-2009 Today we stay in the shadow. However, Peter is showing off by giving Treelo a Porsche to race the beach like a real cool dude.
28-01-2009 We explore the rest of the island on a motorbike. We don't have to worry about getting lost, since there's only one main road, winding along blue bays and over green hills. At the end of the road we find a beach just as deserted as ours, except for a big fishing boat, which looks like it's left behind by the tsunami of 2004.
> Koh Yao Noi
29-01-2009 After breakfast we return to the pier, on the other end of the island. In a taxi-boat we cross the narrow piece of ocean between the bigger and the smaller Koh Yao. On Koh Yao Noi there's much more activity than on its big brother Yai. There are at least a dozen taxis to choose from and soon we reach our new accommodation: ten bungalows right opposite a white beach at a blue bay.
We spend the rest of the day at the beach.
30-01-2009 In the morning we take a swim, but the sea is not really appealing to us here.
Many rocky stones near the coast and biting bugs in the water, causing painful marks on the skin... well, as Dutchmen we'd better have something to complain about, don't we?! Thanks to the talkshows broadcasted by BVN, one of the satelite channels we were checking out on the other island, once again we know all about it. We were vaguely considering to return home around summer, but now we're planning to amuse ourselves in more positive places for as long as possible. Perhaps we give it another try in 2010.


The rest of the day we explore the island on a motorbike, seeing how green hills and white palm beaches alternate. In the distance we see a few smaller islands, the kind where you'd still expect to find pirates.
31-01-2009 Again we're cruising to the other side of the island on a motorbike, to spend the day here, lazing around.
> Koh Lanta
01-02-2009 Because we feel like we've seen enough of Koh Yao we catch an early boat back to the mainland. From one pier we rattle in a wooden bus to the center of Krabi, where we hop on a super-de-luxe touringcar to the next pier. Here we're stunned: we've never seen so many white people together. At least not during the past fourteen months. We're not very pleased with the experience at this, obviously very touristy, pier. It's barely ten thirty am and drunken Englishmen are rolling on the floor, while unwashed types are smoking and others are sauntering around in bikinis in this predominantly Muslim-part of Thailand. Since most of the, in our opinion, indecent people are in line for the boat to Railay, we now refrain from our plans of going there in a few days.
Once we're on board we're surprised by the envious glances those Europeans are using to check each other out, and the large quantity of expensive devices they are carelessly waving around. Relax dear folks, the sun is shining and it's beautiful here!
Two hours later we moor at Koh Lanta, where dozens of men are waving at the new arrivals with leaflets and photos from their resorts. We choose one of them and come along to a recently restored resort with new, colourful cabins at a long and white beach. Right away we feel like we've been looking for a place like this for a week now.
The beach is perfect, our cabin comfortable, and... they have the best mango-shakes and lovely seafood in their restaurant.
02-02-2009 t/m 05-02-2009 At the lovely bathing beach of Koh Lanta, where white tourist are wearing more accessories than clothes, we can completely relax. Our swimming shorts and bikini are making overtime.
> Koh Phi Phi
06-02-2009 Around noon we're taken back to the pier, from where we catch the boat to Koh Phi Phi. As soon as we approach the bay of this worldfamous island there two things standing out immediately. One: what a beautiful island this is, a true paradise. Two: what did they do to it? Everywhere ugly holiday cabins are visible between the tropical vegetation. Some of them are fairly modest, but others are really too big, too blatant and too ugly to be true. What a pity.
Still the water here is a deeper blue than we've ever seen before and there are colourful fish swimming around beautiful rocks and corals everywhere. Our resort sent a longtail boat to collect us and from this typically Asian little boat we have the opportunity to enjoy all of this. As soon as we dropped our bags in our very own ugly place, at one of Phi Phis green hills, we go for a dive. Right away dozens of curious fish are approaching us to check us out. In the evening we can also enjoy all the good things the ocean created here on our plate.
07-02-2009 We go for a walk to explore the island and start at the beach, where many colourful shells and pieces of coral have been washed ashore. Through some steep and narrow forest paths we find other, smaller bays, each of them with their own little beach. After a short break at Ao Lo Dalam, a slightly too fashionable beach in our opinion, we climb all the way up to the island "viewpoint". Of course we saved this climb for the hottest part of the day, like we always do. We love to keep the tradition alive. And after this effort it's even better to cool down amidst the sea cucumbers and tropical fish.

After our lunch we catch our daily portion of vitamins from the cashew tree next to our cabin, which is growing so many fruits that we can steal a few without anyone even noticing.

08-02-2009 Tomorrow we'll return to Bangkok, to fly to Yangon in Myanmar from there on the 13th, so today we enjoy our last relaxing day by the water. First we go to the quiet little beach on the backside of the island, but when we get there we're kind of surprised: the beach is gone. At high tide the yellow stretch of sand happens to be entirely swallowed by the ocean. The crab eating macaques who are living on the island are trying to benefit. They are jumping from one rock to the next, trying to find shells and other edibles. They play a bit in the hammock that hangs in a tree, one of them even really sits in the hammock. We go for a swim at another beach and in the afternoon we catch some more cashew nuts from our tree. Ah, the good life, before the hard work starts again.

Thailand marine life Andaman coast video

The Thailand marine life Andaman coast video will show here


Andaman coast Thailand video

The Andaman coast Thailand video will show here

Click on the films up here to look around at the Andaman coast, almost live.
> More Info
Also check our
Thailand info page
, where you can find a lot of information about Thailand and come see our
Andaman Coast photos
.