Laos Travel Journal: Vientiane Region
This travel journal is part of a series of journals, which are all written during a long trip between november 2007 and may 2009.
> Crossing into Laos
27-12-2007 Today we finally cross to the country we've been seeing on the other side of the Mekong river for an entire week now: Laos. Already at half past seven we take a tuktuk which brings us to the Thai borderpost at the Friendship Bridge. Fifteen minutes of lining up later the departure card is torn out of our passports, accompanied by a typical, sullen "I'm-important-check-me-out-in-my-uniform" look. Then we're allowed to take the bus, of course filled in the Asian way: like a sardine tin. That's how we drive across the Mekong to Laos, where the driver immediately after a barrier switches to the other side of the road, as they drive on the right side here. That feels a little weird in your head, after a month of getting used to the left side.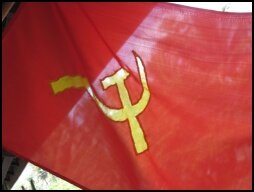 Now we're at the Lao border, where flags with hammer and sickle are hanging next to the national flag; why, Democratic Republic of Laos? At the windows where we're dropped many people are busy with forms, some to be filled in and others already done so. It's not a simple task to get the right papers. When Peter has been send to and fro a couple of times he secures a departure card for each of us at 1 of the pigeon holes. Why do all the other people have a visa-application as well and even better: how did they get it? Well... at that very same window, someone tells us. When Peter returns he indeed gets 2 visa-applications when he requires them. Hah, why would you give them right away, huh; then the chaos and the huge line in front of your window would be gone and what would your colleagues think of you, the most important border employee, when that would happen.
Filling the forms out takes a while, they truely want to know everything about us here; and all of it in duplicate. After we returned all of the forms, together with a photo and our passports at 1 of the windows we have to wait again.Fifteen minutes later all is ready and our passports are decorated with a wonderfull sticker. Now we're ready to move on to the next line, where a stamp shows us thirty minutes laterwe have now an official visa for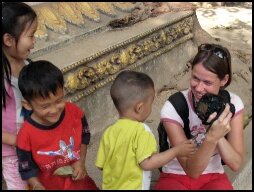 30 days.
A minibus quickly takes us to the center, where we get into a tuktuk to Sihom Guesthouse. First we're told they are full, but suddenly there seems to be one room available. And what a room this is: soft beds and hot water. Great. We ride on our bikes through the center, where we soon find out that Vientiane is more like a big village than a real city, and we eat some tasty baguettes (thanks to the French who once colonized the country). At a temple we find three kids, who are playing in the sand, immediately jumping up as they see our camera. They love to be photographed, especially the smallest one, who jumps at attention every time he presumes a picture will be taken.
> Vientiane
28-12-2007 We take it easy exploring the sites of Vientiane. On a bike you're quickly at every spot in town and by the end of the day we've seen quite a lot. We decide to have another relaxed day tomorrow, and we'd like to rent a motorbike to explore the sites further afield, to move on to Vang Vieng the day after tomorrow.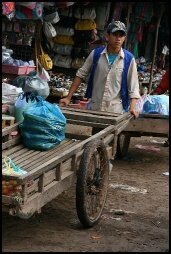 29-12-2007 At 8 a.m. we're already on a motorbike, on our way to Talat Sao market. We have breakfast there, while we watch the Lao doing their shopping at the many stalls. All they buy they load on wooden carts and these are being pushed to a car or a tuktuk by a courier. The packed transport jounces and bounces over the unpaved path to a paved road, snoring and simmering and almost crashing at the last bump.
An hour later we leave town on our motorbike, on our way to the Xieng Khuan Buddhapark. Monk Luang Pu Bunleua Sulihat made this statue park and shows various characters from Hindu and Buddhist myths and a giant reclining Buddha. When we're driving for a while we see a couple of police men lazing around under a tree. We hope we don't...and yes, we're the dupe and are told to stop. The case is that we're driving around with our lights on and by pointing and making gestures the gentlemen clearly tell us that this is not allowed here. Ah, well, then we have to switch it off. To see and be seen is probably not needed in Lao traffic.
Another thirty minutes later, we expect to be almost there, the road is getting worse by the minute. The handlebar starts shaking as well and we stop to see if everything is okay. It isn't. We have a flat front tire. We just start thinking of a solution when a boy stops next to us: "Can I help you?" Huh?! English? That's the first time since 2 days. Luckily there appears to be a shop at home only 10 meters further, repairing mopeds and motorcycles, which we hadn't seen dor ourselves. Ah yes, and we're invited for a newyears party by the way. It's at his school, where he's working as an English teacher. Well, we'd love to, thanks! But first we have to get the tire fixed and we'd love to see the statue park.
20 Minutes later we're back on the road, thanks to the quick service at the motorbike-repair. For the last 5 kilometer to the Buddhapark good tires are definately not superfluous: mud, sand, time-worn asphalt and pitholes alternate. The park is a bizarre collection of of freaky statues, but we understand a liitle bit more of it all when a boy and two monks, who want to practice their English,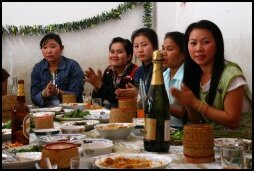 start a conversation with us. They tell the accompanying story of several statues and and we do some more small talk. This way we get a bit more informed on what monks do all day.
We inquire in the neighbourhood to find the school of Kieng Kham, whom we met before. Before we can enter both of us have a glass of beer in our hands and we are expected to enter the building dancing to wish all the teachers a "happy newyear". People are eating and drinking nicely and the head of all schools in this area is present to open a bottle of champagne. Soon it's our turn to sing a song in the microphone. We're also allowed to dance if we feel the urge, but we just sing our song. Whether they like it is questionable, but everybody enthusiastically claps along and than it's someone else's turn. He decides to perform a dance and everyone dances along. Our glasses are filled after every sip we take and we're encouraged to take plenty of the indefinable food. An hour later we say goodbye, as we would also like to visit the That Luang (thé symbol of Laos and thé tourist attraction of Vientiane). The huge, golden stupa looks very special in the late afternoon sunlight and an hour later, by the last light of the day, we have diner at the Mekong.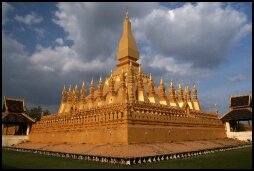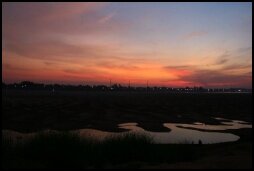 > On our Way to Vang Vieng
30-12-2007 Today we become aware that, after some time in relatively prosperous Thailand, we now really ended up in a third world country. The bus in which we leave Vientiane is old and worn, just like all the other buses we see. Soon the road we're driving on is the only one with asphalt, all the side ways are of red sand or rocks. The houses in which people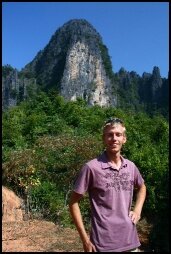 live are often not much more than huts and as the water pumps tell us, many households don't have their own water supplies here.
Besides the poverty we still see a lot of beauty passing our window: green, woody mountain slopes, lakes and rivers and every time the bus stops to get someone off we see smiling people, happy that the person they are waiting for is back home.
We soon find ourselves a guesthouse in
Vang Vieng
and we stroll around for some first impressions. Nature is overwhelming here: a green Karst scenery with colorful straw, some huts and the Nam Song river in between. What a pity to see those drunk and often rude Europeanshanging around here and staring giant tv-screens while eating. For the moment we don't feel too much disturbed by them.
> Tubing and Karst Peaks
31-12-2007 Tubing: in a tube down the river, floating on the currents. We try it today and soon conclude this is not exactly our thing. It's hard to enjoy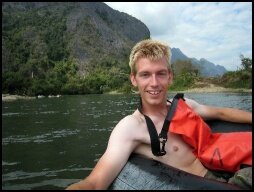 the beauty of the green, mountainous landscape when extremely loud music from the many bars blares over the water, while one sturdy drunken guy after the other jumps from a high scaffold in the water right next to you. The last part of the "ride" is more quiet, but the water is too, so we have to paddle for quite a distance before we're there. With painful arms and, despite precautionary smearing suncrean, we arrive at the finish. We think we deserved a hamburger. Unfortunately the suace is probably not good anymore, as it tastes a bit funny and we end up in bed early this New Year's eve.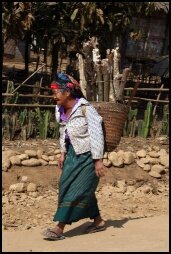 01-01-2008 This first day of 2008 we're on our way on a motorbike to visit some villages in the area. Everywhere we see people sitting together outside celebrating the new year with drinks and music. There are many children out in the street and by now we get some kind of sabaidee-RSI. ("sabaidee", wave, wave) In one of the villages where we make a stop to eat something we see someone working with the loom. We're allowed to watch how it works and, after we're given a beer right away, we refuse the invitation to come inside the house, as we know more beers will follow. Peter is still learning to drive on a motorbike with clutch and gears after all.
By the end of the afternoon, just before we return the motorbikes, we're checking out one of the largest caves in the Vang Vieng area. The "Chang Cave" is a pretty, large cave, but we're not real cave-people, so soon we call it a day.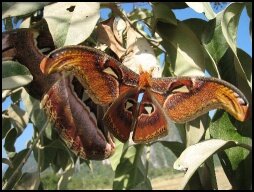 02-01-2008 Today it's a wonderfully clear day, which is perfect as, as we'd like to go for a hike. We walk for quite some distance in the beautiful Karst landscape behind Vang Vieng and enjoy the great nature. Peter even sees two Atlas Moths, which look like they just left their cocoons, right next to a third cocoon.
Despite the peace and the availability of various hiking routes we notice that many tourists wander around here. Unfortunately the Sabaidee-kids whom we pass are already spoilt by this and immediately hold up hands when we return their greets. We walk around 8 kilometers to Phoukham cave and lagoon, but when we're at the entrance-hut we're not really there yet.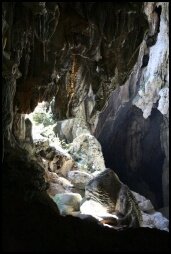 Through a steep descend, consisting of only large rocks and tree trunks to grab you have to climb another 100 meters up. The floor of the cave itself is also one big adventure from boulder to boulder. The first part, however, is truely amazing and definately worth seeing, but when it gets darker to the back we think it's enough and turn back. We recline the tuktuk which is offered, no we are tough, we came here walking and we will recede the 8 kilometers walking as well. Even before we're near the guesthouse we find ourselves much less tough, but brave as we are we continue (Yvonnes knees tremble the last part). For less than nothing Peter buys great food at a street stall and we have a splendid diner in our room. It's good old-fashioned delicious and we regret to have had diner in restaurants the previous two nights, one with Bo (Yvonnes friend from Bangkok) and her boyfriend Nate and one with Adam en Ruth, an English couple we meet again all the time.

> Beautiful bus ride to Luang Prabang
03-01-2008 After a short night's rest, thanks to our drunken English neighbours, we get in the tourist bus to Luang Prabang still pretty much awake. The landscapes are very pretty from the start, with rugged Karst mountains wherever you look. During the first part of the six hour trip we also see: a collapsed truck on the middle of the road; naked toddlers being washed by their mothers at the water pump; villages consisting of wooden houses and bamboo huts with straw roofs; two carousels with colored, wooden horses and driven by men with strong arm'; women who almost collapse by the weight of the giant branches they carry on their backs; people finding lice on each others heads; and curves, very many curves.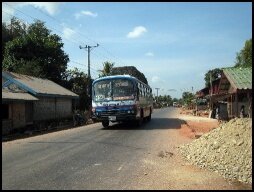 An hour or so later we climb steeply and the shape of the mountains gets rounder. Villages get more scarce and only consist of bamboo huts with roofs of straw here. At the waysides (often little) kids work very hard together with their parents: the still green straw-like halms are beaten hard to the ground and turned around. Kilometers from whatever house or hut children and their mothers are walking with giant bundles of straw on their backs to..., well to what? We're very much impressed by what we see here. Fortunately there are also villages with a school building of stone or at least wood from where we see enthusiastic kids wearing schoolbags coming. In groups they walk the long distance home. Some of them even have bicycles.
After three hours of driving we stop in a larger village to eat something and soon there are two pairs of hungry eyes staring up at us. It's a real dilemma; when we give them something the three boys from down the road will probably be here in a second; and the rest of the village. Turn around and chew is the only option.
The last part of the journey is mainly the ascend to the lower Luang Prabang. In a moment we find a nice guisthouse and when we get into bed early we can look back on an impressive day; not just because of the breathtaking scenery.
Vientiane Laos video
The Vientiane Laos video will show here

Click on the film up here to look around at our New Year Party and to see how silk is woven, almost live.
> More Info
Also check our
Laos info page
, where you can find a lot of information about Laos and come see our
Vientiane region photos
.