Andalucía (Andalusía) Travel Journal
> to Malaga
29-04-2011 Tomorrow we're off to Andalusia, but we have two minor problems: Yvonne's caught a heavy flu, including a fever and the weather in the Ronda area will be pretty bad for the next three days. However, there is a partial solurion for both problems: Paracetamol keeps the flu a bit down and we cancel the hotel in Ronda to find us one in Almería, where the forecasts are slightly less depressing.
30-04-2011 After a fresh dose of Paracetamol we catch a train to Schiphol, where we see lots of orange. People are on their way to all kinds of Queensday festivities. Our flight leaves right on time, but we do get a delay at our change in Madrid. Fortunately we know how to entertain ourselves in the taxfree shops and at Mc Donalds, so we don't have to find ourselves diner after arriving in Málaga around ten. Rental cars are not available in the
size we've booked, so we get a free upgrade. This one happens to have a flat tire though, so we get an even more luxurious car, with barely any kilometers on its counter and accommodated with cruise-control. We don't drive far today and soon fall asleep as we've found our room in the Málaga Ibis hotel.
> Almería
01-05-2011 This morning we'd first like to do some food supply shopping at Carrefour, before we hit the road, but TomTom is not able to take us there. We pass the store like four times, circle the place on the backside, but don't get near the entrance a single time, so eventually we give up.
We follow the coastal road to Almería, of which the first fifty kilometers are like a chain of concrete flats at the beach, too horrible to tell. On the highway it's fairly quiet and we courteously drive a hundred and ten, to help the Spaniards save fuel. From the first minute we're in Spanish athmospheres, as we hear the cosy guitar music on the radio. Along the road we see another supermarket, but unfortunately everything seems to be closed for Labour Day. Luckily the gas stations did open their doors today and they happen to sell food, drinks and basically all we need for the day.
The room in our hotel near Almería is fine and after checking in we continue to national park Cabo-de-Gata-Nijar. We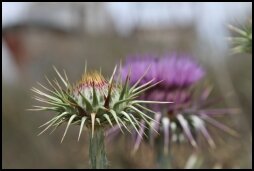 see many deserted and dilapidated structures and fishing boats in a beautiful, barren nature. In the desertlike landscape everything is bare and dry, but somewhat overgrown. It could easily have been in
eastern Turkey
, even the cultivation and road conditions. Unfortunately it's getting very cloudy in the afternoon (shame about the views) and a strong wind occurs, so it's not very comfortable to leave the car. That's why we mostly tour the area to enjoy the landscapes and the views over the ocean.
02-05-2011 We wake up by rain pooring on our windows, so we decide to first stay in the room. Around noon there's only some heavy clouds left, so we still go out. First we visit the centre of Almería, to check out the castle. Only when we're at the gate we consider museums are always closed on mondays and as this castle is a museum... This happened to be listed in our guidebook as well, but experienced travelers as we are, we feel too much at home in Spain to even check the book.
We stroll through the ancient medina of Almería, where we find the athmosphere kind of similar to the rat sewers of Diyarbakir, just the loads of yelling kids miss are missing.
By the end of the afternoon we make a great tour via Níjar to Sorbas, through a gorgeous mountainous landscape. From Sorbas we return via Tabernas, where the bizarre landscapes almost make us feel like we're back in Kyrgyzstan or Western China.
03-05-2011 Today the sun is back. We're headed to Playa de los Muertes, one of the prettiest beaches on this coast, according to our guidebook, which we did look into today. Unfortunately this guidebook forgot to mention the fact that this gorgeous beach is situated right next to the ugliest industrial zone of this area, the one at Carboneras. We park the car and follow a rocky path down, where we find out even the beach itself has a fine view over the horrible Carboneras industry. The beach itself is very nice however, with sandstone in various shades of yellow on one side and black rocky peaks on the other.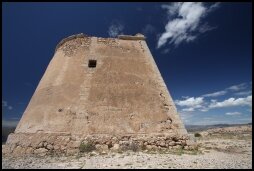 Next we drive up to Faro de la Mesa Naranja, where an old tower and a new lighthouse are overlooking the panoramic coastline.
By the end of the day we do the same tour like yesterday once more, but now accompanied by some sunlight, allowing us to take great pictures, before we head back to Málaga. The landscapes we meet are hugely diverse: we started at the blue coast, foloowed by the green desert of Cabo de Gata-Nijar, the sandcolored rocks near Tabernas, red, yellow and dark brown rocks and later green hills and snow at the Sierra Nevada. We see olive trees, grapes, conifers and palm trees.
> Granada
04-05-2011 We get on the early bus to Granada. They have some excellent buses here, all of them running perfectly on time. When we get off in elevated Granada, where clouds hover from the Sierra Nevada, it's very cold.
We take the luggage to our new room and first explore the center. We stay on a stone's throw from all the tourist attractions and it only takes us two minutes to get to the cathedral. Later we also get the tickets we bought on the internet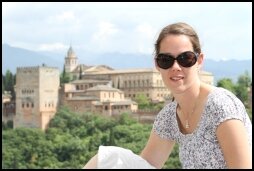 , allowing us to enter the Alhambra tomorrow. Finally we stroll through the Albayzín, the ancient Arab area, a maze of alleys and stairways. Arab men play music and danse on the square of Mirador San Nicolás, apparently today an important oil sheik is visiting today, even showing his fase to us for a little while. After a while there's gypsies playing the guitar and singing, they are making a living by performing their beautiful music and dances. We hang around this little square with a view on the Alhambra for over an hour, with the sinking sun putting everything in a golden light. Eventually we walk back down to have delicious Moroccan food at Marrakech restaurant.
05-05-2011 Today it's all about the Alhambra: the Palazios Nazaries are very nicely detailed. The gardens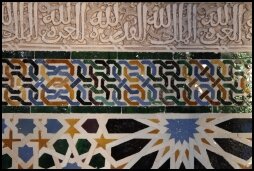 are impressive as well, with many different kinds of roses. We find it fairly quiet here for a top tourist attraction.
In the afternoon we walk to the Monasterio de San Jerónimo, but as we get there they just closed their doors for siesta. The Spanish Siesta is an interesting phenomenon: by one p.m. all the Spaniards walk home, carrying plastic bags from the supermarket, to spend the next three hours lazing around. Pretty much all the shops close their doors, but we use the fact that some shops remain open for shopping.
Later we return to the monastery and we even pay a visit to the Monasterió de la Cartuja, which almost looks like a Hindustan temple, with loads of glitz and glamour, its colourful statues as far as the eye can see.
By the end of the afternoon we stroll through the Albayzín once more, and enjoy sunset on the Alhambra. Today it's extremely clear, with a wonderful view over the snowy peaks of the Sierra Nevada.
> Córdoba
06-05-2011 We catch the bus to Cordoba. The first sight on the Mezquita is impressive, it's a giant structure with large gates, surrounded by colourful stones. The Jewish quarter is a bit of a letdown, very touristy and not really athmospheric, according to us. The tiny synagoge is the most interesting part, full of details, similar to those at the Alhambra.
These two weeks the "patio festival" is taking place in Cordoba. It's like trick or treat for adults, in which the Spaniards and tourists walk from courtyard to courtyard to see how the residents arranged their flowers. To us it looks like a contest to make up who hung the plants as high as possible, but some of them do actually look very nice.
We have a Spanish-Argentine diner, delicious.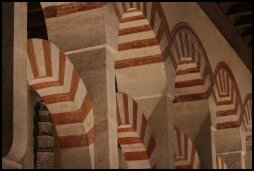 07-05-2011 We're up early again, to check out the Mezquita interior, beautiful and still peaceful at this time of the day. Untill ten there's almost no tourists around here and we have all the place for ourselves, to look around and and take pictures. We also visit the archeological museum with its excavations of an amphitheater and do some shopping. By the end of the afternoon we catch the bus back to Málaga. Unfortunately we can't use online check-in for departure, as the Iberia site isn't working well. That means we have to get up extremely early tomorrow, to catch our morning flight.
As soon as we get off the bus in Málaga we'd love to eat something, as it's almost nine and we're starving. Opposite the busstation we see a tapasbar with some great bites. It all looks so nice, so we decide to take a small portion of everything, to the delight of the entire staff. Just before all is served we find out we have only ten Euros left in cash and we ask for an ATM. We're told the ATM's in the entire city don't work, due to a broken phone line. There's no internet, no phone calls and no ATM transactions possible. We're hungry and first eat our diner, before trying to find a place to get us some money. It really looks like there is no such place in Málaga tonight, so we feel a bit worried now. When we inquire at a bunch of Spaniards we're directed to one machine which might possibly be working. This turns out to be a good lead, so we're not forced to do the dishes, as this should have been a day's work with all those bowls we've used.
08-05-2011 We take a cab to the airport, the most expensive cab ever: three kilometers for nineteen Euros. We've heard three different versions of the story why it's such a ridiculous price, but for us it stays the same: just pay, as the bus is not running by this hour.
> More Info
Also check our
Spain info page
, where you can find a lot of information about Spain and come see our photos from
Almería
,
Granada
and
Córdoba
.