Philippines Travel Journal: Luzon
This Travel Journal is the first in a series of two journals, both of them made during a trip through the Philippines.
> Journey to the Philippines
04-12-10 As the forecasts of today warn about snowshowers we get up early, so we have some leeway in case the Dutch Railways cause delays. To our surprise all trains are a few minutes early, instead of running late, and we're at Schiphol Airport over two hours before departure time.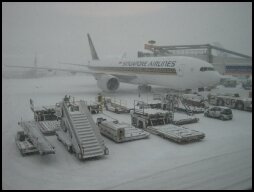 Unfortunately the predicted white misery starts to fall down after all, right after we checked in our luggage, and the airport is closed for some time. Eventually our flight is delayed for three hours and as we're finally in our seats we first need to be de-iced. Our wings are cleansed of caked snow and ice, we didn't even know you had machines doing this. Eventually we take off with a four hour delay.
05-12-10 After a successful flight we get rebooked on the next flight in Hong Kong, as our connecting flight left three hours ago. Seven hours later than expected we arrive in Manila. Fortunately there's as good as no traffic, so we quickly get to our guesthouse, a lovely old house in the middle of a working-class neighbourhood.
In the streets we see roosters, chicken, cats and dogs. No stray dogs like in the rest of Asia, but caged dogs, kept as watchdogs or even as a banquet, as dog is on the menu in large parts of the Philippines. We find the streets very clean, everything is sweeped and polished, and we miss Buddhism, generally obviously present in Asia.
> Manila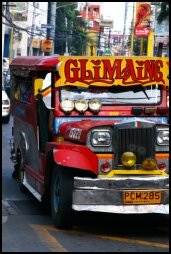 06-12-10 Today we explore the neighbourhood a little, observe how the people in our street live and visit the shopping malls in Makati, the quarter where we still belong to as well. There's a lot for sale for less here, as long as you chose the right shop, as there's enough on offer for the big wallet as well. It's Christmas since September in the Philippine malls, there are Christmas trees everywhere and the radio plays Christmas songs as well.
Notable in the street are the jeepneys, long, closed jeeps with 2 benches opposite each other on the sides, in various versions and with great colours. They act as short distance buses. There are churches everywhere, so different from the Asia we know.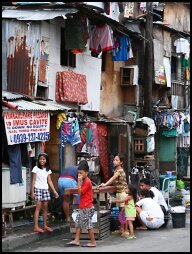 We do have to get used to the people, at first they seem very subdued. That makes us feel like having no contact, but several times we find out they actually are very friendly and helpful and do like joking.
> Baguio
07-12-2010 We take the bus to
Baguio
, a city in the hills of the Cordillera, where it's foggy many days in this season, especially by the end of the afternoon, when we arrive. We still miss the Asia-feeling as we only see modern aircon buses, people are very organized, the streets are so clean and we see fastfoodrestaurants everywhere, even outside Manila. The Philippines even have their own variations of the major brands like Mac Donalds and Kentucky. Jollibee has an establishment in almost every street, so we're surprised these people aren't much fatter.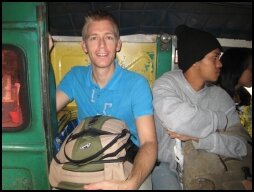 08-12-2010 We wake up from the sun shining in our eyes and we're on the move right away. On our way to the Lourdes Grotto, where a Christian mass is held in the open air. Next we visit a Temple transformed into a Church, the Bell Church. Nothing in this bizarre building has anything to do with being a Church, but still it's called that.
The museum about the various mountain tribes of the Cordillera gives us quite an impression of what we can see here in the environment the next couple of days and we visit the local mall, a haggish Chinese structure, looking for a pair of new sunglasses. Peters glasses have been stolen from our bag last night. Just in time we noticed someone touching our bag, so fortunately nothing else is missing. We have to keep watching our backs here in Baguio, we see gangs of young men following us all the time,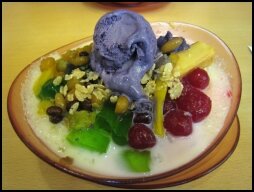 chasing us until we turn around and give them an angry look. It's not a nice city and we decide to move on tomorrow.
We try the national desert, halo halo, containing a scoop of purple ice cream as well as other things. An interesting, but definately once in a lifetime experience.

> Traveling the Halsema Highway to Bontoc
09-12-2010 From the bus station where we accidentally ended up yesterday the next bus to Bontoc will leave in two hours, so we quickly walk over to another bus station. A fully packed bus, with large truck wheels and an air inlet on its roof, just drives backwards from its stand. Perfect timing, as it turns out to be the bus to Bontoc and we can just claim the last two seats in the back, right in front of the loaded back seats.
Right there we catch our first glimpse of the Asia-feeling of this trip: the bus is threadbare and the seats are small. It makes more noise than it moves forward and a little later we stop to let other passengers board, one of them carrying live chicken. The latter disappear into a tiny hatch down near the wheels.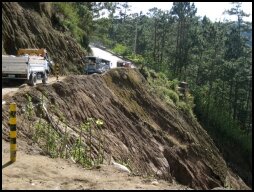 The road through the mountains is breathtaking, but definately not as scary as our travel guide made us think it is. It's almost completely sealed, except from a few spots, where there were landslides. It does have some steep cliffs, but is comparable to the road from Kathmandu to Pokhara in
Nepal
and several other roads in the mountains in the
North of Laos
. The mountains here sometimes have odd peaks and the road rums straight over the highest ridges at some points, a great sight.We pass some small villages with more chicken and many dogs.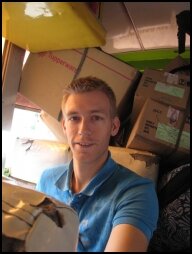 Six hours later we're in Bontoc, where we find a newly opened guesthouse, with beautiful, new rooms and even a hot shower, a rarity in this area.
We pay a visit to the museum of local mountain tribes and a market, before we call it a day.
At night we've got some problems with a couple of drunk Philippinos, who treat the world on the latest national hits coming out of their cellphones accompanied by a vocal concert in the hall, and as we let them know how we feel about this they start scolding. Next the roosters and dogs in the street try to find out who can make the most noise and when it's finally quiet and we're almost asleep the hotel's cockroaches (every hotel has them, we know that since Aman) decide to throw a party on our backs. So we put up our mosquito net and at 4 thirty we can finally sleep.
> Maligcong
10-12-10 At breakfast we meet Mattias and Dorothea, a Swiss couple who were in the bus with us before, and we decide to share a jeepney to
Maligcong
, a higher elevated village with, apparently, great rice terraces. There are barely jeepneys to this village, so we rent one as a whole and take along some locals who are heading that way. The road is steep and bumpy, but thirty minutes later we're there. The rice terraces are a bit of a disappointment, especially compared to those in Ping An. Besides it's not the best season right now, the fields are brown and there isn't a lot of water yet. We're not allowed to enter the village itself, as there's a religious festival taking place, to propitiate the spirits for the start of the new planting season, which will be next week.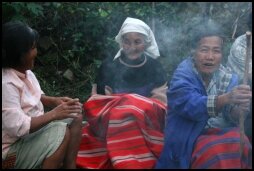 So we rent another jeepney with the four of us to the higher elevated Guina-Ang and
Mainit
, but somewhere halfway we're stopped by a large group of women. The elder ladies have their arms covered with tattoos, the way it used to be done here in the earlier days and some of them wear traditional costumes, including headdress. We're not allowed to continue, as in their villages there are also animals ritually sacrified today, something we noticed by a jaw dangling from a branch. But when we pay a donation we're allowed to move on. Unfortunately we still don't make it into neither of the two villages, as there are signs telling us "no entry". Since there were still headhunters in this area, barely two decades ago, we don't feel like taking chances to continue. Besides we don't want to disturb the ritual. We do see the houses on the outside of the villages, where many pigs are held. Our driver is a source of information on how people live here, but we'd prefered to take a look ourselves. We have diner with Matthias and Dorothea and next try to catch up on sleep.
> Sagada
11-12-10 We take an early jeepney to
Sagada
, following a dusty and rocky road. Sagada is a quiet village, high in the mountains, but today it's bustling due to the weekly market, a people's magnet for the entire area.
We go for some hiking in the area, first to the Lumuang Burial Cave, where hundreds of coffins are piled up to the walls of the cave entrance, and on to Echo Valley.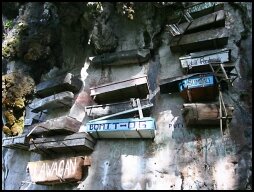 At the top of this beautiful place, at the viewpoint where we can see the
hanging coffins
below, we enjoy a picknick, with lovely fresh mango, which we bought at the market.
By the evening we visit the Ganduyan museum, where the owner, who is an Igorot herself, tells us many interesting stories about her private collection of traditional tools. One of her truely amazing stories is about the fact that they had to be economical using water, as there wasn't enough clean water by that time, so they put the used plates upside down on the floor, to be cleaned by cockroaches.
12-12-10 While waiting for jeepney to Aguid or Banga-An a local van passes by and we hear by chance that it's heading in that direction. We're allowed to hop on.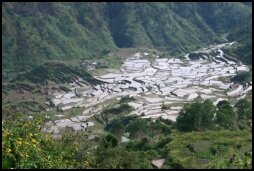 In Banga-An we get off to take pictures from the pretty views over the rice terraces from the road to Aguid. A bunch of kids are coming from the other direction, racing down the mountain on a kiddy tricycle. Next they turn around and push the little trike back up the slope.
From Aguid we continue between the rice terraces, but at the next village we're sent back. We're not allowed to enter the village due to the rituals marking the start of the new planting season. This starts to be a bit tiring.
> to Banaue
13-12-10 In the first jeepney we return to Bontoc, where we change to the bus to
Banaue
, a wonderful ride, alternately with sunshine and fog. Green slopes with trees and terraces.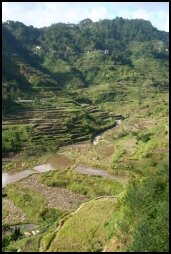 In the only acceptable guesthouse of the village we meet Mattias and Dorothea for the third time. With the four of us we get up to the highest viewpoint in tricyles, to start a wonderful walk back down through the rice terraces.
14-12-10 We share a jeepney with an Israeli family to "the saddle", where the hike to Batad starts. Most jeepneys don't make it up here, as the road is so steep, but as we do get all the way up it saves us an hour of walking up over a muddy path, and an hour back down. In our jeepney it's an interesting adventure, as some parts are so slippery we get thrown from one side of the backseats to the other.
We descend, hiking through green jungle, but unfortunately there seems to be coming a road to this remote village, as some serious construction works are going on. Thus this area will be a lot easier to access in the future and the culture of those people will be further endangered by modern society. A real pity.
The first view over Batad, in the middle of the amphiteatre, as the rice terraces are called here, is very impressive. We go for a walk through the village and over the rice terraces and stop for lunch at a spot with a splendid view over the entire area.
As we're hiking back up the sky gets overcast quickly and in the last fivehundred meters we get soaked by a huge tropical downpour. Other tourists are caught by surprise as well and we give them a ride in our jeepney back down. The ride over the steep, muddy path was already slippery and extremely bumpy on the way up, but now it's an even more exciting experience. We're glad to be back down, where the asphalted road to Banaue looks like a real highway.
15-12-10 We reserve bus tickets for tomorrow, as there's just one bus in the direction of Manila during daytime. Now we have to change buses halfway, but at least we have the choice to avoid the nightbus that everyone else takes. Our next stop is the post office and from there out of the village to Tam-An, a hamlet with a few oldfashioned wooden huts with thatch roofs.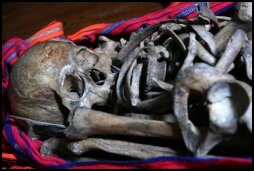 We've got the impression this won't last for too long anymore, as everywhere the corrugated roofs replace the thatched ones and just the elders still live in this oldfashioned way.
An old man invites us into his home, where he shows us some handmade woodcarving and we buy some of it. Then he offers to get his grandfather from the lean-to shed / closet!? It turns out that the bones of his ancestors are kept in some cloths, like many people do in this area. Grandpa is collected and we're allowed to snap a picture.
In the afternoon we visit the museum, with some splendid examples of local woodcarving, sometimes even over a century old and a book with articles and photos from this area, from a 1912 National Geographic.
> back to Manila
16-12-10 At seven a.m. we leave Banaue by bus. Right after noon we arrive in San Jose, where we have to change buses. It turns out to be quite a difficult task to find out where the bus to Manila leaves, as almost no one speaks English here. As for the directions of some people we asked we wait on the roadside of some road out of town. Many buses pass by, but none of them has a sign saying Manila. We do see several buses to Cubao, but we can't find that place on our map. When we've seen about three Cubao-buses we decide this was it, all those buses to that same place, there should have been one to Manila by now, as that's the capital by all means.
We have a tricycle-driver take us to the main bus station, but even there we only see Cubao-bound buses. Guess what?!? Cubao is a district in Manila! Making us, experience travelers that we are, look silly! So we end up in a Cubao-bus after all, one of the famous Philippino driving freezers.
Traffic at the boundaries of Manila is huge and we don't get to our hotel before 9 p.m.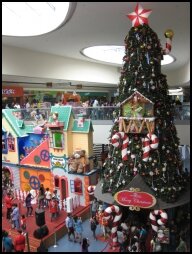 17-12-10 We skip the original plan to spend two nights at Lake Taal and stay in Manila. We visit the largest shopping mall in Asia, the Mall of Asia. Like real Philippinos we hop from one jeepney into the next, as the girl in our hotel, who drew a map for us, said: "a taxi is expensive, it will cost 120 Pesos (2 Euros)!" We just like to travel around like this and that's priceless, just like some of the surprised faces when we board.
At night we accidentaly end up in some little backstreet where we see a turu-turņ. This kind of street restaurants has a couple of pans with dishes on a counter, from which you chose whatever looks nice. We chose a few dishes and as the owners have recovered from their surprise we get our food, while half of the residents of the street has come out of their houses to watch. Obviously they don't have white guests here on a daily basis. And we have to admit: we don't eat for less than two Euros on a daily basis as well.

> Rain at Taal Volcano
18-12-10 It's still early when we catch a van to
Tagaytay
, for a visit to Lake Taal, but it's extremely cloudy and when we arrive the lake and the volcano are grey. When we're on our way to the People's park for a picknick it starts to rain and we decide to get back to Manila, but not before we bought and tried the famous "Buko-pie". This cake is made of fresh coconuts and is the local delicasy, but again we conclude that it must be a cultural thing what people like.
As the first bus which passes by is a normal one, without aircon, we're treated on metro Manilas exhaust for more than three hours, while moving with a speed of nearly ten kilometers an hour. Slightly nauseous we get back to the capitals city center, where a helpful man finds us the right jeepney in a huge crowd.
At night we try several local dishes at some of the street restaurants: delicious! A desert called Bibingka, which we buy at one of the street stalls and is made of rice flour, is our personal favorite.
Luzon verkeer

Het Luzon transport filmpje zal hier te zien zijn


Lourdes Grotto Baguio

Het Lourdes Grotto Baguio filmpje zal hier te zien zijn

Click on the films up here to look around in Luzon, almost live.
> More Info
Also check our
Philippines info page
, where you can find a lot of information about the Philippines and come see our
Luzon 1 photos
and
Luzon 2 photos
.