Turkey Travel Journal: The Far East
This travel journal is part of a series of journals, which are all written during a long trip between november 2007 and may 2009.
> Ramadan in Tatvan
04-09-2008 It's 18:40 and we're sitting at a table in a little restaurant. It's the fourth day of Ramadan. Today, after a short visit to the historical village of
Bitlis
, we've copied the behavior of the men in Kurdistan: lazily hanging around and drinking tea. The only difference is they are spending all of their days like this, in the shadow of some trees in a park, and for us one quiet afternoon with tea in our hotel room is long enough.
Now we sit, like those men, hungry at our table, waiting for the call for evening prayers. As soon as the minaret calls, it's allowed to eat again, but until then everybody sits pricking in their salads and stirring their soups, that have already been served. Almost every table has been taken and even more men come in. Now there really aren't enough tables, so everyone joins the party at the tables that are already occupied. Our table, however, is carefuly avoided.
Then the redeeming first sentence comes from the bullhorn, resulting in a lot of stares to see what the others do. Halfway that first sentence one has the guts to lift a spoon full of soup to his mouth and now the floodgates are wide open: tataratatataaaa... gobble-time!
We also start with our soup and meanwhile the staff are running around to to serve the other orders. A single latecomer only shows up now and apparently he's so hungry that he doesn't notice who are sitting at the the table near the window. He sits down on the empty seat next to Peter. Only then he looks up for the first time and like he's stung by a wasp he jumps up. Quickly he moves to a table in the corner, where there's still a free seat as well. When everybody's done laughing we just hear the sound of cutlery and porcelain, for the rest it's completely quiet.
Within 10 minutes most plates are empty and a bit later the restaurant is almost deserted. We fill our plates once more, even though we've had bread, yogurt, crisps and other things during the day.
> Van: Modern City in the East
05-09-2008 After a scanty breakfast in our hotel we soon find ourselves in a minibus to Van. En route we're treated on amazing panoramas over the Van Lake and we see huge hay stacks and shepherds with herds of cattle, who are at least as big as the ones in
Kyrgyzstan
. Two hours later we're there and as soon as we left our luggage in a hotel that we like we go for a walk in the main street, Cumhuriyet Cadessi.
Actually we're quite hungry, but it's not all that simple to find something to eat besides crisps and cookies, in the daytime during Ramadan. As if someone's trying to tease us there's also a pizzeria coming up on the right side. Not one of those places selling Turkish pides, but a real one where they're making Italian pizzas, French fries and chicken nuggets, according to their window poster. But well, all the restaurants are closed untill after evening prayers... so we think. Until, still mouth watering about all this food we haven't had for such a long time, we peek through the dark tinted glass, to see people sitting at the tables in the back of the place. We take a better look and to our great surprise we see everybody in there eating pizza... and chicken nuggets, French fries with real mayonaise and ketchup.
As soon as we're also provided with two supersized menus we take a second look at the other guests. The people who are sitting here, all in the back, far away from the window, are all of our age and looking surprisingly trendy. Out in the streets we already noticed there are far more women walking around here than we've seen in the past two weeks alltogether, but here almost half of the customers are women. None of them are wearing headscarves and some of them are holding hands with their husband or boyfriend. We're pretty much baffled, especially since we've seen the country turning more and more conservative while traveling Eastwards and it's hardly possible to get further East than Van in Turkey. We experience this as a real relief.
After this unexpected lunch we go to the museum, where we meet the Urartians, the people who've once been living in the present Turkish Kurdistan, Western Iran and Iraq. The artefacts have been arranged by their archaeological sites and as we're about to visit a few of these sites in the next few days it's really nice to explore this place.
A bit later we take the bus to the first ancient Urartian city, the area of the Van fort. We climb the rocky hill with the remains of the old stronghold, from where we have an amazing panorama of the city below. From most buildings we just see the foundations from a later era, but
two mosques
have been wonderfully restored. After our descend we try really hard to check out the mosques from up close, but ditches, fences and agricultural land are making this impossible. However, we do get five cucumbers: a gift from a farmer. Soon we'll give it another try from the other side.
When we're walking back we take a look at another mosque, by the roadside and just when we're about to walk in the direction of the busstop we're offered a ride by a group of workmen. We're dropped near our hotel, so we've just got some time for shopping before it gets dark.
> Hoşap and çavustepe Castle
06-09-2008 Around 10 am we're leaving the city to go to
Hoşap fort
. We're taking a long detour and almost an hour later we find out why. We're passing the roadblock of the road we'd actually had to take.
Our bus continues the ride and the landscape's gettting more rugged. Desertlike plains are alternated by barren mountains of colourful rocks. A bit further is Iran, which we can tell by the strict checks on the other side of the road. We're allowed to continue and after a great number of bends we see the fortress, high on one of the rugged rocks. Once we're up there, at the entrance, we find out the stronghold is closed for renovation, but a guide who's showing around a tourgroup assures us there's not much to see on the inside of the walls. We enjoy the panorama of the defences surrounding the fort and the village next to them, before we take the bus back.
Now we have to show our passports at the checkpoint and most of the vehicles have to open their trunks and glove compartments as well. Drivers licenses are taken and registered, so it takes a while before we can move on. Meanwhile they strut with large rifles among the cars, while the umptieth military helicopter of the week passes in the distance. Something we really noticed in Turkey is that they love to play army and in every tiny village there's a military base, guarded by young soldiers, very serious and heavily armed. Every now and then we encounter moving tanks, with an instantly gyrating canon on top.
Then the drivers licenses are returned and soon we're at çavuştepe, a 2800 years old Urartian stronghold on a hill. There's not much left of the place and we hardly believe any of the stories one of the guides tells us, but the view on the surrounding hills and the more flat area between them is incredible.
We're just back at the highway, waiting for the next minibus, when something's coming our direction. We quickly raise our hands. Only when the van has already stopped we notice it's not THE bus. However, the driver stops, even though he only gets to a complete halt 50 meters further on. We get the impression he's going to Van, but we're not completely sure of that. We're allowed to hop in and like this we meet the 27-year-old, Kurdish Fehim, who seems much older to us, wearing a beard and a pair of sunglasses. Unlike the other people we met in the past few weeks, Fehim just chats the whole time, using his own language. Sometimes we understand him and sometimes we don't. At least we finally get past the standard "where you come from, what's your name" questions that many men here have asked us, to pull out as they got their answers.
When we get to the roadblock, that forced us to make a long detour this morning, Fehim does what we've seen others doing as well: getting around the cones to take the turn to the deserted road. Hmmm... we're driving on a completely deserted road, winding into the mountains, in Kurdistan, in the van of a man we don't know. We quickly forget anything that cóúld happen as the tape with Kurdish music goes into the radio. The road has aparently been blocked due to longterm construction works, since we see huge machines moving large piles of rocks every now and then.
The only person coming from the opposite direction warns us that there's a police check further down the road and we take a dirt road to avoid them. We have to make another detour, through tiny villages, all of which we're proudly told they're Kurdish. We see large herds of sheep and goats moving along the dusty road, between the clay huts. On the mountains the few grasses are eaten by a great number of cattle as well.
In one of the villages the riding market just arrived and the entire village has come down to buy things. Fehim finds his way down by yelling and asking around a bit. When we're finally back in Van he makes us understand he likes to have diner with us, as soon as the Muezzin announced the start of the evening. We accept the offer, but first we pay another visit to our secret pizza restaurant.
> Kurdish Hospitality
When we have someone at the reception call Fehim at 6 thirty we're told he'll be there to pick us up shortly. The receptionist is a bit surprised we're gonna meet with someone we can't even understand. Actually we're surprised too, but we'll just see what happens.
A bit later Fehim is there and we walk to his house. There his brother and wife are waiting for us on a whole carpet full of nice food. We sit down and enjoy all the tasty things they prepared. The brother happens to speak a few words of English, which makes communication a bit easier.
After diner we have tea, it's time to check out some photos and the tv is switched on. A Kurdish comedy, so we're told. We think it's like Mr. Bean, with jokes you even understand when you don't speak the language. Kamille, Fehims wife, feels rather uncomfortable about Yvonne not wearing a headscarf. So she searches for a nice one of her own, which is tied around Yvonnes head and not meant to be taken off, not even when we say goodbye to return to the hotel. Now blond Peter walks the streets with a Kurdish, bearded man and a veiled wife . Naturally this doesn't go unnoticed for the rest of tea consuming Van.
07-09-2008 This morning we go back to the grounds of the Van fort and this time we walk around the stronghold on the other side. Like this we easily get to the remains of the old city, which we didn't manage to do yesterday. All that's left of many structures
is rubble, but two mosques are wonderfully restored. The conciërge of both buildings also just arrives, so we're able to take a look on the inside as well.
According to several people we asked there's no bis to Yedi Kilise in the village of Bakraçli, so we take a taxi. We drive out of the city and soon we're ascending over a steep road. The panoramas over the surrounding mountains and the Van Lake are getting better by the minute, and as the amount on the meter increases fast we decide to walk the final stretch. We'll find out how to get back down later and walking with a view like this is definately not a punishment.
However, we've hardly said goodbye to our surprised taxi driver and barely walked a single kilometer, when a car overtakes us and offers us the backseat. Meanwhile we know the persistence of the Kurdish people and so goody-goody us hop in. In a few minutes we're in front of the church, where we're shown around by the unconversable caretaker. A lot has been ruined or perished, but a few wallpaintings are still visible.
Bakraçli looks nice, with its huge hay stacks and clay houses and we'd like to wander around here, before we set off for our way back of ten kilometers. Unfortunately our visit has been noticed by some, and soon there are four boys following us, one of them very persistantly asking for money and looking in our bags. When he also tries to take off with our bottle of water it's enough for Peter and he grabs him. The little fellow screams like a pig and a farmer comes to take a look hwo this unclean animal ended up on his Muslim-territory. All four biys now scream and point at us and the farmer doesn't look very pleased. Who would be with temperatures like this and an empty stomach. Fortunately our lifesaver, Salih, also hears the noise and since he speaks Kurdish, English and German he quickly soothes all parties.

We walk around with Salih and enjoy the views. Then Salih determined to offer us tea and a meal at his house. We thank him, since it's Ramadan and we'll be the only ones eating, while his family's watching, but as said before the Kurdish people are the most persistant people we've ever met. So, not much later, we're on the veranda of his uncles house and we're served the most delicious things. Salihs mother even made yogurt and honey and even the bread is freshly baked. We're offered tomatoes and cucumbers from their own garden and homemade buffalo cheese. Once again Yvonne gets a beautiful, handmade headscarf tied around her head, before she takes pictures of the girls and women in the garden.
Only by the end of the afternoon we say goodbye and since Salihs father wants to do some shopping in the city with his car, we don't have to walk... again. It's our lucky day.
08-09-2008 Today the schoolyear starts for the Turkish children and to celebrate this, the golden Atatürk, on the square in front of our hotel, is offered a garland. We think it's a good thing that school starts again. Perhaps during our last days in Turkey we'll be harassed less frequent, by all those little fellows yelling, screaming and begging for money, every minute of the day, as soon as they've spotted us. All that we need more is the "hello-where-you-from-men" getting their ass kicked and we're totally happy.

When we've had our breakfast we drop by the photos we took at the diner with Fehim and Kamille and then we take the bus to the University. On the campus there's a "cat house". Here they're having at least 100 of the famous, white Van-cats, all of them with 1 yellow and 1 bue eye. Unfortunately the cats are living in a crammed cage and some of them are very aggressive. The largest of them just killed a kitten; a black one that climbed in through the wire mesh. Fortunately we're allowed to take photos of a more relaxed animal.
> Doğubayazit
09-09-2008 It's a dreary, grey day when we're moving on to Doğubayazit and the bizarre volcanic landscapes we see en route are not really striking now. The closer we get to the border town, the more people in the villages and near the tents are looking like nomads. Doğubayazit doesn't feel very friendly, with its many beggars and exceptionally poor population and we're glad to quickly find a place to sleep. From the rooftop terrace the
Ishak Paşa Palace
gets visible in the afternoon, elevated on a hill across the valley, but the sandstorm persists and we decide to postpone a visit until tomorrow.
10-09-2008 Expectantly we open our curtains. When the weather is clear we'd be able to see the highest mountain of Turkey, Mount Ararat, from our window. Disappointed we quickly close our curtains oncemore. Still nothing more but dust and clouds in the sky.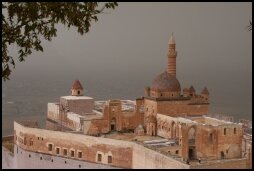 By noon we do walk up to check out the Ishak Paşa Palace from up close and, despite the clumsy restorations at large parts of the castle, this is an interesting visit after all. At the gates there are many original details left and the guestroom of the Harem is very beautiful.
When we leave the palace we feel waterdrops in our necks and soon a huge thunderstorm hits. Luckily both a shelter and a cup of tea are quickly found and when the downpour is over we first go for a walk in the area, before descending to Doğubayazit.
> Mount Ararat
11-09-2008 This morning a vague shade in the ground level clouds gives us some idea of the location and size of Mount Ararat. During the morning the mountain reveals more and more of its beauty and by the end of the morning we can even see the snow on the uper part. The top stays hidden in clouds all day, but during a walk on the barren, desertlike plain
we do get an ever clearer image. We sit down on the cracked sandy soil, among the harsh blades of grass and succulents we enjoy the scenery. We wonder which one of the blades will be the one where the robbers are hiding, who sometimes kidnap or rob tourists, but all that we see is a vast landscape and a giant mountain. Even the few nomad's tents in the distance don't send someone to attack tourists with their mordacious dogs today, so it stays a relaxing afternoon.
12-09-2008 As early as 5 am we wake up from the alarm clock. For a moment we irritatedly wonder whose idea it was to voluntarily rise this early, but as soon as we look outside we forgot about that. The sky is completely clear and the dark shade of Ararat is clearly visible against the dark sky. Even the second and slightly smaller Ararat in the distance is visible. While the light slowly increases we see both mountains ever clearer and then the first sunrays touch the giant volcano. It still takes a while before the sun really rises above another ridge, but in the meantime the entire area is colored red. Just after six we're blinded by the fierce light, now that the sun has really risen, and by the time the other guests come out of their beds we dive back in for a quick nap.

It's almost 10 when we finally wake up again and once again we return to the plain where we had such an amazing view yesterday. Quickly we take a few more snapshots and then we ruch back to Van by minibus. The last one leaves at 2 pm and since we'd like to catch a plane tomorrow morning we don't want to risk being late. It's a bit of a puzzle, but we manage to squeeze two more stools in the penultimate minibus and somehow sit on them too. It's crammed, but the cramp stays away and after more than two hours we're back in Van.
> Flying to Antalya
13-09-2008 Flying is like traveling by bus, is what most Turks seem to think. Five minutes before the plane previous to ours has to take off there are still people arriving to check in their luggage. The "last call" has been done at least five times by then and eventually the plane, due to all the latecomers, takes off 10 minutes late.
With our flight it all seems to run more smoothly, until we enter the plane and find two afraid Kurdish puppies, looking around with their eyes wide open. You specially bought some fancy pants at the only really modern shop of the village, you managed to get a ticket and checked in your luggage and then you even have to look at your ticket to find out where your seat is. You tried your very best to manage all these things and then there's a foreign tourist, whom you're unable to understand, since he babbles an incomprehensible language, and apparently you have to move to yet another seat. How you wished they had those stools, like the ones in the dolmuş, then everything would have been so much easier.
After a game of musical chairs, when everybody ended up at their own seats, we're quickly up in the air. The Van-lake looks incredibly beautyful from up here, but after that it all gets a bit boring. We've admired all these brown, barren landscapes before, at the ground, and those big, scared puppy eyes are only entertaining for a few minutes.
After our transfer in Ankara the world is suddenly completely different. Short pants are getting the upper hand, especially after our landing in Antalya, and the headscarf slowly gives way to the mini-skirt. We've ended up in holiday paradise at the Mediteranean, where we'll be relaxing for five days, before flying to Nepal through Istanbul.
> More Info
Also check our
Turkey info page
, where you can find a lot of information about Turkey and come see our
Turkey FFar East photos
.