Cambodia Travel Journal: the North
This travel journal is part of a series of journals, which are all written during a long trip between november 2007 and may 2009.
> Battambang and around
02-03-2008 Last night was a short one, as at least three huge cockroach-look-a-likes decided to throw a party in our room. We're surprised, as it looked so clean, but still we move to the luxurious hotel on the other side of the street. The standard rooms here are perfectly affordable, a bit more luxurious than our normal standard, and for an extra Dollar you get free wifi in your room. We decide today is relaxing day and switch from internetting to eating good food to playing some games to looking down from our flamboyant elevated room with 180 degrees round view on the mob down in the streets.

03-03-2008 In a fancy establishment like this you don't rent a motorbike yourself, you ask someone to do this for you. And that's why 1 bike is alreaddy waiting for us when we come downstairs. An oldtimer like this is actually not what we'd expected to see at a hotel like this and after a short testride Yvonne rejects it with as main reason: simply dangerous. According to the lady of the reception we can share the second
bike, which has just arrived, but we don't really think this is smart with the state of Cambodian roads and all. As there's no official bike rental in Battambang another neighbour is called and not too much later we're both provided with our own reasonably functioning Honda Dream.
The "dusty but smooth road" in the direction of Phnom Banan, which has been promised to us, is a little less smooth than we'd prefer. A couple of kilometers further on we see a huge pothole, with gullies able to cause a good crash and at this point we don't feel like taking that risk. We turn around and take a road to another temple. This "highway" exists of gravel and dust, so soon our noses and ears are filled with it. We carry on a bit, but the constantly drifting sand of passing cars overtaking us is not promissing a pleasant ride. Once again we turn around and head back to Battambang.
By asking around, taking the wrong turns, using hands and feet we eventually find the right road to Wat Ek Phnom, a partially collapsed temple from the same era as Angkor. We're lucky: this road has recently been asphalted and now it's good fun to
explore all the villages on the way to the ruins. En route we see people working hard and we frequently stop to take a closer look. Like at the couple who are repairing their boat with liquid rubber. We also take a look at a special bakery, where transparant litle pancakes are baked out of rice porridge, in a little oven fired by rice-waste. The pancakes are put up to dry and we're allowed to try some. We get the impression these are used to make spring rolls, but no one here speaks English, so we can't do more than making a guess.
We think the huts with their waving and yelling kids (ánd grown-ups) even more interesting than the temple itself and we go for another detour crossing a little bridge. People seem truely surprised to see us here, every now and then a jaw drops, but mostly we see enthusiastically waving people. Personally we're surprised to see how inventive
ice cream man is here. He scrapes a bit off a huge block of ice, molds it into shape, pipes a skewer through and pours some colored syrup over it. The kids love it and they gather around the cart with some money in their hands.
Late in the afternoon we're back in Battambang and as we think we now had enough luxury for budget travelers we have diner at the night market. Peter is just enjoying his second plate of delicious food when a hungry and dirty boy, aged around 7, comes begging at our table. He's one of the many and he probably doesn't have a lot of hope for success, but today's his lucky day. Peter's stomach is full, so we get another chair and put the lad on top of it, with the plate in front of him. The staff and some other customers apparently can't appreciate this at all, as we're thrown some angry looks. We don't care a lot; this little fellow is not going to bed with an empty stomach. In no time he finished all of it, while he's staring at us with his big eyes. Even the vegetables, normally the less favorite of young children, vanishes as snow for the sun, so we put him back on the floor and he quickly disappears.
> Trip to Siem Reap
04-03-2008 Another day full of dust awates us, on our way to Siem Reap. The first part of the road is not bad at all, with good asphalt, but after Sisophon we crowss some really dusty parts. When trucks or busses overtake us sight is barely a few metres. Blissfully they're preparing to pave this road as well, but that's too late for that packed car, stuck in the loose sand.
Once in Siem Reap we ask arounf about the electric bikes on which you'd be able to explore the temples. With temperatures well over 30 degrees this seems like a good idea. The offer is limited and the prices are as high as renting a tuktuk for the two of us. We think it's pretty comfortable to be driven around for once, it's really too hot for a normal bicycle, and in Siem Reap it's easy to find someone who wants to do this. The next 3 days we'll be hunting temples with Pove.
05-03-2008 Of course we start today with the temple of temples: Angkor Wat. We're immediately impressed by the size of the complex. However we do see nicer temples today, just because they're better decorated like Banteay Kdei, or because they simply have "something" like Bayon with all its faces. We wonder whether the architects of these temples have been to the Incas in Peru for an internship. The resemblance is more than just the exact fit of the stones, as we also see that water played a major role here and the way of supply and abduction is almost identical.
> Angkor Wat
06-03-2008 In the middle of the night our alarm rings and it takes us some time to figure out whose idea it was to see sunrise over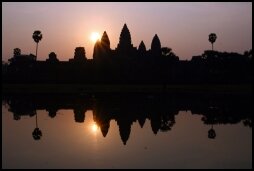 . But as soon as we're in the dark, giant gardens of the colossus we soon forget about that. Soon the sky is turning lighter and once the scarlet sun is rising above the still dark structure it's like we're watching a picture from a book. Absolutely gorgeous how all of it reflects in the smooth water of the pond.
The ride to Kbal Spean is getting bumpier as we leave the famous temples behind us, but what we see on our way really makes up for the bumps. People are cooking in handmade clay ovens, families are enjoying their breakfast in front of their huts and rice is being processed with homemade machines. Obviously there are still lots of landmines in the ground here, as we see many people missing an arm or a leg.
Huge dust clouds surround us when other traffic is passing us, but there are clearly plans to pave the road in the near future. Kbal Spean is an elevated riverbed, where several figures were carved centuries ago.
Thanks to an old man who's park keeper here and whom we follow through the jungle up here, we find many of the figures, some of them a bit hidden.
Around noon, on our way back to Siem Reap, we visit Banteay Srey, a temple with tremendously detailed, carved decorations. Next we visit the near and brand new landmine museum, not the nicest museum ever, but one you can't miss when you're in Cambodia.
07-03-2008 As we've done and seen so much the last couple of days we're pretty tired today. We make it a short day, in which we visit the few temples we'd still like to see. In the afternoon it's time for some rest.
08-03-2008 We add another day of relaxation.
> Adventurous Trip Kompong Phhluk
09-03-2008 After lots of deliberation we decide today we just need to give it a try.
Kompong Phhluk
is a village near Tonlé Sap lake and only accessible over a road that even the Cambodians themselves call a "bad road". We've already experienced the roads they call "good roads" and have some nightmare-like images of this bad road. Still we're keen on visiting this village, where hardly any tourist ever comes and where the houses are elevated on high poles. The inhabitants live, like all people around the lake, from fishing. Overfishing has been a major problem, but there aren't that much other opportunities here. Their village and the entire area are in the water six months a year (that's the reason of the poles) and now, in the dry season, the ground is not suitable for farming.
The road, which is under water during the raining season as well, is unpaved and indeed very bad. We would never been able to drive here ourselves, but fortunately we're sitting on the back of 2 bikes handled by boys who have been living and biking here all of their lives and whom we hired as moto-taxis. Once in the village they'd like to immediately drop us at a friend who can take us for a boat trip out on the lake. Of course they will earn quite a bit of the money paid by us. We'd rather look around in the village first, to marvel at the high contructions people made of simple branches and
wooden floors. Soon we collected some curious kids around us and one of them speaks pretty decent Engish. As he and his pals are really interested in us and our country we pull the album with photos from our bag. In seconds the circle of kids grows even bigger.
Everywhere along the little stream, which grows out to a huge and wild stream in the wet period, we see people working on their boats, nets and traps. In the one street there is, we see thousands of shrimps drying on the earth, while a man is strapping his oxen to a cart and some kids play at marbles.
After tough negotiations we agree on a price which is acceptable for us as well to be taken out onto the lake. Even here people build their houses on poles, right in the water of the lake. Entire families live here with their children during the dry season. Like this they're
closer to where the fish is swimming. In the wet season the fish is swimming through the street of the village, but now they have to go quite far from the village to catch something. We dock at a cottage and admire the catch of the day. Three pairs of children's eyes curiously look at us, while mama is breast-feeding number four. All of them live in a small, separate part of the cottage. During the day everyone is hanging around in the other 10 square metres, as the garden... is the lake and the neighbours live 200 metres further... on another set of poles.
With yet another experience in the pocket we bounce back to Siem Reap late in the afternoon, away from those people who think Phnom Penh is the end of the world and Europe almost extra terrestrial.
> Back to Phnom Penh
10-03-2008 With sore buts and myalgia in our backs and arms it's not that easy to sit in the bus to Phnom Penh for over 6 hours. It's not an option to get off, so we're hanging on and eventually we arrive pretty wretched. Fortunately our bed's already waiting for us, in the same room as before.
Click on the films up here to look around at the Angkor temples and in remote Kompong Phhluk, almost live.
> More Info
Also check our
Cambodia info page
, where you can find a lot of information about Cambodia and come see our
Northern Cambodia photos
.