India Travel Journal: Kerala
This Travel Journal is one in a series of three journals, all of them made during a trip through the South of India late 2009, early 2010.
> Tea and Spices in Munnar
26-12-2009 By asking around a lot and by walking up and down the platforms at the busstation several times we find the right bus to
Munnar
. Exactly on time we leave noisy, dusty Madurai. Two hours later our bus approaches the foot of a line of giant green hills and from there we drive steep up, following ever narrowing roads. Great! Especially when the road is barely wide enough for one bus and there's a bus coming from the opposite direction.
Many Indians are traveling today, as they're enjoying their Christmas holidays and en masse they set out on a journey in vans and cars. The driver of an oncoming bus suddenly pulls into a small opening on the wrong side of the road and a long line of vehicles completely blocks the road. The line of waiting cars and buses is growing steadily behind us. The sound of hooting is deafening and many people start shouting, others push a bit more, and... no one is able to move in any direction anymore. More shouting convinces our conductor to act as a traffic controller and he directs some cars backwards. Not the easiest thing to do on such a steep, narrow road. By maneuvering a bit we finally manage to get past the traffic jam. Fortunately our seats are not on the side of the steep abyss.
The landscapes full of
tea plantations
are breathtaking and the closer we get to Munnar the better they get. Finally we're there, impressed by the madhouse that is called the center today: it seems all India has come to Munnar and we feel a bit worried about finding a decent place to sleep.
Three hotels later it is clear that everything is full here. We take an autorikshaw out of town, where there's a bunch of hotels about a kilometre further South. But again we're diappointed time after time. In the tenth guesthouse we ask whether there's a bus to a neighbouring village, to try and find a place there, but suddenly the man does have a room left.It's a small one and not cleaned yet, there are no towels and sheets, just a grubby blanket, but it's all there is, so we take it.
We ask again for a towel, but are told: "we have only room and tv and 24-hour hot water, no towels and sheets". Fortunately we brought some tiny travel towels and a sheet, so we'll be fine and that real Sansui tv truely is to die for! When we get home after diner we suddenly see some sheets and towels in an open cupbourd. Quickly we look around and snatch some items. When the host is allowed to fib, the guest is allowed to loan some things!
27-12-2009 The road to the tea museum is completely surrounded by greenery. As far as we can see there's tea plantations and other plants. In the museum there are photos, utensils and a film showing the history of the tea plantations in this area. There's also tea being processed live from fresh tea leaves to dried tea.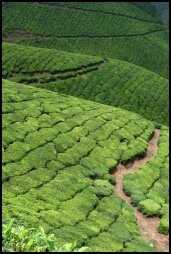 Directly behind the museum we just walk up into the green hills planted with tea, a beautiful walk. Unfortunately the sky is getting darker and darker and we're barely back in time to avoid a big rain shower. The rest of the afternoon it stays wet and at night the surrounding mountains are completely gobbled by low clouds.
28-12-2009 We charter an autorikshaw for the day, to explore the mountains. Following a winding road we find wonderful scenery after every turn. It's so green and clean here, we almost forget we're in India. There are ponds, streams and tiny villages amidst tea plantations and eucalytus trees.

At some places there are women picking tea and we stop to watch these skilled ladies doing their jobs. Each of the women already collected a huge bag full of tea leaves. With their jobs they earn a good income and the tea factories arranged their housing and childcare. All the kids are going to school to learn to read and to write, a fact of which the state Kerala is very proud of.
Eventually we approach Top Station, the highest plantation of the entire region, but unfortunately the view is shrouded in clouds. We drive back down, where the weather is still lovely, to visit a great viewpoint, where we are shown coffe plantations and kardemom plants as well.
29-12-2009 We'd planned to move on today, but there is a strike and this means there are no buses, taxis or rikshaws on the road, restaurants and shops stay closed and even schools don't open their doors. At least, that's what it's supposed to be like. Of course the corrupt Indian system offers a wide range of opportunities.
First we go and see if we can find a place for breakfast. One of the restaurants, where we had diner earlier this week, has it's curtains closed, but we sneak in through the backdoor and once inside we find out that there breakfast is served for all guests.
After breakfast we would like to visit a spice garden, where over fifty species of spices and fruit are grown, but this garden is fourteen kilomtres out of town and we don't feel like walking all the way over there. That's why we ask one of the few rikshaw drivers who drive around empty to take us, but it seems like no one really dares to. However, we get the feeling these people are not driving around empty for nothing and we start walking in the right direction. When we just reach the outskirts of the village one of them catches up with us: he changed his mind and wants to take us. The first part of the trip we have a piece of canvas covering the back of our vehicle, to make sure we cannot be seen from the outside, but as soon as we really leave the village, the plastic cover goes off.

In the spice garden we're guided by a man who has loads of information about every single plant and we learn how pepper, cloves, cocoa beans, turmeric, ginger, cinnamon, nutmag, vanilla and many more spices grow. We even see oranges and pineapples growing. At the end of an educational morning we have the rikshawman drop us at a waterfall nearly five kilometres from Munnar, from where we walk back to the village through the wonderfully green surroundings.
> Moving on to Cochin
30-12-2009 Fortunately the buses are working again today and in just a bit over four hours we wind back to sea level.
31-12-2009 Here in Cochin some men still catch fish in a centuries old way, with Chinese fishing nets. For quite some time we carefully watch them from the shore, catching fish in this timeconsuming way, needing around ten men per net to operate the whole.

The caught fish is sold immediately, on little stalls near the nets. You see fish, you smell fish and you taste fish. That's probably the reason why this is a real cat paradise, where cats in all shapes and sizes lead a lovely, relaxing life.
We stroll through Fort Cochin and discover a Portuguese / Dutch church, where we find tombs from the East India Company era. In the same neighbourhood there even is an entire Dutch cemetery. It's kind of special to be so far away from home and read your own language in stone. It makes you realize that hundreds of years ago people from your country have been living their lives here.

At night we attend a show. In this region there's an ancient culture of singing, dancing and stage playing and we first go to see how the artists get their make-up done before the show starts. Especially Kathakali, a form of art which costs the artists ten years of practise to learn it properly, is very famous. A story is played, without speaking a single word, mostly by facial expressions and hand gestures. But the other art performances, and most of all the dancing, are very interesting to watch too. It's well after nine when we're finally having diner, while outside heavy fireworks explode.
As a huge part of the people in Kerala are Christian it's not just Christmas, but also New Year's eve which is widely celebrated and there are several parties going on. We're not too much excited about it all and are traveling tomorrow, so we're in bed before midnight.
> Relaxing in Varkala
01-01-2010 A happy rikshaw man greets us this morning: we're his first customers of the year. He takes us to the ferry, we cross the water to the other side of the city and make another man happy with his first customer of 2010. When he drops us at the bus station we can immediately hop on a bus to the South, taking us to
Varkala
in five hours.
Varkala is a little paradise of palm trees, rocks, beach and plastic rubbish, where scarcely dressed Eastern-Europeans and Russians march like they were the ones who discovered this country some fourhundred years ago.
02-01-2010 We go for a hike along the coast and are shocked to see hard working Muslim fishingmen trying to find a place to get their fishing boats on the shore amidst sunbathing bikini-clad tourists. They also repair their nets on that very same beach where half naked white people are enjoying the sun and we feel a bit ashamed. A bit further from Varkala the number of tourists gets a bit lower and we can see the people here living their lives like they have been doing for centuries, by catching fish.
03-01-2010 We enjoy our last holiday to fly back to Rajasthan tomorrow, where we volunteer at Shakti project for another three weeks.
> More Info
Also check our
India info page
, where you can find a lot of information about India and come see our
Kerala Photogallery 1
and
Kerala Photogallery 2
.