La Palma Travel Journal
> vroeg vertrek naar La Palma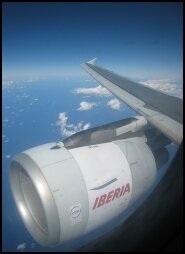 22-10-2011 Like always it's rather disappointing to get out of your bed in the middle of the night to catch a flight, even though you're aware that it's for the good case: a week in a beautiful place, with nice temperatures and lots of sun. At 4.45 a.m. we're in our car and exactly three hours later our Airbus leaves for Madrid. At this airport we now know well enough, we transfer to La Palma, but despite all seems to run smoothly so far Iberia still succeeds to create chaos at the barding procedure and delay the flight by almost an hour. However, this should spoil our mood, as we arrive at sunny La Palma a few hours later.
We collect our rental car, a rattling, totally worn Skoda Fabia, but well... it's getting us where we want. We had already noticed that TomTom is often not very accurate in Spain, but what do you expect when your destination is a village with just one address. Still we soon find our apartment, a lovely spacious house with sea view.
> Fog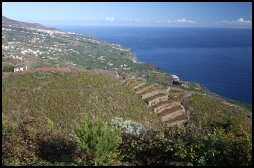 23-10-2011 After having breakfast in the morning sun we go out. We head to the South of the island, where we enjoy the views at San Bartolomé, village life at Garafía and the marvellous landscape of clouds at the
Observatorico Astrofísico
, or Observatory. This place is of much more interest to us than the laurel forest of Los Tilos, where we have a look as well.
Bizarrely shaped clouds sometimes arrive at breakneck speed, to transform into a completely different shape or completely resolve after all. From time to time we catch a glimpse of the
Caldera de Taburiente
, a single rocky peak sometimes protrudes above the mist. Even when we drive to the Mirador de los Andenes, the fog treats us with special spectacles and sometimes brightly colored, volcanic rocks seem to come from nowhere.
Even on our drive back home we're surprised by the many faces of La Palmas due to its vegetation. We see conifers, dragon trees, succulents, banana farms, cacti of all shapes and sizes, but also mandarins, lychees, mangoes and prunes. Only at night time we're back at our apartment.
> La Palmas Volcanoes
24-10-2011 This morning we get out again to see some more nice things. Unfortunately it gets cloudy as soon as we're in the car and when we arrive at Vulcán San Antonio it's pooring with rain. We decide to first drive a bit further and visit the nearby Vulcán Teneguía, where it seems to be dry again. As we walk the last part to the crater rim however a strong wind is rising and the black clouds roll over the nearby hill of San Antonio. When we move on to the crater rim now we're risking to be blown off and when heavy rain starts to fall we decide to turn around.
On our way back to the apartment we see lots of ripe cactus fruits, which we harvest with our pocket knife, to eat later at home. Returning in the Santa Cruz area this seems to be the only dry place on the island, where even the sun is shining and we spend the afternoon on our balcony.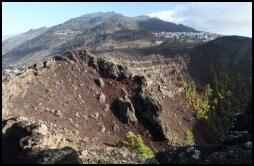 25-10-2011 After a cloudy night the weather is amazing as soon as the sun's up and once more we drive to the South of La Palma. As we now reach San Antonio, the perfectly shaped volcano is standing in the beautiful, early morning sun. We walk along the crater rim to the front, where we have an extraordinary view over the entire South coast and some of the smaller volcanoes in the area.
Many visitors walk down from San Antonio in about an hour, to visit Teneguía volcano, but we don't feel like being surprised by a sudden shower and take our car along the same ash road we followed yesterday. The entire area is covered in a layer of lava and here and there beautiful succulents are growing in the vineyards. According to our travel guide the grapes here are growing well since the last eruption of Teneguía in 1971, but we think they're looking rather pathetic. Perhaps some kind of weeping grapes?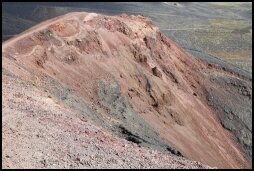 Today there's barely any wind when we're at the foot of Teneguía and we climb up the narrow path to the crater rim. According to the experts this volcano is by far not as perfectly shaped as San Antonio, but still we find it much more attractive. Everywhere the soil has amazing colors and the irregular shapes are so interesting. The few other visitors meet here, are walking quickly and don't even seem to notice the hot air and sulfur fumes coming from the earth in some places. We stop every few metres to feel and watch and when we finally reach the highest point we sit down for a while to watch the coastline below. A fine spot for lunch.
Back down we continue to Faro Fuencaliente, the old light house, still standing proudly next to a newer one. Once the Teneguía lava flow stopped at a short distance of the old tower, still people decided to build a new one, by then the first of all Spain using solar energy.
We follow the coast to Puerto Naos, where we have a second lunch at the beach. The ocean is wild here and the metres high waves break on the nearby rocks. An hour later we drive back through the interior to Los Cancajos, where we spend the rest of the day reading a book.
> Santa Cruz de la Palma and the South
26-10-2011 We still haven't seen the capital of La Palma,
Santa Cruz
, so we drive over there this morning to visit the old city centre with its interesting balconies from the 17th century. We enjoy the athmosphere at Plaza de la Alameda, where mostly elder people sit under the beautiful, old trees of this busy market square. In a small shop we buy a huge piece of tortilla, which we eat at the other square of the city: Plaza de España. Lovely, such a healthy lunch, there are like ten kinds of vegetables in it. Next we take a look at the interior of Iglesia El Salvador, to drive back to our apartment afterwards.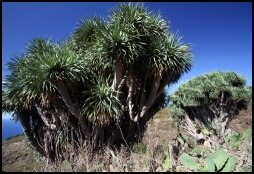 After a short break we drive up North for the second time. Our first stop is a coincidence: on our way to the natural pools of La Fajana we see a wonderful piece of coastline, where the wild waves hit the rocks: Puerto Talavera. Apparently it's high tide, as large parts of this bizar little harbour and village in one, built from a rock, are under water and from time to time it has to endure a large wave. At the nearby Faro de Barlovento and at La Fajana itself the waves are impressive as well, some seem to break on the coast in slow motion, carrying huge whitecaps.
We move on to La Tosca, where about twenty fabulous, ancient
dragon trees
are gathering and stroll through the partially dilapidated hamlet, before we head back to Los Cancajos.
> more Volcanoes
27-10-2011 This morning it's extraordinary clear and we go out early. First we climb the Pico Brigoyo volcano, about 1800 metres high, and from the crater rim we see the clouds below slide in from both sides of the valley. It's an impressive sight how they roll over the mountain ridges and slowly slide towards each other.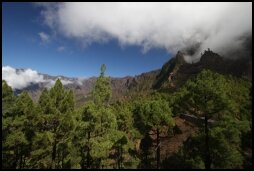 Around noon we're allowed to enter La Cumbrecita, a view point which only a few number of visitors are allowed to enter at the same moment. From here we have a great view over the Caldera de Taburiente, the original volcano from which La Palma emerged. Again, the increasing clouds fascinate us. We go for a second hike, but an hour later the clouds captured the entire cauldron and we don't get a lot to see anymore. Time to head back to that great bakery shop in Santa Cruz, where we order Paëlla now and one of the many kinds of cookies.
> The North-West
28-10-2011 There's one part of La Palma which we haven't seen so far and that's the North-West, so today we drive through the tunnel to the Western side of the island, to cross the Baranco de las Angustias by car. This canyon with barely any vegetation, called Valley of Fear in English, strongly reminds us of Wadi Mujib at the
Kings Highway in Jordan
. When we're up on the Northern side we park the car at the restaurant of Mirador del Time, to follow a narrow walking path to an even higher point. From here we look out over the entire Western coastline of La Palma and see the canyon all the way into the Caldera.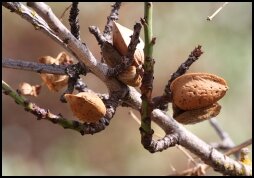 We have lunch with this view, accompanied by dozens of lizards who apparently are hungry too and try all kinds of kamikaze actions to get near our fig-almond-cheese.
We continue our drive up the coast to take a closer look at an ancient Dragon Tree near Puntagorda. Here we end up in the middle of many almond- and fig trees and we pick hands full of almonds from one of the forgotten trees. Delicious! And what a waste the almonds drop from the trees here without even someone picking them.
After some more driving along the coast we get to Gallegos, where we'd like to do a hike from our guidebook. To our surprise we're once again the only tourists here, so we have the entire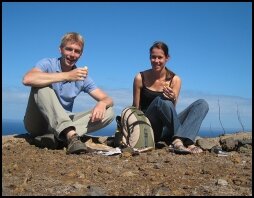 abandoned hamlet and the extensive coast with hundreds of metres of sheer cliffs to ourselves. On a prominent rock we enjoy an excellent second lunch, to finally continue our hike along fields of oranges, yam, almonds and bananas. Again we're impressed by the number of cacti, what a beautiful island this is. It's already late when we're back home.
29-10-2011 Not just October almost comes to an end, but also this holiday. On this last day we enjoy the sunshine a bit more, to return to "our" bakery shop in Santa Cruz for the last time, to fill our bags with all kinds of nice goodies. Slightly before three our plane leaves, but we'll probably return to this area, as we haven't seen all of the Canary islands yet!
Unfortunately the transfer in Madrid is rather hectic, in 45 minutes we have to get from the back of our plane to our connecting flight in another terminal. At once we're completely out of the relaxed athmosphere from a week of holidays and when we're in Amsterdam it turns out our suitcase is still in Madrid… so we figure we now don't have to carry a heavy suitcase around and doing our laundry can be postponed a bit as well now. :)
> More Info
Also check our
Spain info page
, where you can find a lot of information about Spain and come see our
La Palma 1 Photos
and
La Palma 2 Photos
.