Turkey Travel Journal: the South-East
This travel journal is part of a series of journals, which are all written during a long trip between november 2007 and may 2009.
> Elazig
24-08-2008 We haven't slept a lot last night, as a result of the oppressive heat in our non-aircon room. As soon as we arrive in Elazig, after a ninety minutes bus ride, we'd like to find a good hotel with airconditioning. A Turkish man, who is in the transfer van to the center with us, voluntarily wanders through the enire city center with us, to show us the hotel of our choice.
The two person bedroom which is shown to us has not yet been cleaned, so we are offered a suite for the same rate. This suite has been painted in Yvonnes favorite combo of colors: pink and purple, so this day can only be perfect. We get into bed immediately to make up for the lack of sleep of last night.
25-08-2008 We're completely fresh again and at our hotel we ask where the vans to Harput can be found. Once again someone walks with us, even though it's just a block away and we could easily have found it by ourselves. When the van is full we're leaving to the ancient fortress from the era of the Silk Road. It's rather disappointing what's left from castle and even the nice view is not what we wished for. After the refreshing rain showers of last night it's very dusty in the air now, so visibility is limited.
Back in Elazig we walk to another street, where the vans to Pertek leave. These vans are probably not running all that frequent and we have to wait more than thirty minutes before we leave. Then there are suddenly even more passengers and when the tip-up seats are taken out we feel like we're back in Asia. That feeling gets even stronger when we're hardly back on the road and there's beckoned from the sidewalk: two more men would like to come. A boy moves to a spot on top of the van's gear stick, two men sit close to each other on one stool and off we go again. Stuffed to the brim we race on a winding road: yep, we're really back in Asia!

Thirty minutes later we can see Eski Pertek, old Pertek: a fortress on a rocky island. Our van goes to the other bank, where new-Pertek is, and since we can't see how we're supposed to get to the island, we stay put. Unfortunately visibility here is even worse than in Elazig and after taking the ferry to the other side, we get the feeling it's rather pointless to take a closer look at the castle. We take the first ferry back and ask at a minibus, empty except for the driver behind the wheel, whether we can come with him to Elazig. It's a yes and with an even higher velocity than before we now race in the opposite direction. We're there in a second and the friendly driver doesn't even want to accept the 5 Lira we're offering him. When we hop off his minibus we just see a bus going to the museum, and since our travel guide is very enthusiastic about it, we hop on board. Unfortunately the museum has been closed recently. We're not very lucky when it comes to sights today.
Well, then we just have another delicious Işkender kebab, our favourite dish now in Turkey.
> The Bus to Diyarbakir
26-08-2008 Yesterday we bought two bus tickets to Diyarbakir at a booking office. The lady at the desk knew for sure the transfer to the departure place of that bus would be at 9 am, so we're waiting for that transfer about 10 minutes early. Numerous vans pass our street to pick up passengers, but no one stops for us. By 9 thirty we go and ask for some information and now that 9 o'clock van suddenly will be picking us up at quarter to 10.
When we're still at the same place waiting at 10 to 10 we're getting a little nervous. Our bus is leaving at 10, so we're afraid to miss it. We push a bit more, there are some phone calls back and forth, but at 3 to 10 there's still no van. We've just decided to ask our money back, to get to the bus station by ourselves, so that we can at least catch the 11 o'clock bus, when there's a transfer van coming around the corner. We quickly have to get in now, and guess what? The place we're going to is just 2 minutes away and we can just catch the bus. Would we have known this, we'd have walked the short distance!
Once more the landscapes are extremely barren. An hour later we get to a checkpoint strongly reminding us of the Chinese post just before the Tibetan territory at Deqin. Only there's a bigger show of force here, even with a tank, armed militaries behind sandbags and quite some meters of barbed wire. Our passports are taken, just like the identity cards of our fellow passengers, and the personal data are copied. As soon as we're moving again we notice we've reached the area that the Turks call the "land of the mountain people": the land of the Kurds, or Kurdistan. The road winds through barren, rocky mountains. There's hardly any vegetation.
When we take the next turn we suddenly see a huge cloud of dust and a truck on its side right above a ravine. The wheels are still turning and the accident obviously just happened. A man already climbed on the side of the truck and we see the driver moving in the cabin. When our bus stopped and everybody got off we see that the driver managed to escape. Only then everyone realises how lucky the man has been, since a big part of his truck hovers over the edge of the ravine and the entire colossus missed crashing down in the depth by a very narrow margin. In a car the man is taken to the nearest village and we continue our trip.
Once we're in the outskirts of Diyarbakir we're being dragged awhile by a man and his son who are also headed to the center. The bus tickets for the city bus are payed for us, our protests are not accepted. We're dropped at the right stop and our feet have hardly touched the sidewalk or we're being welcomed with the smile and invitation for tea and food of an entrepreneur. We'd rather find a hotel first and soon we've got ourselves a nice room with aircon. The latter is not entirely unimportant, since we've got to the hottest part of the country. The thermometer daily indicates 40 degrees or more.
An hour later, when we get out on the street again, it feels like we step right into an oven. Without rushung around, we explore the old city and slowly we move on into the maze of narrow alleys within the city walls. We pass a mosque, with a minaret built on 4 freestanding poles. Soon we also find one of the churches we wanted to check out and by chance we also find a partly ruined Armenian church.
What really strikes us here: kids, kids, kids. They are everywhere. They chase each other through the narrow alleys, yell at us from an open window or try to sell sweets or bread to passers-by. There's always one yelling at us and there's a lot of waving and demanding money too. the families in this neighbourhood are poor and they often have 10 kids, who all have to be fed. Many of them are short and skinny for their age. Some of them obviously have a (childhood-)disease and walk around with faces all scratched carrying a little brother or holding hands with a friend. As we get deeper into the maze of paths and alleys we realize these people have a lack of everything, except for offspring. "Like rats in a sewer" is what comes into our minds more than once.
Accidentally we pass a school where underpriviliged children from this neighbourhood can take extra classes, to give them the chance to find a good job as a doctor or lawyer. It's an initiative of a teacher who's been working here for the past 27 years and he's supported by a whole bunch of volunteers, who coach the kids in their own discipline. It's an amazing project, largely supported by well-doing Turks, who give up part of their income for charity, being a good Muslim. One of the teachers strolls through the neighbourhood with us, visiting a mosque and teaches us how to say "I have no money" and "go away" in Turkish. We're asked for money at least once a minute now by the dozens of kids chasing us and playing in the streets.
> Diyarbakir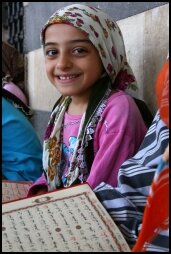 27-08-2008 As early as possible we're going out, to avoid the heat as much as possible. In the maze of alleys we frequently ask for directions and eventually we find all the mosques we'd like to see. At Behram Paşa mosque we stay a little longer. At the doorstep of the main entrance a group of girls and their teacher are seated. One by one they recite a part of the Qur'an they've learnt by heart: very impressive that they're able to literally recite whole pages.
In this area of the city there's also a Syrian church, only used by a small community of Assyrians. The head of the church proudly shows us the beautiful, centuries old building. Especially four stones from a temple that's even older than the beginning of the Christian era are remarkable.
When we then wander in the direction of a mosque in the deep South of the old city, we see more and more tin slums in the alleys. Twice we're even warned for purse-snatchers, who'd be running off with our backpacks. Suddenly we look at the groups of yelling kids and adolescents around us in a whole new way and we do the only sensible thing: go back to the main road. We're rather fed up with the contstant yelling of "tourist, money, money" now as well and get back to our room.
When we're almost in front of our door we're asked where we come from for the umptieth time. This time, however, it's a rather convincing: "Are you from Holland?" It turns out we've met Mehmet Ali. Ali is now a friend of Els and Aldert, two other globetrotters, who visited Diyarbakir a couple of days earlier. Ali is very enthusiastic, and after he showed us all the places he showed Els and Aldert a few days ago, he likes us to come along to the editorial office of Yeni Yurt, a local newspaper where he took them too. His good friend and editor in chief would love to write an article about us too. We're not sure, but according to him it's an "opportunity" we can't let go.
A bit later we're at the newspaper and someone writes a story about our trip, but especially about how we love Diyarbakir. Two photos are added and less than two hours later we're leaving with a few copies of the
Yeni Yurt newspaper
of 28th of August. Still hot from the press.
> Sanliurfa
28-08-2008 In a short ride of less than 3 hours we move on to
Sanliurfa
, another city with a very long history of Persians, Armenians and Assyrians, once the alleged residence of Abraham and Job. However, we don't go out immediately however, since it's 45 degrees today.
Only far in the afternoon we go out, but still the oven hasn't cooled down. We get an interesting impression of Sanliurfa. Like a handful of Middle Ages has been mixed with a bit of 2008. Antique houses are next to fairly new shops and there's also a former Armenian church, an Ulu Mosque and also the mound with the castle where Abraham would have jumped off, the garden where he landed and his birth cave. Yeah right, we think it's just a nice oldfashioned looking place.
Soon people approach us for a chat and we play a game of "Damma" (Turkish style Checkers), while drinking tea in a former caravanserai.
29-08-2008 This morning we go for a nw walk along some sights, when we meet a middle aged man and his wife. Both of them wear purple scarves around their heads, something we see a lot in this area. The wife also wears a beautiful dress full of glitter and her face has been decorated with some tattoos, something we've seen a couple of times in Diyarbakir as well. The man wears a giant pair of glasses and the both of them are a remarkable couple. They find us rather remarkable as well and they let us know they'd love to invite us for lunch, after they've done their prayers at the mosque. What a difficult decision that is: a wonderful chance to take a look at a family home in a real working class neighbourhood, but also not entirely without risk in this area, as we already found out. In this city too the kids are very interested in our "money" and we have to carefully watch our bags when another large group of them encircles us. Eventually our guts tell us we'd better not go with them, so we let this opportunity pass. Perhaps once there will be another one.
We climb right through the mound to the castle, where we find two age-old columns. One of the columns contains Aramaic characters, the language Jesus would have spoken and which is at ever larger risk to disappear. One of the watchtowers contains very old, recycled stones from the Byzantine era. It's obvious that this part of the world has a very rich history.
At 10 am we're all covered in sweat and after we've done a quick stroll over the bazar we first return to
our room with aircon.
In the afternoon we visit the museum, with interesting items on various cultures.
> Harran
30-08-2008 We got up before dawn, to see what we'd like to see before it gets really hot. Harran is one of the hottest places in Turkey, in the middle of a plain with desert sand. When our van finally races out of the city it's a fast experience, everything is só flat that we're in Harran in slightly more than thirty minutes. First we get rid of some pushy guides and we pass an old entrance gate. This is one of the longest continuously inhabited places on earth, even in the Bible
Harran
is mentioned and according to the legends this has been a temporary residence for Abraham as well.
In the ruins that are still standing and also in the fragments spread all over the place we see the remains from different times of history. The nearby village seems centuries old. The houses, in the shape of bee hives, are only used as storages, but once people lived in here. Nice and cool during the summer months. Now they're sleeping on elevated beds, standing next to clay houses. Inside it's unbearably hot, even at night.
When we've also inspected the fortress we return to the city, where we stroll around the busy Medieval-like alleys.
31-08-2008 We're leaving Sanliurfa, and are just able to claim the last two seats in the next bus. After about three hours there's some turmoil about where we have to change, but eventually we end up in a minibus to Midyat. A minibus which first does 5 rounds through the center, to return to the tiny bus station once more, where now every empty seat is taken.
In Midyat we have the options of a hotel without private bathroom and toilet or a luxurious place, which we obviously find overprized. Since we appreciate a little privacy when taking a shit we have to empty our pockets and make the best possible use of the room by sleeping all afternoon.
> Hasankeyf
01-09-2008 Today Ramadan starts, so at 8 we're the only ones in the breakfast room. The other hotel guests had their breakfast at 3 this night, but especially for us they left something. Apparently we're the only ones ready to take the risk of Allahs disapproval and we peacefully enjoy our breakfast.
A bit later we drive out of Midyat, the landscapes are getting more barren, but also more beautiful, by the minute. We're on our way to
Hasankeyf
, a wonderful old village, unfortunately threatened by a flood. Perhaps the inhabitants can go to Mount Ararat for advise, where, according to the legends, Noahs ark drifted ashore. In 2013 this entire area is supposed to be under 40 meters of water, when another dam of the Turkish government is completed. When that happens a whole bunch of great history will disappear. What a waste! Fortunately we're still on time and we enjoy all the spectacular landscapes, the centuries old bridge, the Elrizk Cami and the cave dwellings.
The houses, carved from the soft rocky soil, are much more numerous and better preserved than those in
Cappadocia
and the fort is definately worth exploring. We also walk to Zeynel Bey Türbesis tomb, where the beautiful green-blue mosaics are still visible.
There are only few vans back to Midyat, so we have to wait quite a while before there's one showing up. This van's a;ready pretty full, but after moving a bit closer together (read: cramming) we can just squeeze in (read: just can't). We're like harings, not a good thing with temperatures like this. Fortunately our driver speeds up a bit and back in Midyat we take a look in the old city, wonderfully preserved and partially restored.
02-09-2008 When we drive out of Midyat, after waiting for the first bus for more than thirty minutes, we hear a plaintive wail from under our backseats. A goat's just been shoved into the luggage compartment and even with tied legs it knows how to wrestle its way out of there, to snuffle at our feet for a while. When we get off thirty minutes later, the goat has moved halfway into the van, but nobody seems to notice.

As soon as the van moved on we're in a desolate, hilly landscape, where the only vegetation are some low bushes. It's quiet here and the only ones we meet on our 3 kilometer walk to the Morgabriël monastery are a mother and her children with a large herd of goats. The monastery isn't all that special, but in the church the silver Bible and remains of some ancient mosaics are worth checking out.
We're almost back at the main road when we're offered a ride by the group of Assyrian Christians we just met at the monastery.
In Midyat we change to the public bus to Mardin, where we spend the whole afternoon visiting the Chriatian church, various mosques, the bazar and the Kasimiye Medressa, that offers a magnificent panorama on Mesopotamia.
> Even further East
03-09-2008 The busride to Tatvan passes through breathtaking landscapes, that are particularly empty and mountainous. Just every once in a while we see a shepherd with a large group of sheep or goats. Mid-afternoon we see the Van-lake, where we'll be looking around at different spots in the next few days, for the first time.
> More Info
Also check our
Turkey info page
, where you can find a lot of information about Turkey and come see our
South Eastern Turkey photos
.