Côte d'Azur Travel Journal
This travel journal is from 2012. We also visited the Côte d'Azur in 2003.
> From Languedoc-Rousillon to Côte d'Azur
21-07-2012 From time to time the highways are pretty busy and at the few tollgates we cross we encounter a 20 minute line, but in around five hours we reach Mandelieu, coming from
Pézenas
. Our first thought when getting off the highway is pure shock and disbelief. It seems like we arrived at a copy of the specter we always had in mind of the Costa del Sol, with its ugly apartments in mansions, all along the coastline. Horrible! Fortunately Tom sends us all the way to the end of the village and it all looks much better there.
To our surprise the address seems to be wrong. At the place where we end up we do find a campsite, but its name is completely different from the one we booked the apartment at. We decide to go ask for directions at the reception of this campsite, as we don't see any signs to "our" camping yet as well. The answer there is slightly funny: "yezze, you are zzaire… we èvve zzjainzje ze naime". How lovely that we didn't get that email informing the people about that, but at least we've found the place now. The apartment is nice, spacious and new and is at walking distance from the sea, where we first go take a look. Nice promenade along the water, especially when leaving the real tourist beaches.
When buying groceries at night at Géant Casino we're asked why we're staying in line to wait for our turn. Uhm… excuse us? Turns out pregnant women are allowed to pass the line and come first at all the large supermarkts in Frankrijk. They even have signs for that at the pay desks. Haha, good to know now and we might suggest this back home in the Netherlands.
22-07-2012 This morning, after a late breakfast, we start with a walk along the sunny Côte d'Azur. To our surprise there are drops falling on our heads at lunchtime and in the distance we hear some thunder.
An hour later the thunder is right above our heads and the rest of the day it stays wet. Time for a mandatory rest day, not a bad thing actually.
> Cannes and Nice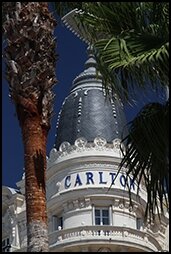 23-07-2012 Right in front of our camping there's a busstop, where the bus to Cannes also stops. So that saves us the stress of driving in a busy city and finding a parking place. Due to heavy traffic it takes us a whole hour to cover the ten kilometers to the city.
As in many cities here the port and the boulevard are "the place to be" and especially "to be seen". Big, bigger, biggest is what seems to be the motto of the boat owners and expensive, more expensive and most expensive of the car owners. Soon we're done here and we catch the train to
Nice
, just over thirty minutes further on.
We've been here before, at our very first real trip by plane together, about ten years ago. Once again we stroll the boulevard and harbour, to finally climb the mount separating these two and offering a magnificent view, before we take the night train back to Mandelieu – La Napoule.
> Port Grimaud and Saint Tropez
24-07-2012 We've had our deal of walking yesterday, so today we take our car for a day out.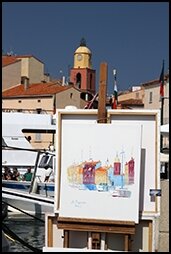 We already figuered the coastal road to Saint Tropez to be busy, but we didn't expect to be still stuck in traffic after two hours, not able to move back or forth. We have a lunchbreak in our spacious trunk at the side of the road, to continue in good spirits. It's far in the afternoon when we finally arrive in Port Grimaud. However it truely is a picturesque little town with its colourful houses by the water and cute boats and they sell delicious, homemade icecream.
For the final stretch to
Saint Tropez
we have to line up in a huge traffic jam once more, but we do want to see the place where the Gendarme-movies featuring Louis de Funès with our own eyes. Actually the port with its extreme yachts is the main attraction here as well and the latest bestseller is to do a boattrip to the celebs villas. Not really our cup of tea and Louis would probably have cursed when he knew all this.
On to Ramatuelle, a picturesque mountain village in the hinterland, where we have a quick look, before we start the three hour journey back. And all this for just eighty kilometers…
25-07-2012 We think it's time for another day of relaxation and read a bit, play some games and only at night, when it's a bit cooler, we go for a walk to the beach.
> Gorges du Verdon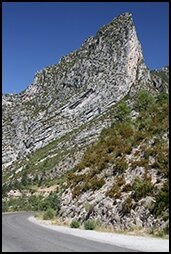 26-07-2012 It's still early when we get into our car, to drive to the hilly hinterland of the Côte d'Azur, where the landscapes are getting more beautiful by the minute. By ten thirty we reach Castellane, a small, but bustling town at the start of the
gorges du Verdon
.
As we drive further into the canyon the views are getting more spectacular and every now and then we stop for a photoshoot. First we follow the Route des Crètes, where we climb to a fabulous cliff, allowing us to see hundreds of meters straight down into the Verdon river. High above us two vultures are hovering on the air currents, carrying them to ever greater hights.
Further on we join the main road again, following the gorges all the way to the point where the river eventually flows into the beautiful, blue Lac de Sainte-Croix. We cross a bridge, to follow the Corniche Sublime on the other side. As the name suggests the views are sublime here as well. We make many stops and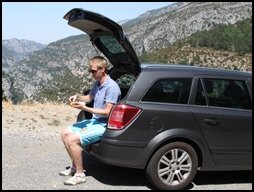 it's already late when we finally get back at our apartment. It's only nine when our exhausted bodies lie down in bed, after this long, but wonderful day.
27-07-2012 After a quiet breakfast we go shopping in Cannes, where we find a much cheaper and nicer alley full of bags, accessories and gadgets right behind the expensive shopping street for the elite. In the afternoon we buy some groceries for the trip back home and we pack most of our belongings, allowing us to leave early tomorrow morning.
28-07-2012 Based on the traffic forecasts again we've decided to follow an alternative route, partly following the route Nationale once more. Now our travel time is prolonged by ninety minutes compared to the autoroute du Soleil, but now we don't have to queue up for hours. We're glad we did so, since we see some very pretty landscapes on our way we would have missed when going for the original plan.
> More Info
Also check our
France info page
, where you can find a lot of information about France and come see our
Côte d'Azur Photos
.