Croatia Travel Journal
This travel journal is from 2009. We also visited Croatia in 2003.
>Traveling again... to Croatia
18-07-2009 We kind of settled in Holland again and as there's not much to do for a living during these summer months, we pack our tent and other camping gear to drive South to Croatia. Exactly as in our memories of former holidays in Europe, there's a lot of rain while driving, but still we're making progress and around noon we start thinking about our next night. We booked an Ibis-hotel, like we always do on trips like this.
At least… that's what we think befůre we find out that our reservation is for another night. When we check the hotel papers again we find see the booking is for the 20th of July and not for the 18th. We quickly call them and are told that they are fully booked for today. All the owner's efforts to find us another place to stay fail and that's how we end up driving South without a reservation on one of the busiest days of the year.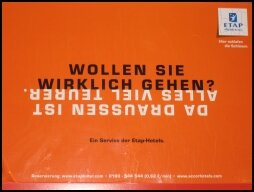 When evening falls we're getting tired, as we suddenly see a sign from Etap alongside of the highway. We follow the signs, but after a kilometer or so there's no further one to be seen. Luckily we're just in Germany and not in
China
. Now we can easily find a person who can give us reliable directions and a little later we park the car on the Etap parking area. A poster near the entrance warns us: you're now entering a non-luxury zone. Forunately they have two spare rooms left and one of them is now ours, luxury or no luxury. When entering the room we're surprised. There's more luxury here then in all the rooms where we slept in
India
together: well shutting, soundproof windows, neatly stucco walls, wall to wall carpet, even a tv and internet in the room.
Thanks to this internet connection we find out that tomorrow huge traffic is expected around the Tauern tunnel, where today people had to wait seven hours to get through. That's why we get into our beds real early, to get up before six tomorrow.
19-07-2009 Exactly at six we hit the road, to be at the Tauern tunnel on time. Before nine we're already through the tunnel and an hour later we hear the first reports of traffic jam on the radio. We still get an unpleasant surprise. Apparantly the autobahnvignet on itself doesn't bring the Austrians enough cash to maintain the roads and tunnels in the country. At a tollgate an additional €9,50 is charged. At the Karawankentunnel we don't buy this joke a second time and Bram, the little man in our new TomTom, safely leads us around the tunnel. It just takes us another 30 minutes and saves us the extra money.
After an hour on the Slovenian highway we turn onto a smaller road and almost immediately we're stuck in traffic. The line hardly moves and an hour later we find out that this is already the border.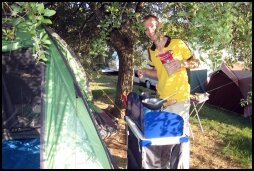 When we're through it's just another hour of driving and we're right on time to get one of the last empty spaces on Pomer Campsite. The natural campingground offers a lot of shade and we can build our tent among a few olive trees. Unfortunately the ground is so hard that after an hour we just got one haring into the ground. Inbetween two other places, on a grassy and softer piece of ground, is a giant tree with overhanging branches. One of the neighbours allows us to put our tent right under that tree, a place that seems perfect for us. We now have a treehouse with all day shadow and a tiny seating area as a bonus.
>Istria
20-07-2009 Today we visit
Pula
, do some shopping and relax at our treehouse.
21-07-2009 During our first trip to Croatia we were highly impressed by the small, oldfashioned villages with their wonderful old houses and little churches in Istria. That's why today we return to two of these villages: Labin and Plomin. Plomin has changed a lot. All the deserted and dilapidated huses have been restored and are again inhabited by young people, who own a tourist information, make souvenirs and opened a small cafe. Flashy magazins show which places can be visited and in onw of those magazins we read about the old little village of Kršan.
Kršan turns out to be only ten minutes by car from Plomin and we decide to go there for a visit. We're surprised to find a guide waiting for us and he is pleased to show us around in the village castle. There are no other people to be seen and almost all fifteen houses of the village look worn and decrepit.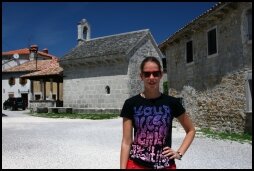 Money is needed to make it all beautiful again, but right now no money is available. Still we wouldn't be surprised to even find this village restored in a couple of years.
Via Pićan, another cute little village on a hill, we drive to Gračišće, still on our mind from last visit. The tiny shop where we bought sandwiches and spreads last time has turned into a small supermarket now and restoration has begun here as well. The churches and belltowers look beautiful again and many of the houses have been wonderfully renovated as well. What a difference with the looks of six years ago. Via Pazin we drive back to Plomin.
22-07-2009 We make a wonderful tour to Vodnjan, Rovinj, Poreč, Motovun, Livade and Oprtalj. Old houses are being restored everywhere, mostly by foreigners. Everything looks more neatly and modern compared to the last time we were in Istria. Still the atmosphere has been preserved well, especially in the interior.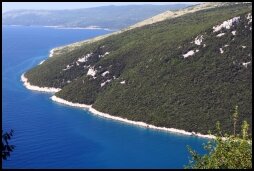 23-07-2009 We stay on our campsite Pomer for a relaxing day.
>to Zadar
24-07-2009 Today we move further South, along beautiful white islands and a gorgeous blue sea. The route is really wondeful and the road in good condition. We are well underway and just after noon we reach
Zadar
. Camping Plantaěe has a place left for us: in the shadow of nice green trees, right at the seafront.
Unfortunately the earth is extremely hard again and it takes a lot of effort to get the harings in the ground. It doesn't spoil anything for us, what a nice spot is this again.
25-07-2009 Last night our airbed got more smooth twice, right untill some really hard rocks under our buttocks made us decide this was not even close to comfortable anymore. So today we first need to find us a new airbed. Near our campsite there are just some tiny shops and that's why we drive about 40 kilometers to Zadar. The past couple of years many foreign supermarkets have been opened in Croatia and at Aldi we buy a new airbed.
Now that we're here anyway we also enjoy the sights of Zadar's downtown area. It's a beautiful town with lots of ancient structures, but also some modern ones, like the sea-organ and the monument of the sun made of solar cells. Once again we're impressed by the efficiency and the extensive and free information of the Tourist Information. We even find a campguide for all of Croatia.
26-07-2009 The National Park Paklenica is only a stone's throw from our campsite, so that's why we arrive there early in the morning. And that's a good thing, as you have to walk further to the entrance by each new car arriving at the parking lot.
We hike for some hours through this wonderful green environment and mid-morning we climb a mountain in which a deep cave is hidden. The views over the park are amazing from this elevation.
>Plitvice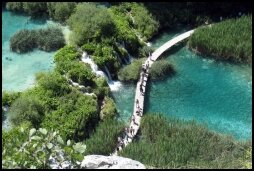 27-07-2009 For the trip of today we have to travel a bit further. Plitvice is almost two hours by car through the Croatian inlands. As many prices have gone up lately, the entrance fee and the parking money have been raised quite a bit since our last visit. We give our Thai student cards a go and thanks to the handy designer at Kao San Road we are not broke after today's excursion, as we may enter for half the price.
Once inside we shuffle among the many other visitors on the narrow paths along breathtaking waterfalls and clear lakes. A bit further from the entrance it's slightly better, but over all this Croatian super mustsee is a tad too busy for us. Too bad to discover that every advantage has a disadvantage as well.
>Southern Dalmatia
28-07-2009 We continue our tour to the South, along the coast. The water of the Dalmatian coast gets more blue all the time. Near Omiš the image gets even more beautiful with impressive, bare mountains right to the water. This is by far the most gorgeous part of Croatia and not just in our memory!
The sound of the many cicades is deafening and the pinetrees are wonderfully green, along the blue coastline. The only thing is that it's extremely busy here, on the road as well on the campsites. Such a difference with six years ago! We even get stuck in traffic.
We move on untill just past Omiš, where we stayed in the Ruskamen apartment last time. The first campsite we check out is nearly full and not all that nice. We turn around and go back a bit, to a place where we saw another campsite. We get the feeling this spot is nearly a few kilometers from th Ruskamen apartments. The places here are smallish, but nice and all offer great views over the water. The first and the second spot are too small to fit our tent, but on a third one we can manage to put it up. Unfortunately we're right next to the path to the toilet block, with little space to sit, bet well...the view and the cicades make up for that.
First we go for swimming and when we get down to the water we see the sign from the neighbouring complex: the old Ruskamen! Not a couple of kilometers. We're right nextdoor. In the evening we dig up our bbq, but right here it's not allowed to use them near the tent and naturally we're being spot by the owner within a minute. However there is an oven for genaral use and we are allowed to put our bbq in there and sit next to it.
That night we don't get a lot of sleep. Our sleeping compartment is right next to the path to the toilets, being used until vry late by noisy families.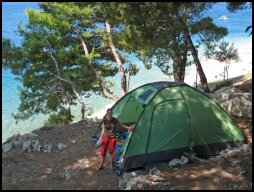 29-07-2009 The next morning, as soon as we spot a family packing in a far corner of the campsite, on a big spot, we walk over to get information. Indeed they are leaving within an hour and we quickly move over there with all our stuff. This spot is much bigger, offers more privacy and is right next to the beach. A huge improvement, giving us the idea to never leave again.
We're being lazy all day and enjoy our nice new place.
30-07-2009 In the morning we first do some sightseeing in Omiš, with its medieval, elevated castle and then we continue our way to Salona. Here they have been really busy during the past six years. The antiquities from the Roman empire have partly been reconstructed and signs have been put everywhere.
An additional advantage of our new camping spot is the presence of a second bbq-place, right at the waterfront, where we light the fire in the evening. While eating we sea a huge group of dolfins swimming by. Wow!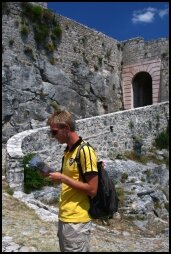 31-07-2009 Trogir, just over thirty minutes from Omiš, turns out to be much more beautiful then in our memories. Great buildings are situated in a carfree downtown area and the town is wonderfully located on the water. We stroll around for quite some time.
Afterwards we visit the Kliš castle, with a splendid view, but as a sight on itself it's a bit boring.
01-08-2009 Following a breathtaking part of the Magistrala we end up in Brela and Baska Voda, but in both resort villages it's so busy we hardly recognize the places. It's packed with tourists who are cramped on the beaches. We totally dislake the places and continue our tour to Makarska. There's not much to do here, it's almost deserted, but even this town can no longer tempt us. The atmosphere we once liked so much in this part of Croatia completely vanished in the past couple of years and that's a real pity.
02-08-2009 We drive to Sinj for the annual horse games, but when we arrive we're told the games only start around six. We decide to first get back to Split, where it's crowded and touristy, but not really special. Another disappointment, with nicer memories then present reality.
03-08-2009 We just relax at the bach for a day. Tomorrow we'd like to visit Dubrovnik and from here that's not an just a short drive.
04-08-2009 In the night we wake up by thunder and as the morning comes it's still cloudy. We decide to postpone our visit to Dubrovnik, as our photos won't be pretty with skies like this. We do make a roundtrip through and around the Biokovo reserve. We end up on a small road through the inlands, abit off the coast. Here we find Croatia as we remember the country: beautiful old houses in nice, atmospheric little villages. We are happy to find it still there!
>Dubrovnik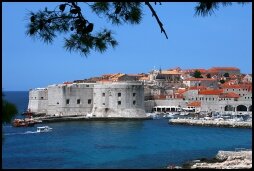 05-08-2009 As we'd like to start our return trip to the North tomorrow, today is our last chance to visit
Dubrovnik
. Unfortunately it's still not really sunny, but we have no choice and still drive all the way down there. Masstourism also found Dubrovnik and for the round on the citywalls we need to invoke our Thai student cards to not get completely robbed.
Fortunately the town is still really worth a visit, but taking photos without other tourists on it, like we did last time, is not possible anymore. Around noon the sky is completely clouded again. By that time we've seen most of the sights and chased by thunder we leave town, back North.
06-08-2009 For the last time we pack our tent and via Slovenia and Austria we drive to Germany, where we spend another night at Etap. We kind of liked the luxury here.

07-08-2009 The second part of the journey doensn't bring any setbacks and before the night falls we're back in Holland. We still can't call it "home" yet.
> More Info
Also check our
Croatia info page
, where you can find a lot of information about Croatia and come see our
Croatia Photos
.