Jordan Travel Journal: Kings Highway
This travel journal is part of a series of journals, which are all written during a long trip between november 2007 and may 2009.
> Dahab to Aqaba
17-04-2009 There are two possibilities to travel from Dahab to Aqaba: by ferry across the Red Sea or overland through the tip of Israel. The first possibility costs eighty Dollars a person just for the boat. Furthermore you have to be in the harbor two hours prior to departure and departure times are extremely unreliable. That's why we decide to take the bus to the Israeli border and we prepare for extensive security procedures and a lot of questions. Nothing is less so. Thanks to our great experience in Asian hustling we're way too quick for the impatient Arabs in the line to leave Egypt. Even the Israeli side is not that much of a delay as we'd expected. Questions are being asked about the reason of our visit and the lense of our camera needs to be removed to check the inside, but that's all. Besides, everything is very efficiently organized here.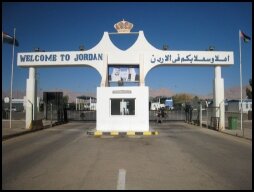 The ten kilometers to the Joranian border we have to cover by taxi, so we've agreed to share a car with three feloow travelers. A good way to cut costs. The first taxi we see is a huge Mercedes, so we think it's our lucky day: some fine transportation for us, since the luggage easily fits in the trunk. But then the guy behind the wheel says he doesn't want to take us, maximum four passengers. But listen, that car of yours is giant, we can easily fit in there, isn't it?! The past few months we've seen people squeezing themselves into much smaller cars with many more persons. But whatever we come up with, we can't change the driver's mind. Five is one too many, according to him. Another brand new, big car is approahing us and we ask to be taken to the border. We get the same story again: the insurance covers only four passengers and if the police see us hit the driver will lose his license. Ow. That's right, how can we forget about something like this, while the rules are exactly the same in our own country. So eventually we decide to take two taxis, but we still find it a waste: all these big, new cars on the road and all of them only half full.
We're droped at the border and now we have to leave Israel again, after we've spent barely thirty minutes in the country. Departure tax is fairly steep, but it doesn't get anywhere near the price for a boat ticket. Next we go for our Jordanese stamps and we walk right into the next country: Jordan. The final ten kilometers to Aqaba are quickly covered in another taxi and at four thirty sharp we're in the center.
Our Taiwanese friend Nina, with whom we've spent quite a bit of time since we were in Southern Egypt, was forced to take the boat. She has to ban Israeli stamps in her passport, as she wants to travel on to Syria and Iran. She only arrives at nine thirty pm and payed four times as much as we did. We were lucky we don't want to continue to the Arab countries where they boycot Israel.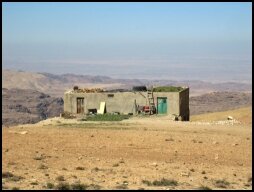 After our original shock in Israel, about the rules for the number of people allowed to share a car, we get another great surprise here in Jordan. Pedestrian crossings everywhere, completely forgotten about the existence of those things, and when you're approaching one of them all cars stop to allow you to cross the street! Hilarious. Motorized traffic who are willing to stop for us, outlaw pedestrians. The first few times we wave to thank them, but the Jordanians find this rather odd, so we quickly stop doing so.
> To Wadi Musa
18-04-2009 After our first night in Jordan we immediately set off to this country's biggest attraction: Petra. We walk to the bus station and wonder why no one's yelling the destinations of all these buses at us. How do we have to know which bus we have to take when nobody's yelling? What?! It's written on the front? Ah, that's a convenient system. A system we've actually known for all our lives, but which slightly disappeared from our minds.
Thirty minutes later the bus is full and on perfectly smooth asphalt we drive through the most beautiful landscapes. Everything is still barren, but the shapes and colours of the rocky mountains are constantly changing. We see nomads with their goats, sheep and camels everywhere, their tents somewhere in the background.
Barely two hours later we're already in Wadi Musa, the village which is within walking distance of
Petra
. We find ourselves a hotel and don't do much more than some household things.
> Petra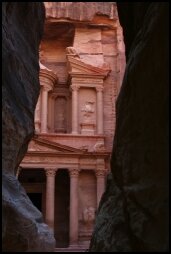 19-04-2009 At six we roll out of our beds, since we'd like to get our first impressions of Petra without the hordes of tourists who will, without any doubt, show up later today. The entrance and ticket selling point are almost thirty minutes from our hotel and that's why it's already after seven when we eventually walk into the
siq
, a narrow passage with rocks on both sides of almost one and a half kilometers in length. At some places the siq is barely three meters wide and the rock walls are towering hundreds of feet above us. At the entrance of the passage the stones are mostly white in colour, but the further we walk, the more colourful it all gets. We see wonderful designs of yellow, red and sometimes even blue. We gradually walk down and just when we start wondering whether we'll almost be there we catch a first glimpse of the pink-reddish
Treasury
. This is the best known image of Petra and completely hewn out of the stone wall behind the facade.
We also check out the chambers inside the Treasury and then we move on, to a "street" between the rock walls from where several tombs have been hewn. Some have amazing colours and we sit down to let it all sink and to have breakfast. During our breakfast Nina comes running to us, she missed our six thirty date, but has followed us through the siq at high speed. Together we continue to the amphitheater, some more tombs and the ruins of the actual city of Petra.
We decide to first ascend, to the hilltop
Monastery
, for which we have to climb eight hundred steps. A piece of cake for us of course, after
Mount Sinaļ
. The path over there is everything except boring. The panoramas are getting better by the minute and the colours of the rocks are so brightly coloured.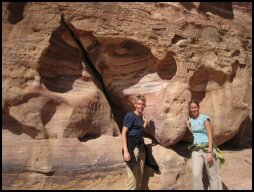 When we've reached the top we're a bit disappointed: the monastery is all in the shade, not the most ideal situation for taking photos. The building is well worth the climb, however. The entire colossus has been cut from the rocks and is extremely large. It just looks a bit grey and dark without any light shining on it. That's why we first continue for another few hundred meters, to a deep precipice with amazing vistas on the surrounding hills. We explore the area and find a place to relax, where we can still see the monastery.
After we waited for almost two hours the first sunrays finally touch the facade. Now we'd like to fill our memorycard with good images and we focus and click for a while. About an hour later we walk back down, where we find out that it's already late and we have to admit that the nearly ten kilometer hike from our hotel to the monastery was not just something. We have to get all the way back as well and with the necessary stops to take some more pictures we get back to Wadi Musa, our village.
20-04-2009 Today we're going out a bit later and near the entrance of Petra we arrange for a rental car for tomorrow. We'll be driving around for three days, together with Nina. Some places in Jordan are hardly accessible by public transport and when traveling by rental car it's easy to stop at all the nice photo spots.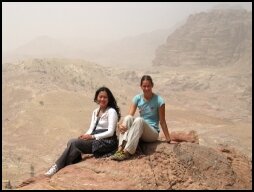 Then we follow the siq for the second time and we enjoy the sight of the Treasury once more. Next, a steep ascend takes us to the "High Place of Sacrifice", from where the panorama of the major part of Petra is sublime. We check out the sacrificial place and the stone obelisks in the vicinity. Then we descend at the backside of the mountain, where we can see more extremely colour patterns in the rocks.
At the Lion Fountain, where water was once running down, sits an old Bedouin lady, waiting for customers at her souvenir stall. As soon as she sees us she jumps up and approaches us. She's learned a few words of English, like lion and camel-bone, of which her merchandise is made. We're not all that interested in her souvenirs, but Yvonne likes to take a picture of her. Then she senses this old crone is almost blind, since she has cataracts in one eye and the other eye is looking in another direction. She grabs one of her hands and takes her along to a sunny spot. After a few pics the sweet elderly woman wants to chat a bit, even though she can't really express herself. Apparently she's lonely and during our descend we haven't seen any other tourists as well. It's such a sweet lady and Yvonne puts a Dinar in her hands. She's so happy with it that she spontaneously treats Yvonne on two kisses. This is all so different from Egypt, where people only ask for more when you give them something.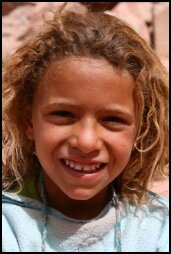 We descend a bit more and have lunch in a ruined temple. When we continue walking we meet Hayaan, an eight year old, blond bedouin girl. She sits at her little stall of coloured stones, like the ones you can find yourself sometimes in this area, they're sold by many Beduins. While Nina and Peter pay a visit to another tomb Yvonne chats with her. The girl has quite a large English vocabulary and she loves to be photographed. When Yvonne gives her a balloon so that she doesn't have to feel bored while she's waiting for customers, she wants to give one of her stones in return. Of course we can't accept this sweet gift, but she insists and then quickly puts the stone in one of our pockets. We say goodbye and walk the final kilometer to the main path.
We look into several of the major sights of the old city of Petra, but are kind of exhausted after that. We've been walking a fair bit again and we feel worn when we're finally back in our hotel.
> King's Highway
21-04-2009 At nine sharp we're waiting for our rental car, with Nina, but all that is passing us... it's not our car. The first fifteen minutes we figure it's got something to do with Middle-East-time, but at nine twenty we call the hotel where we arranged the car. Unfortunately there's not an English speaking person there, but the manager of our own hotel volunteers to help us and after he hung up he murmurs something about us being called back soon. His English is rather minimalistic too and we don't really understand what he means, but patiently we sit down.
Fifteen minutes later we're still sitting at the same spot and we make a second call. Now Peter is put on hold with a nice background music. A few minutes later there's someone who wants to speak with him, but again it doesn't work out in English. Our helper tries again and now we're told there will be a car for us in ten minutes.
Ten minutes later the phone is ringing. Someone informs us through the reception that, unfortunately, the car didn't come from Aman and that we might possibly be able to leave at three pm. Aghast we look at each other. We decide to cancel the car and to get our downpayment back. Then we try several ways to arrange another car for today, but yesterday we already understood it's a bit hard. None of the rental companies has anything left in their garage and all the agents are calling the same companies. It seems like there's a chronic lack of rental cars in Petra, as it seems.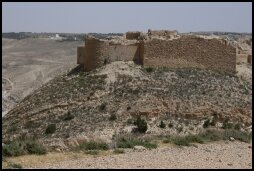 Then, at a very last attempt at a travel agency, we find someone who can help us. Immediately a car is sent to us from Aqqaba, so in less than two hours we can still hit the road. And so the three of us are driving towards the King's Highway right after noon.
Our first stop is a gas station, where we laugh our asses off about the prices. Gas is even cheaper than water here! Twenty liters are not even costing us ten Euros. Then we drive through the desertlike landscape to Shobak kasteel, where we only check out the exterior. The ruins of the ancient structure don't seem all that interesting to us. Meanwhile we enjoy ourselves yelling all the shitty things we've heard for the past six weeks every time we go out here in the Middle East: "taxi, sir?", "very cheap", "no bus coming today, sir, bus always late", "hello, where you go? I can drive!" Unfortunately we're unable to get any customers and we feel bad for all the poor guys who have to spend every day of their lives driving through the streets like this.
Back at the King's Highway the landscape is getting more mountainous, but all of is still yellow sand and rocks. The only distraction comes from the police officer who stops us for overtaking an extremely slow vehicle across the center divider. We give him our silliest smile, "well, foreigners like us are not at all used to any traffic like this, blabla". We don't tell him that we haven't been driving a car for nearly two years and this is the first attempt, which goes fairly well for the rest of the journey by the way.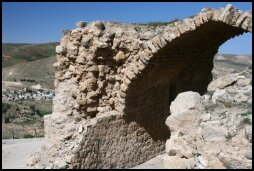 We're glad we only get a warning and we don't have to pay the guy. How different would situations like this have ended in countries like India, Cambodja or Egypt.
After a tour through ever greener areas, from time to time even decorated with a few trees, which we enthusiastically call forest, we reach
Kerak
. We move into the only affordable hotel in this hillside town and decide to postpone a visit to the castle until tomorrow. It's almost getting dark now.
> Kerak and Wadi Mujib
22-04-2009 As said before we start with the castle, a wellknown phenomenon to us, but for our Taiwanese friend Nina completely new and very interesting. Therefore it's almost noon when we finally drive out of Kerak. Again we follow the King's Highway, although we have some difficulties finding the right road. Landscapes are a bit monotonous, but that changes as soon as Wadi Mujib comes in sight.
Wadi Mujib
is a gorge with a depth of one kilometer, with barren, rolling hills on both sides and a reservoir and a river down there. Altogether it's an impressive image, so we have plenty of options for the lunch with a view we were planning. In the distance we see the Dead Sea through a foggy curtain as well.
After our lunch we drive into the gorge and back up on the other side, along more winding roads.
We continue our tour on the same road and after another thirty kilometers get off at the exit to Mukawir. The landscape is much greener here and more interesting and especially the stratification of the earth is a crazy sight. Sometimes there are sudden, deep holes and in some of these caves we see nomad families who have moved in. Others are living in tents, which have been almost completely abandoned during the day, since everyone's out with their lifestock. Large herds of sheep are grazing on the mountain slopes, an incredibly beautiful sight in the late afternoon light.
Unfortunately we don't have enough time for an extensive exploration of the Mukawir castle, as the sun quickly sets and we'd like to get back to Karak before it's completely dark. So we turn around and get back home.
> Dead Sea and Madaba
23-04-2009 This morning we're leaving the King's Highway to follow the shore of the Dead Sea up North. So strange, to realize we're now at the lowest point of the earth. We make a short stop to examine the extremely salty water, but none of us feels like diving in. We ascend to a place at sea level, which means we have to climb for four hundred meters from the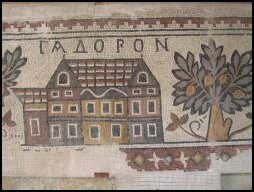 Dead Sea's shore, and enjoy lunch, with the panoramas of the mountainous surroundings behind and the blue Sea far below us. Then we continue to Madaba, where we first find a place to sleep, before we check out the city's famous mosaics.
> Amman
24-04-2009 The final stretch of highway to Amman, The Jordanian capital, is just a short ride. After less than an hour we're in the center of the city and by chance we run into a hotel with acceptable rooms for a fair price. We spend the rest of the day in our room, where we have the luxury of internet access.
25-04-2009 It's not too bad to take another day's of rest, since the outside temperature is barely twenty degrees, so we stay inside where it's nicely warm.
> Jerash
26-04-2009 While Peter is occupied with the finishing touch of a website for his new company Moovio Online Marketing, Yvonne and Nina go out. First we race through the city in a taxi, looking for a place where Nina can withdraw money with her temporary creditcard. She lost her other card and now this seems to become a bit of problem, because she's running out of cash. Unfortunately the temporary card isn't working properly and we go from one place to the next. After an extensive search we give up and we ask the taxi driver to take us to the bus station.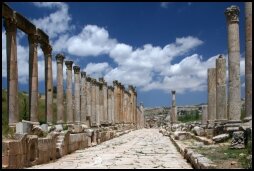 We'd like to catch a bus to
Jerash
, the ruins of a Roman city, and the Muslim population immediately notices we're traveling without any male guidance. Whether we're married is the first question of the guy in front of us, since his brother is looking for a tourist. Fortunately the thick Lonely Planet in Yvonnes hand and corresponding comment, in combination with an obvious gesture, are enough for the rude man to turn back forward. We never get a second look, so at least the message was clear enough.
After an hour we get off at the entrance and after we paid the steep entrance fee we enter the archeological site. It's mostly many columns of the ancient city, which are still standing tall and a couple of walls and all of it is wonderfully situated in the middle of green fields and uncultivated flowers and plants. Together with the golden afternoon light it's a perfect place for great photos. We're wandering around for almost three hours and especially the Southern arena is impressive. After a quick visit to the small, adjacent museum we catch the next bus back to Amman. There we find Peter done with his website and we have a final meal together. Tomorrow we'll catch the bus back to Aqqaba, where we'll cross the relatively easy border to Eilat, Israel.
> More Info
Also check our
Jordan info page
, where you can find a lot of information about Jordan and come see our
King's Highway 1 photos
and
King's Highway 2 photos
.