Norway Travel Journal: the South-East
This is the first travel journal of our tour through Norway. There's a second one about the Fjords as well.
> Journey to Norway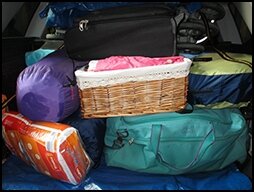 10-07-2013 After our initial joy from yesterday, about the fact that even our foldable camping chairs seemed to fit in the back of our car, we have to leave the chairs behind at last, since we had to add a few "last little things". Well, sitting on the floor at a nice picknick spot isn't too bad, is it?
Vera perfectly enjoys herself during the 7 hours we spend on the highway and the 3 on the parking lots next to it. Sleeping, playing, singing... just like home. There's a lot of freight carriers on the road too, but fortunately there's no sign of all the stressed holidaymakers, speeding South in their stuffed cars on the Autoroute du Soleil, so those trucks are an okay change.
It's just after seven when we check in at Motel 1, The Danish version of Ibis Budget hotels. Fine place to spend the night, but for the average European, who has never visited Asia, probably a little less clean than they're used to. At least we don't have to feel guilty about the wonderfully contrasting avocado- and pepper stains Vera applies to the duvet. Now we suddenly understand why certain indefinable stains are decorating many hotel rooms.
11-07-2013 The highway in Northern Denmark is even more quiet than the one to Groningen and we have plenty of time to get to the ferry. We queue up and after some downtime, in which Vera enjoys herself behind the wheel of our car and we check out the remarkable folk who apparently will cross the Skagerrak with us, we're allowed to board with our car. Unlike usually, when we're the first ones to enter a boat, train or bus with our Luggage... we're now the very last ones, since we don't exactly travel light this time.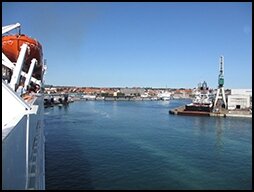 Still we find ourselves a pleasant spot on the outherdeck, where we can enjoy the lovely sunshine. The crossing takes all day and in the early evening we enter the beautiful Olso-fjord, still on deck, still outside. On shore we see wooden houses, all of them colorfully painted. Nature is already very beautiful here and arouses expectations for what we will see in the next few weeks.
Disembarking the ferry takes long. Not only since all of those lines of cars, with or without roof boxes or caravans, campers and trucks have to disembark one by one, but also because of the checks at customs, which take a long time. Each car is suspiciously looked into and sniffer dogs are used to patrol the lines. Fortunately we don't have to open anything, but all the Czechs and Polish are screwed. We soon find out that the Norwegian language is surprisingly understandable for us. Half of the words is very similar to German or one of the Dutch dialects and apparently they also borrowed some words in England, so with a little bit of imagination we can figure out what's meant.
Now we only have to drive for fifteen minutes to our homestay just outside Oslo, where we have access to the lower floor of one of those cute, wooden houses. We quickly cook ourselves a simple meal and then all three of us get to bed.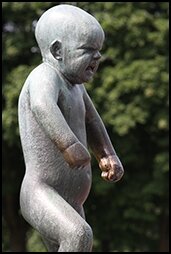 > Oslo
12-07-2013 After Vera's morning nap we catch a bus to the center, to first pay a visit to
Vigelandpark
, a mustsee, according to everyone who has ever visited Oslo. The hundreds of statues, all made by Gustav Vigeland, are worth a closer look indeed. They remind us of something else by the way, but of what... we can't figure it out. However, the elevated square, with a giant column full of intertwined human bodies, reminds us of various Chinese temples.
At the highest point of the park we take our time for a picknick lunch, overlooking the Holmenkollen ski jump. After a while we walk all the way down to the city center, passing the Royal Palace on our way. Downtown we're surprised by the large number of (young) beggars, (very young) junks and gypsies, looking for cash. With all our valuables still in our bags we get to Akershus Fortress, to end up at Pipervika bay, where we go for a second break under a tree. At the various seafood restaurants fancy people are eating fancy meals. Since we had to pay 13 Euros for two single trips of barely 20 minutes by bus, we can imagine what these people are spending here. We cough up another 100 Kroner for the return tickets.
13-07-2013 Today starts early (just after five) and Vera is crying a lot. She's tired, but can't sleep. We decide to skip a visit to the Vikingship museum and take it easy. In the afternoon we walk to the village by the lake and take a look at the nearby fjord... a nice alternative!
> via Tretten and Peer Gynt road to Andalsnes
14-07-2013 Via Hamar and Lillehammer we drive to Tretten, in slighly more than three hours. En route many conifers and water. Beautiful landscapes. Driving is a relaxing thing to do here, speeding is impossible and everyone stays at a distance. It seems like the people here are never in a hurry, something we already noticed in Oslo.
Our log cabin in Tretten is fully equiped. We even find a cheese slicer (invented in Noorwegen!) and there are egg cups in the cupboard,, haha.
We spend the afternoon lazing around by the little stream next to the campsite, flowing into the Mjosa, one of the largest lakes in this area.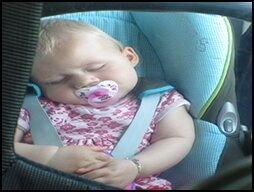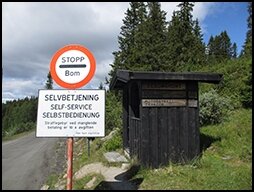 15-07-2013 As soon as we have our luggage back in the car we start driving northward again. Our first destination for today is the Peer Gynt road, a wonderful, unpaved mountain road, for which a some toll must be paid. The toll is collected in a special way: we may write our own name on an envelope and put the right amount in it, whereupon we may post the envelope in a mailbox. By the roadside many types of plants and moss are growing and somewhere halfway we stop at a little herd of cows and calves. The calves are mooing to their mothers and Vera is totally impressed by their sound. When it all gets a bit TOO exciting for her we quickly move on.
Unfortunately we bump into a major setback a few kilometers after the Peer Gynt road: a road block, due to restoration works after the floods from a few weeks earlier. This road was supposed to take us back to the main road in just fifteen minutes, but now the only alternative is to take the same way back as we got here, since there's no other road. We ourselves don't care too much about the extra hour in the car, but for Vera this would have been a long day of traveling without the extra time. Bummer.
At least the landscape is exceptionally beautiful and now we may cross the Peer Gynt road for a second time as well. Only this time we don't pay, but we move on as fast as possible. After the village of Dombas we suddenly see whimsical cairns looming. It's bizarre landscape here and extremely high waterfalls are splashing down everywhere. We also see snow and ice at many places. It's cloudy and there are wisps of fog between the cairns everywhere. At this magical place we're expecting to encounter a troll any moment. At some places the sun is shining through the fog and we've never seen a place like this before. Unfortunately Vera now really wants us to know she hates the back seat and we have to keep on driving, ot else we could have stayed here for hours. Wow!!
Just before Andalsnes we make ourselves at home in our next cabin, our little house for the next two days.
> More Info
Also check our
Norway info page
, where you can find a lot of information about Norway and come see our
photos from the South-East of Norway
,
Fjord Norway 1
and
Fjord Norway 2
.