Egypt Travel Journal: Cairo
This travel journal is part of a series of journals, which are all written during a long trip between november 2007 and may 2009.
> Flying from Bangkok to Cairo
15-03-2009 Around eleven p.m. we're back at
Bangkok
airport. We know where everything is and the line at the Egypt Air counter is not too long. When it's our turn to check-in we get scared up pretty bad: after "how long do you stay in Egypt" follows "where do you go next" and "do you have a ticket". This is obviously a check to see whether we have an onward ticket, something many airlines demand from their travelers when they don't have their visa pre-arranged. This assures them they don't have to pay for the high costs of taking you back where you came from when you're declined on arrival. Fortunately we've been traveling for a while now and simultaneously we answer that we fly to Amsterdam and yes of course we have a ticket of our great Dutch airline KLM. Could the lady please start internet, so we can show it to her in our e-mail. No of course we haven't printed anything, that's exactly what it is an e-ticket for. It works. A little later both of us have a boarding-pass.
16-03-2009 After a long flight, which seems to be even longer in the middle of the night, we descend for the smoothest landing ever. Not at all Egypt Scare, just a normal plane with a good pilot. Immediately it's obvious that Egyptians aren't the most patient people. We're still taxiing on the runway and all safety lights are still on, when half of the fellow passengers are already pushing to the doors. The staff has difficulties to squeeze themselves through the mob to open the door. By the time we're at the door the airplane is almost completely abandoned. Then there's the shock: what a cold! During the day it may be twenty degrees "already", this is still a difference of nearly twenty degrees with where we come from. Now, early in the morning, it's even cooler.
We search for the visa-on-arrival-sign, but don't see anything and so we queue up in the line for customs. When it's our turn we're immediately sent away: first buy a visa. Yes but... where? Well, at the bank cum exchange office. Like everyone knows. In Egypte apparently.
We pay twenty Dollars each for a sticker with a fifteen Dollar print on them: Welcome to Egypt. The first baksheesh have been payed. After we've got ourselves the necessary stamps at customs too we encounter the next spectacle of impatience at the luggage belt. Several men are climbing outside through the hatch to go find their own suitcases, instead of waiting for their luggage to show up on the belt. In no time we've been pushed several rows backwards by beards and mustaches who'd like to be at the forefront.

We're too tired to bother and we're glad the hotel we booked sent someone to pick us up. We spend the rest of the day sleeping and exploring our neighbourhood in the old, Islamic area of Caïro. It's good to be in such a different country once more.
> Cairo
17-03-2009 Our journey through Egypt will be filled with "highlights" and today we make a good start at the Egyptian museum. We present our fake studentcards, purchased in Bangkok, and get a substantial discount right away. The entrance fees in Egypt aren't good for the daily budget, but as a student you only pay halfprice. Provided that you own a student card, which we bought for a few Euros each in backpackers-heaven Kao San Road.
The mummies and treasures exhibited in the museum are impressive, especially the golden mask and valuables from Toetanchamon. We spend the entire day in here and even then we haven't seen all of it.
18-03-2009 The whole day we wander through Islamic Cairo, the neighbourhood where we stay, against the advice of our travel guide. We love the bustling athmosphere and we don't care about the calls for prayer from the many minarets in this area at all, it's just part of the experience.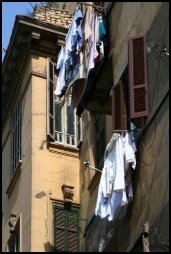 We take a look in several mosques and are impressed by the number of remarkable, ancient structures here. Bein-al-Qasreen is the prettiest, with no less than three beautiful medressas right next to each other. What a pity everything is so covered with black soot. Caïro is a dirty city and that you can taste. We take a walk on the Khan al-Khalili market and immediately we see that we will certainly succeed to find some nice souvenirs here. The quantity of products is overwhelming and there are many nice things on sale.
In the afternoon we go to the Northern Cemetery, a vast neighbourhood built on an old cemetery. Were originally the homeless of Cairo sleeping in the shelter of the tombs at night, now there are slums and even entire stone houses built between the graves. In Caïro you can find several of these "death-quarters" as a residence of the extremely poor and both the size of the place and the poverty of the residents is unimaginable. Some of the tombs and mosques in this Northern Cemetery are well worth checking out though and that's why we go for a brisk walk through this quarter. Especially the richly decorated minarets and domes of the religious buildings are very beautiful and the female residents with their shawls and head scarves are adding the necessary colour to the grey tombs.
> Pyramids and Tombs
19-03-2009 We're truly disappointed when we find out that the sky is overcast this morning. Yesterday we've arranged a taxi to visit the pyramids outside the city and of course we'd prefered to check them out on a sunny day. The taxi is booked and payed for at our hotel, so unfortunately we're unable to cancel it. We decide to drive to Dashur first, the least interesting one of the three places we'd like to visit today, and we're hoping it will clear up later.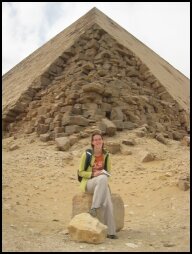 An hour later we're at the Red Pyramid of Dashur. In the distance we see the Bent Pyramid, Egypt's first real pyramid, a real monster with its deviating gradient upward of the middle. According to our driver we're not allowed to visit the place, since it's all military grounds. We ask him why those militaries have a touringcar parked there, clearly visible against the most clumsy pyramid of them all. After a spirited discussion it turns out we áre allowed to visit the Bent Pyramid after all and with a grumpy face our guy takes us there. Apparently telling lies is permitted here, just like in
India
, and we don't have to feel bad about using our student cards all the time to get a discount on the steep entrance fees.
When we come closer we find out that behind the Bent Pyramid, which already has substantial collapsing damage, particularly in the corners, there's another, smaller pyramid. We walk around the whole and are impressed by the size of the structures. When we're driving back to the Red Pyramid it starts raining. Luckily it's not too much of a downpour and we stay fairly dry when climbing up, to the entrance of the pyramid. In this one you can even go inside, according to the guidebook a real Indiana Jones experience. Therefore we expectantly start the descent in the very narrow, steep corridor, in which you can't even stand upright. After the first two steps especially Yvonne finds it a rather claustrofobic experience and abruptly she turns around. Peter continues this venture as far as halfway through the tunnel, but temperature increases and for him too it becomes too narrow and cramped. Let's just forget about Indiana Jones.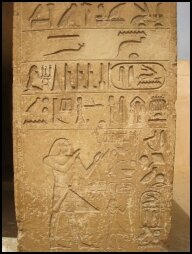 It's not far to
Saqqara
, where several pyramids and tombs are worth checking out. The weather's still not great, even though it stopped raining. We decide to skip Giza for today, to extensively examine the tombs of Saqqara now. That's definately not a punishment, as there are some truly wonderful ones among them, with lots of drawings and murals. Some are almost just as good as when they were made, a few thousand of years ago. Eventually we do risk ourselves inside one of the pyramids, the Pyramid of Teti, and the reward after the steep, dark tunnel is great. The burial chamber is still intact and thousands of characters are covering the walls and the ceilings. Impressive!
Back in Caïro we're wondering whether a third world war has started, but no tomorrow it's Friday and all mosques around our hotel completely loose themselves in their prayers. All five of them at once.
20-03-2009 Allah might have different ideas about spending our Friday, but we're sleeping long and make this a relaxing day. When we finally go out we're shocked. It looks like we're back in India. Everybody's outside and chaos is huge. Taxis are using their horns, there are market stalls everywhere on and along the pavement, green carpets are spread and hundreds of men are praying on them, kids are yelling and running around. Several speakers are calling for prayer at the same time for more than eight hours straight, while women are carrying large bags full of groceries through all the traffic. Only the cows are missing.
We leave the chaos in the Muslim quarter and head to old Caïro, where the Coptic museum and the old churches are keeping us occupied for a few hours. Then we go to the railway station to arrange train tickets to Luxor, but we're confronted with bad news. Since the first of March there's only one train daily on which foreigners are allowed and that's the night train. Prices for beds are ridiculous and booking two seats means we'll have another sleepless night, of which we've had enough already. For the rest of the day we try to find alternative ways to get to Luxor, but that effort is in vain. That's why we decide to splurge, to pamper ourselves, and we'll go buy two tickets for the superdeluxe Sleepertrain tomorrow. It will cost us an arm and a leg, but those limbs we've already saved ourselves by using our student cards in touristy Caïro.
> Giza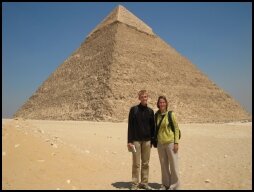 21-03-2009 Finally we'll visit Giza and as soon as we stand at the foot of the first
pyramid
, we're quiet by the size of this structure. And then there are two more large pyramids next to it and several smaller ones. The worldfamous
sphinx
has many visitors. We don't find him disappointingly small, as many say. The location of the whole is great: on a hill where the desert just seems to start, right on the outskirts of Cairo. The metropolis is down there in the distance, with its gray smog sky overhead.
We walk around for an hour or two to check everything out and from time to time we're wondering where exactly we'll meet the hordes of souvenir selling, pushy Egyptians who are supposed to be assailing us poor tourists with dozens at a time. A few offer us their camels or horses for a ride, but that's all actually. In the rest of Caïro we're also less hassled than expected. After the purchase of our visa we didn't have a single request for baksheesh anymore and we're also not dragged along to parfum- and souvenirshops, like we'd imagined. We're not completely convinced whether we've become immune for the many ways of drawing the white tourists' attention, after India, or that we meanwhile look so much like nomads that the experienced salesmen rather try their luck with others. We do regularly see other tourists, mostly walking around in medium-sized groups, who are being harassed.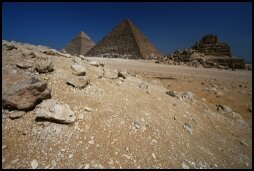 No... our irritation of the Egyptians is not caused by the attitude of the people, whom we find just eager to sell something. The thing that's really annoying us is what we've also experienced in
Eastern Turkey
. The short fuses. We see fighting everywhere. Arguments in the bus, in the taxi and in the streets. Everywhere in traffic where people encounter each other irritations arise, resulting in loud shouting and angry faces. We find most Egyptians, like the Turks from the far East of the country, impatient, unflexible and from time to time very aggressive. What a pity, as there are also some really kind people among them, but for the athmosphere this aggression we encounter all the time has a strong influence.
22-03-2009 Last week, upon entry at the airport, we got a visa in our passports which is valid for a month. We might want to stay a little longer and we also might want to visit Jordan and so we need an extension and re-entry. Therefore we're headed to the town hall this morning, passports department. This department turns out to be a real chaos filled with bureaucratic rules and again filled with smoke of course, even though there are non-smoking signs.
First we have to collect a form at counter 12 and fill this out. After waiting for a long time and snarl for bonus, we have our forms, which we fill out and return to the same counter. There we are insulted once more, because we don't hand over the papers, the pre-made copies and passports in the correct order. After the cranky lady added all kinds of Arabic characters to our form and after she even scribbled considerably in our passports, we are sent to counter 43. Here we can pay our financial contribution and buy stamps. Counter 12 fixes these stamps on our forms and we're requested to collect our passports two hours later at counter 38. Not too bad at all is what you now prbably think, just an hour of work and two hours of waiting. For the visa extension. The same thing we have to do once more, with a different order of several other counters for the re-entry that we need to be allowed to return after our visit to Jordan. Eventually it's four pm when we're done here and we have our passports back. But the correct stickers are in there!
> Ibn Tulun Mosque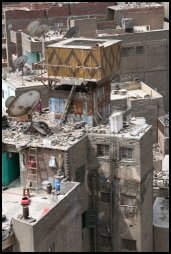 23-03-2009 At the last minute we pay a visit to
Ibn Tulun Mosque
, before we catch the night train to Aswan tonight. The neighbourhood around this mosque is a real working class district, with typical clay-coloured houses covered with black soot and several beautiful, old buildings which haven't been cleaned for a while too. The mosque is big and completely symmetric with here and there some old stucco, really beautiful. We climb the remarkably shaped minaret and enjoy the panorama of this Villa Villekulla area. One construction stands on top of the other and each rooftop terrace is covered with a lot of debris, suggesting that there has raged a severe hurricane. We enjoy a little picknick up here in the last sunrays, before the dark rainclouds arrive. When the first drops are coming down we've just found ourselves a taxi. We now know the going rate and we've become experts in bargaining during the past year, so for less than a single Euro we're dropped at our hotel.
Once again we see that Egypt is a real holiday destination and not all that much of a travel destination, when a group of elderly Dutch tourists is dropped next to us on the same platform. We're surprised to hear them saying they'd love to have a vegetable soup or sauerkraut with sausage. The campsites back home are probably still closed and so they came en masse to Egypt.

Saqqara Pyramid and Giza Pyramids Egypt video
The Saqqara Pyramid and Giza Pyramids Egypt video will show here

Click on the film up here to look around in Saqqara and Giza, almost live.
> More Info
Also check our
Egypt info page
, where you can find a lot of information about Egypt and come see our
Caïro photos
.