Visayas travel journal
This Travel Journal is the last in a series of two journals, both of them made during a trip through the Philippines.
19-12-10 Terminal 3 obviously is a national terminal. Because of the giant lines it takes us almost thirty minutes to just enter the building. Next we're supposed to stand in yet another line for check-in, even though we already checked-in online.
Fortunately we leave right on time, and during the short flight we're treated on an onboard "Christmas-song Trivial", with great Cebu Pacific Airlines merchandise being the price for the winner. Just for that one would like to fly Cebu! Tagbilaran Airport is not much more than one tiny building, looking more like an ordinary house, with the tiniest luggage belt we've ever seen. So it takes only a few minutes before everyone gets their luggage and we're out soon as well.

After checking in at our hotel we rent a motorbike in a backstreet and drive to Panglao island, where the prettiest beaches of the island can be found. We stop at a ramshackle resort at a photogenic bay, but unfortunately dark clouds are gathering at this time of the day. Still it's very pretty here, but a bit less photogenic.
We go get us tickets for the ferry as well, as we're planning to cross to Negros on Wednesday, and we stumble upon a huge chaos in the departure hall. People are everywhere, asking for information as desks and windows, but they are told the same story everywhere: todays boat is full and there are no more seats available. The next boat will be tomorrow. We're happy to have our advance tickets ready now, so we don't have to worry to be missing out on Wednesday, like many people obviously do here today.
20-12-10 On the motorbike we head to the Chocolate Hills, but en route we stop several times to enjoy all th beauty Bohol has to offer. Like the fishermen we see, occupied at their little, wooden bankas on the shore and farmers planting new rice at their fields between the palm trees. The Chocolate Hills are an interesting landscape, but the Chinese style funfair-like additions are at least as impressive to us. China would be proud to see this. Giant butterflies and a Santaclaus are made of Papier-mâché and colorful lights are hung. You can pose for a snapshot with your family at the fake rocks which double as a lookout, overviewing the hills in the background, while you smile and show V-fingers. As a whole, this is entertainment for the entire family.

On our way back we visit the Butterfly Sanctuary in Bilar, a place which strongly reminds us of the Zoo in Emmen, even the moist heat. Like often since our arrival in the Philippines this morning was nice and clear, while the sky got overcast right after lunch. When we're back on our motorbike it even starts to poor. Lovely, such a warm shower, but we don't want our bags to get wet. We take shelter for a while and next we slowly continue our tour, following the wet, slippery roads back to Tagbilaran. Despite the rain we still enjoy the beauty of the surroundings. We stop for a late lunch at the jungle-fringed Loboc River.
The final stretch of our tour we speed up, when dark clouds quickly move again in after a couple of sunny hours, but fortunately we don't get wet for a second time.
21-12-10 Again we go for a tour on the island of Panglao, connected to Bohol by a bridge. Wonderful spots at a piece of rocky coast make this a gorgeous place.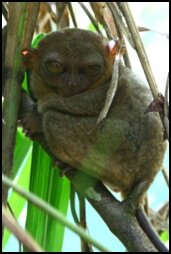 Next we follow a rough inland road to the cute Tarsiers at the Tarsier Reserve near Corella. On our way back we have lunch at Chowking, a fastfoodrestaurant offering rice and noodles instead of French Fries. As we're leaving it's porring with rain, once again, and we have to wait for nearly thirty minutes before it's dry. Dry from up there that is, as the road has transformed in multiple rivers by now.
22-12-10 The ferry to Dumaguete has been delayed and the aircon's today not switched on arctic but on extremely subtropical. Fortunately the sea is calm, especially compared to the Red Sea, where both of us needed anti-seasick-pills.
As we're on shore on the other side we quickly find ourselves a tricycle and again we're surprised how easy it is to negotiate a price. The driver mentions a price which we assume is a bit too high, we come up with a price a little lower (30 cents for a 2-kilometer stretch) and there we go. Right on time we arrive at the busstation, where the bus to Bayawan's just leaving. We're right on time to claim the two last seats.
Traveling by bus happens to be an almost Asian experience on this island: the driver knows all about speeding and using the horn, even in the villages and from time to time we almost miss a bend, but somehow we make it in one piece.
In Bayawan we find out that the bus to Sipalay, our destination, has been canceled, so we have to make another stop in Hinoba-An, where we can change to another bus to Sipalay. Fortunately we quickly find the right bus, but to our surprise this bus is Asian-crowded. So crowded actually, that we can't squeeze ourselves and our luggage in anymore.
Disappointed we let this bus pass and we inform at the last platform, where another bus is waiting to leave, what time it will depart. In two and a half hours. What?! Two and a half hours?
But according to the man at the counter there will be another bus, which still needs to arrive, in about an hour. We'd better sit down on those most uncomfortable seats ever. Thirty minutes and a painful butt later we find out that the bus still standing on the last platform fills up fast. Apparently something's changed of which we have no idea, so we quickly get on board as well, to claim the last two seats and to squeeze our luggage into the tiny luggage space that's left by now. We've barely done so when another bus comes in at the next platform and all of our fellow-travelers rush out of our bus. One of them even bothers to yell "transfer" while passing, so immediately we grab our stuff to squeeze ourselves into the new, and already overcrowded, bus. Yvonne's just in time to sit down on a twoseater where only a young girl is sitting and Peter can just claim half of a seat on a threeseater, Asian style, next to two men.

As our bus is as full as the bus we skipped at first we leave, stared at by surprised passengers in the next bus, who obviously don't see many white tourists. The girl aged around twelve, sitting next to Yvonne, is staring with big eyes as well, particularly at the photocamera we use from time to time to capture things. The girl doesn't seem at ease and worried she watches how we take a picture of the people in another bus. However, when we drive out of town a bit later, she gestures like she snaps a shot from the beautiful landscape with ricefields outside. Yvonne gives her the camera and shows her how it works. A little later she's brave enough to try it herself and in no time she's capturing everything around her. Repeatedly she roars with laughter, like when she's trying to catch the ticket salesman.
The road is now unpaved and in some hamlets we stop to have some more passengers hop on. Each and every square centimeter of the bus is now in use and, like mostly in Asia, there's always someone (and perhaps more than just one) getting sick. Unfortunately this happens to the poor boy who's next to the closed exit door and who can't make it to a window, to deposit the contents of his stomach over the edge, leaving large, brown stains on the windows and side
of the bus. So we suddenly hear a splashing sound behind us and the smell immediately explains what happened there. Great: Asia!
After some time we stop at once and we're directed out of the bus: we've just met the bus to Sipalay, the last of today and we have to hurry to catch it. Fortunately it's not that crowded these last twenty kilometers and a bit later we arrive in twilight. A boatman is waiting for us and in a banca, the typical Philippine boat, and at sunset we sail to our resort at Sugar Beach, a gorgeous, remote stretch of beach, almost only reachable by boat.
23-12-10 Today we explore the white beach and we go for a swim in the warm sea. Water temperature is around thirty degrees here year rond and to us that almost feels dirty-warm. We're surprised by the many unfamiliar plants and trees growing here at the coast, like wild pine-apples and magnolias-whic-aren't-real-magnolias.
24-12-10 By banca we get to a nice place for snorkling this morning, further out on the sea. Here's a shipwreck covered with corals and there's tropical fish swimming around. It looks beautiful, but it turns out to be a bit hard to snorkle in the open sea.
25-12-10 In a rowing boat owned by a thirteen-year old captain we head onto the river, to a hill topped with the "Holy Cross". From this hill you have a nice view over the beaches and the inland.
In the afternoon we swim some more on this first Christmas Day and we follow a tiny path to a nearby beach. There are just two thatch huts here, with no electricity or facilities, but with a magnificent view. Two fishing families live here, with a whole bunch of kids.
26-12-10 Even though it doesn't really feel like it, it's still second Christmas Day today and we decide to relax. We enjoy breakfast among the palm trees and next we do nothing for the rest of the day, but lie down in our lazy chairs at the beach, which suits us just fine.
27-12-10 In a rowing boat we cross the river this morning, where we rent a motorbike from one of the villagers. First we follow an unpaved path, which later becomes a real road, to the market in Sipalay, where we're a sight for the locals. The only photoshop is closed today, so we drive a nice route, over the nearby hills, to Hinoba-An.
Here we manage to print the photos we took of the girl next to Yvonne in the bus last week and the staff even knows how to get to the village where she lives. It seems like an adventure to get there, but even the first meters of what even the locals call a "rough road" make us have some serious doubts whether this isn't too big of an adventure for us. We encounter about five boys on a tricycle (it's the habit to share transport with as many passengers as possible, to share the costs) and one of them recognizes the girl on the pictures and offers to take us to her. With the three of us we move on, bumping on our poor motorbike, but about a kilometer further on the
path gets so rough we fall down. That's why we give up here, hand over the photos to the kind guy to take them along when he returns to his village tonight, and carefully get back to the asphalted road. This road, which we found bad and full of holes a little while ago, suddenly looks pretty good to us.
We drive a bit more along the coast, have lunch in Sipalay and drive up North. We're yelled and waved at everywhere, while we pass along wonderfully green ricefields, waterbuffalos and tiny thatch houses. When the evening falls we turn around, as we don't want to drive the path to the beach in the dark.
28-12-10 In the morning we go deliver some photos we printed yesterday at the families of the nearby beach. Now there are even more children present, the families appear to be much bigger than we expected. The men are home as well, but busy to repair their fishing nets.
We spend the afternoon at the beach, our last real holiday.
29-12-10 We hop on a bus, back to Dumaguete, now taking the route through the interior. Almost six bumpy hours later we arrive, broken.
The town is funky and nice, but unfortunately we don't have much time to look around.
30-12-10 We take another boat, crossing to the island of Cebu, just a short ride of barely twenty minutes. On the other side the bus is waiting for passengers and in four hours we hover the smooth pavement to the second capital of the Philippines: Cebu.
Now we have almost the entire afternoon and a part of the evening left for shopping in the giant malls of this city. Several times we find out people are not able to listen on this island. When we ask a question we get an answer even when we're just halfway the question and the answer is all the time an answer we don't want. Do you sell trousers with length-sizes? Yes, here you find the straight models. The level of English is very low here and some salesmen don't even dare to speak to us. Not much of a problem, as we can't stand the Philippino version of the Indian "hello madam" anymore by now: "hiiii sir, hiiii maaaaam". Nice and quiet now that they don't dare to speak to us.
31-12-10 The last day of the year we also spend on getting rid of our last Pesos and in the early evening we take a taxi to the airport. And that's how another nice journey ends, a journey allowing us to avoid loads of snow and cold.

Visayas Filipijnen video
The Visayas Filipijnen video zal hier te zien zijn

Click on the film up here to look around in the Visayas, almost live.
> More Info
Also check our
Philippines info page
, where you can find a lot of information about the Philippines and come see our
Visayas 1 photos
and
Visayas 2 photos
.