China Travel Journal: Yellow River
This travel journal is part of a series of journals, which are all written during a long trip between november 2007 and may 2009.
> Xian
19-05-2008 After a hectic travel period in
Guizhou
, where we went from one bus into another minivan, we're kind of tired now, arriving in the middle of the night, after almost 30 hours, in Xian. Our train has a huge delay, we struggle to keep our eyes open and we guess we're slightly hallucinating when we see dozens of shadowy silhouettes covered in blankets on the streets. When we take a closer look we see entire families reclining in the streets, some of them even put down a bed so it's obviously not the line for the best tickets for Madonna in the Arena stadium. Only later we find out everybody's scared for a new earth quake, so thousands of people are sleeping in the streets.
As we're finally allowed to leave the train it's a true stampede to get into one of the few taxis. We're trying, but nobody seems to feel the urge to get foreigners as clients. And why would you make every effort to figure out what the babbling of those longnoses from the West is all about, when you can simply take any Chinese, whom you cán understand. Our note with the address of the hotel we'd like to go to isn't in Chinese either, so no one's able to read where we're heading to. Eventually we succeed in convincing someone to dial the phone number we have, to follow the instructions given from the other side of the line. So finally we get there.
Unfortunately it only turns out to be the wrong hotel when the taxi's already left and on foot we're sent in the right direction. Avoiding the many sleeping piles of people, who are on the doorsteps everywhere, we keep on looking, but even an hour later we haven't reached the hotel. Eventually another taxidriver and a helpful girl who wants to come along succeed, after the "wrong" hotel's given new directions. At 3 thirty a.m. we finally found our new place to sleep.
> The Terracotta Warriors of Xian
23-05-2008 After a couple of days of almost complete relaxation, alternated by some great food, a visit to the museum and the necessary visits to some shops to replace broken or lost items we find it time for some more action. The sun has hardly risen above the horizon as we're on our way to catch a bus to one of thé tourist attractions of China:
The Terracotta Warriors of Xian
.
Even before 9 we've got our tickets and in an entirely empty hall we admire the thousands of man-sized figures who guard the tomb of emperor Qin Shi Huang for yet over 2200 years. We're somewhat disappointed we're unable to approach the figures up close and miss the real details of the statues, but the number of warriors is truely impressive. Luckily in the second hall there are some very well preserved statues in a glass case and we're allowed to get as near as we'd like. Before it's really busy we're done and back in the city we take a look in the Muslim quarter. With the help from a Chinese guy we also find the mp-3 speler and memory card which we've been looking for for days, at a price we're more than happy with. So we're finally able to listen our music again.
24-05-2008 We abuse our internetconnection in our room for another day and enjoy a delicious diner in the busy, but athmospheric Muslim quarter. For 6 euros we get a huge plate full of lamb meet with vegetables, a bowl with eggplants and beef from the oven and potatoes. At least we have some reserves after Xian!
> Luoyang
25-05-2008 The train journey to Luoyang, according to our guidebook a 4 hour journey, happens to be 5 hours and 30 minutes, but as we stop for apparently no specific reason somewhere halfway the trip takes us even more than 7 hours. We're worried that finding a hotel at the arrival time of 10 p.m. will be hard, but our first try turns out to be a winning lottery ticket.
> Buying Train Tickets in China
26-05-2008 Buying train tickets in China is, especially when you don't speak Chinese, not easy. Above the, mostly more than 20, counters you'll see various Chinese characters and one of those electronic signs has the valuable information you need, but apparently never the name of the city you're traveling to. Therefore comparing signs is not an option. People waiting in the lines speak no English and mostly the employee at the counter also stares compassionately at you when you ask which counter you need to be at.
Today we give it another try to get tickets for the day after tomorrow, this time without previously asking for help at our hotel (where we haven't seen any English speaking staff) or a company.
We leave the hotel in the direction of a game-poster with an at sign in the corner. One of those you'll always find near or at an internet cafe. When we see a couple of adolescents purposefully walk into an alley we follow them. In no time we're finding ourselves amidst at least 100 computers, set in long lines, in a dark cave, where the penetrating smell of urine is overwhelming and the smoke forms a curtain: ah, the internet cafe!
We ignore the long necks and the laughing faces of adolescents, who briefly detach their gaze from the screen for this special interruption of their daily routines, and find out at the site of Travel China Guide which train we'd like to take. There happens to be a nighttrain tomorrow night, so we aim for that one, as it's a nearly 12 hour trip. In "Google Translate" we find and check the text: "we'd like to book two softsleepers to Taiyuan for the 27th of April at 20:02, train number 1166", after which Peter copies the characters on a piece of paper.
Carrying this note and a large portion of positive energy we get to the information desk at the station, while shouting "Taiyuan" as a clarifcation. We shout, as we found out one doesn't talk in China, one shouts. The man seems to understand us and he takes us to line 3. When it's our turn to order tickets we push our piece of paper to the other side of the glass. As there's always enough staff around in China immediately a second employee shows up and together the two ladies laugh hartily about our note. Immediately a male coleague comes down, bursting into laughter as well. Still they don't seem to understand, as a lot of searching on the computer is necessary. Unfortunately we soon hear the word we first knew in China and which we hear daily with some regularity: Mayo! (the only word they can properly pronounce in English) In Europe we say "yes please...yummie", here you give the disappointed look, because they happen to not have, not can, not want (often) or not understand (veeeery often) what you'd like.
In this Mayo-case the softsleepers are sold out and using our hands and feet we make clear that we'd like two lower beds in the hardsleeper instead. This means we're doing what we really weren't planning to: together with 4
Chinese in a non-lockable den, which is part of a compartment for 60 people. However, we don't have much of a choice here, unless we'd like to stay 2 extra days in Luoyang and there's not all that much to see here.
With our two tickets we find bus 56, which promptly passes by and stops almost right in front of us. We draw a short sprint and quickly jump in. Wow, two godsends in one day, how un-Chinese is that! We drive out of town, to Baima Si, the first Buddhist temple in all of China. We ignore the entire circus of souvenir- and incense shops at the entrance and are surprised by the quietness in the complex itself. There are more monks than tourists and easefully we look around at this wonderfully well maintained terrain with its centuries old buildings and trees. This is yet another beautiful, old temple, as we've enjoyed them a few years ago in
Beijing
.
> The Longmen Caves
27-05-2008 For Longmen, one of the mayor attractions of Luoyang, we rise and shine early, to be able to enjoy it all before the busloads of tourists arrive. Longmen is a large group rock-cut temples and niches, where Buddhas and other figures in every possible size are hewn inside. Especially the mountains on the Western side of the Li river are densely popul;ated with innumerable niches and the size of some of the cave-temples and statues is very impressive. Everything is hewn from the rocky floor by hand, even the 17-metre tall, sitting Buddha in the Fengxian-cave and the inmates of this temple who are almost as tall themselves.
On our way back we pay a quick visit to the
Guanlin Miao temple
, a temple in honour of the fighter Guan Di, at the spot where his head has been buried. The temple is being renovated and the parts which are done yet look exceptionally beautiful and colourful.
The rest of the afternoon we rest a bit and prepare ourselves mentally for the train journey to Taiyuan. Once we're at the station the chimping, which annoys us from time to time, starts immediately. At least 50 pairs of eyes stare in our direction and everything we do is meticulously followed. Our neighbour starts talkig to us, in Chinese, as usual. We take out our language guide and point-it booklet, like always followed by at least 10 Chinese surrounding us.
. A girl aged around 20 also curiously comes closer, but as soon as Yvonne greets her she runs back to her boyfriend, blushing and almost hyperventilating. One of the men wants to lift Peters backpack and our books are used to ask everything they'd like to know about us. A few know some English words and even the girl who first ran away dares to come near and eventually even wants her picture taken with Yvonne. Thus it is still quite a nice experience after all. We're glad, as the train has a delay of almost an hour.
We turn out to be not the only Westerners and, clever as they are at the sales desk, we're sharing our den with a German couple. Meaning we only have to share the place with 2 Chinese, minimizing smell of cheezy feet and farts with egg odor.
We hear the train is running to Taiyuan through Pingyao, meaning we can get off at an earlier station, so we're at our destination right away without the need to ride a bus for another two hours. Perhaps a good idea when buying tickets the next time: Misschien handig als we nog een keer zelf kaartjes gaan kopen: first see if there is a train to the final destination before we assume that tere's not.
> Pingyao
28-05-2008 Still we barely sleep in the hard sleeper, of which we suspect the name has everything to do whith it being "hard" to "sleep" in. When we get off around 8 a.m. in
Pingyao
we're glad to see that transportation to the old city is ready to leave. The authentic guesthouses around courtyards all look very pretty, but unfortunately the beds are a bit TOO authentic to our taste. On a stone platform they put garden furniture cushions, which are meant to function as mattresses, soon renamed "stone-sleeper". We find the guesthouse with the thickest garden furniture cushions and negotiate an extra blanket to it, to put on top.
On a bicycle we cover the 7 kilometres to
Shuangling Temple
, where wonderful wooden statues are decaying in the dust: what a waste! After an afternoon nap we cycle through the old town, a maze of streets, alleys and... a sewer which has been open until recently, still not smelling very fresh. There are traditional houses in all kinds and sizes and in various conditions. Some of them are shiny and gleaming with their glass lanterns and painted paper windows, others almost collapse of decay. Besides streets with souvenir shops and guesthouses there are also streets where the laundry is drying on the line and old men are playing mahjong. Kids yell cheerfully and wave at us.
29-05-2008 We go for a morning walk over a large part of the city walls, which has been beautifully preserved and provided with many watchtowers and gates. The museums of Pingyaos past as the first bank-city of China are a perfect example of how a museum shouldn't be and boring most visitors so much their eyes almost close. Perhaps the latter is a result of most visitors being domestic tourists who get totally exhausted by closely following their flag-carrying guide.
The temples, especially the Taoist Chenghuang temple, are more worth a visit, but the best Pingyao has to offer is definately the dance performance we visit at night. It's not something we would have chosen ourselves, but it's included in our tourist ticket and so we check it out. We're pleasantly surprised: it's quite an alternating performance with beautiful costumes and decors. There's just the dancing, but it's not at all boring, as some artists are true acrobats.
> Datong and the Hanging Temple
30-05-2008
With a transfer in the bustle of Taiyuan and another one in the outskirts of the city we bus to the center of Datong in about 8 hours. According to some people this is not much more but a dirty coal city, but we don't notice much of that. At the train station we challenge long lines to buy two tickets all by ourselves, for the train to Beijing the day after tomorrow.
31-05-2008 By our travel guide it's just an hour by bus to the hanging temple at Hunyuan, but of course that's without regard to the gridlock on the outskirts of the city and definately without regard to road construction works where an entire overpass vanished. Everyone is forced to detour through loose sand for a stretch of about one kilomtre. Somewhere hafway there's a tiny tunnel which everybody needs to go through... even tractors, trucks, busses and... oncoming traffic. Right! So there's a huge traffic jam on both sides, but we're lucky as, apparently, our side has enforced the right to move and so 10 minutes later we can stick out our tongues to the long line on the other side. We're through.
An hour or 2 later we're told to leave the bus here. We're directed to a taxi. But... we payed as far as the entrance of the tenple, didn't we?! That's why our tickets were 10 Yuan more than those of the other people in the bus, who are heading to Hunyuan. The bus has already left and the taxi driver is making a lot of effort trying to get us into his car. We get the feeling that another large sum of money is being requested somewhere soon and try to find a bus, which apparently is not there. We end up asking our guy how much it has to be to take us to the entrance. Read: Lees: gesture money with our thumb and index-/middle finger, as we always do, while yelling "kwantakosta?". We get the Mayo-word as a reply and once more when we give it another try, so we decide we've tried enough for today. We get in the car, give him the bus tickets and assume the ride's alrady payed, the latter against all odds of course.

It's still about 5 kilometers and while driving the man uses his entire English vocabulairy to explain he'd like to wait for us to take us back after our visit to the temple as well. We thank him friendly (well... especially very clearly) and when we're there we get out of the car. Now we twice hear a fourth word: "thirty" (pointing at Peter), "thirty" (pointing at Yvonne). The latter has truely had it with the larks of taxidrivers and other swindlers in China and tells him goodbye with "thirty-my-ass" after which we close the door. Sixty really is a ridiculously high amount for 5 kilometres. We walk to the pay desk, where we get our tickets and only when we've already passed the gates the driver has recovered from amazement and from our peripheral vision we see that he speaks with his friends about it.
By then we're amazed by the structure of the temple, which is not overwhelmingly large, but truely seems to be stuck to the mountain. In the past the temple has been "hung" higher all the time, because the river came higher during monsoon and it destroyed the old temple time after time. The huts are anchored to the mount by wooden poles and through some narrow corridors on the outside you can look at the inside. Of course we're still in China, where pushing and hustling is the number one passtime, so walking the narrow corridors, high above the abyss isn't without danger. Fortunately there are signs posted everywhere telling visitors safety comes first: our salvation! The statues are, like the temples themselves, entirely made of wood and everything looks extremely colourful. Still we've seen it all some thirty minutes later and we face just the two hour trip back home.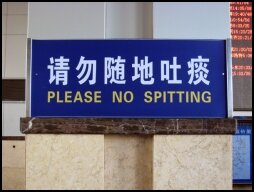 Apparently our driver has given up and he's nowhere to be seen. We're done with taxidrivers and when the only bus leaves in the opposite direction we start walking first. About 10 minutes later a small cab stops and for 5 Yuan each we're welcome to hop in to the Datong bus stop. The bus is ready for departure and we think, despite the terrible two last seats, today we're finally lucky in public transport. Untill... we stop 5 minutes later and the hatch at the engine is lifted. When we hear the jingling tools we realize we've been cheering too early and we're stuck here for at least another thirty minutes. Once we're driving this is at a slow enough pace to expect not to reach our destination untill the day after tomorrow, but gradually we speed up a bit. Untill... we're back at the little tunnel. It all seems to go smoothly now, as there's no more traffic jam on our side. We're already face to face with the passage when our driver decides to give priority to that one truck on the other side. Like a snail the monster squeezes through the alleyway, when a bus shows up behind him. And another truck, a line of cars, another bus and some more trucks. At our side more and more traffic is gathering as well and a couple of handymen park their vehicles in the middle of the road, so that nobody can move forward or backward. Sigh...how have these smart asses ever been able to grab so much land? Did they use to have brains before?
Fifteen minutes later nobody managed to even move a millimetre and Peter is terribly annoyed, as we'd loved to visit the Yungang caves today as well. He encourages the staff of our bus to help him stop the traffic from the other side, but nobody does any trouble. One guy, sitting somewhere at the front, is a bit of a lunatic and he's curious what Peter's doing, so he comes along. Together they stop the hooting, jostling trucks on the other side so there now is some room to move. Our bus can pass the tunnel and we're ready to move on. Even the police, who were in the traffic jam as well, get out of their car to see what happens. :-s
> Yungang Caves
In Datong our bus stops on the outskirts of the city, as the bus repair street happens to be there and apparently it has to be fixed right away. We do the taxi-/bus-transfer tric to get to the other side of town through this traffic and at 4 thirty we're finally at the entrance of the caves. From the first moment we're glad we've still made it here, what an impressive place this is! During the fifth century giant statues have been cut from the rocks here and around the statues a huge amount of space has been cleared, so that they are now in a metres high cave. Some of the caves and statues are even painted and there are at least 5 of them measuring over 15 metres. Untill closing time at 6 thirty we enjoy all we see, as this is one of the most extraordinary places we've visited in China.
01-06-2008 The time is there. Where this trip originally was supposed to start we're now going to: Beijing. It might probably take about a week to get our Kyrgyz, Kyrgiz, Kirgyz, Kyr...uhm... our visa for Kyrgyzstan here. So we have enough time to do some serious shopping to restock, buy clothes and arrange some things, before heading to dusty Central Asia.
Pingyao performances video

The Pingyao performances video will show here


Yungang caves video

The Yungang caves video will show here

Click on the films up here to look around in Pingyao and at the Yungang caves, almost live.
> More Info
Also check our
China info page
, where you can find a lot of information about China and come see our
Yellow River photos
.