Laos Travel Journal: Luang Prabang
This travel journal is part of a series of journals, which are all written during a long trip between november 2007 and may 2009.
> First Days in Luang Prabang
04-01-2008 Truely relaxed we go for a late breakfast and for some updates on our website in a coffee shop with wireless internet. Fortunately there's just a single contribution for unlimited use of the wireless, as the speed is to cry about. When Yvonne
has no more patience left and she's gone out for a short walk she meets a Swedish lady we met before at the border, who asks if we're interested to share a tuktuk to a neighbouring village, where a lot of weaving is done. That seems like a good plan and an hour later we're off to that village. Wonderful silk scarves and clothes are being weaved and sold here and they also produce bamboo souvenirs, like lamps and booklets. Bobbining the silk is done by old cycle wheels and wooden sticks, very inventive.
Back in Luang Prabang we look around in town, we do some shopping and find out that it's officially illegal to rent a motorbike here. We meet a Lao guy who offers to ask his "uncle" whether it's okay to "unofficially" rent his bike to explore the area a bit more, but for tomorrow we rent a bicycle first.
05-01-2008 In a brochure Peter read something about a new project supporting young writers and drawers in a job to make children's books. Today we pay a visit to the project as this smells like an opportunity for Treelo to do something good for the many disadvantaged kids we saw on our way over here. When you're able to read Dutch, or when you like to see some of the pictures, please click here.

Morning is almost over when we leave the Big Brother Mouse project and we cycle around in the neighbourhood of Luang Prabang. Next we pay a visit to Wat Phon Hphao, situated at the outskirts of town. We had some vague stomach aches before, but now Yvonnes stomach feels terrible after something strange has landed there, so we relax a bit in our room before we visit the richly decorated Wat Xieng Thong. When we've climbed Phousi-hill and we're just enjoying the 360 degree views over town and both rivers, the belly does reach alarm stage 3 and in full speed we run back down. Sunset in the toilet instead of on a nice hill; well, you can't have it all.

> Kuang Si Waterfall
06-01-2008 With Adam en Ruth, an English couple we met several times during the last 3 weeks, we share a tuktuk to the high
Kuang Si waterfall
. We climb up about 100 meters following a steep trackway, to cross the stream at the top of the waterfall, an adventure on itself. Peter thinks this is not adventurous enough and shakes a fruit from a tree which, at first sight, looks soft and hairy.
When he tries to catch it he finds out it's a little less sorft and a little more prickly, like one of those cactae with millions of tiny, vitrolic needled. His whole hand is covered with them. Creative as we are we all suggest things he can do to get rid of the prickles, but to the great interest of passers-by Peter starts to work with tweezers, which fortunately are part of our pocket knife. An hour later the whole hand is prickle-free again and we walk down on the other side of the waterfall. At this side is a narrow path, through which you can reach a tiny island in the middle of the waterfall...very beautiful.
> Big Brother Mouse
07-01-2008 Today we get up early, as we go out with Big Brother Mouse. Yesterday evening we were told that everything, in a very Asian way, will be a little different than the original plan. The teachers of the school where we were supposed to go to are at a seminar, so the school is closed. That's why today we're visiting another school, with no less than 239 students, divided into 5 classes, in Long Laued, where students from surrounding villages are taught as well.
When all the materials are loaded and we've purchased like 250 mandarins on the market we go. Thirty minutes later we leave the paved road and through a dusty and very bumpy path we arive at the school around nine. The stone building has only been built three years ago; before that time the children walked 20 minutes further to another (wooden) school. There are no further facilities. Peeing needs to be done outside in the bushes (at least that's what we see the little boys doing) and except for basic, wooden benches, where 3 or 4 kids are seated at the space where we'd think 2 would be normal, a blackboard and a couple of math books there's nothing else in the classrooms.
All that follows next is magnificent for the kids! With open mouths they follow the drawing class instructionsn and when papers and pencils are supplied they all do their utmost to make something good. At first the younger kids don't dare so much. They're obviously not used to this, but with a little extra help they manage. Meanwhile the rest of the village stands at the windows staring into the classrooms.
During art class Siphone from Big Brother Mouse tells us that the village headman wants to do a Baas´i ceremony after the activities, to thank us for everything. We have no idea what this means, but probably it's very rude to refuse and it seems interesting... a nice party. A bit later we see one of the women showing a chicken to the headman and with his approval she disappears with the animal in her arms. We kind of get the feeling this chicken won't cluck for much longer.

Next there are games for the students, causing a lot of hilarity among all villagers. We are worried and feel ready to comfort the crying or loosing kid, but there is none. The children simply enjoy and whether they loose or win, whether they get the chance to "be chosen" or not, all of them have fun. After a large lemonade and a mandarin (given one by one per kid, to avoid secretly taking 2 by hungry children) the enthusiastic employees of Big Brother Mouse teach the students a song about reading. Somewhere inbetween we also see a giant, smoking, well-done chicken passing by on a scale. And then, after a short introduction, everyone is allowed to choose a book and all of them start browsing through and reading in their books. The system of swapping books with each other and at school is explained to teachers and students and after a group photo they happily go home, with their books in their bags. Without doubt they had a terrific day and we hope their new books will challenge them to start reading more.

When we enter the "ballroom" we meet our chicken again, nicely layed out on a scale, amidst more food. We all sit down on the floor around the table and everyone needs to hold the edge of the table. There are prayers being said and Peter and I ßnd all the Big Brother Mouse people are given a knotted, cotton string around our wrists by the teachers of the school and the village headman. When new prayers are said, this time each of us needs to hold on to the scale with chicken (now the good spirits
are here) everyone needs to take a sip of a glass of Lao Lao (obviously home made). Then lunch starts and the teachers come by with a full glass of Beerlao. It's necessary to finish each glass offered to you untill the last drop, so by the end of the meal we all suffer a bit of double vision. Fortunately our driver seems fairly sober and after saying good bye we're safely brought back home.
We're really tired when we get back at the guesthouse, but is this a result of getting up early, or is it because of the alcohol and the many impressions?
08-01-2008 When finally waking up we do some little things, like: watching the scenery at the river, where a load of stuff has just arrived, including various kinds of animals; visiting the hair dresser; having a light lunch; hanging around; before we even notice it's night time again.
> Temples and Monks
09-01-2008 We think it's time to do some sightseeing in town again, so we pay a visit to
temples
we haven't seen so far. That's quite a large number and after 4 of them we charter a little boat to take us to the other side of the
Mekong
, to the village of Ban Xieng Maen. When we disembark we get the impression we just ended up at the dump: what a huge amount of garbage here. Fortunately the government tries to do something about it, as we see signs saying you're not allowed to throw your waste on the street and that you need to use a garbage bin everywhere. Unfortunately they haven't yet started to actually put the bins here, or would they have forgotten about that?
At this side of the water the temples are lonely, abandoned and dilapidated. With 2 boys we get into a temple-cave. There are partly decayed Buddha statues from other temples down here and with a lot of imagination one specific rock looks just like an elephant... well, well... maybe we see it when we tilt our heads a little. Or not.

10-01-2008 Monks. Because of the huge number of temples you see many of them in Luang Prabang. The salesmen at the tourist markets also noticed this, as we see by the great number of paintings with orange brushstrokes with great resemblance of a carrot. Or 2 carrots, next to each other under an umbrella.
Anyway: monks. This morning we get out of our warm bed before sunrise for them. Every morning the Luang Prabang monks do their round to receive their alms. They carry a basket, in which faithful Buddhists donate some rice or other kinds of food. Nowhere in Laos this ritual is as grand as here and we'd like to be part of it. At six we leave our guesthouse, as the ceremony will take place around sunrise at six thirty.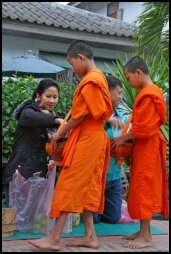 As soon as we stuck our nose outside the door we are persecuted by a sales lady who wants to sell us food to give to the monks. We thank her, but as we're no Buddhists and we don't want to contribute to let the ritual become a tourist circus. Apparently other people don't see this as a problem, as white tourists are waiting row after row with their baskets full of food and a big camera around their necks. There are not many Lao in the streets, but at the beating of the drum at six fortyfive some come out of their houses. From a distance we observe it all: hundreds of monks leave their monasteries in lines to receive their alms in silence. It's a pity, but soon other white people discover our litle, quiet spot and the passing monks are now flashed full in their faces with all kind of cameras. We think it's special to have seen this ritual, but fear it won't take long before this turns into another top attraction of the city.
We nominate this day as thursday-carrotday and by the end of the afternoon we visit Wat Mahathat to see the daily prayers here. Fortunately this is not a touristy experience at all and we're able to watch and listen in peace. It's still special, all those monotonous singing monks (click for sound) together. When we have a quick look at the slightly more popular Wat Mai a bit later we need sunglasses to protect our eyes for the flashlights, so we quickly move on to have a last meal at our favorite restaurant. Tomorrow we travel further to Nong Kiaw.
Luang Prabang Laos video

Luang Prabang Laos video will show here


Big Brother Mouse Laos video

The Big Brother Mouse Laos video will show here

Click on the films up here to look around in Luang Prabang and at the Big Brother Mouse book party, almost live.
> More Info
Also check our
Laos info page
, where you can find a lot of information about Laos and come see our
Luang Prabang photos
.