China Travel Journal: The Far West
This travel journal is part of a series of journals, which are all written during a long trip between november 2007 and may 2009.
> To Turpan
20-06-2008 When we arrive at the bus station a bit before eight thirty the "several buses" a day to Turpan seem to be cut to one single bus at ten thirty. And what is a better passtime to enjoy yourself for two hours then eating melons? So we have another one, before
a long journey through the desert starts. Huge, flat parts of sand and pebbles, with distant snow peaks are being diversified by greener parts full of grass and high sand dunes in freakish shapes. A single desert town is the only cultivation we see.
Every now and then there's a police check on the roadside, randomly checking everything with wheels. Three times we're selected as well and "coincidentally" the only Uigur in our bus is picked out every time. Once he even has to follow the militaries to an office and the entire bus has to wait for fifteen minutes. The final checkpoint is one with armed police entering the bus. As soon as they've discovered our white noses the boss is even collected, for a long study of our passports. Apparently he can't find anything that's not correct, since we're allowed to move on, as we feel another "neh....nehnehnehneh"-feeling coming up.
That night, when we arrive in Turpan, we discover budget accommodation is hard to find here. Eventually we're spotted by a tourcompany on wheels, offering us a nice room for a good price at a friend's hotel.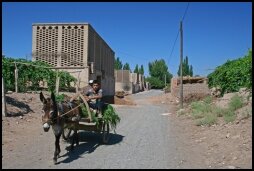 21-06-2008 Under a clearblue sky and with a lovely onion nan (bread) in our hands we walk through the Muslim quarter to the Emin Minaret. Donkey carts full of wonderfully dressed women, steered by men wearing dopas on their heads, are approaching us. Little boys are playing with blowpipes and paper arrows in the streets. When we peek through the open gates we see intimate courtyards, covered with grapevines. There are streetstalls selling melons and vegetables, like giant tomatoes and beans measuring at least 50 centimeters. There's no running water yet, so the women are doing their laundry in the stream running along the houses, the same one used by children for drinking and washing themselves. In front of the houses and even on some roofs there are beds, where people sit in the evenings and sleep at night. It's still much too hot in the houses by that time.
Thirty minutes later we reach the Emin Minaret, completely made from bricks, but covered with the most beautiful patterns. Since there's a ridiculous entrance fee we decide not to enter, as one can enjoy all of the minaret's beauty and the adjoining mosque from the vineyard right nextdoor.
We stroll a bit through the quiet backstreets, where the only sound comes from a couple of playing kids at a courtyard and a cuckoo in a tree. We're sure the latter is a real Chinese bird: stealing other birds' nests and destroying someone else's eggs.


In the afternoon temperature's extremely high, so we stay inside. Later, at the nightmarket, we notice how Uigur people look like Europeans. They also bake various kinds of bread and cake, love deserts made of cow milk like us and make sweets from chocolate and raisins. Even the faces are sometimes surprisingly European, some of them even have blue eyes.
> Jiaohe
22-06-2008 We get up early. Before it gets really hot we'd like to return for a siŽsta, but renting bicycles turns out to be a bit harder then expected. So it's almost nine thirty when we finally cycle out of Turpan. We're on our way to Jiaohe, an ancient, abandoned city in the desert.
On the way we see little markets everywhere and people are busy with their harvests. Horse- and donkey carts with cheerfully waving people are approaching us and in no time we've covered 11 kilometers. As soon as we've entered the gate and left the souvenir stalls behind we don't see a single soul. The silence, the perfect state of some old, mud houses and the vastness of the city are truely impressive. We're able to get a clear image of the people who have been living here for two centuries, especially because there hasn't been much change in the way of constructing houses ever since. We don't get bored at all and we see new photogenic spots behind every corner. Finally a sight
that doesn't make us feel like being robbed as soon as we left the entrance behind to discover the kitschy Chinese playground to which the sight has been converted. No,
Jiaohe
truely is worth a visit. By noon it really gets too hot and after a quick look in the museum of excavations from the city Šnd a break on a terrace we cycle back over the dusty road.
Only after five we go out again, but even then it's too hot for cycling. Soon we give up our tour througjh the old streets of
Turpan
. Only after eight it's slightly better outside and again we fill our stomachs for a few Euros at the nightmarket.
> Tuyoq Valley
23-06-2008 Today we'd like to visit Tuyoq Valley, of which the tour agency on wheels, bothering us for a tour every day, told us it's an ancient Uigur village. The bus is not going to this place, so we negotiate a price with a taxi van wanting to take us there. We buy ourselves breakfast at the bazar and off we go, for another 60 kilometer trip through the desert. On the way we enjoy the rural life in the small villages we're passing through and the view on the "Flaming Mountains", looking very red indeed in the bright sunlight and with a little imagination one can really discover a flame pattern on them. At a certain place there's a fence in front of the kilometers long mountain, with a sign saying "40 Yuan" above it. We don't quite understand what the developer must have thought when placing this fence. Everyone's able to enjoy the same view in the whole wide area surrounding the mountain, so why pay 40 Yuan for that. Not even the Chinese are that silly, which is obvious by the complete absence of visitors.
About five kilometers before
Tuyoq Valley
our passports are checked at the umtieth police checkpoint and our personal data are being registered. Meaning we're writing down our personal data for them, since no one in China ever seems to have a clue which of those odd characters belong to our names and where they can find the rest of the required data. Every time the unused Chinese visa in Yvonne's passport is causing even more confusion and the search through our passports is a very cute scene.
A few minutes later we're back on the road again and soon we stop at a brans new parking area, where we buy our tickets. The ticket salesman sends us to the village, completely surrounded by a fence.
It's very indistinct in which direction we're supposed to walk and we stroll a bit through the village. Two men are braiding a rope, a boy is passing by with a huge lamb in his arms and everwhere there's slices of melon drying. As we're trying to take a picture we're surprised this is refused in a rather cranky way, even though we're "just" trying to take a picture of a hut. We totally miss the Uigur friendlyness here and we're wondering what's going on. They clearly don't like tourists here. We're gruffily being stared at and there's almost no response to our greetings. We're so not used to this behavior in this area. How odd...
A couple of times we're sent in a certain direction and a bit later we see a new, wooden path following s stream. We follow the path, out of the village into the socalled valley, and fifteen minutes later we find out what might be the reason for the anger of the people: the new path, provided with large Chinese characters and obviously another Chinese project, leads us, via a brand new staircase, to a series of caves high up in the mountainside. By the side of the path there are replica Uigur dwellings, large plastic camels and a water wheel (?) is being constructed. Obviously the Uigur people are not getting a single Yuan for this tourist fair. They did hire a single soul and with drooping shoulders the caretaker is showing us the "thousand Buddha Caves" behind the locked doors. No matter how beautiful the rock paintings and the entire area are, for us the day is a bit spoilt now. We do take a look at the ancient structures and the mosque on the other side, where an old man reluctantly lets us in, before driving back to the city.
The rest of the day we don't do much, but at night we're having another delicious meal at the bazar.
> The Bus to Kuqa
24-06-2008 We check out late, since our bus to Kuqa is only leaving at 1 pm. Eventually this becomes 2 pm, as the last 4 tickets for this sleeper bus still must be sold, before we can start, what our driver says to be, a 7 hour journey through desert. We only find out why we need to travel by sleeper bus at this time of the day and for this distance, when at a stop at a roadside restaurant around 6 pm, we see on a map from a couple of Chinese tourists that we're not even on one third of the total distance. Only after 2 am a loud "KUQA KUQA" is yelled and we rather weary hop off the bus. Once more we've been cheated by a bus driver, the best liars in the world after taxi drivers.
While we get into a taxi, the bus moves on, probably all the way to Kashgar. At least we're there and we have ourselves, very comfortably, taken to one of the hotels from our travel guide. Yet another interesting scene takes place here, as no English is being spoken. Usually our ablility to depict things saves us, but this guy doesn't have a clue of what we want and we don't understand what he's trying to tell us. Like we've experienced before we're being stared at with a glance saying "ooh those poor scrubs are not able to speak", and again a pen is grabbed. We have a hunch of what's coming next, and... indeed: the smartass is writing down what he wants to say to us. In Chinese! So it takes another thirty minutes, using our pocket dictionary and two matches to keep our eyes open, but at 3 we finally have our room.
25-06-2008 When we're awake and have taken a shower we go get ourselves some breakfast, to have an afternoon nap right after. It's too hot to do anything right now anyway, so we'd better catch up on sleep, since we missed a few hours last night.
> Uigur in Kuqa
Well into the afternoon, when the sun has sunk a bit lower, we stroll through the old neighbourhoods of
Kuqa
. The Uigur are living here. Many of them are busy constructing a new house, with lovely wood carving, painted in wonderful colours, but we also see many old, mud houses covered with white plaster. Life's taking place on the streets here, where it's cooling down a bit now. On the square melons and other fruits are sold and a man is trying to sell his sheep to a butcher on wheels.
By chance we draw near the big mosque, which we pay a visit. Right on that moment a man on the roof is calling for prayer, using a large horn. We meet Mohammed, who's giving us a private tour, after he went for prayer himself. In the back of the mosque he whispers to us about how all the Uigur history books have been destroyed and been replaced by Chinese history books. This mosque is much older than what the Chinese are claiming. At school the kids are not allowed to learn English, Mohammed learnt a bit of English through selfstudy, using books from Urumqi, so his vocabulary is limited. Still it's interesting to hear what he's saying and again we're shocked by the way China is oppressing the people here and keeping them poor and unknowing. Everywhere in the deserts there's oil being extracted, allowing the Chinese here to drive around in fancy cars, while many Uigurs are starving.
When we're outside and looking through Mohammed's books he suddenly panicks when an apparently infuential Chinese shows up. It's not good for him to be talking to foreigners, as, for the outside world, he's not able to speak English. Quickly we're leaving and Mohammed follows us on his bicycle. He shows us an Uigur barber who cuts Peters hair in an excellent way and for the paltry sum of 50 eurocent. Then we're having some kebab and some other skewers, before taking the bus back to the new town. In the old town it's still bustling with the many foodstalls, donkey carts and hooting motortaxis.
> Subashi
26-06-2008 Because of the heat we get up early, to take a taxi to
Subashi
. Subashi are the ruins of a Buddhist temple complex, situated in the foothills of the Tien Shan mountains. The area is rocky and arid, but right because of that Šnd due to the panoramic view extremely beautiful. De ruins are, except for the remains of some towers and a giant stupa, not all that interesting. Actually it's the landscape that makes it an extraordinary place. An hour later, when we're done sightseeing, we drive the 30 kilometer back to town, to revive the past couple of weeks full of impressions.
27-06-2008 At 8 am we first pay a visit to the railway station, to get informed about tickets for tomorrow. There's no one else out on the streets yet, since it's actually only 6 am. Due to the large distance to Beijing the people here in Xinjiang are usually using "Xinjiang Time" instead of "Beijing Time", a 2 time zones difference. At the stations they do use Beijing Time, so we'd like to try as early as possible. We manage to find a taxi willing to take us to the station.
We've heard it's not easy to obtain whichever ticket at all, so it's a real shock to find out the counter is closed when we get there. We're shown a sign stating the next opening time as 11 am and then we're being completely ignored, even when we try to ask whether there are tickets available for tomorrow. It turns out bus 6 is leaving from here and we assume this one's gonna take us downtown, which turns out to be the case.
Today it's market day in the old town and with a nan in our hand, serving as breakfast, we're watching the merchandise being brought in on donkey carts. We're being treated on many friendly smiles from bearded men wearing a dopa on their heads. So the contrast is huge when we're being snubbed with yet another "bu shi" (no) at the internet cafe in the new, Chinese town. Yesterday we were allowed to use the internet here and now the Chinese adolescents are gaming as well, but for us the answer stays no. When we try again asking why we get another "bu shi" and it seems like that's all we get for today. We're able to find another internet cafe just before we have to return to the railway station.
Just after ten thirty we're there and there's already a long line. However, the counter is open now and we're trying to get in line as well. But that's not how things work here! An angry lady wearing a suit comes to us. Huh?! What's the problem, are we not pushing in enough or did we have to spit before lining up? More staff is coming our way. Did our farth at the door not smell bad enough, or do we have to yell for being allowed here? No, our bags need to be scanned. Excuse us? To buy a ticket? That's right, our backpacks really have to be scanned for that. Wher Peter returns irritated everybody is happy, or maybe not... When we're back in line for about a minute another staff member comes to us. Peter has to open his bag. Well, we don't think so, then Peter will wait outside, with his bag.
Fifteen minutes later it's Yvonne's turn at the counter and surprisingly enough the "Mayo-word", synonymous for "we haven't got any", is not said. Being the proud owners of two tickets we hop on the bus for the umptieth time today. We've got tickets without seat numbers, so theoretically we're at risk of having to stand up the entire 11 hour journey, but we have good hope to be able to upgrade to actual seats when boarding the train.
Just after noon the market is bustling and we don't know where to look first. The racing pigeons are the men's favourites, while the women pounce on the clothing and hair ornaments. We're having another fat-meat-Uigur-sandwich and some fruit, after which we have a look at the many donkeys and carts under the bridge, riverbed.
> By Train to Kashgar
28-06-2008 The sun is barely above the horizon when we're taken to the station by taxi. The train is only fifteen minutes late, so that's not too bad. We sit down on two hard seats, for which, according to our fellow travelers, we don't have to upgrade. There are plenty of seats available anyway and as a defaulter you can just sit down on any available seat until someone wŪth a chairnumber comes to claim his seat. Gradually the train gets more empty and thus we're enjoying a pretty comfortable train journey of 11 hours through the desert, for only 5 euros each.
We a nice room, not cheap though, but well... who cares after such a cheap day of traveling. At a Pakistani restaurant we imprecate Geert Wilders for withholding us a month of this type of delicious food, before going to bed for another short night.
> The Animal Market in Kashgar
29-06-2008 According to the reception of our hotel 10 am Beijing time, so 8 am local time, is the best time to go to the Sunday market. The market in
Kashgar
however is the mother of all markets in all Cemtral Asia and we don't want to take the risk to miss out on anything of it. At 8 Beijing time, the sun is barely up here in the far West, we're going out.
A taxi takes us to the market area of the city. There we see a lot of clothing and fruit being brought in, but we don't see a thing yet of the animal market, which seems to us like the most interesting part. With our point-it picture book we ask a few people where the cows are sold, and the sheep and the goats. As usually in China, we're first sent in various directions. Fortunately this
isn't truely China and after a questioning around a bit more an Uigur takes action and arranges a motortaxi, who shall take us to the cattle market for 10 Yuan. Turns out the cattle market is on the opposite side of the city and hasn't been anywhere near the fruit- and produce market for yeeeaaars. After what seems like eternity, in the uncomfortable boot of the motorbike, we get there and against our expectations there's not all that much activity here as well. There's about twenty cows and some donkeys and sheep, but as we're walking around there's more cattle being brought as well. Trading has already started however, as the one who comes first will drink the best goat milk tonight.
It's amazing to stroll around here and besides the dopas from local Uigurs we see many hats and costumes from Chinas neighbouring countries. Boys are running after herds of sheep, to get them to the right spot, leaving a giant cloud of dust behind. Old men are steering donkey carts pulled by unwilling donkeys, while the first goats already change owners. A
farrier provides a horse with new shoes and a cook prepares Laghman noodels te maken, thť local dish and favourite breakfast of the merchants.
When the sun rises suddenly two busloads of tourists are being launched at the entrance, we meet them as we're just leaving. We take the bus back to the other market, where we're surprised about the huge crowds, the quantity and variety of products and the inventiveness of a grinder "on a bicycle" (see film below).
Two plates of pilav and some delicious chicken skewers function as lunch and we take away some dried dates for later. The rest of the afternoon we spend preparing our trip to Kyrgyzstan.
30-06-2008 It's another day of extremes. When we're having lunch at the Pakistani place we meet a fancy Pakistani businessman, who even got to the place in a police escort. When he's leaving he gives us his businesscard and invites us to call him whenever we'd like to visit Pakistan, so he can send someone to collect us from the airport. As soon as we're done eating we'd like to pay and leave, but it turns out our new friend already payed for us, as we're his guests here, like he said. The guy himself has already left and is nowhere to be seen.
Unfortunately our good mood is quickly dispelled by a huge thunder cloud hovering over the postoffice, where we'd like to send our souvenirs home. We've sent things in China four times before, without any troubles, but here in Kashgar "Bank-of-China-like scenes" take place. You must know that in China the postoffice has the right to know what you're sending
and to judge whether the Chinese government would approve the items you're sending and our souvenirs fail all tests. Our tin Beijing 2008 key ring is dangerous, as it's like a knife and our painted gourds are even worse, because there are seeds inside.
Once again summoning the "boss" is the only solution and after ninety minutes of arguing for our right to send something by mail the parcel is kind of approved and almost ready. By then we've already removed the lifethreatening key ring from the parcel, which might come in handy when we're being attacked.
Than our box suddenly gets marked in Chinese characters and we get a little bit suspicious. According to the lady behind the counter it says that the sender of the parcel, meaning us, are responsible for any damage or loss en route... yeah right, loss en route... We're arguing a while to get the mark removed, but then our one and a half kilo box of at least 30 to 40 centimeters suddenly is a "small package" and we have to fill out a new form. This form doesn't have a barcode to trace the parcel and then we get the point: this box will never get to The Netherlands.
We search, and find, another post office, but here it's not allowed to send parcels and so we return to our room, still carrying around the souvenirs. We'll have to take our purchases of the past couple of weeks, including one of the largest dried and painted gourds we've ever seen, across the border. Every time we see the Olympic mascottes, untill the moment we'll finally be able to send them, perhaps in Bishkek, we'll not be calling them Bei Bei, Jing Jing, Hua Hua, Ying Ying en Ni Ni, but Don't Don't, Want Want, To To, Help Help and You You. Bei Jing Hua Ying Ni, Beijing Welcomes You, but just when everything's going according to Beijing's wishes and requirements, or you'll meet a wall of unwillingness and a whole lot of silly rules.

Fortunately we manage to find an affordable taxi to the border with Kyrgyzstan by the end of the afternoon, after trying to find one for the past couple of days. Still a positive ending of this day, although the friendly faces of the Uigur in the old city are also contributing.
01-07-2008 It's a relaxing day, on which we're just strolling around the old city and pay a visit to the Id Kah mosque, one of the largest mosques in China. In the late afternoon an Uigur hairdresser cuts Yvonnes hair perfectly straight, about 3 centimeters shorter than requested, the layers we'll cut ourselves in the early evening. Fortunately the result of this collective shearing is way better than what the two Chinese ladies did, almost three months ago.
> Yengisar
02-07-2008 Our last day in China doesn't look like China at all, which is a big plus actually. We take the bus to Yengisar, a village South of Kashgar, not for a specific reason, but just to enjoy the athmosphere of the rural South of Xinjiang. In the bus only Uigur people, who quietly sit on their chairs, don't gurgle or spit, shout or smell and who look curiously in our direction just once, without pointing fingers, or laughing out loud. How peaceful... how lovely.
Even in
Yengisar
itself, famous for its handmade knives, not a sign of China. A taxidriver, obviously happy to take us, drives us to the outskirts of town, where we look around at the giant mud cemetery. Impressive. Far away we see the peaks from Tien Shan. We walk to a village in the distance, more like a slum, where the people are obviously living from the revenues of the giant landfill right next to it. Adults and kids scrabble among the dirt and everything they can use they're taking to their huts. One World, One Dream. The average visitor to the Olympics in Beijing next month has no idea of any of this. Still we're cheerfully greeted here and a few even dare to yell "hello". How we'd love to help these people just a little, in the name of Treelo, but besides the language difficulties it's hard to equally share things among people without a school or any other kind of organisation.
And they ALL really need it here. In a sad mood we return to where we came from.
Back at the main road we get to another village, a few kilometers further on, where we visit the village school. Proudly we're being shown around. It's a nice school indeed. When we're just ready to move on the bell rings and a whole bunch of kids are following us down the road. At a river, running through a wide gorge, we watch how the millers created an inventive system to grind mais by using hydropower. A husband and wive are just buying flower and then they insist we sit down to eat bread and yoghurt with them and two friends. So here we are, sitting in the loose sand, under a tree, dipping nan in yoghurt and enjoying the peace of the village life.
Halfway through the afternoon we catch a bus back to Kahgar, but it's gonna be a long journey. At the first police check we encounter, two gentlemen happen to be traveling without a valid identification and so the entire bus has to turn around to take them back where they came from. Eventually the men are transferred into a taxi, so the delay for the other passengers won't be too bad.
Kashgar market video

The Kashgar market video will show here


Xinjiang video

The Xinjiang video will show here

Click on the films up here to look around in the far West of China, almost live.
> More Info
Also check our
China info page
, where you can find a lot of information about China and come see our
Far West 1 photos
and
Far West 2 photos
.