Myanmar - Burma Travel Journal: Yangon to Bagan
This travel journal is part of a series of journals, which are all written during a long trip between november 2007 and may 2009.
> Flying to Burma
13-02-2009 Today our day starts at quarter past three a.m., for many others the previous day has not yet ended. When we walk to the airport shuttle at three fortyfive, several restaurants and bars are still full of people.
For a moment we forgot how smoothly everything always goes in Thailand. As early as four fourtyfive we're in the departure hall at the AirAsia counter and only fortyfive minutes later we're through security check. When we're finally allowed to board around seven we've already turned slightly blue from the freezing aircon at the airport, but only as we're in the bus which is supposed to take us to our plane, the freezing really starts. And all that at an outside temperature of at least thirty. After fifteen minutes in this freezing refridgerator, with little action and much chattering teeth, the doors open again. We're requested to return to the departure hall, as we can't depart yet. Fog in Yangon.
An hour later we can still board the plane and before we even realize what happened we've landed in
Yangon
. It's not hard to notice we're in another country. Except for the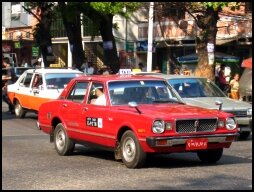 arrivals hall everything is old and worn. The asphalt is potholed, the taxis waiting at the exit are almost falling apart and have been built far before we were even born. We do get surprisingly friendly help right away though. While one person tells us where to find our pick-up, the other warns us not to exchange money at a certain place.
Since we booked a room online in advance, we're being picked up. Our van truely is the most ramshackle vehicle of the entire parking lot. The back door won't open anymore, so after a couple of attempts our bags are pushed inside through another door. It accelerates slower than a tractor, but that gives us the opportunity to enjoy all the new things we see here. All the other road users are especially drawing our attention. Many of the cars look familiar from old photos from the sixties and seventies back home, but some of the others we have never seen before.
The buildings en route look mostly Indian (read: worn and discolored), but the streets itself are clean. A single modern and new complex looks a bit out of place between the rest. Buses and trucks transformed into buses are bulging with people, of whom many women and children are wearing thanakha on their faces.
Thanaka
is used as sunscreen and make-up and is made from grounded tree bark.
After a short nap in our room we go out again, to taste the relaxing athmosphere of Myanmar. It's bustling at the many stalls with food and all kinds of merchandise.
We see many monks, a few of them hanging out of the monastery windows to take a look at us. We sit down at a street stall and on someone else's plate point what we'd like to eat. We're having rice and chicken, salad and tea. Perhaps a little daring to eat streetfood from the first moment in this new country and even more daring to start with chicken and raw vegetables, but well... we've already seen that there are pleny of little friends to share the fun, when we end up sick in our toilet.
> Yangon
14-02-2009
Downtown Yangon
turns out to be surprisingly modern, as we see when wandering around. There's a lot on sale, especially when it comes to spare parts and DIY stuff, but we even see computer shops, Er is best veel te koop, met name wat betreft onderdelen en doe-het-zelf artikelen, maar we zien zelfs computerwinkels, electronics and clothing stores. After a long walk, which also involves the famous Sule Pagoda and a visit to the Bogyoke Aung San bazaar, it gets very warm. Time for a break.
In the afternoon we also visit the Botataung Pagoda, but unfortunately this structure is completely covered with scaffolds, so we're forced to enjoy ourselves with all the tasty food sold at the night market.
15-02-2009 The Shwedagon Pagoda, the main tourist attraction of Yangon, is a few kilometers from our hotel, so we decide to splurge and take a taxi. However, this doesn't leave you with an empty wallet in Myanmar. We have to pay exactly two thousand Kyat, a little more than one Euro fifty. Unfortunately this pagoda is also under construction, probably it's the renovations season here. The surrounding complex is still an impressive sight. That starts with the two giant lion statues at the Southern entrance and the rows of golden roofs behind them. The upwards gallery is also fabulous to see, with lots of detailed woodcarving and paintings. Once we're upstairs we check out the various temples, each of them just as pretty as the others, and we hear the frustrated story of an old man who's unhappy about the current system from his country.
When we're done exploring it's so hot we're almost melting and we treat ourselves on another taxi ride. We try a bit of bargaining and are stunned: this ride is even cheaper. This time we can even benefit from a refreshing airflow caused by huge holes in the rusty base of the car, but this doesn't hold the driver back from racing like he's being chased by the devil. We go see the giant reclining Buddha of Chaukhtatgyi, which is even bigger than the one in Wat Pho in Bangkok. Not prettier, only bigger, is what we think.
The afternoon we spend in the "circle-train", a train that circles Yangon and its suburbs in exactly three hours. For us the highlight of this ride is the fruit- and vegetable market where thousands of people are selling and buying their products.
We're pretty exhausted when we get to bed at night, but unfortunately our roommates decided to throw a party and just above our heads, in the wooden ceiling, they are squeeking and pattering around like they have plenty of energy left. Eventually Peter treats them of the nice smell of tiger balm, which they apparently don't really appreciate. Screaming they run out of the house, to the garden. Finally can get to sleep.
> On our Way to Pyay
16-02-2009 Just after seven we're on our way, off to the bus station. We've seen enough of Yangon and are on our way to
Pyay
. Both the quality of the bus and the road are much better than we'd expected, but still it's a tiring ride of almost seven hours. When we finally arrive in Pyay we have no idea of where in town we're dropped
and no one seems to be able to understand English. Eventually we end up in two separate cycle rikshaws with a sidecar and we're taken to the other side of town at a most relaxing pace. In the bus we already felt like being a royal couple with so many people waving at us, but now we're a real sight and many people are waving and calling us.
It takes a while before we found ourselves an acceptable room for a fair price, but when the sun almost sets we managed and we're still able to climb the hill with the Shwesandaw Pagoda, which offers a wonderful view of the surrounding landscape. The streetstalls here are serving mostly unfamiliar dishes, so we just try some of them. Delicious!
> Thayekhittaya
17-02-2009 There's no public transport to
Thayekhittaya
, a lost city from another era. So we hire a taxi-moped to take us there, over a whole series of potholes, here and there surrounded with some asphalt. En route we see people working in the fields. Farmers are plowing their fields with oxen and wooden plows, while others fill their plot with water once more to plant the new rice. Truly everything is done by hand and there are oldfashioned wells everywhere.
The area with abandoned temples, a giant stupa and a royal cemetery is vast and so we have the option to choose for exploration on an oxcart. It's well over thirty degrees again, so we don't have to think twice.
Ten minutes later a farmer shows up, with two oxen and a wooden cart with large wooden wheels. We sit down and off we go, bouncing over the gravel paths between the fields. Every now and then we see a thatched hut in a small piece of farmland. Various vegetables and beautiful cut flowers are grown there. Men and women are busy watering it all with large
large Watering Cans
, as it has become very hot now. A single ducks guardian stands on the side and watches us go. At a lazy pace we bounce on and on, sometimes making a stop to check out the antiquities from up close or from the inside.
At one of the last temples we're visiting we encounter a large group of walking men, who are carrying large quantities of leaves, all tied together. A new roof is being made
for one of the neighbours' houses. They're carrying the leaves for many kilometers through the dusty, hot fields. By the end of our tour we pass a village whose shelf life seems to have elapsed centuries ago. Interesting to see how people are living here and how satisfied they are with what they have.
Back in Pyay we have lunch and by the end of the afternoon we return to Shwesandaw Pagode. Now we also visit the surrounding stupas and the thirtyfive meters tall
Giant Buddha
in the vicinity.
> Shwedaung
18-02-2009 We're glad to find out there's transport on a regular base to the village of Shwedaung and as we get to the place where they depart we can hop on a pick-up going there. In
Shwedaung
we pay a visit to the bespectacled Buddha, the only one in the world, as far as we know. The glasses were a gift from someone who had troubles with his eyes and who'd loved to get his vision back. It's been a pilgrimage site for people with bad eyes ever since. We find this Buddha with the Harry-Potter-look a very cool dude.
We also visit the second temple of the village, while getting a lot of attention from enthusiastic Burmese. People wave and call us and a single one of them tries a little chat. In the temple itself we're also warmly welcomed. The owner is só over the moon to have us here that he almost starts hyperventilating. Have we read about never standing with your back to any Buddha and never posing for photos in front of a Buddha in any Buddhist country (also Myanmar)... this guy doesn't care about any of that at all. Peter has to pose for a photo with him, even on top of the Buddha. We really hope we didn't get bad karma from these actions, but Buddha didn't seem to mind.
Back in Pyay it seems a rather difficult task to find out about the bus schedules for our onward journey tomorrow. According to the lady at the reception of our hotel foreigners are only allowed to take the 3 pm bus, meaning we'd arrive at 1 am. Not a great prospect. After an extensive search through Pyay,
with the help of all the English speaking and even some non English speaking people, we finally find out that we can also catch a bus at eight thirty am. In one of those funny cycle taxis, even suitable for two adults, we cover the two kilometers to the bus station, where we buy our tickets. Once again we're the center of all the attention, we're afraid to be suffering from our previous waving rsi soon enough here.
Now that we have our bus tickets in the pocket we return to the Shwesandaw Pagoda for the last time, and now "by night". A curious monk comes to chat with us and his friends also like to check us out, but unfortunately they don't speak any English.
> Two Days in the Bus to Bagan
19-02-2009 The road from Pyay to Magwe is obviously of a poorer quality than the one that brought us here two days ago and we're bumping and bouncing in our ramshackle bus. The landscape gets more dry and the only variety are the prehistoric villages we're passing every now and then and the ancient, giant trees by the side of the road.
By the end of the afternoon we arrive in dusty Magwe, where a long search for a room leaves us with the choice for a reasonable room for a ridiculously high price, or a still overpriced den with a single wooden plank on bed posts and a mat on the floor next to it. We choose for the latter,
since it's only for a single night and we make a deal with our tuktuk driver to pick us up tomorrow morning at five for the six am bus.
It seems like there's even less power in Magwe than there is in the rest of Myanmar and even the generator of our guesthouse stops many times. The dark intermissions vary from a few seconds to a whole minute. So we wash ourselves in our den, with a large tub of cold water, wearing our headlight. When we're almost done the generator stops alltogether and it's pitch dark. We decide to try sleeping right away and lie down on our wooden planks with bed posts and without bed posts, but even though this is a stone house it sounds like the walls between the rooms are made of paper. Until late at night we hear the singing and chatting staff from downstairs and eventually a new power supply even adds the sound of a television. By three am it's finally all quiet. At three fourty five the first other guests are getting up again and well... then we call it a night too.
20-02-2009 At five Magwe is still dark and apparently our tuktuk driver doesn't have an alarm clock, since all that is passing is not our ride. Eventually we have ourselves pedaled to the bus station by a guy with a cycle rikshaw, sure a funny sight when it was light enough to see something, as the two of us are squeezed in a basket that's way too small for us with our four bags.
Exactly at six we're driving out of Magwe and soon the sun rises: a breathtaking sight above the dusty, palm-fringed fields, where a single farmer has already started ploughing with his oxen and wooden plough. The villages we see today are, if possible, even more primitive than yesterday. Truly everything is handmade from natural materials here and the huts themselves consist of large palm trees. Amazing to see something like this stil exists in 2009!
Feeling terrible after a night with hardly any sleep at all we get to the outskirts of Bagan after five hours of bumping around. A large sign says all foreigners have to get out of the bus here,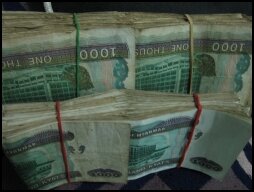 to pay the very mandatory and inescapable tourist tax of 10 dollar each, for the archeological area of Bagan. The amount itself isn't alarmingly high, but for the average Burmese it's more than a week's salary. They are payed in Kyats, of which each note is as valuable as a piece of toiletpaper and with the biggest note being worth a single Dollar only. The tone from the sign and the employers at all the tourist attractions is starting to provoke us quite a bit now. When the rest of the population weren't the cutest people we've ever seen, we might have run away fast from this country. Such a rude tourist-parasites here. And all these fees are disappearing straight into the pockets of the regime here. Grrr...
Anyway, we honestly pay our contributions and a bit later we're in the center of Nyaung U, where most guesthouses and eateries are situated. Our first choice happens to be a good place to stay and after a late lunch we lie down for a few hours.
By nightfall we go out to exchange dollars. A boy shows us a place where the Burmese exchange themselves and where we get a fairly honest exchange rate. It seems like the Dollar has dropped quite a bit, but without a normal internet connection it's hard to check. When we're walking back to the tourist part of the village, now completely in the dark due to the next powercut, we're overtaken by an older man who speaks some English. He likes to chat a bit and when he asks us what we do for a living he's pleasantly surprised. He's a teacher too, just like Yvonne. Actually he's just on his way to his little school at home, where his students are already waiting for him. We come along and we see a poor little classroom where a few kids are waiting already. There's no power, meaning it's too dark to teach right now. So they have to wait for the light to turn back on. We decide to come back tomorrow, to take a closer look at the place.
21-02-2009 After a quiet morning we go back to the little school from mister Sein Thaung in the afternoon. With him and his little school we found ourselves a new task for Treelo.
> The Temples of Bagan
22-02-2009 Early in the morning it's still a bit chilly, but as soon as we're on our bikes at nine, it doesn't take long before it's getting hot. We follow the main road to get an impression of
Bagan
's size. There are pagodas everywhere in the deserted fields and it doesn't take long before we can't resist the temptation to follow a gravel path to a beautiful temple in the distance. When we are bored here we cycle to the next one and so we keep following our noses, while we're never further than hundred meters from a small or larger temple. The size of it all and the number of temples are impressive, but in appearance none of them gets even close to the temples of
Angkor
in Cambodia. Around noon we've finally covered the few kilometers to Old Bagan, where we have lunch at one of the restaurants.
Then it's really too hot for any temple whatsoever and we cycle back to Nyaung U, to our room. We don't have much time to relax, as we've agreed to meet mister Thaung, who now found a carpenter to make the necessary school inventory and with whom we go buy a lamp with built-in battery for his night class. In the evening, after a wonderful, red
sunset
over an ocean of temples, we have diner with him and his family.
23-02-2009 To lose the extra weight we gained from the large meal last night we cycle through temple-filled fields to Old Bagan, where the concentration of temples is even higher. Again we
check out several of them, but around noon we get the idea of being saturated. Temperature has risen way above thirty degrees again and we return to the coolness of our room.
Later we have another look at mister Thaung's little school, where the carpenter has made significent progress.
24-02-2009 This morning we pay a short visit to the local market and after lunch we go for a tour by horse cart. The horse cart is a frequently seen way of transportation in Myanmar and we figure it's a lazy way to see the more remote temples of Bagan. We're pretty disappointed by the lazy part of the plan though, since we're quite tired after a few hours. Fortunately by that time it's already getting less warm and the light is beautiful, so low. We see shephards with large groups of goats on their way home and the ox carts also return to their villages. From the "rooftop terrace" of a large temple we have a wonderful panorama over all of Bagan, a great way to say goodbye to this huge former world heritage. Tomorrow we'll be traveling to Mandalay.
Myanmar Transport video
The Myanmar Transport video will show here

Click on the film up here to look around in Myanmar, almost live.
> More Info
Also check our
Myanmar info page
, where you can find a lot of information about Myanmar and come see our
Yangon to Bagan 1 photos
and
Yangon to Bagan 2 photos
.