Egypt Travel Journal: Aswan
This travel journal is part of a series of journals, which are all written during a long trip between november 2007 and may 2009.
> To the South of Egypt
24-03-2009 The extra luxurious night train was not of much use for us. We'd probably never learn to sleep in the train. The food also wasn't worth the extra money. In the past fifteen months we never ever had to eat this kind of tasteless cartboard, not to say a word about breakfast.
Well, that's enough to complain about for one day. When we open the curtains we see a bright sun shining above the blue Nile and there are more palm trees then we could ever count. For the rest the landscape strongly reminds us of
Western China
: huts of clay in a dusty, hilly desert landscape with various cattles of sheep or goats. We could have saved the energy to get all the way through China for this, they have the same thing right here.

What Ýs new are the numerous men riding around on the back of, as it seems, way too small donkeys. It's a funny sight to see them riding those fast pattering, stiff donkeys with their feet almost touching the ground. The skin of the people here is much darker than in
Ca´ro
, what obviously contributes to the Afrika-feel.
Around nine thirty, with a delay of only one hour, we arrive at Aswan station. It takes a while to find a room, but finally we have the last room in a
centrally located guesthouse. The man at the counter doesn't want to rent us the room at first, since it doesn't have any aircon. We don't understand who would need an aircon with temperatures of barely twenty-five degrees after all, and when we finally succeed to convince the guy about this too, we get the key and we're ready to take a nap.
25-03-2009 Peter's stomach is protesting against the lack of mangoes and spicy food and feels very upset. So we decide to stay in our room for the day.
> Aswan: Nubia
26-03-2009 Today we start at the Nubia museum, where history of the area is beautifully displayed. After that we wander around a cemetery where very modern, new graves are next to ancient tombs. Of some there's not much more left than a crumbled clay wall, but others are still showing they once must have been really beautiful.
On the other side of the road we check out the tallest obelisk ever, even though the monster is not even completed. When carving this giant out of the quarry it got a crack and so the huge hunk of stone is left behind, partly carved and partly still stuck in the ground. When walking back to the center of Aswan we see hieroglyphs carved in pieces of rock at several places. They were quite busy people, those Egypstians. Once, probably before the invention of the hookah.
27-03-2009 We use the ferryboat to cross the Nile, to Elephantine Island. On the island are two Nubian villages, truly wonderful villages with brightly coloured houses, narrow alleys and very friendly people. We walk around for a while and we finally end up at the ancient city of Abu and the excavations which are taking place for years now. Beautiful parts of some temples have been preserved and even the former dwellings are still partially standing. As we'd like to enter the adjacent museum the doors are being closed in front of us: friday prayers. Ah. Not only a good excuse for the less talented "Islamic-Idols"-participants to do "the tarzan" (click for sound) with a megaphone too, but also to skip work for a few hours to visit the mosque (click for sound).
When we return later the door is still locked of course, but the guy without a key who's already present shows us some interesting things. Like the recently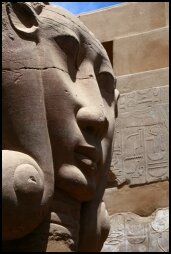 excavated wonderful, new pieces, which are still showing lots of colour and details. After this extra tour through the antiquities the museum, when it's finally open, is rather disappointing.
> Abu Simbel
28-03-2009 We rise early to get to the bus station. We've been asking around about the bus to Abu Simbel, since the information from our Lonely Planet has been useless quite a few times now, but the eight o'clock bus still appears to be scheduled. Everyone gives us the advise to be there an hour before departure, as officially only four foreigners would be allowed to travel in each bus.
Therefore we go to the main road for a taxi just before seven and to our surprise the driver immediately mentions the price it should cost to get to the busstation. A bit later we understand why. He took us to the railway station, only about halfway to the bus station. We're prepared for some growling and grumbling, expecting more money to take us any further, like it happened often in equal circumstances during the past year. The man keeps quiet however and without a single grouch he drops us at the bus to Abu Simbel, which is already waiting. What a smooth start of the day.
As soon as we're driving out of town we're right back in the desert. The views are finally matching the idea we always had of a desert: a huge sandpit full of loose sand and nothing more. How different this was in the deserts of
Rajasthan
and
Western China
. There it was so green and the sand looked so hard. The views here are so much nicer, especially when we're passing some hills or one of those real clay desert villages.
Right on time we arrive in
Abu Simbel
, where we immediately got the attention of a policeman. He wants to know where we're going, but after two weeks of Egypt we're kind of done with Egyptian policemen, who happen to have all kinds of extra jobs, like renting camels, exchanging Euros for Egyptian Pounds and hassling tourists in all possible corrupt ways. So we completely ignore the guy, but as soon as we enter a hotel he follows us and eventually the owner of the hotel has to pay him a huge amount of money when we decide to take a room here. What a corrupt gang they are here, those police officers, something like this we've never experienced before.
Halfway the afternoon we go for an exploration of Abu Simbel, a beautiful Nubian village right on the shore of the Nasser lake, with very friendly residents. At night we have diner outdoors, under the stars, at a traditional Nubian house, which has been transformed into a hotel-restaurant.
29-03-2009 Once again we rise early and just after sunrise we walk through picturesque surroundings to the famous Abu Simbel temples. This early there's no one here yet, as the first touringcars only arrive in about an hour. So now we're able to enjoy this fabulous sight in peace. The big Ramses Temple is huge and very impressive, both on the outside and the inside. The four giant statues of Ramses and the details surrounding them impress by their size, but the carved drawings inside the temple are so beautiful and there are so many of them. Without doubt this is the most stunning place we've visited in Egypt so far.
When we're headed back to the entrance of the temple we first think it's an optical illusion due to the fierce sunlight, but no, the place is crowded with people now. The tours have arrived and we have to admire the smaller Hathor temple from behind a constant line of other visitors. No big deal, we've seen the best already.
In the afternoon we catch the bus back to Aswan, where we can check in in our old room.
> Feluka Ride on the Nile
30-03-2009 Only in the afternoon we come into action and then only for an extremely lazy activity: a feluka ride on the Nile. A
feluka
is a traditional Egyptian sailboat and in one of those boats we make a tour around Elephantine iland.
31-03-2009 Today we go for an outing to the wonderful Philae temple, situated on an island in Nasser Lake. This means we need a boat ride to reach the temple and bargaining for a fair price takes some time. Eventually we have an agreement with one of the boatmen, but when we sit down in the wooden motorboat we look at each other and simultanuously we sigh that it's so convenient to walk into a supermarket, grab something from one of the shelves and just pay for it. No bargaining and no wining about extra money or a tip afterwards.
Fortunately our boatman is a very nice, enthusiastic man, who's a bit older and who likes to please us. He shows us where the temple used to be, before the dam was built and the Nasser Lake emerged. When nothing would have been done, the temple would now be below the water surface. That's why all of it, every single brick, has been transported to its current place on the island, like it happened with several other temples too, like the one at Abu Simbel.
We think it's a good think the temple was saved. It's wonderful and large, we spend at least an hour checking the place out. Then we take the boat back and arrange a tour to Kom Ombo and Edfu for tomorrow, after which we'll be droped in Luxor in a hotel of our choice.
01-04-2009 The temples in Kom Ombo and Edfu are two more great examples.
Museum Aswan and Luxor Egypt video
The Museum Aswan and Luxor Egypt video will show here

Click on the film up here to look around in Egyptian museums, almost live.
> Morr Info
Also check our
Egypt info page
, where you can find a lot of information about Egypt and come see our
Aswan 1 photos
and
Aswan 2 photos